Aramac Shire, generally 550 km west of Rockhampton, was in central Queensland. Barcaldine and Longreach adjoined it to the south and it became part of Barcaldine Regional Council in 2008. It was named after the town of Aramac (see separate entry).
When local government was established in rural Queensland in 1879, the Aramac Division occupied the area east of the Thomson River, from Stonehenge in the south to Hughenden. Advancing settlement truncated the Division's extremities, but its jurisdiction later spread west almost to Winton. During 1900-03 Longreach and Ilfracombe were severed from Aramac, resulting in a local government area of 23,290 sq km.
The shire was drained south-west by the Thomson River and numerous headwater tributaries which include the Aramac Creek. Pastoralists began occupation of the district in 1862, with major pastoral stations including Bowen Downs and the Aramac. Aramac began with a slab-hut store constructed by an employee of Aramac pastoral station in 1867, making it the earliest township in the district. Later townships grew along the railway line which was extended west in 1886 bypassing Aramac by 70 km.
The shire's second township, Muttaburra, was surveyed in 1877. It sits on the Cornish Creek, downstream from Bowen Downs homestead. Equal in population to Aramac until 1900, Muttaburra had a hospital, five hotels, a Catholic church, two principal stores and a court house. The hospital gained local fame from its resident doctor, Joseph Arratta, who served there continuously from 1925 until 1974. The building became the Doctor Arratta Medical Museum after closure in 1974. Muttaburra was described in the 1903 Australian handbook: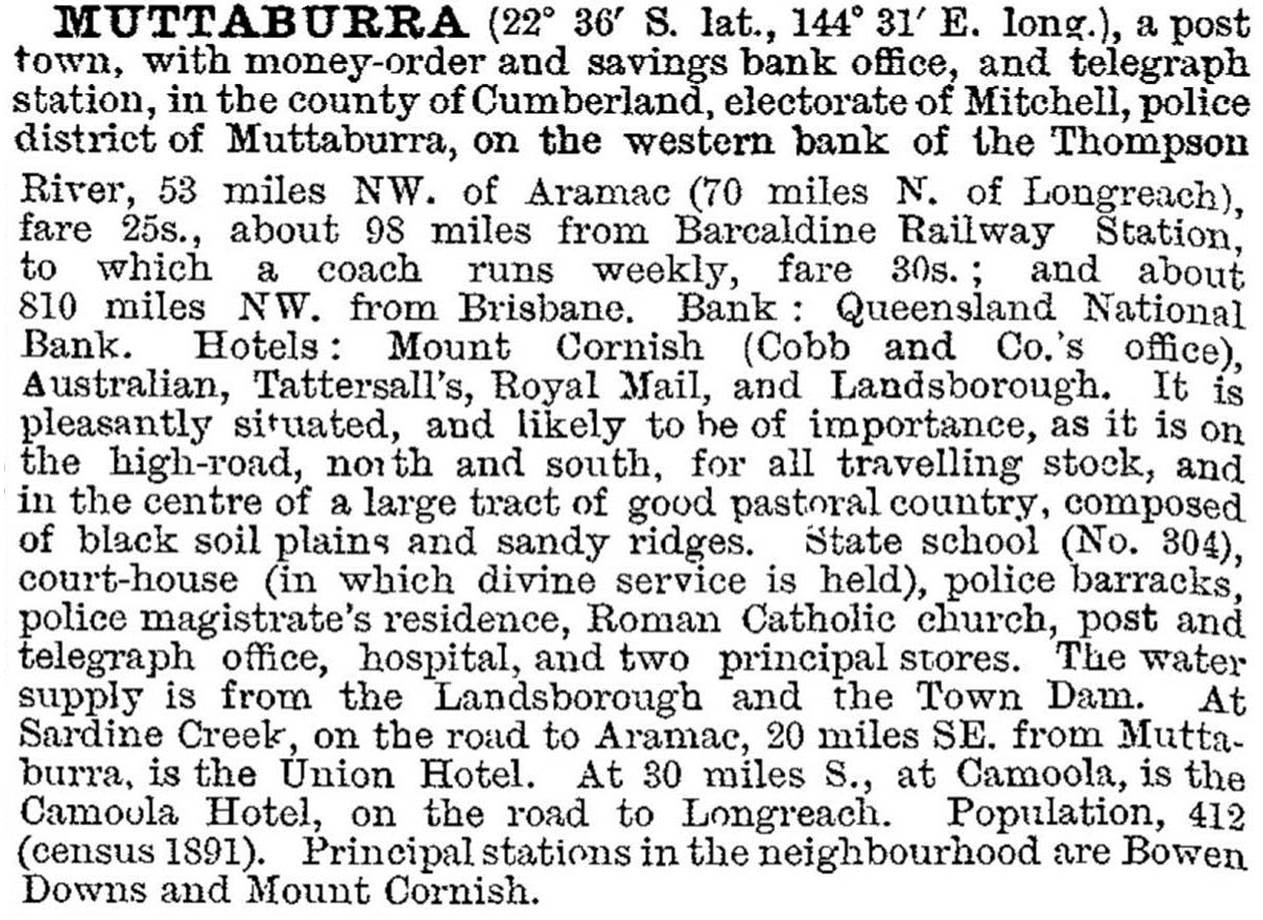 Bowen Downs station was subdivided for closer-settlement during the 1880s-1920s. Whilst this process added to the shire's town and rural populations, growth was hindered by the absence of a trunk railway line in either town. A narrow gauge railway branch line from Aramac to Barcaldine (the Aramac Tramway) was financed by the shire, running from 1913 until 1975.
In 1946 the shire was described in the Australian Blue Book: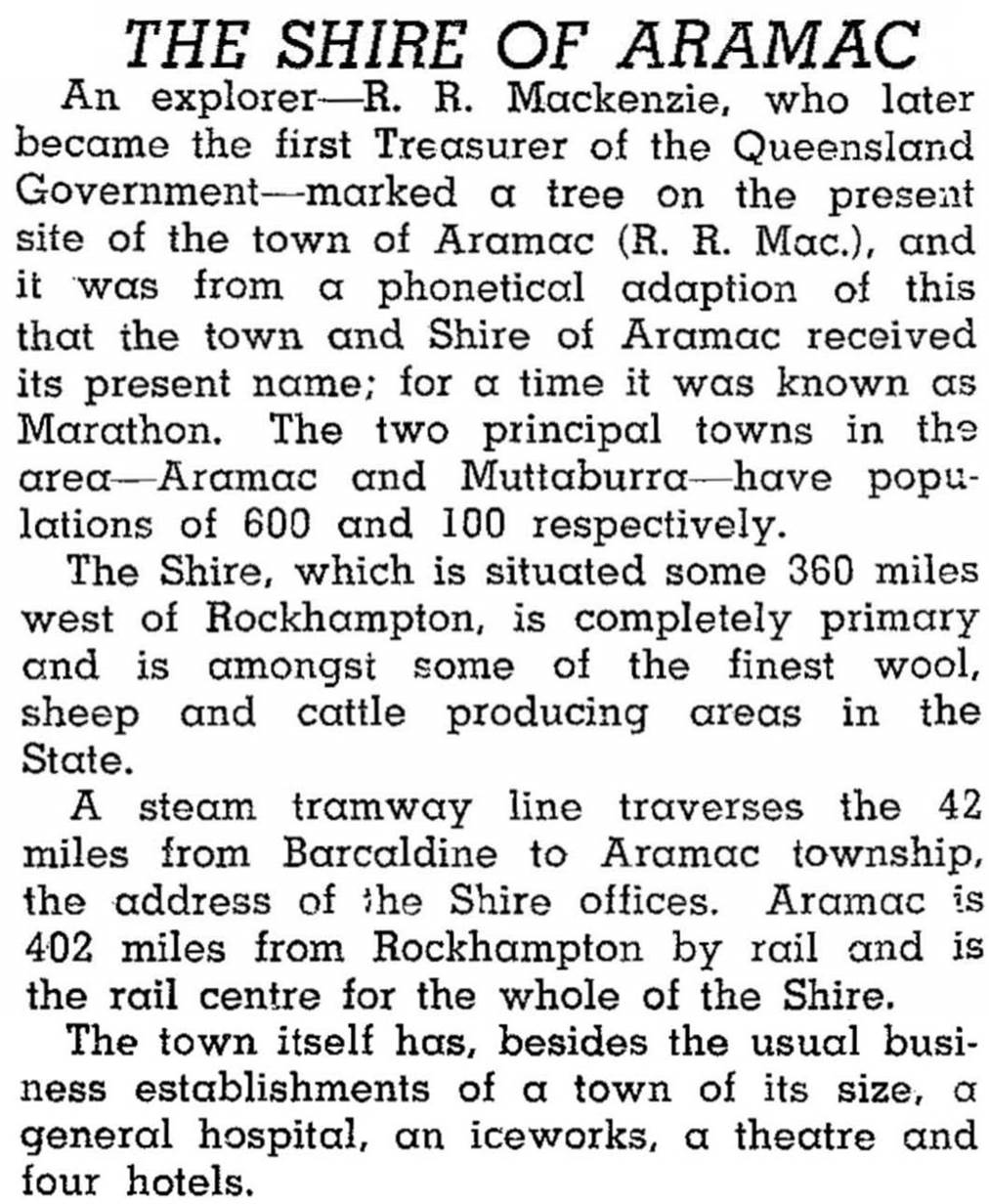 The shire remained exclusively pastoral, although with some local tourism activity. Each town has a museum, the countryside has numerous natural features, including Lake Gallilee and the Dunn Wetlands, both rich in bird life and plant species. Each is listed on the Register of the National Estate, as is the Mt Cornish homestead (1868), originally an outstation of Bowen Downs and 7 km north-west of Muttaburra. The Mt Cornish homestead also appears on the Queensland heritage register.
In 1993 Aramac Shire had nearly 64,000 beef cattle, 540,000 sheep and 75,000 lambs. In 2008 it was amalgamated with Barcaldine and Jericho Shires to form Barcaldine Regional Council. Its census populations were:
| Census Date | Population |
| --- | --- |
| 1911 | 1668 |
| 1947 | 1592 |
| 1961 | 1790 |
| 1971 | 1168 |
| 1991 | 832 |
| 2001 | 742 |
| 2006 | 727 |
Len Kingston, Aramac 1870 - 1984: a pictorial history, Bundaberg, L. Kingston, 1984
Len Kingston, Notes from a treasured past of Aramac and its people, Bundaberg, L. Kingston, 1981
Anne Smith, This El Dorado of Australia, Aramac Shire, 1994