Balonne Shire, with an area of 31,144 sq km, is generally 480 km west of Brisbane and adjoins the New South Wales border. Its administrative centre is St George, on the Balonne River.
The river was named by the New South Wales Surveyor-General, Sir Thomas Mitchell, on his fourth exploratory expedition in 1845-46, and is an approximation of the local Aboriginal name for the river. An unverified interpretation of the word is 'pelican'. The river's headwaters are the Condamine (rising near Killarney) and it empties into the Darling system.
At the time of Mitchell's expedition there were squatter-settlers to the east on the Moonie River, and within a few years the Balonne district was under occupation. The town of St George began with a post office and a hotel in 1864. In 1879 a local government authority, the Ula Ula division, was created, from which St George was separated as a separate municipality in 1884. (The name 'Ula Ula' was thought to derive from an Aboriginal word for water lilies. It was replaced by Balonne in 1903). The Balonne's floodwaters left the new shire in need of improved roads and bridges. Watering facilities for travelling stock were also required, while a moderate prickly pear infestation affecting half the shire area, particularly around St George, presented further difficulties. Local agitation for a railway system also arose at this time yet despite intense lobbying, St George remained the largest inland town without a railway (Dirranbandi in the south only finally acquired a rail connection in 1913).
Balonne Shire was described in the 1946 Australian Blue Book: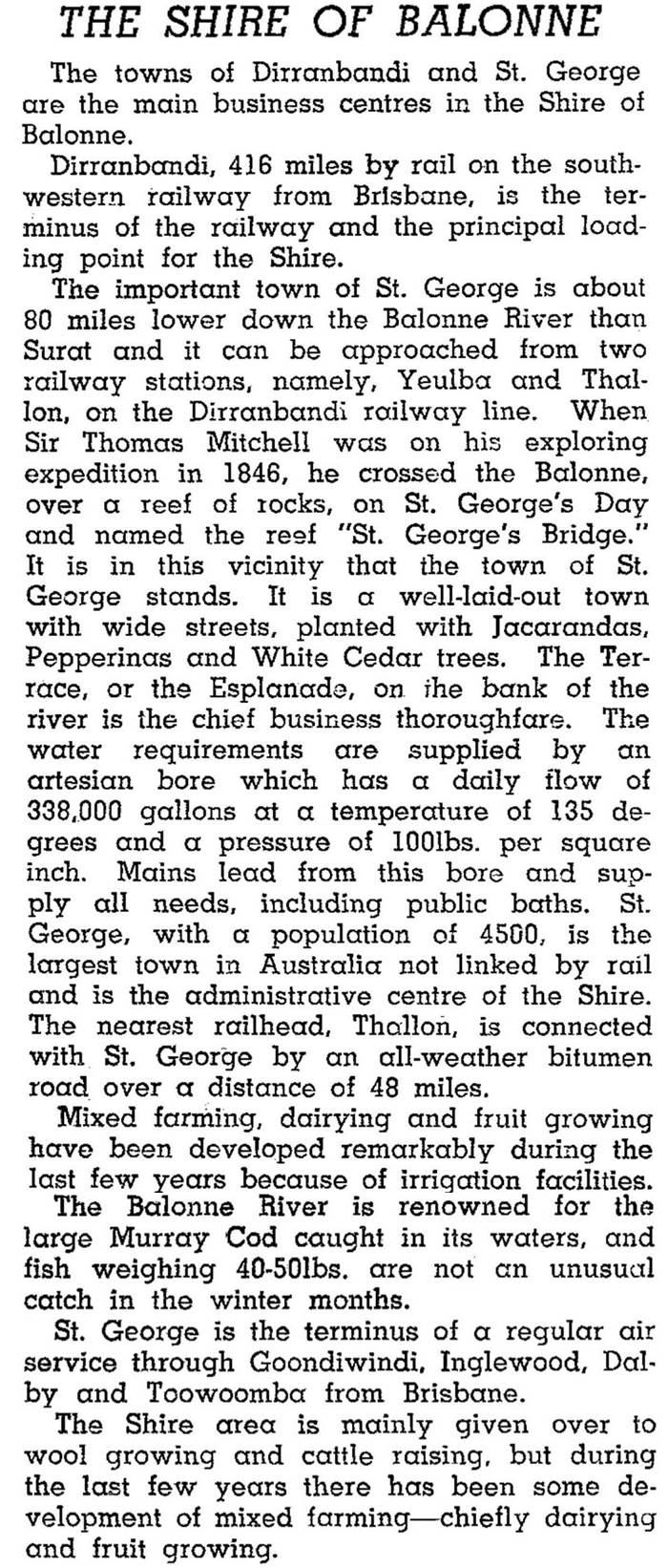 The Balonne River bisects the shire and its banks host the two largest towns, St George and Dirranbandi, each with a civic centre and hospital. In 1911 their combined populations were 25% of the shire's population, and 62% by 2001. St George's population grew sharply after the 1953 resumption and subdivision of a grazing property, and the new, smaller parcels turned to fodder, lucerne and cotton farming.
Irrigation for St George agriculture was supplied from a weir on the Balonne, adjoining the town. The St George Irrigation Area's Supply was increased tenfold with the construction of the upstream Beardmore dam in 1972. Cotton became the dominant crop, and a cotton gin was opened in 1976, 20 km south of St George. Grazing and wheat remain important elsewhere. In 1993 the shire had 70,000 meat cattle, nearly 890,000 sheep, 143,000 lambs and 40,000 ha for cereal growing. There were also over 18,000 ha under other crops, over half growing cotton.
Cubbie Station, a vast cotton farm outside Dirranbandi, has been the subject of attention in recent years due to water harvesting from the Culgoa, one of four distributaries fed by the Balonne. This practice has been blamed for reduced flows for seasonal flooding further south and reduced flow into the Murray-Darling system.
Balonne shire's census populations have been:
| Census Date | Population |
| --- | --- |
| 1911 | 3305 |
| 1947 | 4040 |
| 1961 | 6105 |
| 1981 | 4678 |
| 2001 | 5324 |
| 2006 | 4627 |
| 2011 | 4720 |
G.O. Armstrong, In Mitchell's footsteps: a history of the Balonne Shire, Brisbane, W.R. Smith & Paterson, 1968
Dirranbandi and St George entries