Barcaldine is a rural town 520 km west of Rockhampton, at the intersection of the Capricorn and Landsborough Highways. It is best known as the 'birthplace' of the Australian labour movement.
The Barcaldine area was crossed by Sir Thomas Mitchell's and Augustus Gregory's expeditions (1846, 1858). In 1863 Donald Cameron took up a pastoral run on the Alice River which he named Barcaldine Downs, after Cameron's family property in Ayrshire, Scotland. The run was partly resumed for closer-settlement holdings in the 1880s.
Barcaldine town lots were sold in 1885 and within a year several buildings were under construction. By the end of 1886 the town had been surveyed and the railway line had reached there from Jericho and Rockhampton. This was a promising beginning for the town. Numerous buildings were transferred from Jericho (bank, Masonic hall, Methodist and Catholic churches) and from Pine Hill (railways buildings and a court house). In 1887 a progress association was formed, a government school was opened and, most importantly, a free-flowing source of clear bore water was found.
Barcaldine started off with a rush of success, although the pace of growth overlooked hygiene precautions and there were chronic health problems and few safeguards against the supply of opium to Aborigines.
In the late 1880s Barcaldine became a centre of activity in western Queensland for the organisation of shearers and rural labourers. Pastoralists, concerned about this growing assertiveness, formed the Pastoral Employers' Association in Barcaldine in 1889, and reduced rates of pay for shearers. The response was a firming of union membership, and by early 1891 hundreds of shearers and rural workers were camped around Barcaldine waiting for work and threatening to take action if non-union workers were brought in. Mass meetings were held under a ghost gum, Eucalyptus papuana, the Tree of Knowledge, now commemorated as the birthplace of organised labour, trades union and the Australian Labor Party. Clashes between police and strikers in March 1891 led to 13 leaders being gaoled on St Helena Island in Moreton Bay. (Nearly 30 years later one was elected shire chair.) The shearers' strike camp site and the Tree of Knowledge outside the railway station are listed on the Queensland heritage register.
After a settlement of kinds was reached between pastoralists and unions, Barcaldine resumed rural and related activities. An industrial sector at one end of the town had a meat processing factory, a wool scouring works and a piggery, all generating industrial effluent. During the remainder of the 1890s a school of arts, a convent and a hall for the divisional board were opened. There was then a slump during a three-year drought (1899-1902), although the Masons constructed a handsome two storey tin and timber hall (1901). The hall is heritage-listed, along with the Church of England and the war memorial clock.
Bore water kept the town going through the drought, and the return to normal seasons assisted the growth of shade trees. By the mid-1900s it was considered that, by western Queensland standards, Barcaldine was a garden city. The town was described in 1903 in the Australian handbook: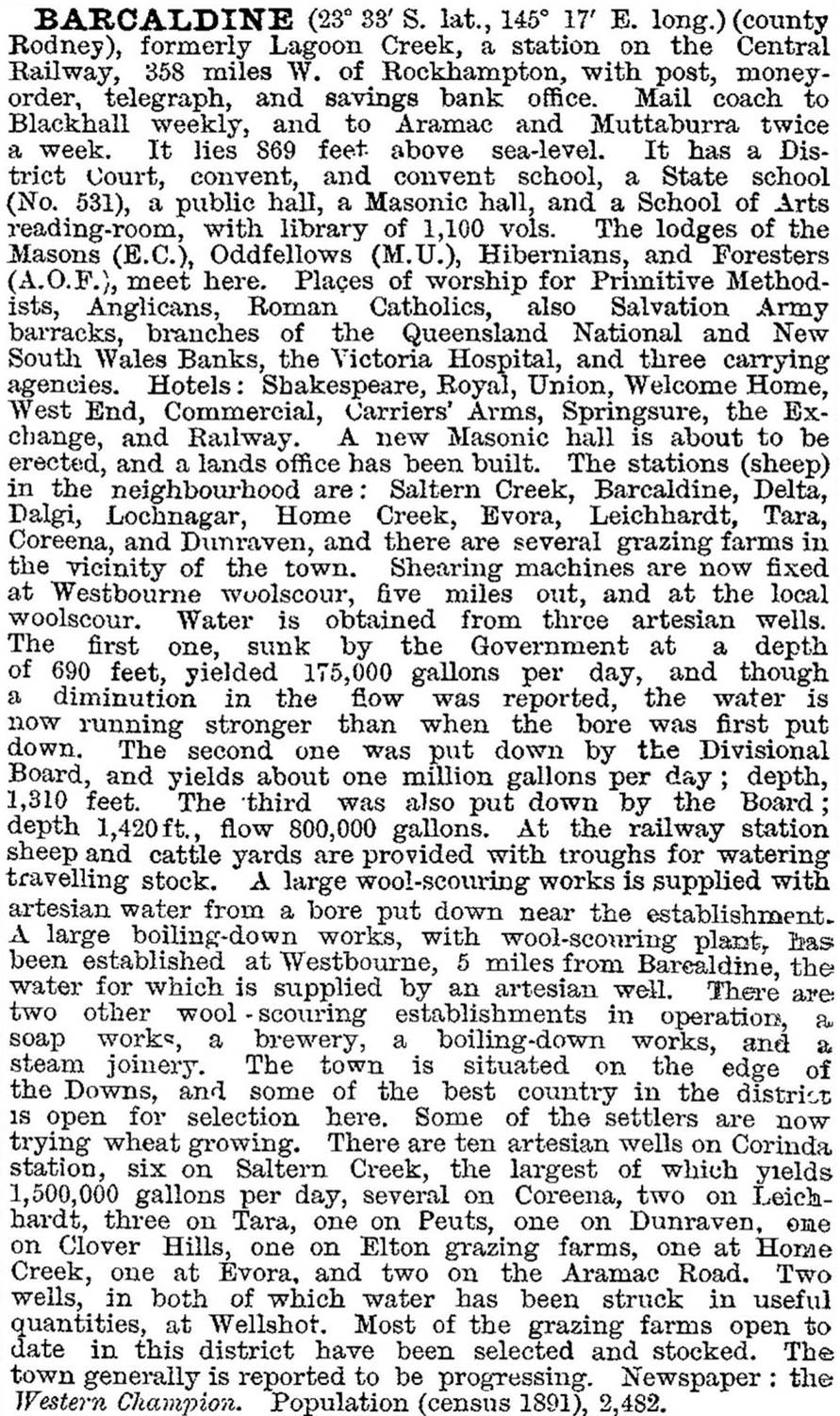 A swimming pool opened in 1907.
Barcaldine drew freight from the south around Blackall, but that stopped when a railway branch line from Blackall to Jericho opened in 1908. Five years later there was compensation in part when a privately funded tramway between Barcaldine and Aramac, 67 km to the north, opened. In 1914 Barcaldine held its first agricultural show.
The Barcaldine Grammar (later, St Peter's Anglican) school began in 1915, continuing until the Depression forced its closure in 1932. Barcaldine's zenith probably occurred in 1925, both in population and prosperity, before a long term drought crippled wool production. Prices fell in 1928 and conditions deteriorated. The 1930s were a period of slow progress and low morale, with amenities in poor shape to accommodate a population influx during World War II of evacuees from seaboard towns. Postwar reconstruction began with a remodelling of the convent. The 1950s saw further recovery, with construction of a new hospital (1953), a secondary department added to the State school, a sewerage scheme and a general upgrading of buildings and public infrastructure. Wool production was boosted by good seasons and high prices.
Barcaldine's history is littered with the charred ruins of frequent fires. As late as the 1950s there were losses, including the Western Light soap works. Fire-proof materials went into new buildings. A hotel was lost in 1962, but six remain until this day. One facility that never burnt down was the pool; after 73 years it was replaced by a modern facility in 1980. The bore water was good for washing, and in winter taps ran all night for a warm bath in the morning. The absence of metering encouraged profligacy. Water restrictions were imposed by the shire in 2005.
Barcaldine local government division was proclaimed in 1892 by severance from the Kargoolnah (Blackall) division. The total area of the new division was 8430 sq km and Barcaldine township held 75-85% of the shire's population.
Barcaldine Shire was described in the 1946 Australian Blue Book: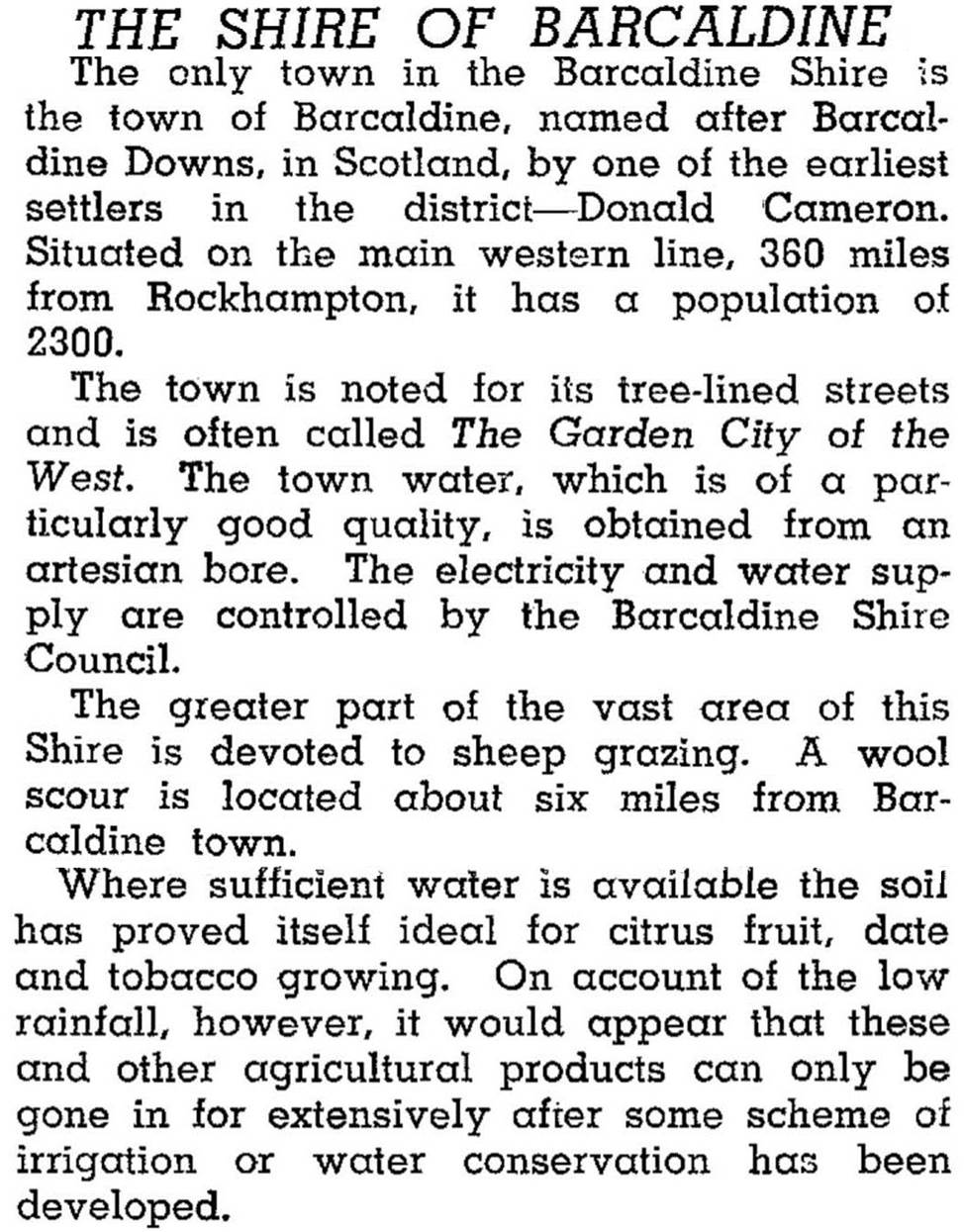 The shire's main industry was sheep grazing and wool production, although beef cattle grazing grew during the 1970s to 40,000 head, and numbered nearly 65,000 in the 1990s (by comparison, there were over 610,000 sheep and lambs in 1993). Tourism became important, with six hotels and five motels in the town, although accommodation and hospitality had only 6% of the shire's employment in 2001. The leading employment sectors were agriculture (18%), construction (13.7%), wholesale and retail (14%), health and community services (9.3%) and education (8.2%). The shire's median weekly individual income was $377, less than the region's median of $407 but higher than the Queensland median ($359).
In 2008 Barcaldine Shire (8443 sq km) was amalgamated with Aramac and Jericho Shires to form Barcaldine Regional Council (53,677 sq km). The new local government area is described in a separate entry.
The town has maintained a steady population since the 1970s, down from the 1950s. It has bowls and tennis clubs, a combined racecourse and showground next door to the golf course, State and Catholic schools, a historical museum and four churches. There is also an Australian Workers Heritage Centre (1991), a folk museum, and the 1891 shearers' camp, all places of special note. The Comet Lodge of Freemasons masonic temple (1901) is an elaborate two-storey building.
Barcaldine – and the labour movement – suffered a symbolic blow in October 2006, with the poisoning death of the heritage-listed Tree of Knowledge. However, a spectacular architect-designed new Tree of Knowledge memorial using the site and the trunk of the original tree was opened in May 2009 by Premier Anna Bligh. It features an 18 metre high cube in which 4000 suspended timbers of varying length form the tree canopy. Each May Barcaldine celebrates the Tree of Knowledge Festival, once only a mayday parade but now including food expos and goat racing.
The area's strong labour history was also celebrated with an upgrade of the Australian Workers Union hall in 2013.
One of the town's notable hotels, the Globe (1910) was sold to the Barcaldine Regional Council in 2011 with plans to turn it into a new visitor information centre incorporating an art gallery, library and cultural centre. The hotel had been run for almost 50 years by ALP stawart Pat Ogden. Exempt from heritage listing as lacking 'genuine' State significance, work began in September 2014 on the new development.
A proposal in 2015 for an 80,000 panel solar farm on 35 hectares on the eastern outskirts of Barcaldine aimed to take advantage of the intensity of solar radiation in the area, and would make it the State's largest solar farm.
Barcaldine's census populations have been:
Census Date
Population
Barcaldine
Barcaldine
Shire
1891*
2482
-
1901
1476
-
1911
-
2256
1921
2023
-
1933
-
2612
1947
1682
2147
1966
1779
2299
1971
1464
-
1986
1427
1779
2001
1773
1773
2006
1617
1617
2011
1655
-
*
Includes influx of rural workers.
Isabel Hoch, Barcaldine 1846-1986, Barcaldine, Barcaldine Shire Council, 1986
Isabel Hoch, Barcaldine Local Authority 1893-1993, Barcaldine, Barcaldine Shire Council, 1993
'Farming by irrigation at Barcaldine', Queensland Agricultural Journal, March 1903, p 161
Barcaldine Regional Council entry