Bendemere Shire, an area of 3940 sq km, and generally 370 km north-west of Brisbane and 60 km east of Roma, was amalgamated with four other local government areas in 2008 to form Roma Regional Council. The former shire was bisected by the Warrego Highway, where two of the shire's three main towns, Yuleba and Wallumbilla, are located (the third major settlement being Jackson). The shire's administrative centre was Yuleba.
The shire, named after the Bendemere pastoral station (1851), was created in 1911 by severance from Bungil Shire (to the west) and parts of Murilla and Warroo Shires.
The main western railway runs parallel to the Warrego Highway, and was constructed through the Bendemere district in 1879. Although the main areas of habitation predated the railway, they were strengthened by its arrival and by the emergence of farm selections during the 1880s-90s along the transport corridor.
Apart from a sawmill the main primary production was grazing – sheep, meat cattle and local dairying. During the 1920s there was severe prickly pear infestations, particularly south of the Warrego Highway. Removal of the pest opened up better prospects for wheat growing.
Bendemere Shire was described in the 1946 Australian Blue Book: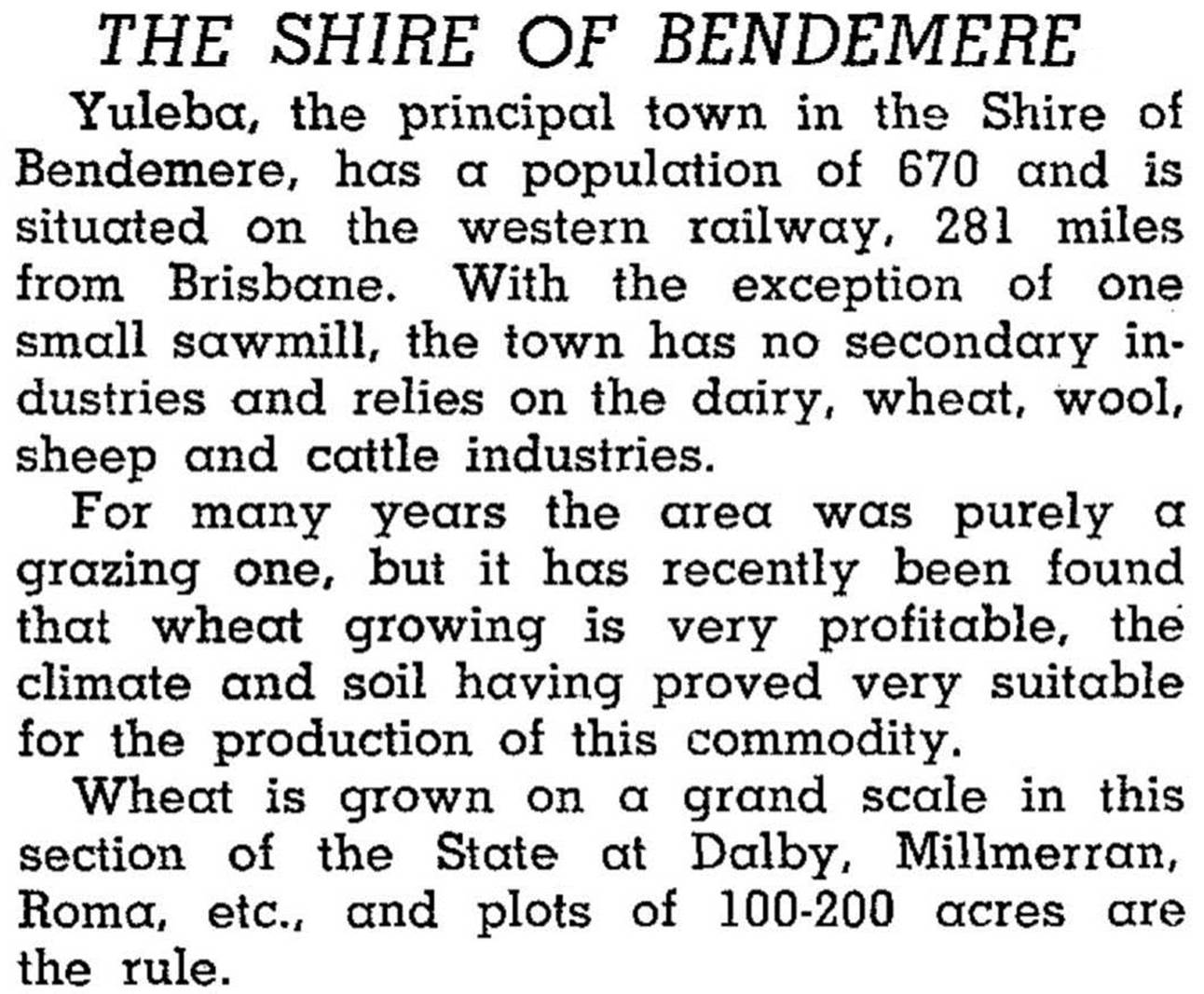 Despite the recovery of productive land, the changes in postwar agriculture led to a one-third reduction in the shire's population between 1960 and 2000. The shire also benefited economically from the natural gas industry. Gas wells dot the area, and an LPG processing plant is located to the south of Wallumbilla.
In 1993 Bendemere Shire had nearly 900,000 sheep, 143,000 lambs, 70,000 beef cattle, 40,000 ha under cereals and 11,000 ha under other field crops. About 30% of the shire is tree-covered, including Australia's largest cypress pine stand near Yuleba. The shire's census populations were:
| Census Date | Population |
| --- | --- |
| 1921 | 1806 |
| 1933 | 1523 |
| 1954 | 1602 |
| 1976 | 1201 |
| 2001 | 964 |
| 2006 | 985 |
Wallumbilla and Yuleba entries