Booringa Shire, an area of 27,793 sq km, was generally 500 km north-west of Brisbane. Its northern boundary lies along the approaches to the Carnarvon National Park from where the Maranoa River rises. The river flows southwards through the shire, passing by the administrative centre, Mitchell. In 2008 Booringa Shire was amalgamated into the Maranoa Regional Council.
The Booringa district was explored by the New South Wales Surveyor General, Thomas Mitchell, in 1846, and several pastoral runs were taken up during the next ten years. Among them were Mitchell Downs (1854) and Amby (1856). The town of Mitchell, where the Mitchell Downs homestead had been built, was established by the end of the 1860s.
In 1883 the western railway was extended from Roma to Mitchell, passing through the shire's other two main settlements, Amby, east of Mitchell, and Mungallila, to the west. The Booringa local-government division (1879) was made a shire in 1888, head-quartered in Mitchell.
North of the railway and Warrego Highway corridor the shire is undulating to steep and rocky. To the south there are flood plains, the most productive being the Maranoa. There is a dingo fence about 12 km north of the corridor.
By 1910 Mitchell had a population of about 1000, 40% of the population of the shire. The economy was nearly all pastoral, cattle grazing north of the railway and mostly sheep grazing to the south. Grazing land was troubled by brigalows and sandalwood regrowth, but there was better quality timber that kept sawmills going in Mitchell and Mungallila.
Booringa Shire was described in the 1946 Australian Blue Book: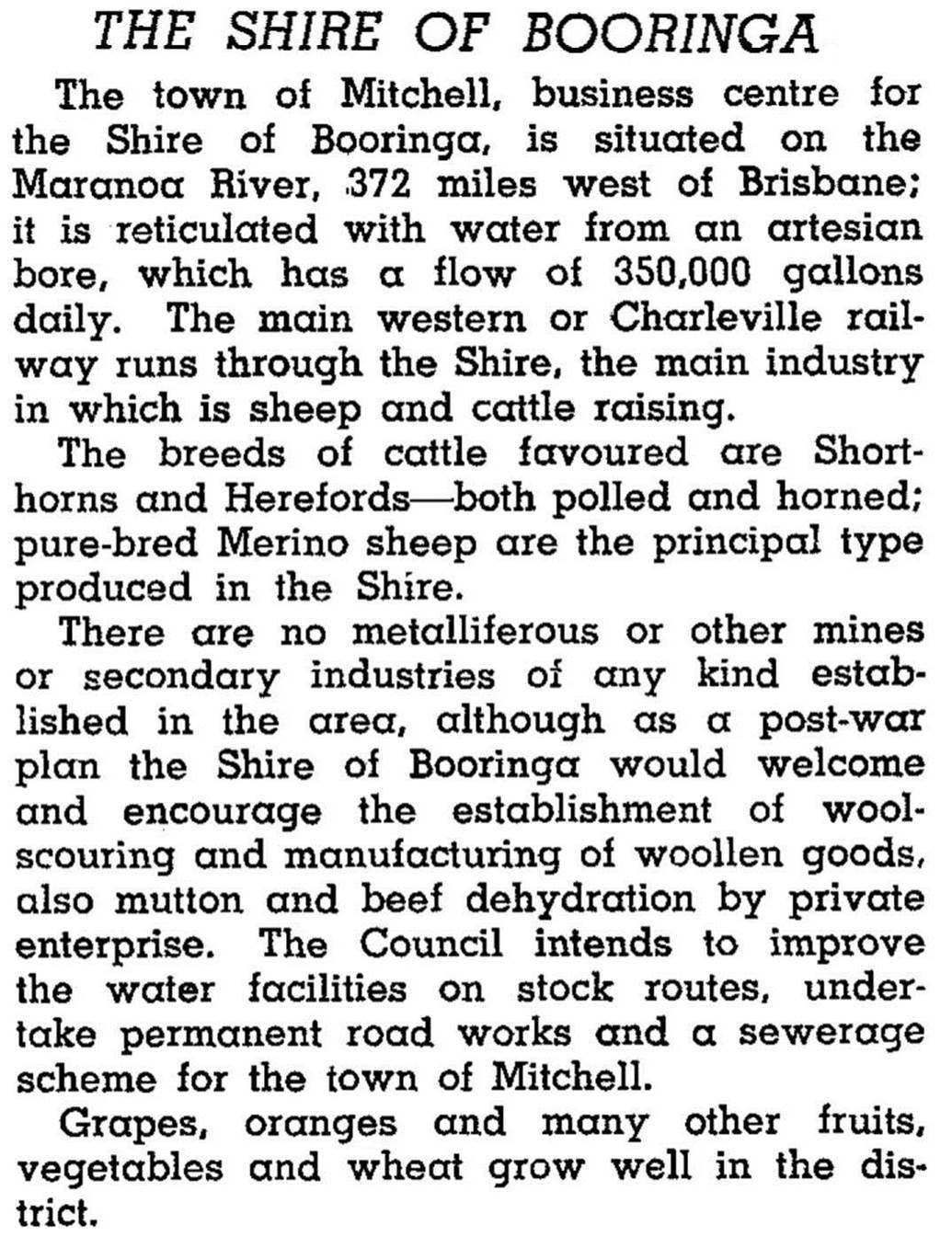 In the optimistic years after World War II hopes were raised for more productive agriculture but sheep and cattle grazing have maintained their dominance.
There has been a foray into tourism with the story of the cattle-duffing Kenniff brothers. Tourists can also visit the Carnarvon Ranges National Park in the north of the shire.
There were 295,000 sheep, 131,000 beef cattle and 36,000 lambs in the agricultural report for 1993.
In 2001 the Booringa Shire Council began drawing water from sub-artesian streams and bottling it in Brisbane, but competition from major bottled water companies proved too strong and the venture folded.
The shire's census populations have been:
| Census Date | Population |
| --- | --- |
| 1911 | 2502 |
| 1933 | 3190 |
| 1961 | 3592 |
| 1971 | 2799 |
| 1986 | 2239 |
| 2001 | 1996 |
| 2006 | 1706 |
A.B. Tiller, Booringa Shire handbook, Brisbane, Queensland Dept of Primary Industries, 1973