Bulloo Shire, an area of 73,805 sq km, occupies the extreme south-west part of Queensland. It includes Burke and Wills' 'Dig' tree near the South Australian border, and Cameron Corner where the borders of Queensland, New South Wales and South Australia intersect.
The shire is named after the Bulloo River which rises in the Gowan Ranges south of Blackall. Running south-west through the shire, often consisting of a string of water holes, it ends at the Bulloo Lakes or Overflow at the New South Wales border. It is thought that the name was derived from an Aboriginal word meaning 'slow'.
Pastoral occupation of the Bulloo district began in the 1860s and a police barracks was constructed at Thargomindah, the shire's administrative centre, in the early 1870s. The town was gazetted in 1874, and six years later the Bulloo divisional board was formed. The divisional board's area consisted of vast pastoral stations and one of them, Noccundra (150 km from the South Australian border) established a small hotel and associated buildings. The ruins are listed on the Australian heritage register.
Thargomindah was the sole town of any size, and remains so, with the hospital (1888) post and telegraph office, school (1884) and court (1876-1961). Bore water (1893) was tapped for domestic purposes and for a town hydro-electric system. Thargomindah was described in the 1903 Australian handbook: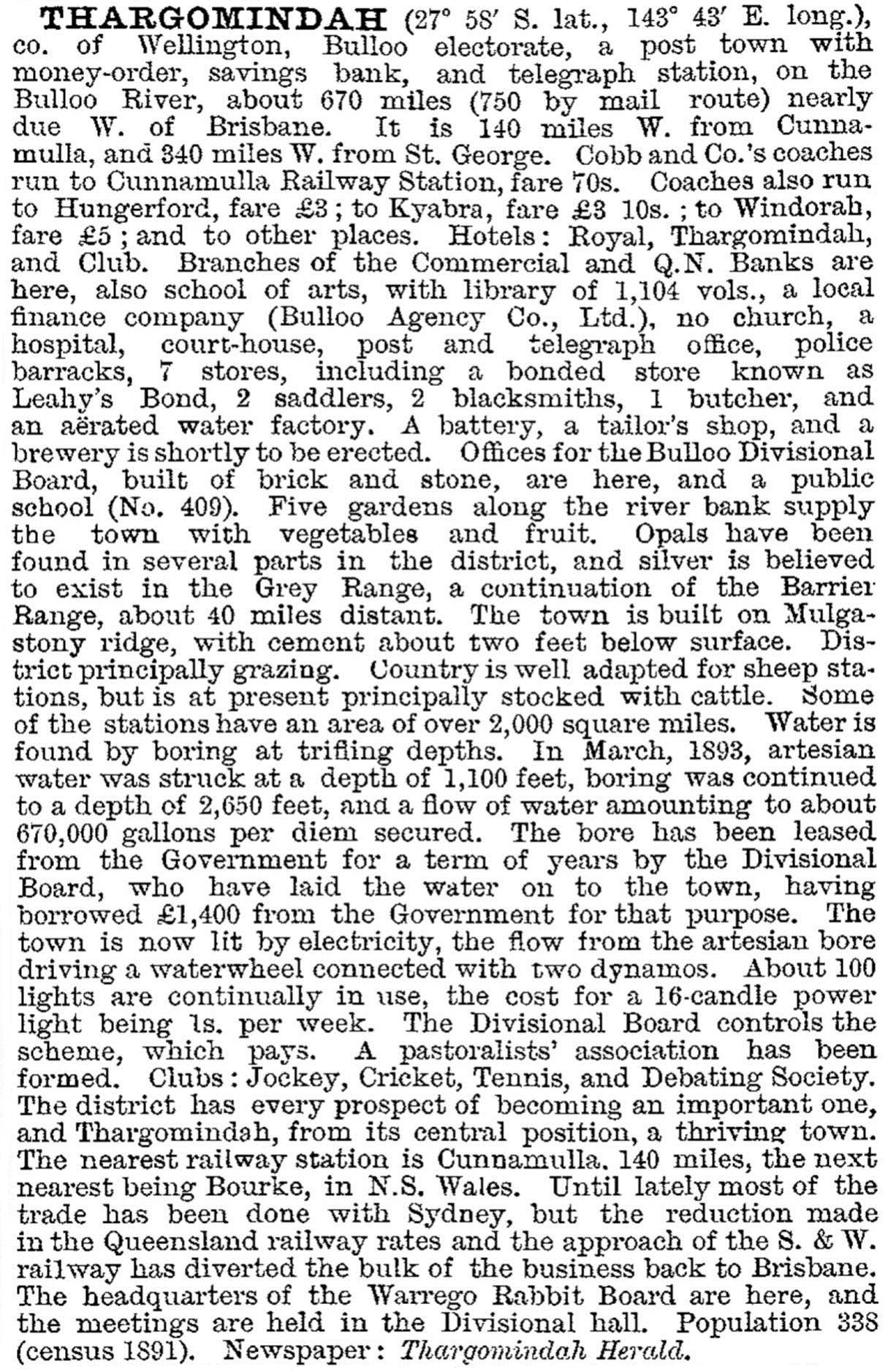 In 1946 Bulloo Shire was described in the Australian Blue Book:

Apart from sheep and cattle grazing, Bulloo Shire has natural gas fields at Ballera and Naccowlah and the Jackson oil field, all west of Noccundra in the vicinity of Cooper Creek. There are national parks, Lake Bindegolly east of Thargomindah, near the Leopardwood opal mines, and Currawinya which is near Hungerford on the New South Wales border. Currawinya includes two lakes and relics of pastoral occupation, and has an area of 151,300 ha. The best known natural feature is the Burke and Wills Dig tree, a Coolibah probably 250 years or more old, residing on the Nappamerrie pastoral station.
In 1993 the shire had 194,000 sheep and lambs and over 112,000 beef cattle.
The Bulloo Shire has an estimated permanent population of about 500; the census count in 2001 recorded 738, indicating that tourist visitors contribute to the economy. Thargomindah has two motels and other accommodation. The town has devised a heritage walk past the hydro-electric building, restored hospital and a mud-brick house (1880s) used as a museum.
The Federal Court formally recognised the Kullilli people as the traditional owners of 32,000 sq km of land in south-west Queensland. The court sat in a marquee on an oval at Thargomindah in 2014 to officially hand down the Native Title determination on a claim first filed in 2009.
Its census populations have been:
| Census Date | Population |
| --- | --- |
| 1911 | 1645 |
| 1921 | 882 |
| 1954 | 672 |
| 1976 | 521 |
| 2001 | 738 |
| 2006 | 370 |
| 2011 | 403 |
Nicola Pitt, Thargomindah: the town by the Bulloo, Bundaberg, Thargomindah Historical Society, 2003
Thargomindah South West Queensland, tour brochure, c2002
'In the south-western country', Queensland Agricultural Journal, May 1903, p.295
Centenary, Bulloo Shire, Thargomindah 1880-1980, Thargomindah, Bulloo Shire Council, 1980