Calliope Shire, an area of 5875 sq km, bounded the City of Gladstone on all sides except the coast. It included Heron Island. In 2008 the shire was amalgamated with Miriam Vale Shire and Gladstone City to form Gladstone Regional Council. The shire was named after the Calliope River, which was named by Governor FitzRoy in 1854, when he inspected the Port Curtis (Gladstone) area; a year after that town had been surveyed. FitzRoy travelled in the vessel Calliope.
Port Curtis was chosen as a superior port to Maryborough for the transport of livestock from the Dawson and Burnett Rivers areas. In 1855 the first pastoral leaseholds were taken up around Gladstone, and gold discovery at Calliope in 1862 brought an influx of population.
The Calliope River flows eastwards across the shire, reaching the sea about 6 km west of Gladstone. The other main river system is the Boyne, flowing northwards and reaching the sea east of Gladstone, at Boyne Island. The Boyne Valley includes Many Peaks (copper mining, early 1900s), the Ubobo soldier-settlement area (1920s) and several other small mining areas. Unlike mining, agriculture has comprised a lasting pursuit, productive river flats providing a durable foundation for economic operations. A variety of crops were trialled in the Mt Larcom district in the north of the shire, including sugar in 1912 and cotton in the 1920s.
Calliope Shire was proclaimed in 1879 and Gladstone was chosen as its administrative centre. (Gladstone had been a separate municipality since 1863.) Miriam Vale Shire was severed from Calliope in 1902. In 1896 the railway was extended from Bundaberg to Gladstone. The Boyne Valley line from Gladstone to Many Peaks was opened in 1910, and eventually taken south to Monto in 1931. The rail provided transport for Many Peaks copper ore timber and for shipping dairy produce to the Port Curtis dairy factory. The 1946 Australian Blue Book described the Calliope Shire as follows: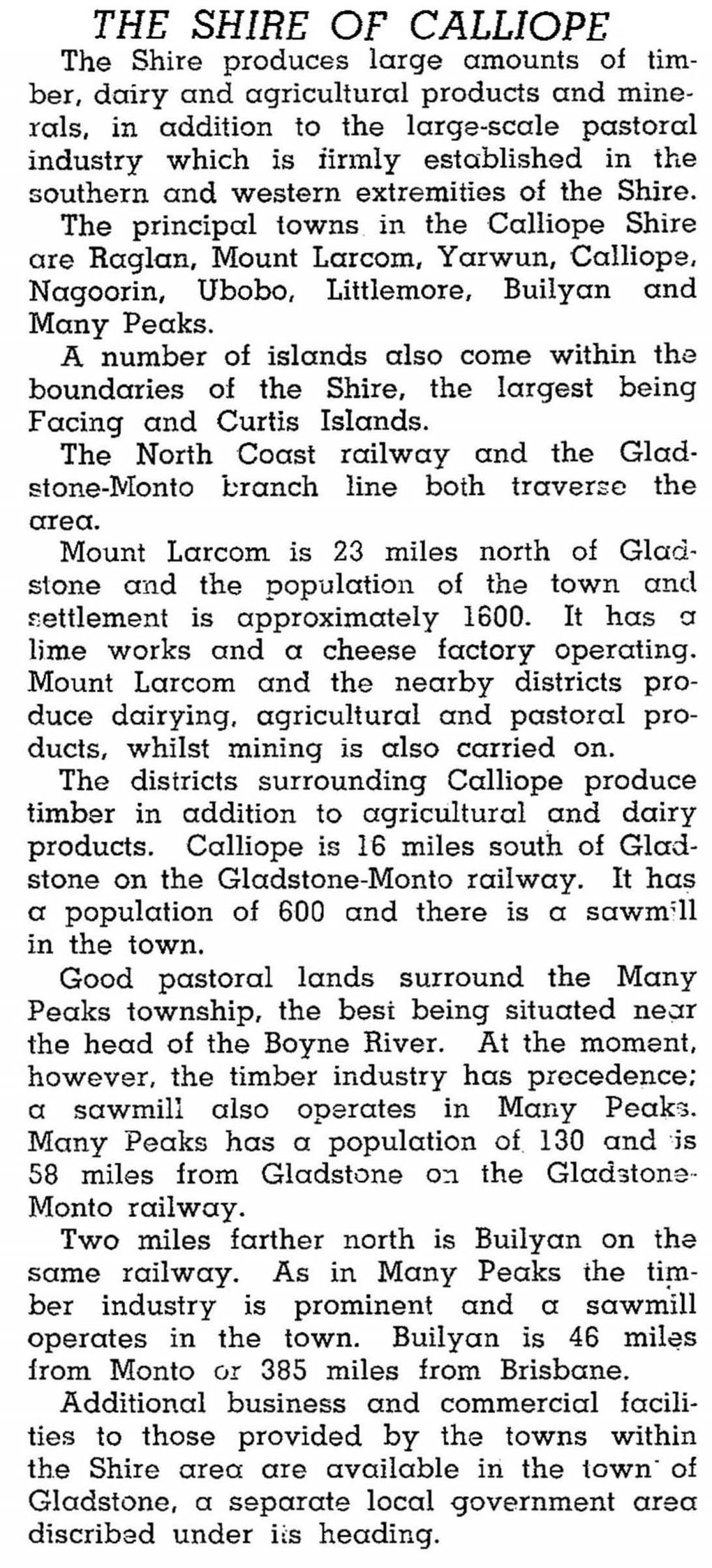 In 1967 Comalco began exporting alumina through Gladstone, and in 1968 a railway line was constructed linking the Moura coal field to Gladstone, enabling supply to a massive aluminium smelter. This heavy industrialisation stimulated a rapid increase in population which spilled outside Gladstone City's boundaries into new housing estates in Calliope Shire. Boyne Island and Tannum Sands, linked by a bridge over the Boyne River, are today dormitory suburbs for the Boyne Island aluminium smelter. A new form of mining began in the 1980s, with Queensland Cement and Lime Co Ltd mining limestone and clay at Mt Larcom west of Gladstone and piping it to Gladstone for processing into clinker.
In 2001 27% of the employed population in the urban areas of the shire adjoining Gladstone, was in the manufacturing sector. Comparable percentages were 19% for Gladstone City and 14% for the rest of Calliope Shire.
In 1993 Calliope Shire had 108,000 beef cattle, 2600 dairy cattle and 6100 pigs. Rural production occupied 477,000 ha.
Between 1975 and 2008 the Shire's administrative offices were in Calliope.
The Shire's census populations have been:
| Census Date | Population |
| --- | --- |
| 1911 | 3669 |
| 1947 | 3801 |
| 1976 | 5055 |
| 1981 | 8700 |
| 1991 | 10,853 |
| 2001 | 14,552 |
| 2006 | 16,544 |
About 80% of the 2001 population was classified as living in 'greater Gladstone'.
Calliope Shire Council centenary 1879-1979, Calliope, Calliope Shire Council, 1979
Betty Laver, Pioneers of the Calliope Shire, Gladstone, Betty Laver, 2004
Boyne Island, Calliope, Gladstone Localities, Many Peaks, Mount Larcom and Tannum Sands entries