Like other former mining towns, Charters Towers has several small suburbs. Moving clockwise from the north of Charters Towers central there are Richmond Hill, Queenton, Millchester and Mosman Park. To the west of the city centre there are Towers Hill, Alabama Hill and Grand Secret, but these have been overlain by the recently named Lissner (2001) which also includes part of the central area if Australian Bureau of Statistics boundaries are accounted for.
According to the Queensland place names register, the names and boundaries of the suburbs were formalised as recently as 2001.
RICHMOND HILL
This suburb is situated away from the mining activity and was purposely residential. It has the former residence of the mining entrepreneur E.H. Thornburgh Plant, which became the Methodist and Presbyterian churches' Thornburgh College (1919) and Blackheath and Thornburgh College in 1978. Its State primary school opened in 1895. There are also Columba (formerly Mt Carmel) Catholic College that began in 1902 and the Anglican All Souls and St Gabriels Co-ed P-12 School which began as separate boys' and girls' schools in 1920 and 1921. Richmond Hill is an education precinct for central and northern Queensland. Richmond Hill's census populations have been:
| census date | population |
| --- | --- |
| 2006 | 2531 |
| 2011 | 2776 |
QUEENTON
Queenton is on the Flinders Highway and has the Great Northern Railway Line and the Charters Towers railway station. An area south of the station was the site of numerous rich gold reefs where there were several mine leases with 'Queen' in their names. The Citigold/Charters Towers Gold Project is nearby.
In the 1890s Queenton had four or more hotels, six stores, Anglican and Baptist churches and a government primary school. Its census population in 1891 was 2060 and in 1901 there were 2927. Situated between Charters Towers and Millchester, Queenton was the site for the first cemetery (1872-95).
Queenton was described in the 1903 Australian handbook: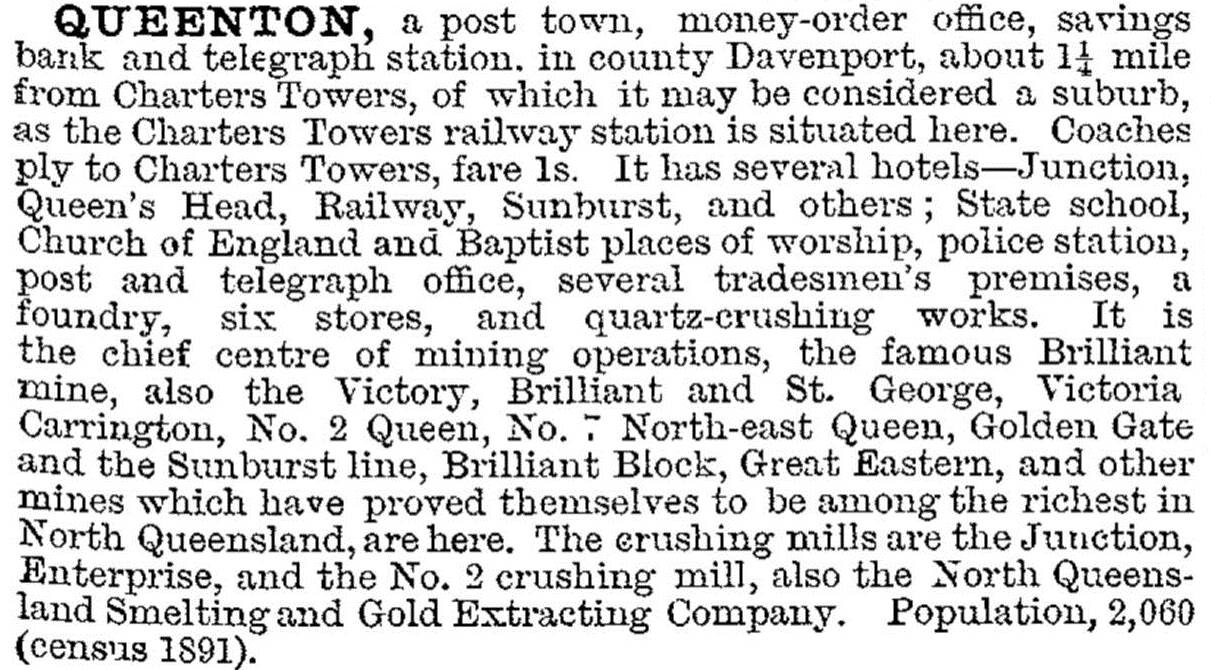 Queenton's census populations have been:
| census date | population |
| --- | --- |
| 2006 | 1603 |
| 2011 | 1702 |
MILLCHESTER
Millchester was both a mining site and the preferred place of habitation in the 1870s because of its several watercourses, Buchanans, Millchester and Aberdeen Creeks. The town centre was on Millchester Road where it crossed Millchester Creek. The district's first primary school opened there in 1874. In addition to the school, there were five hotels. Catholic and Anglican churches and a school of arts recorded in the Australian handbook in 1884. For a short time in the 1870s Millchester also hosted the district's court house. There were also market gardens supplying fresh vegetables to Charters Towers. As mining leads petered out, Charters Towers overtook Millchester in importance.
Millchester was described in the 1903 Australian handbook:

The Venus Battery (1872) is on Millchester Road. It became a State-owned enterprise in 1919 and is listed on the Queensland heritage register. A government tropical weeds research centre is also in Millchester.
Millchester has had census populations of:
| Census Date | Population |
| --- | --- |
| 1881 | 636 |
| 1901 | 1683 |
| 2006 | 375 |
| 2011 | 581 |
MOSMAN PARK
The large parkland at the headwaters of Millchester Creek was named after Hugh Mosman (Australian Dictionary of Biography, vol.5), Charters Towers' foremost mining entrepreneur. Mosman Park's census populations have been:
| census date | population |
| --- | --- |
| 2006 | 810 |
| 2011 | 330 |
LISSNER
Lissner Park, named after I.S Lissner, mining entrepreneur. Laid out in 1891, it was Charters Towers' early initiative to soften the mining landscape. It has a Boer War memorial kiosk, a memorial swimming pool and an elaborate band rotunda. Both the kiosk and the rotunda are listed on the Queensland heritage register.
Extreme measures, including helicopters, sirens, fogging machines and firing of gas guns, have been used over the years to remove a bat colony from Lissner Park.
The suburb of Lissner Park has had census populations of:
| census date | population |
| --- | --- |
| 2006 | 2648 |
| 2011 | 1948 |
L.W. Marsland, The Charters Towers gold mines, London, Waterview Bros, 1892