Chinchilla Shire, an area of 8701 sq km, and generally 280 km north-west of Brisbane was amalgamated in 2008 with Dalby Town Council, three other shires and part of Tambo Shire to form Dalby Regional Council. It was situated on the edge of the western Darling Downs which blend into an extensive State forest in the north of the shire.
The shire was named after the town of Chinchilla which is on the Warrego Highway and the Western railway line running from Toowoomba. Explored in 1844 by Ludwig Leichhardt, the Chinchilla district was noted for extensive stands of cypress pine, reputedly described by the Aboriginal word 'jinchilla', which was the origin of the name of the Chinchilla pastoral run (1848).
Successful closer-settlement in the Chinchilla area in the early 1900s led to the formation of Chinchilla Shire in 1912 by severance from Wambo Shire, a local government area centred on Dalby. By then there were growing dairying and sawmilling industries, but also a growing prickly pear menace. The timber industry expanded, with a narrow gauge railway (1911) from Chinchilla into the Barakula forest to the north-west. Prickly pear infestation was intense in western parts of the shire, and a field station at Chinchilla participated in the successful release of the Cactoblastis lavae in the early 1930s. The pest was substantially eradicated by 1933. There is a Cactoblastis Memorial Hall (1936) 10 km south-east of Chinchilla at Boonarga.
Chinchilla held about one-third of the Shire's population. Distributed elsewhere were numerous small settlements: over 30 small primary schools were opened during the 1890s-1930s, particularly while closer-settlement took hold.
Chinchilla Shire was described in the 1946 Australian Blue Book: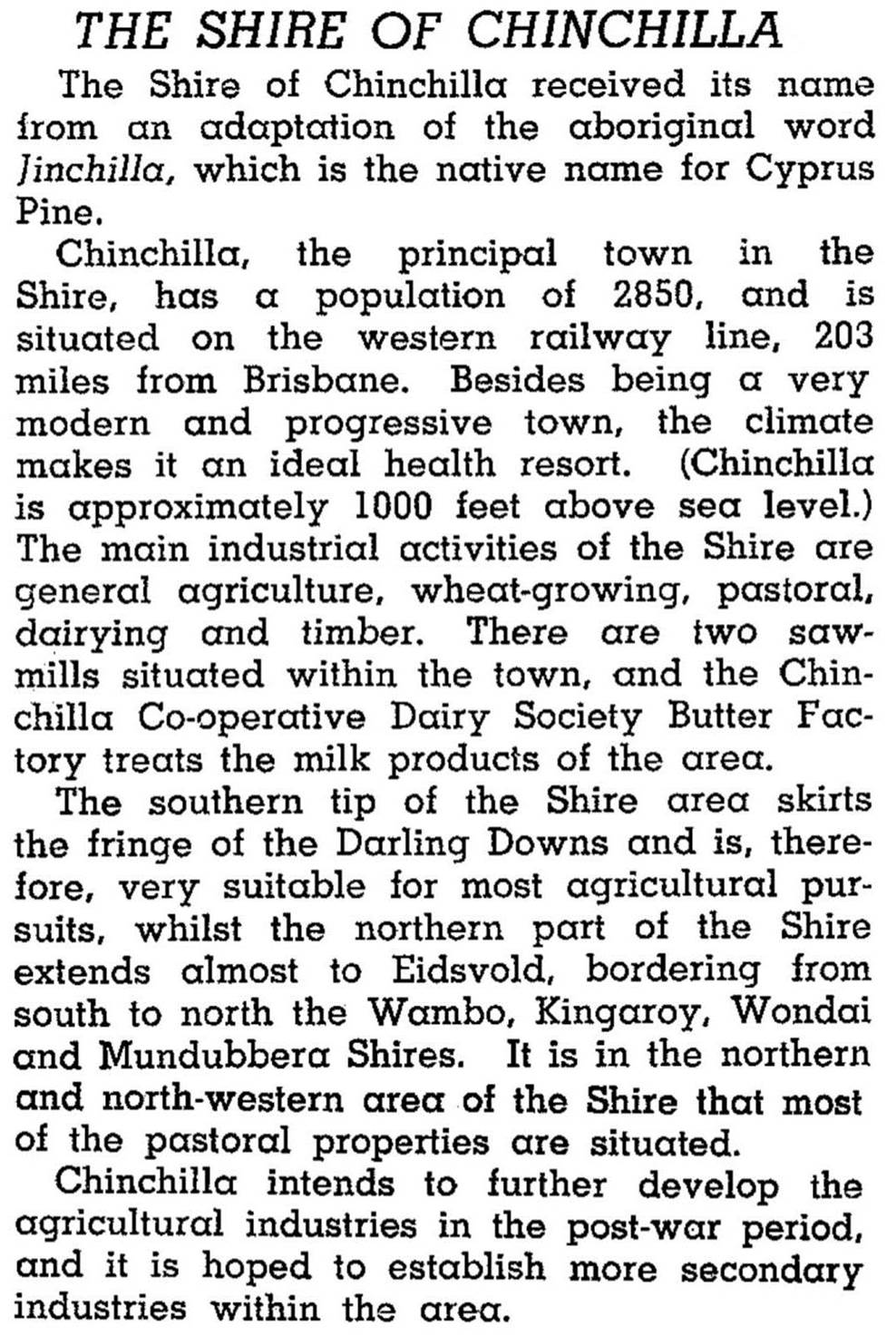 Dairying was a major industry from the opening of the Chinchilla co-op butter factory in 1910 until the late 1960s. That decade also saw the closure of several small schools as bussing of children to Chinchilla and a few other centres was more viable. The opening of a high school in Chinchilla in 1963 strengthened the trend.
Beef cattle grazing and fruit crops took over from dairying, and agriculture was assisted by irrigation from the Chinchilla weir (1974) on the Condamine River. In 1993 Chinchilla Shire had 85,000 beef cattle, 1700 dairy cattle, 41,000 sheep and lambs, 65,000 pigs and 42,650 ha under cereals. Sorghum is the main cereal crop. There were also 4350 ha under legumes and crops such as dry-land cotton, rockmelons and watermelons. The shire's largest employment sector in 2001 was agriculture and forestry (27.4% of total employment). The next largest sectors were wholesale and retail (22.4%), education (9.2%), health and community services (7.8%) and construction (6.7%). Of the more than 30 State primary schools once in the shire, in 2004 there were four. Sawmills were more plentiful – six in Chinchilla and two in Kogan.
Chinchilla Shire's census populations were:
| Census Date | Population |
| --- | --- |
| 1921 | 3103 |
| 1947 | 5203 |
| 1966 | 6093 |
| 1971 | 5574 |
| 2001 | 5789 |
| 2006 | 5942 |
Chinchilla centenary 1878-1978: souvenir booklet, Chinchilla, Chinchilla Centenary Celebrations Committee on behalf of the Chinchilla Historical Society and its Historical Research Sub-Committee, 1978
Tony Matthews, Footsteps through time: a history of Chinchilla Shire, Chinchilla, Chinchilla Shire Council, 2004