Coolangatta, a seaside-resort town on the New South Wales border, is 95 km south-east of central Brisbane. Coolangatta merges with Tweed Heads, the 'Twin Towns' divided by Boundary Street on the New South Wales border, which climbs a headland to Point Danger. Coolangatta is the southern-most settlement within Gold Coast City.
In 1846 the wreck of the brigantine Coolangatta was washed ashore at Kirra Beach (to Coolangatta's north). Exposed for 40 years, the wreck was a familiar local sight, and was still visible when a site for a new township was surveyed in 1883. The vessel's name was preferred over Point Danger as a name for the nascent settlement. 'Coolangatta' itself derives originally from an Aboriginal expression referring to a lookout place or view.
The hinterland was the site of timber-getting from the 1850s, with farm selections taken up in the following decade. A pilot station and customs house were located on the Tweed River, with the new Coolangatta township sheltered behind Point Danger proclaimed at a time when land speculators were seeking new opportunities away from a booming Southport. A two-storey hotel, optimistically grand, was constructed in 1884, but the 'township' saw little other development.
RAILWAY TOURISTS AND SURF CLUBS
The opening of the Brisbane-Tweed Heads railway line in 1903 sparked development, prompting the immediate construction of two new hotels. Visitors were drawn to the local Kirra and Greenmount beaches, both of which offered relatively sheltered conditions, protected by the Point Danger headland. The increasing popularity of surf bathing drove visitor numbers higher, railway passengers soaring from 6880 in 1903 to 16,520 by 1914. A Tweed Heads and Coolangatta surf life-saving club was formed in 1911 and another at Kirra in 1916. Visitors stayed at the Federal Hotel, the Family Hotel, Greenmount Guesthouse or in tents on rudimentary camping grounds.
The Coolangatta Progress Association pressed for shire by-laws regulating camping, bathing dress standards and sanitation. The town – with three hotels, eight boarding houses and a number of tradespeople by 1913 – had requirements increasingly divergent from those of the surrounding shire, and in 1914 Coolangatta was constituted as a separate municipality. It collaborated closely with its interstate neighbour, Tweed Heads, in planning shops and facilities, the two towns divided only by an unsightly border crossing/tick gate. Coolangatta's children attended school at Tweed Heads until the 1919 influenza epidemic, when a separate school was opened at Kirra, named after Kirra Hill, a knoll separating Kirra and Coolangatta beaches. To the north, bungalows were being built at Tugun and Bilinga, where residential blocks had been marketed since 1915.
MOTOR-CAR TOURISTS
The opening of the South Coast road from Brisbane led to increased motor traffic entering Coolangatta. As well as surfing and fishing, visitors could patronise the Capitol Cinema, built in 1924 and regarded as equal to Brisbane's Wintergarden. An impressive Catholic Church was constructed in 1926, surpassing in grandeur the Methodist Church (1924) and the later Anglican Church, built in 1932. Surf life-saving services operated full time through the Christmas-New Year period, when the population swelled by up to 30,000. By the 1930s visitors were swimming during the day in Jantzen Zipp trunks for the men and backless costumes for the women, and swanning at Coolangatta Jazzland in the evenings.
Coolangatta was described in the 1946 Australian Blue Book: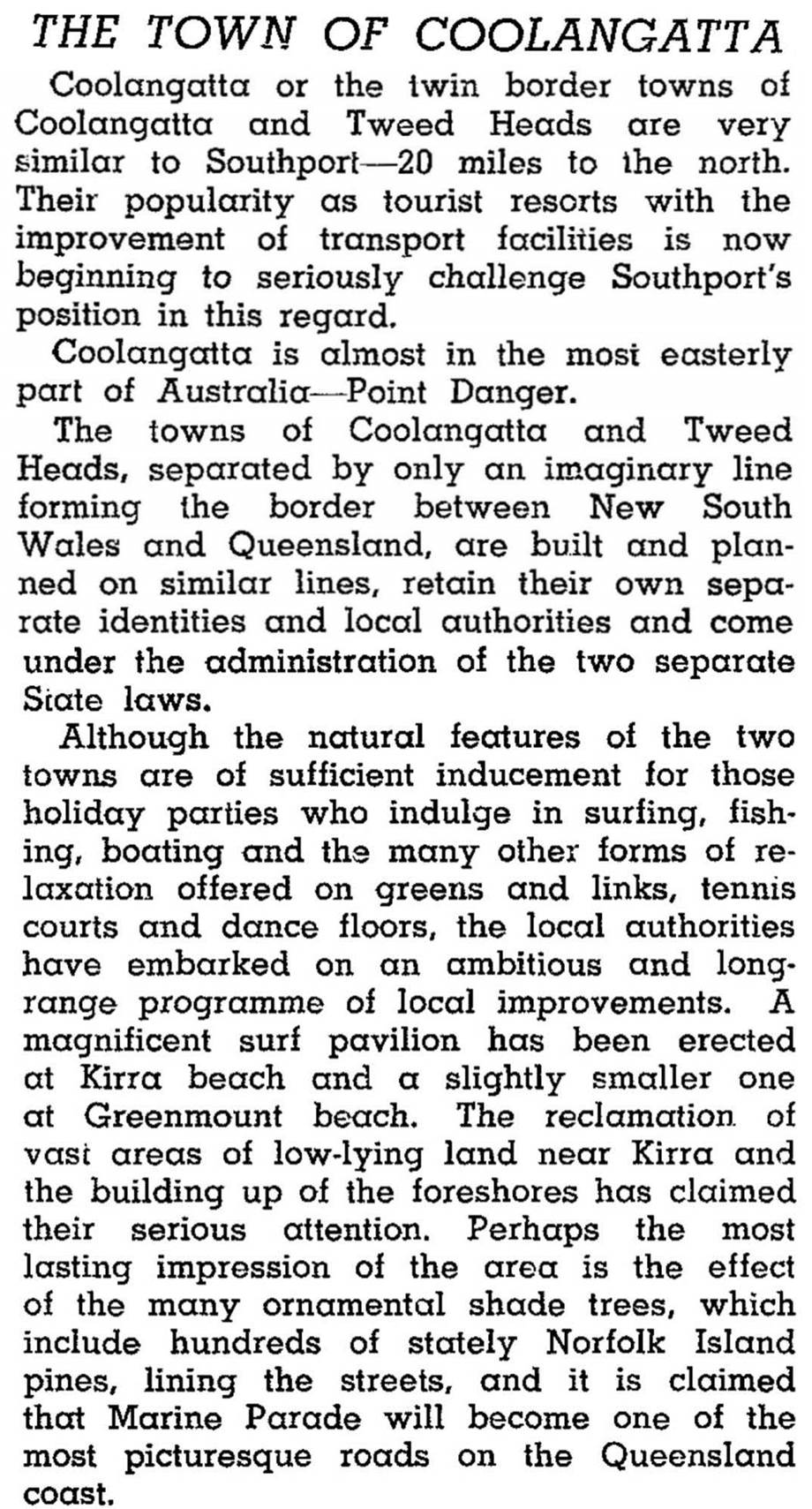 AIRPORT TOURISTS
In 1949 Coolangatta and Southport towns merged to form the South Coast Shire, later Gold Coast City. Coolangatta Airport, opened on a tract of swamp land north of the town centre in 1936, was upgraded in the late 1950s and has been gradually expanded ever since. Since the early 1960s it has seen regular jet services to the southern capitals and by 1981 handled 700,000 passengers.
Coolangatta continued to prosper in the early postwar years. A new surf club opened at North Kirra in 1949. Penrod's Touring Guide for 1953 stated that, apart from surfing and swimming, visitors could enjoy recreational activities such as bowls, tennis, golf and roller-skating. 'Excellent camping facilities' with showers and laundries were on offer, and the then famous Kirra and Greenmount beaches were venues for major surf carnivals. The border gate, once barred tight to prevent cattle straying into New South Wales was now never closed. In the 1950s and 1960s Coolangatta became a premier holiday and honeymoon destination.
By the 1970s beaches to Coolangatta's north – particularly Surfers Paradise – were coming to prominence as holiday destinations, dominated by new and glamourous high rise developments. While Coolangatta's old hotels and guesthouses were burnt or knocked down, their replacements never matched the glitz of the developments up the Gold Coast Highway. A handful of high-rise projects were built – the Greenmount Guesthouse was replaced by a multi-storey hotel in 1979, and a number of apartment blocks were visible by 1990 – but by that year the Courier-Mail was able to observe that 'high rises have not yet spoiled the sleepy atmosphere of Coolangatta where family groups and retired people rule the waves and sand'. Shortly after these comments, the local Chamber of Commerce was looking for ways to revitalise the town and have the airport upgraded for international flights. The Showcase Shopping centre in Griffith Street was noted for specialty shops, while the Centro Mall Tweed Heads met more everyday needs.
In 2000 the Courier-Mail reported that 'big money was pouring into Coolangatta with luxury resorts and trendy cafes springing up among the budget motels and fibro beach shacks along Marine Parade. The last fibro remnants were demolished by 2008. The beach remained a broad strip of sloping white sand – no erosion or Noosa experience of 'looking for the beach among the boulders'. There were three surf life-saving clubs and a fourth at neighbouring Bilinga, just 800 metres from the airport terminal. Traffic congestion on the Gold Coast highway, abutting the terminal, was eased in 2008 with the opening of the Tugan bypass, which skirts the western boundary of the airport. An ambitious airport redevelopment in 2008-09 aimed to service the growth in low cost airline traffic, from Virgin, Jetstar and a new entrant, Tiger Airways, amounting to over four million passengers in 2008. The Australian Federal Police built a new headquarters (2015) at the airport. The Coolangatta campus of Southern Cross University, located near the airport, opened in 2010.
The Coolangatta Gold is a multi-disciplinary endurance race with men's and women's events, with a long course of about 41 km and a short course of 27 km, including ocean swim, surf-ski, board paddle and running legs. Originally run as a showcase event for the filming of the movie Coolangatta Gold (1984), the annual event has continued. From 2012 it started at Coolangatta, up the coastline to Broadbeach and finishes back in Coolangatta.
Coolangatta's census populations have been:
| Census Date | Population |
| --- | --- |
| 1911 | 160 |
| 1921 | 1471 |
| 1947 | 4053 |
| 1986 | 5444 |
| 2001 | 7233 |
| 2006 | 4889 |
| 2011 | 5193 |
Counts up to 2001 include holiday makers present on census night (it was estimated that 4371 were actual permanent residents in 2001).
At the 2011 census the median age of residents was 49 compared with 37 for Australia.
Michael Jones, Country of five rivers: Albert Shire 1788-1988, Sydney, Allen & Unwin, 1988
Robert Longhurst, From Tallebudgera to the Tweed: an early history of the southern Gold Coast, Gold Coast, Gold Coast City Council, 1996