Croydon, a rural town, is 170 km inland from the south-east corner of the Gulf of Carpentaria (Karumba) and 480 km north-west of Townsville. It was named after the Croydon Downs pastoral station which was partly owned by William Browne, formerly of Croydon, England.
In 1885 the owners of Croydon Downs discovered gold at the site of the future township. There was a considerable rush and by 1886 batteries were brought in and installed along with masses of corrugated iron for buildings – including two storey hotels. With a population of 2000, a town hospital was opened; with several crushing batteries in operation a foundry was established, continuing until 1920.
The Croydon local government division was established in 1887 and a borough council in 1892. Goldfield towns were established around Croydon: Tabletop, 13 km north; True Blue and Golden Gate, 2.5 km and 6 km respectively north-west and Croydon King, 10 km west. All of these had local schools, and Croydon's first school was opened in 1890. By 1899 the estimated population of Croydon and its satellite towns was about 6000. The mining town of Tabletop was described in the 1903 Australian handbook:

In 1886 the colonial government decided to build a railway from Cloncurry to Normanton (on the Norman River upstream from Karumba). With the discovery of gold at Croydon a 21 km deviation to the new town was decided on. Beginning in 1888, the Normanton railway reached Croydon in 1891, ending there and never to be extended. It survives as the Gulflander tourist railway.
Still in a state of continuing prosperity, Croydon was described in the Australian handbook in 1903: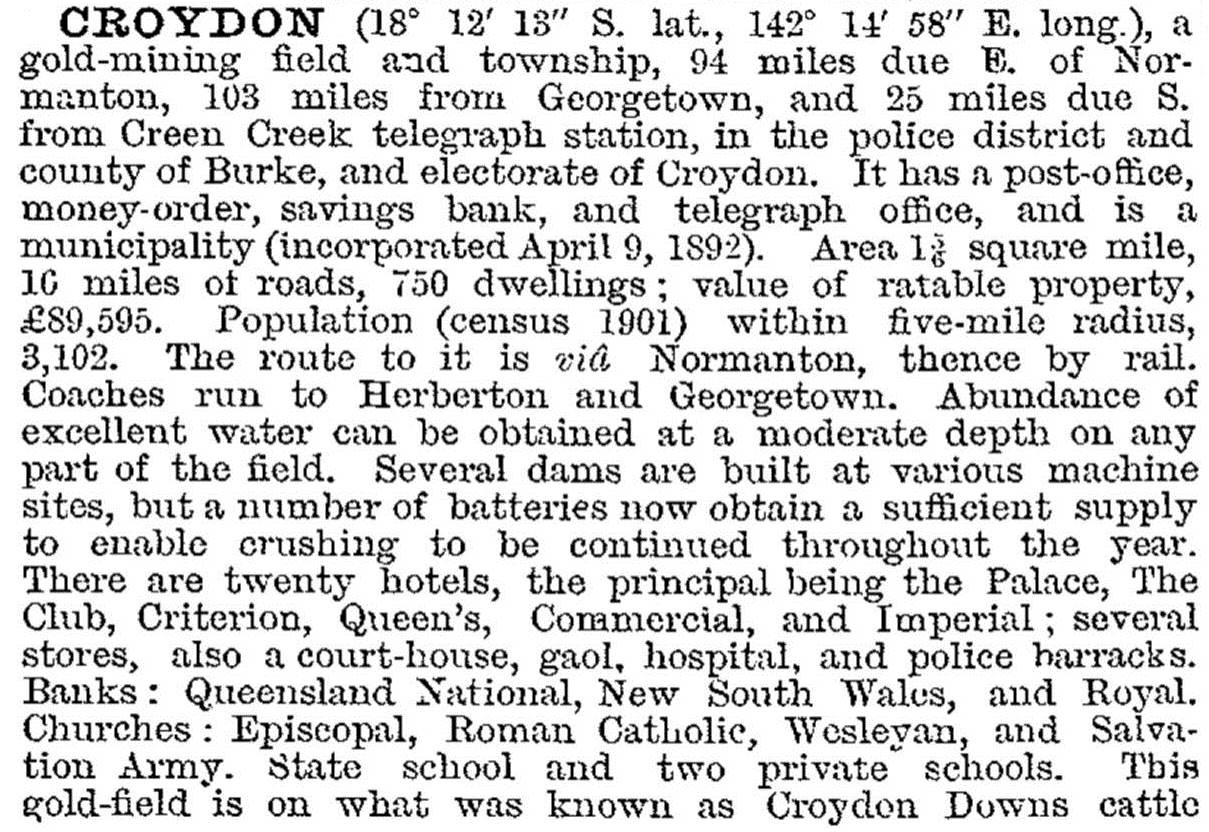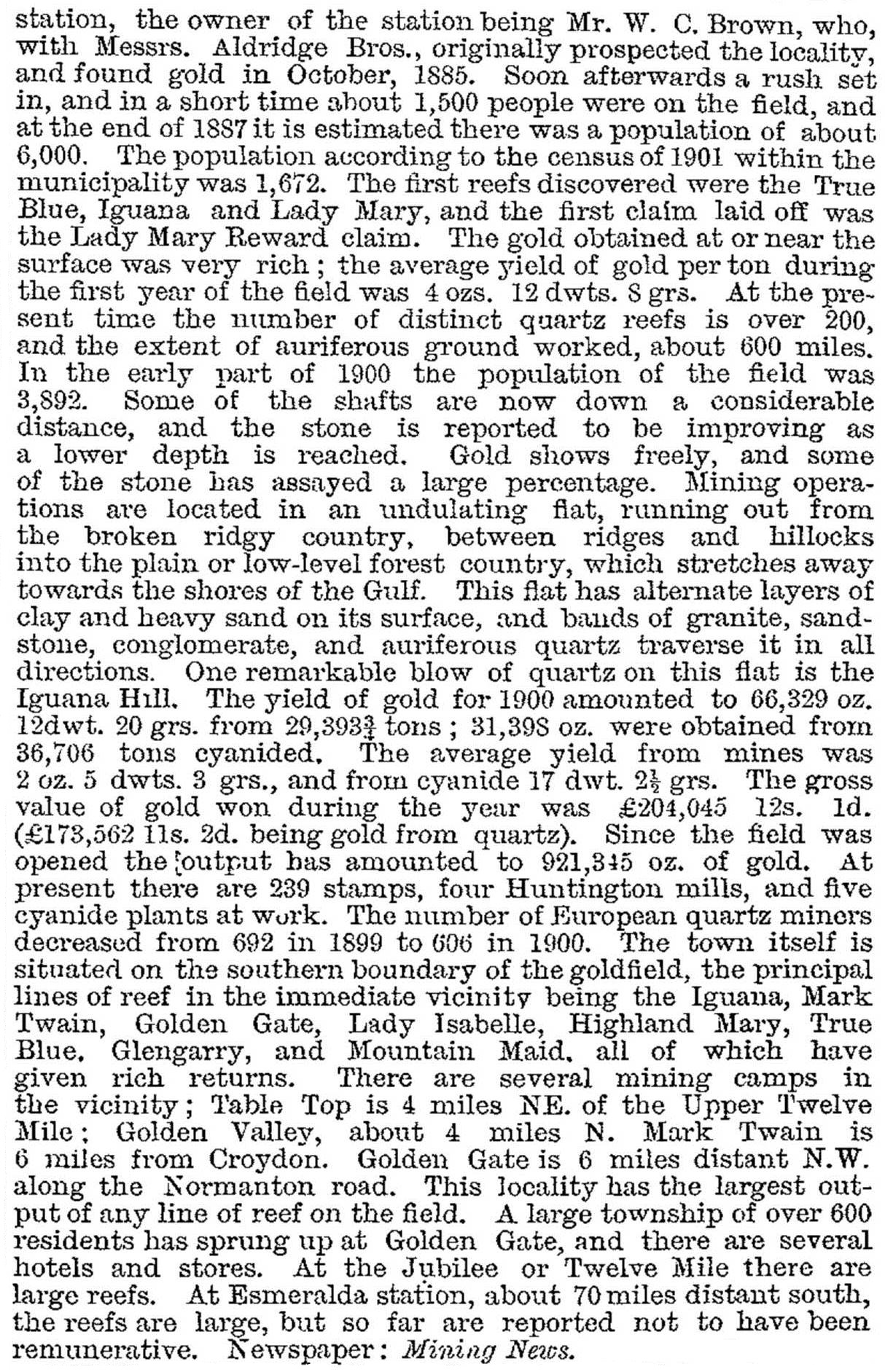 By 1915 the output of gold was beginning to decline and within ten years it had virtually ended. Croydon was reverting to a Croydon Downs economy. From over a dozen hotels in 1900, just three (Club, Imperial and Queens) were listed in the Post Office directory of 1931. The school of srts was still going, and the aeronautical age arrived when a plane landed on the racecourse. An aerodrome was opened by the shire in the mid-1930s, inaugurating a service to Cairns.
Croydon has the Gulflander railway station, the restored shire offices (heritage registered), a museum, a tourist information centre, a general store, a hospital, a hotel, a caravan park and a primary school. A former hospital, the former court house and the shire hall are listed on the Queensland heritage register, along with nine other sites (including three cemeteries) in and around Croydon. A heritage week is held annually.
Croydon Shire was described in the 1946 Australian Blue Book: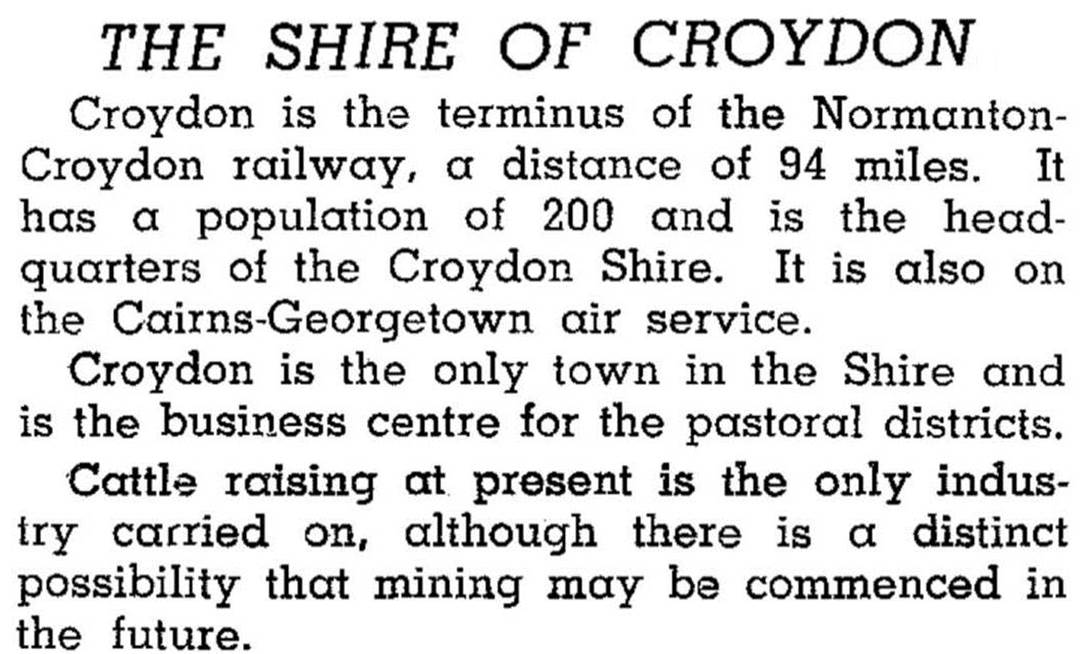 Croydon Shire, an area of 29,581 sq km, recorded 24.5% or residents as Indigenous at the 2011 census. Of all residents there were 35.9% employed in sheep, beef cattle and grain farming and 21.8% employed in local government administration. Tourism, though, is of some importance to the shire's economy.
In 2012 the Federal Court recognised the native title rights covering more than 30,000 hectares in the Gulf Country. The Tagalaka people lodged their claims in 2002. The parcel of land contained a number of sacred sites and artefacts which were located on crown land and a pastoral lease.
The census populations of Croydon have been:
|  area | Census Date | Population |
| --- | --- | --- |
| Croydon | 1911 | 932 |
|   | 1921 | 392 |
|   | 1947 | 86 |
|   | 1961 | 122 |
|   | 2006 | 255 |
|   | 2011 | 312 |
| Croydon Shire | 1911 | 1689 |
|   | 1921 | 554 |
|   | 1947 | 167 |
|   | 1961 | 181 |
|   | 1981 | 255 |
|   | 2001 | 322 |
|   | 2006 | 255 |
|   | 2011 | 312 |
Vincent T. Corbin, ed, Back to Croydon week: August 13th to 17th 1958: souvenir booklet of Croydon, Croydon, Back to Croydon Week Committee, 1958
Glenville Pike, Croydon Gold: an illustrated history of Croydon, North Queensland, Mareeba, Pinevale Publications, 1986