Dalby is a rural town on the northern Darling Downs, 80 km north-west of Toowoomba and 170 km north-west of central Brisbane. It is situated on the Myall Creek flood plain (the creek a tributary of the Condamine River).
Dalby originated as a crossing place over the Myall Creek, known simply as The Crossing from 1841. Henry Stuart Russell, proprietor of the Cecil Plains pastoral run (approximately 30 km south), erected a slab-built public house at The Crossing in 1846, near the present intersection of Bunya and Myall Streets. Although the land was somewhat swampy, a town was surveyed and proclaimed and named Dalby in 1854, most probably after Dalby village on the Isle of Man. Land sales began in 1857, and a government school was opened in 1861.
REGIONAL CENTRE
The town got off to a good start in the 1860s, spurred by powerful local pastoralists in the surrounding districts seeking to establish a viable regional service centre. Proclaimed a shire in 1863, Dalby had Anglican, Catholic and Presbyterian churches by 1869, a local newspaper (the Dalby Herald) began publication in 1865 and, most importantly, the town was connected to the Toowoomba railway line in 1868. A pastoral and agriculture show society was established about 1870, and Dalby became known as the City of the Plains, with flourishing grain and livestock sales. Not yet the 'Hub of the Darling Downs', Dalby was described in 1903 in the Australian handbook: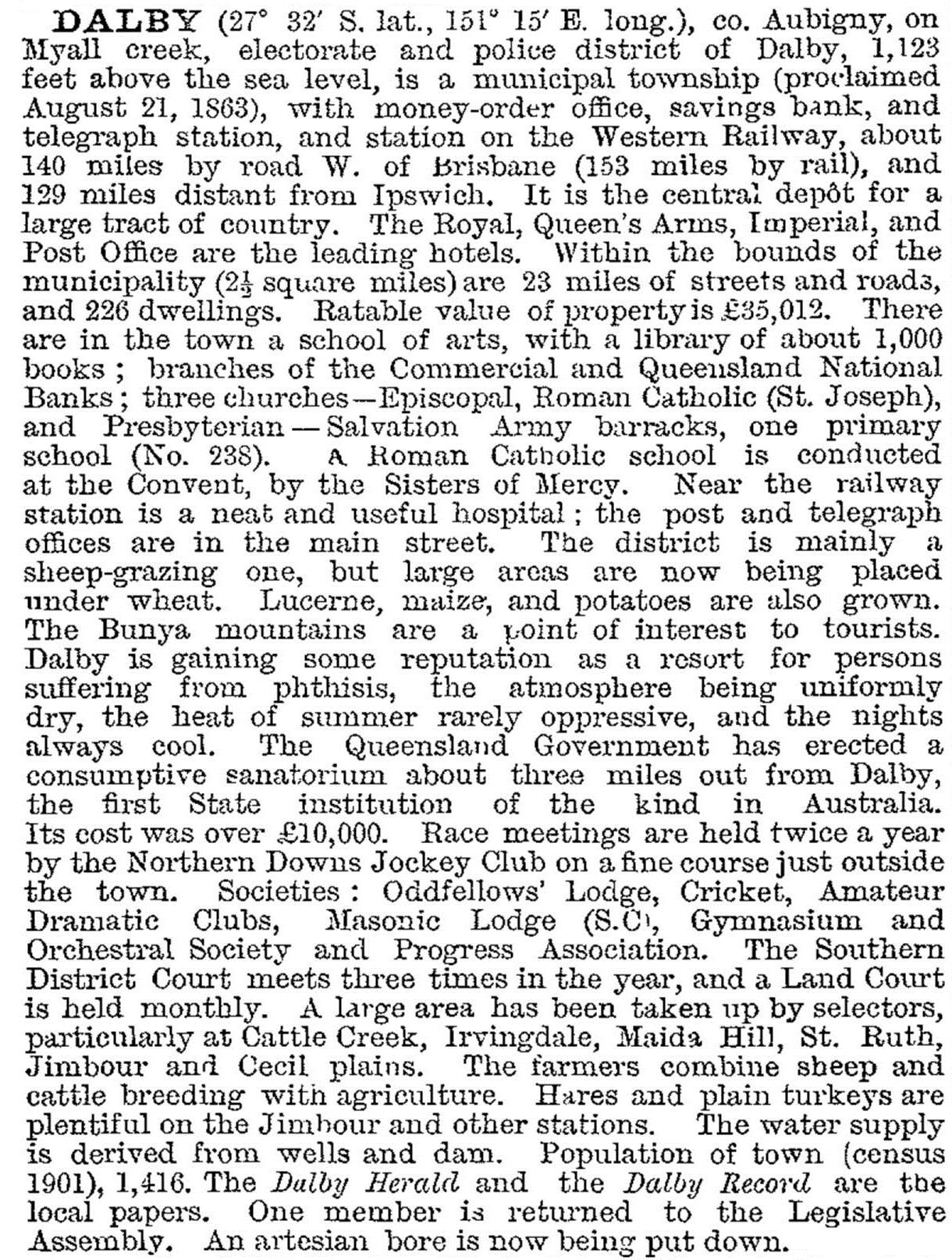 By 1878 the main western railway line had been extended west from Dalby to Chinchilla. While no longer a railhead, Dalby emerged during the first decade of the new century as a key district rail hub – in 1906 a branch to Bell, followed by branches to Tara (1911) and Jandowae (1914). Extensive resumption of surrounding pastoral runs such as Jimbour during this period resulted in population growth around Dalby, but significant closer-settlement did not occur until the onset of soldier settlement after World War I.
The decade up to 1920 saw the State primary school enlarged to a central school (1913), and a municipal electric power station constructed in 1915 ultimately supplied power as far away as Miles. By the 1930s, Dalby's population was nearly 3000, and another phase of improvements ensued. New Council chambers and offices were opened in 1932, an Olympic swimming pool opened in 1936, replacing baths in the Myall Creek, and the Star Picture Theatre also opened that year. These town additions coincided with the final stages of eradication of the prickly pear infestation east and west of Dalby.
Dalby was described in the 1946 Australian Blue Book: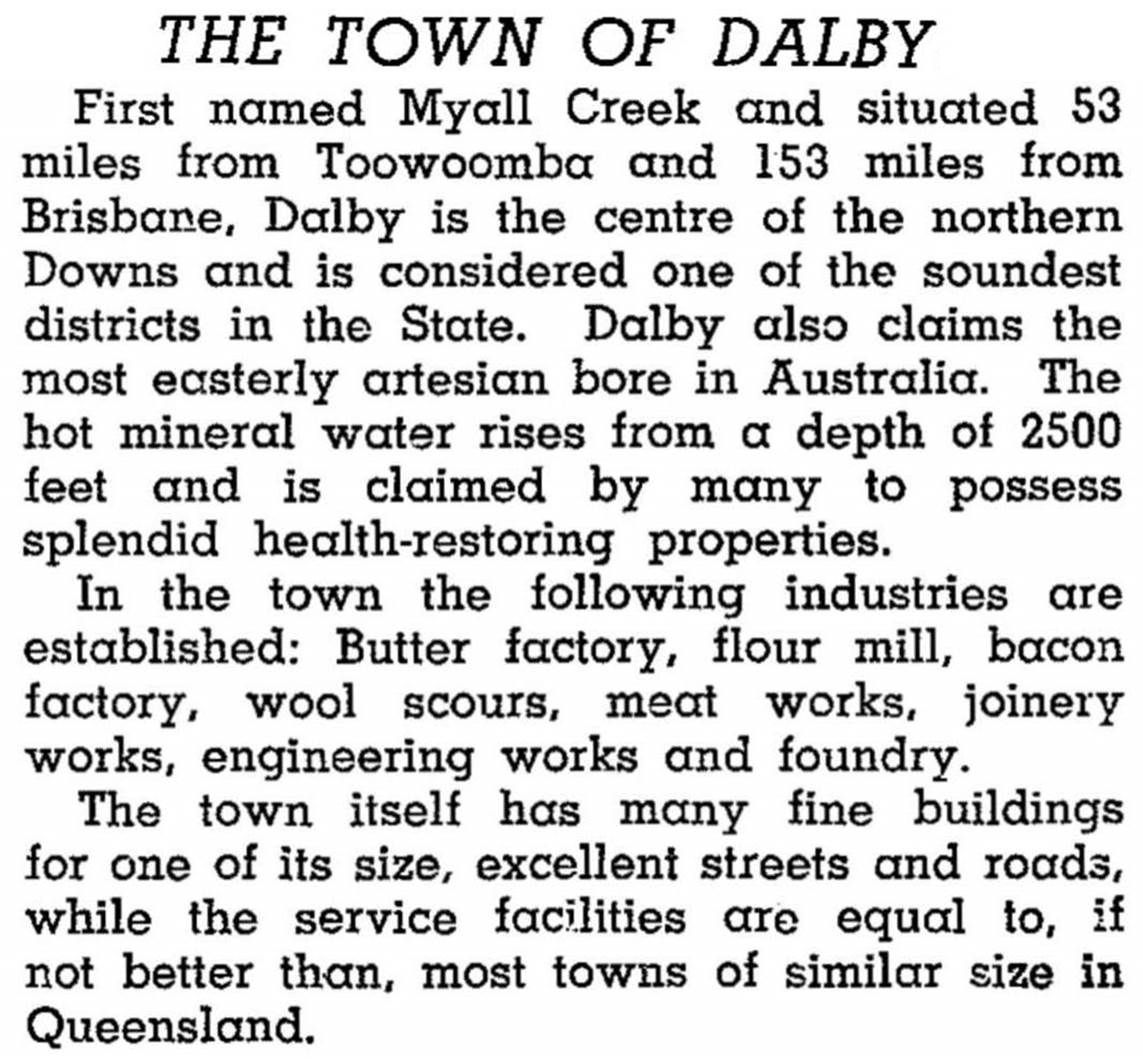 Grain growing expanded in the prewar period; primarily wheat but also sorghum and small amounts of oats and barley. During the war, a significant local manufacturing concern was born. Taking advantage of petrol rationing, Napier Bros Ltd made gas producers for use in motor vehicles as a petrol substitute. The company diversified into agricultural machinery in the postwar period.
DOWNS SERVICE CENTRE
In common with much of the Darling Downs, the Dalby district was home to a significant dairying industry, but decline was evident by the 1960s, with a halving of production during that decade. Beef cattle and sorghum production increased as dairying faded (sorghum was Dalby's main summer crop by the 1980s). Dalby's position as the hub of the Downs persuaded the town council to mount a tourism drive, but expectations were not met. Rather the town has done better as a service centre. Dalby also staked an increasing role in education: a State high school opened in 1954, a Catholic college followed in 1963, the Dalby Agricultural College began in 1979, and the Dalby Christian K-12 school opened in 1981. Another State primary school, Dalby South, opened in 1965. In the late 1980s and the 1990s dryland cotton growing increased around Dalby, and Queensland Cotton commissioned a processing gin. The town council and Wambo Shire operated a livestock salesyard.
Dalby today remains a prosperous service centre, its Harvest Festival Cotton Week signifying the ongoing importance of agricultural industries.
Dalby has a wide range of sports facilities, a racecourse hosting 12 meetings a year, a showground with a nearby pioneer machinery museum, an aerodrome, a hospital, over 15 churches, a civic centre for Dalby Regional Council (2008), and State and Catholic primary and secondary schools. Dalby Agricultural College offers courses in cereal growing, livestock production and rural business management. Anzac Park, in Patrick Street near the Myall Creek, has heritage-listed war memorial gates and swimming pool pavilion (1936). The former Dalby town council offices (1930s, with art deco detail) are also on the Queensland heritage register. The Imperial Hotel, built in 1880 from cedar carted from the Bunya Mountains, was destroyed in a fire in 2009.
In the mid-2000s the Kogan Creek coal mine and power station, a grain ethanol plant and a new drive-in shopping centre were opened.
The Dalby Regional Council was formed in 2008, but its name was changed to Western Downs Regional Council in 2009.
FLOODS 2011
During December-January 2010-11, Dalby experienced frequent flooding from the Myall Creek. On 20 December, after half the monthly rainfall in three days, floodwaters entered Dalby. The creek peaked at over 3.5 metres, the declared level for 'major' floods. Flooding continued into the new year. Shopping World was under water, along with 100 other properties. Cotton crops were lost. On 10 January 2011, there was a fourth flood alert, with a predicted creek level of 3.8 metres. About 200 houses were evacuated. Trucks which had brought in food and fresh water during falls in the creek levels were stranded in Dalby for a week.
There have been seven 'major' floods in Dalby since 1942. The record was in 1981 when the Myall Creek filled to over 4.5 metres and 700 houses and 140 businesses were evacuated.
In 2013 flood waters again affected dozens of homes in Dalby with the Myall Creek peaking at 3.21 metres and breaking its banks.
The Dalby saleyards received a much-needed revamp in 2011. Much controversy existed around the issue of Coal Seam Gas (CSG) exploration and the water release from the CSG plants.
Dalby's census populations have been:
| Census Date | Population |
| --- | --- |
| 1881 | 1296 |
| 1911 | 2226 |
| 1933 | 2967 |
| 1954 | 6182 |
| 1976 | 8997 |
| 2001 | 9732 |
| 2006 | 9778 |
| 2011 | 12,299 |
Tony Matthews, Beyond the crossing: a history of Dalby and district, Dalby Dalby Town Council, 1988
Barry Copley, Girls, goats and glass bottles, Dalby, Dalby Town Council, 2001
G.H. Wade, From swamp to city, 1863-1963: the story of Dalby, Dalby, Dalby Town Council, 1963
Dalby Regional Council entry