Esk Shire, an area of 3934 sq km, generally 75 km north-west of central Brisbane, was amalgamated with Kilcoy Shire in 2008 to form Somerset Regional Council. The Shire's main topographical feature was the north-south Brisbane Valley along which is situated the townships of Moore, Toogoolawah, Esk, Lowood and Fernvale. The eastern boundary ran along the D'Aguilar Range and the western boundary approached Blackbutt and Crows Nest.
The Brisbane Valley was settled in the 1840s, beginning with the Archer brothers' Durundur Station and David McConnel's Cressbrook pastoral run (1841). South of the Archer brothers' holding was the Mount Esk pastoral run (1842). The valley was good both for cattle grazing and for dairying and mixed farming. Resumption of pastoral leaseholds and their subdivision in the late 1860s-80s brought large numbers of small farmers who found ready supplies of millable timber and land suited to cotton growing, maize, vegetables and dairying. There were strong pockets of German settlers, notably at Lowood.
Fernvale, closest to Ipswich, was the Shire's earliest town. Lowood, Esk and Toogoolawah were brought into existence or were given significant growth spurts as the Brisbane Valley railway was extended northwards from Ipswich (1884, 1886 and 1904 respectively). The railway provided the ready means of conveying milled timber, vegetables and dairy produce to Brisbane. There were condensed milk factories at Colinton, Toogoolawah and Lowood and butter factories at Esk and Lowood.
During 1889-93 the Brisbane Valley experienced three floods, the last one being the worst, wreaking downstream devastation on Brisbane. Flood mitigation schemes were considered, among them a place for damming the river around Toogoolawah. Another flood in 1931 reminded hydraulic engineers of the proposal and it was decided to contain the tributary Stanley River. Preparatory work began in 1933 on the project, named the Somerset Dam, and a temporary township was set up. Completion took until 1948, and a hydro-electric generating plant was installed in 1955. Considered adequate for Brisbane's water needs until 1970, the Somerset Dam was supplemented by a much larger Wivenhoe Dam (1976-85). Wivenhoe commands 40% of the Brisbane River catchment and also has hydro-electric generation.
The Esk local government division (named Durundur for its first few months) was formed in 1880. It included Kilcoy and Crows Nest, which were constituted as separate shires in 1912 and 1913. In the south Lowood Shire was separated from Esk in 1912, but it was abolished and divided between Esk and Rosewood Shires four years later.
Esk Shire was described in the 1946 Australian Blue Book: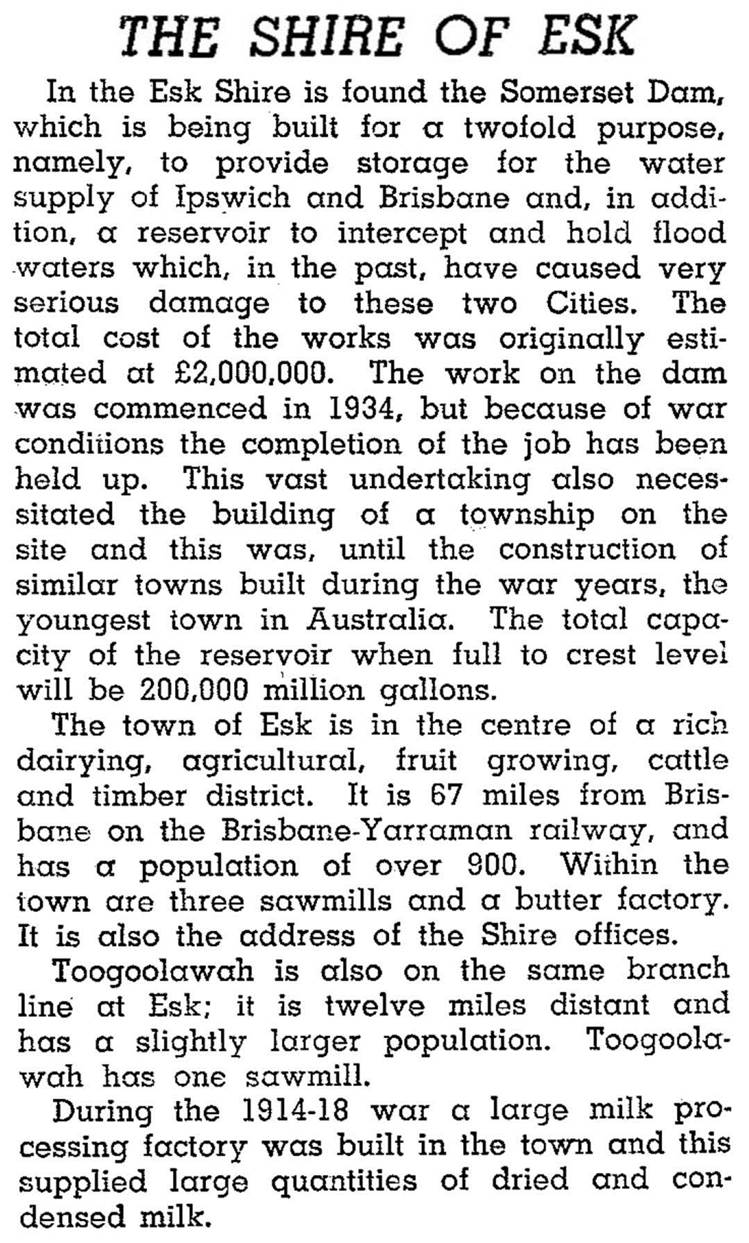 Esk Shire experienced farmland losses with resumptions for the dams, and dairy farms declined sharply during the 1960s-70s. Some farmers sold up and moved into the towns, but the Shire experienced a population decline which began in the 1930s and continued with the loss of dairying. Rural/residential subdivisions reversed the trend, and the Shire's population more than doubled during 1970-2001.
In 1993 Esk Shire had 85,000 head of meat cattle, 6100 cattle, 3900 pigs and 4500 hectares under cereals, vegetables and other field crops. Agriculture employed 16% of the Shire's total workforce in 2001. Other significant employment sectors were wholesale and retail (18%), manufacturing (14.3%), health and community services (8.6%) and education (7.3%).
The Shire's census populations were:
| Census Date | Population |
| --- | --- |
| 1911 | 5575 |
| 1921 | 7925 |
| 1954 | 6985 |
| 1971 | 5579 |
| 1981 | 8090 |
| 1991 | 10,977 |
| 2001 | 13,971 |
| 2006 | 15,165 |
Esk and Toogoolawah have several heritage-listed sites, but the shire's outstanding example was Cressbrook Homestead (1840s-1990s), a remarkably diverse and intact collection of buildings on a working farm.
Ruth Kerr, Confidence and tradition, Esk, Esk Shire Council, 1988
G.F. Filet, Esk Shire handbook, Queensland Department of Primary Industries, 1973
Coominya, Esk, Fairney View and Glamorgan Vale, Fernvale, Lowood, Minden, Prenzlau, Tarampa and Toogoolawah entries