Gatton Shire, an area of 1572 sq km, immediately east of Toowoomba, was amalgamated with Laidley Shire in 2008 to form Lockyer Valley Regional Council. It contained almost all of the Lockyer Creek drainage system which has its headwaters in the dividing range and runs easterly to join the Brisbane River near Lowood.
The creek was visited by Major Edmund Lockyer in 1826. Settlement in the Lockyer Valley began in 1841. The beginnings of Gatton township on the creek were evident by 1851, and the town was proclaimed and surveyed by the end of the decade. In 1866 the Ipswich railway reached Gatton, coinciding with an influx of farm settlers from Ireland, Germany, England, Scotland and Poland. They had a choice of minor valleys to farm, along the Ma Ma, Wonga and Flagstone Creeks, as well as the Lockyer. Helidon, 15 km west of Gatton, was settled in the 1870s as the Hellidon pastoral run was resumed for subdivision, along with Grantham (8 km west of Gatton) and Lowood to the east.
In 1879 the Tarampa local government division was formed, the forerunner of Gatton Shire. The division included Lowood (later Laidley) Shire and Cambooya Shire. These areas were excised in 1912 and 1916, leaving a Tarampa Shire known by that name until 1938 when 'Gatton' replaced it.
Gatton Shire had the good fortune to have the Lockyer Valley, suited to a wide range of agricultural pursuits, including dairying. A Lowood factory (1889) put a cream depot in Gatton in 1898, and in 1904 the Silverwood butter factory was opened in Gatton. Another factory was opened in Grantham in 1907, by when the Lockyer had 800 dairy farmers, some with herds of only a dozen cows but others with a hundred.
Irrigation had been tried in small patches since the 1890s, but the reticulation of electricity in the 1930s enabled pumps to draw up underground supplies for spray irrigation. As dairying declined in the 1960s irrigated horticulture increased as metropolitan Brisbane put its market gardens under housing.
The Shire's population clustered around the looping railway line in the north, running through Gatton, Grantham, Helidon and Lockyer. The numerous valleys in the south contain small settlements. Grantham was described in the 1903 Australian handbook:

Gatton Shire was described in the 1946 Australian Blue Book: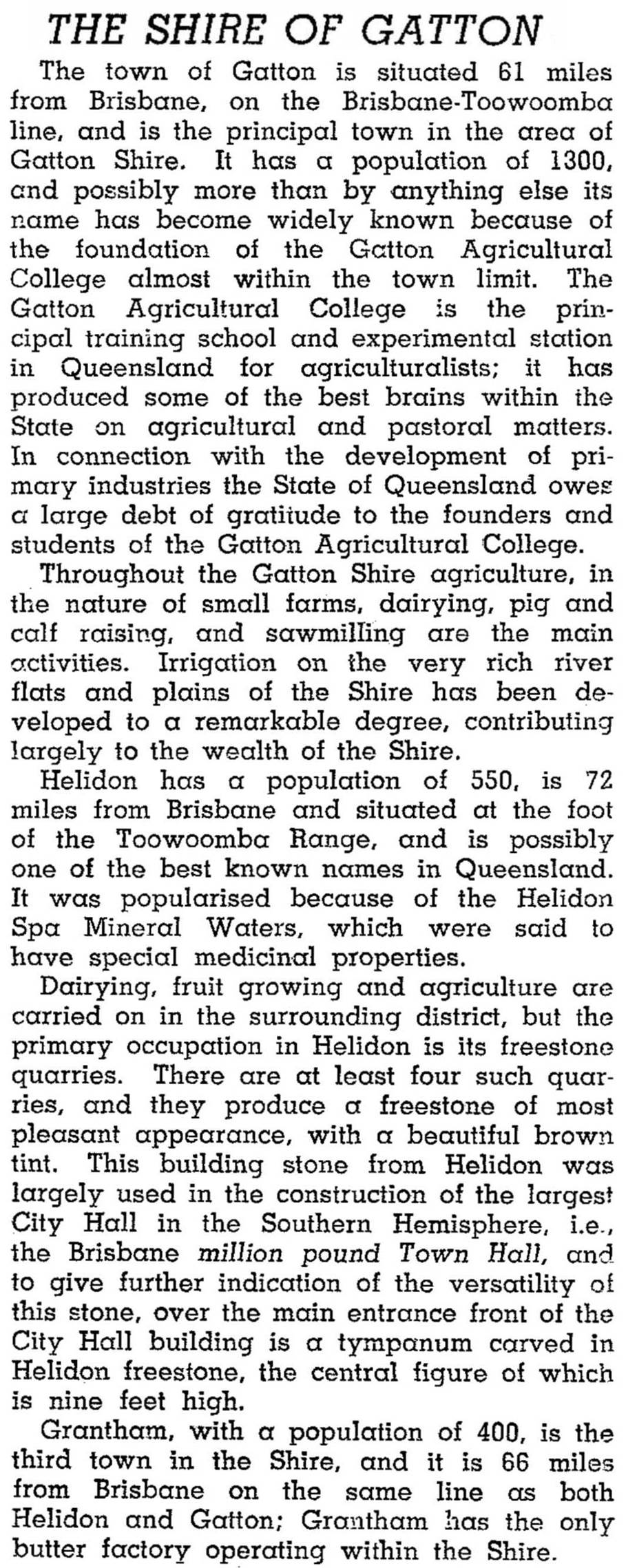 Agriculture (18.1% of the Shire's employment in 2001) is important, with vegetables and field crops in the Lockyer Valley and meat cattle and pigs being the main livestock. The other leading employment sectors in the Shire in 2001 were wholesale and retail (22.3%), manufacturing (11.5%) and education (8.6%). Gatton Shire's census populations were:
| Census Date | Population |
| --- | --- |
| 1911 | *6699 |
| 1921 | 5397 |
| 1947 | 6419 |
| 1971 | 8099 |
| 1986 | 11,734 |
| 1991 | 13,810 |
| 2001 | 14,781 |
| 2006 | 15,639 |
*
Before excisions.
W.D. Mills, Gatton Shire handbook, Brisbane, Queensland Department of Primary Industries, 1972
Avil Tew, History of Gatton Shire in the Lockyer Valley, Gatton, Gatton Shire Council, 1979
Gatton, Helidon and Withcott entries