Gayndah is a rural town on the Burnett River, where it is joined by Oakey Creek, 110 km west of Maryborough and 250 km north-west of Brisbane.
The Gayndah district was settled as a part of the great pastoral expansion of the late 1840s, and Archer's Lookout near the Gayndah high school marks a hill memorialised as the place where Thomas Archer surveyed the Burnett Valley. In 1849 the New South Wales government was planning a mail run to 'Gayndah on the Burnett'. It is thought that the name was of Aboriginal derivation, referring either to an endemic tree species or to thunder. The settlement at this time consisted of a straggling township with a few hotels, a court house and a post office, and Gayndah was gazetted as a town in 1852.
By the early 1860s there were a hospital, a primary school (1863), Baptist and Catholic churches and a temporary school of arts. The township was made a municipality in 1866, coinciding with gold discoveries to the west at Eidsvold. Eidsvold's fortune was too distant to benefit Gayndah, however, and from a high of 671 in the 1871 census the town's population declined. As a consequence it was denied a railway link, further stifling growth, while mining centres - which were classified as principal towns of over 1000 people - were eligible for priority railway construction. Thirty years later, in the year of Federation, Gayndah's population regained the 600 mark, and the township was described in the Australian handbook (1903):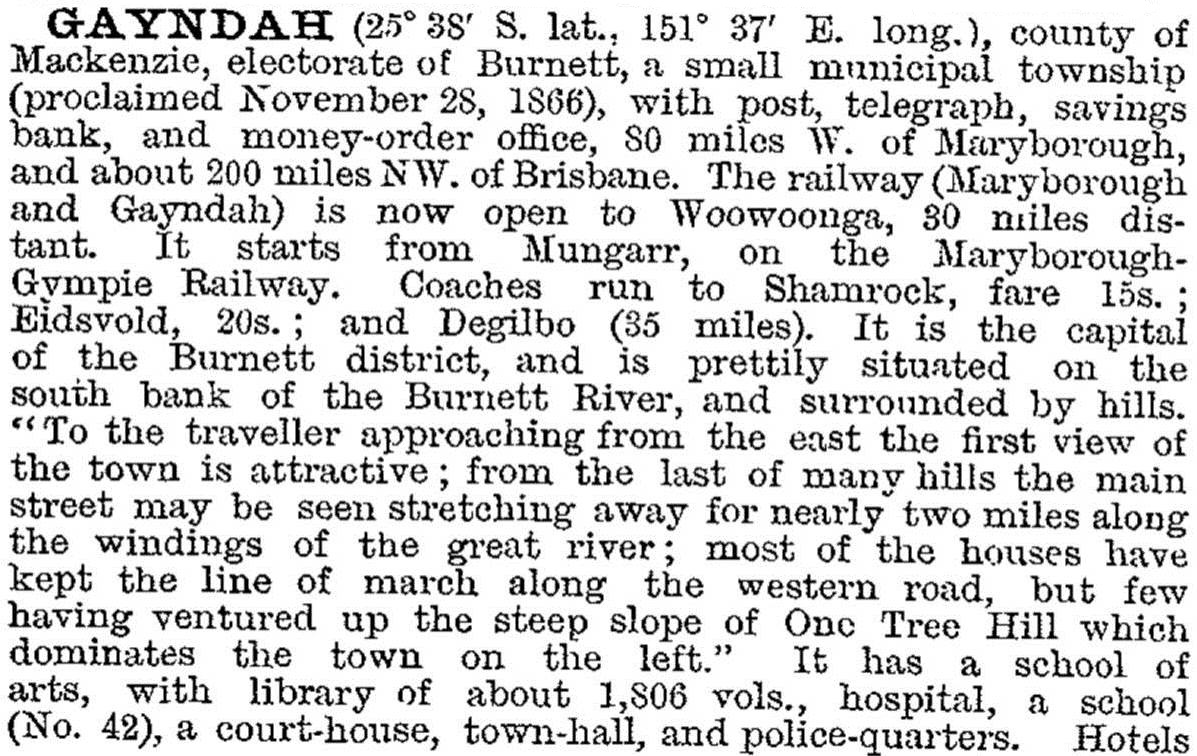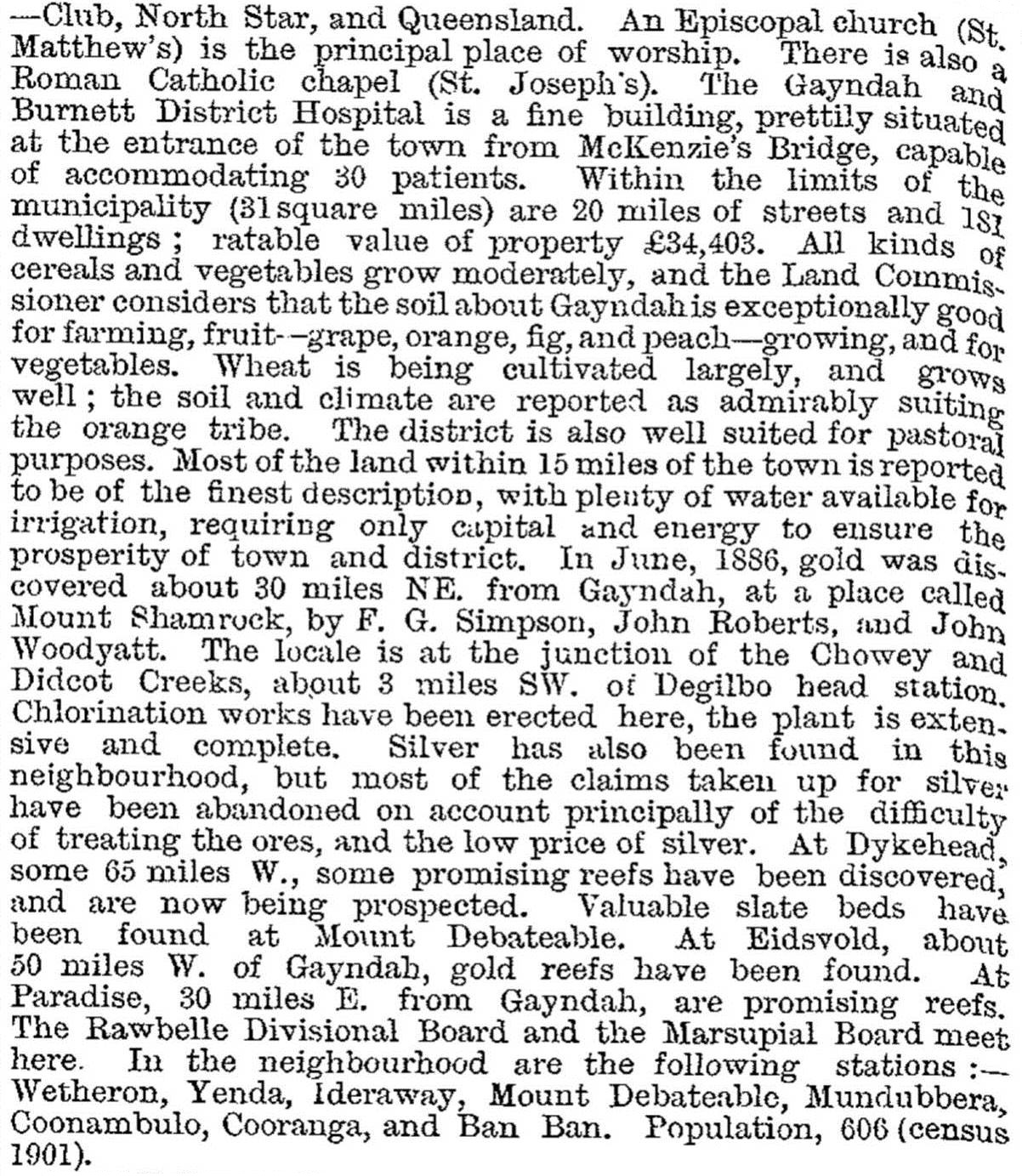 In 1892 William Seeney planted a commercial citrus orchard, and within six years Gayndah oranges had a market in Brisbane. Shortly afterwards there was an influx of dairy farm selectors, and Gayndah finally obtained railway access when the line from Maryborough was extended to the town in 1907. A cooperative dairy factory opened in 1911. There was sufficient diversity of farming to resurrect the local agricultural and pastoral society after being in recess for 30 years, and the first show was held in 1907. New churches were opened during 1910-20, a Catholic school opened in 1919, and the citrus growers association was formed in 1920. In 1924 the surrounding Rawbelle Shire and the Gayndah town council were united to form Gayndah Shire.
The town's population grew from a prewar 1000 to over 1600 in 1954, but it masked the decline in dairying, which saw butter production halve from 1939 to 1949. Citrus growing was more hopeful, and the first Orange Festival was held in 1957. Education altered: a separate Gayndah Aborigines School was closed in 1949 and a high school began in 1955 (getting a separate building in 1963). Tourism became important, promoted by the biennial Orange Festival, an active historical society and the presence of four motels and two caravan parks. The museum site includes a brick cottage (1864) and two buildings re-erected there, part of the Ban Ban homestead and the Barambah Creek School.
Gayndah's main thoroughfare, Capper Street, has four sites listed on the Queensland heritage register: the court house (1920s), Mellors shop (1922), the former shire hall (1930s) and the war memorial (1921).
Gayndah has an airport, a racecourse (five meetings a year), a showground, a hospital, State and Catholic primary schools, a State high school and a TAFE. The town, the river and extensive orchards can be viewed from Archer's lookout. There are ten churches, a memorial hall, the town-hall cinema, golf, swimming and other sports facilities and range of local shops and tradespeople. A citrus packing cooperative adjoins the railway station on the north side of the town, across the Burnett River.
The Monto Branch rail line which passes through Mungar, Monto, Thinoomba, Biggenden, Didcot, Gayndah, Mundubbera and Eidsvold was classified as a 'seldom used' line and has seen very little rail usage since 2008.
Gayndah has had 'major' floods when the Burnett River peaked at 15 metres or more in 1875, 1890, 1892 and 1942 (19.5 metres). On 28 December 2010, the river peaked at 16.6 metres, cutting off the town and flooding many farms and orchards. Tomato and cotton crops were lost, irrigation equipment was destroyed and fertilizer leached from the soil. The houses were flooded, but the farmlands stayed under water for weeks. Town water infrastructure was damaged and households were put on restricted water supply.
Gayndah's census populations have been:
| Census Date | Population |
| --- | --- |
| 1871 | 671 |
| 1901 | 606 |
| 1921 | 1289 |
| 1947 | 1039 |
| 1954 | 1644 |
| 1981 | 1708 |
| 2001 | 1797 |
| 2006 | 1745 |
| 2011 | 1789 |
Doreen O'Sullivan, Gayndah on the Burnett, Toowoomba, Doreen O'Sullivan, 1995
Gayndah: our town and our people, Gayndah Development Association, 2004
Jill Slack, Then and now: an Aboriginal history of Gayndah, Gayndah, Gayndah Orange Festival Committee, 1997