Gayndah Shire, an area of 2709 sq km, bisected by the Burnett River, was amalgamated with five other shires in 2008 to form North Burnett Regional Council. Its former administrative centre, Gayndah (see separate entry), is 250 km west of Maryborough.
Pastoral settlement around Gayndah began in the late 1840s, with the Mundubbera, Mount Debateable, Ban Ban and Wetheron pastoral runs. Further west there was the Rawbelle run (1848), after which the first rural local government divisional board was named in 1882 (Gayndah town had its own municipal body). Rawbelle was reduced by the severance of Eidsvold and Mundubbera Shires in 1890 and 1915 respectively, and the remaining area was renamed Gayndah Shire in 1925 when merged with the town municipality.
Rawbelle Division/Shire was noted for cereals and an emerging citrus industry. In the 1890s it attracted three closer-settlement schemes east of the township, named Byrnestown, Bon Accord and Resolute, involving over 500 people. They arose from utopian optimism about agrarian communes, and seemed to offer a solution to the prevailing economic depression. The leasehold arrangements were withdrawn in a short time, but many families stayed in the district as citrus and dairy production increased. The Maryborough railway was extended to Wetheron in 1905, Gayndah in 1907 and further west in 1913. Agricultural shows began in 1907 and a citrus growers' association was formed in 1920. Unlike some nearby shires, Gayndah escaped the worst ravages of prickly pear during the period 1910s-1930s. In 1946 the Australian Blue Book described Gayndah Shire: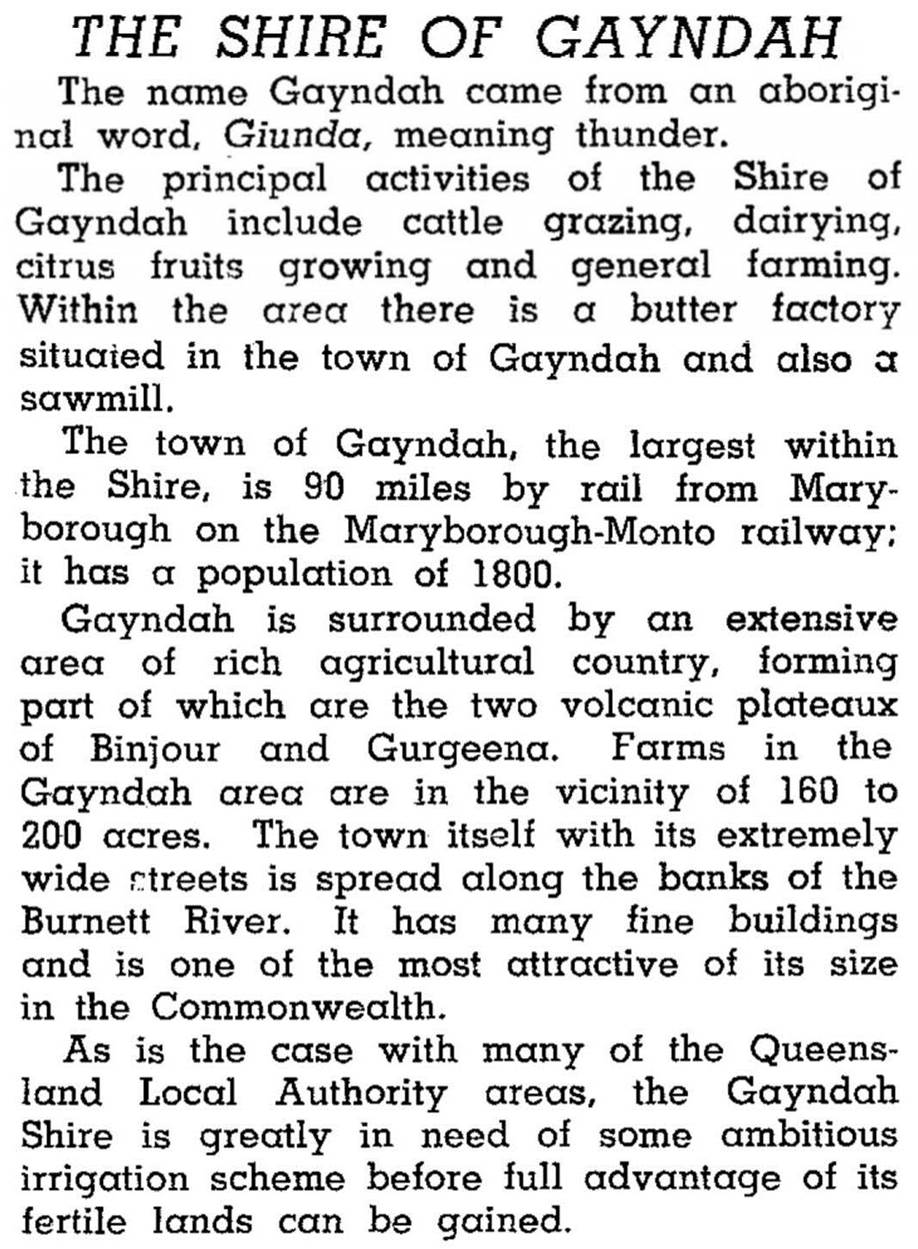 From just a third in 1947, by 2001 Gayndah Township's share of the Shire's population had risen to two-thirds. Whilst the town had grown, the Shire's population had fallen. Dairying fell away, replaced by beef cattle; in 1993 there were 46,000 meat cattle and under 700 dairy cattle. Gayndah Township became a sub-regional service centre for hospitality, recreation, trades and retailing. It hosts a biennial Orange Festival. About 25 km south of Gayndah there is the significant Aboriginal traditional meeting place, Ban Ban Springs.
The Monto Branch rail line which passes through Mungar, Monto, Thinoomba, Biggenden, Didcot, Gayndah, Mundubbera and Eidsvold was classified as a 'seldom used' line and has seen very little rail usage since 2008.
The Shire's census populations were:
 
Census Date
Population
Rawbelle shire
1911
2306
 
1921
2272
Gayndah Shire
(including the town)
1933
3760
 
1961
3400
 
1981
2859
 
2001
2820
 
2006
2788
Bill Metcalf, The Gayndah communes: from Aborigines and squatters through communes to rural depopulation in the Gayndah area, Rockhampton, Central Queensland University Press, 1998
Doreen O'Sullivan, Gayndah on the Burnett, Toowoomba, Doreen O'Sullivan, 1995
Jill Slack, Then and now: an Aboriginal history of Gayndah, Gayndah, Gayndah Orange Festival Committee, 1997