Georgetown, a rural centre 270 km south-west of Innisfail, is on the road to Croydon. Originally known as Etheridge, it is the administrative centre of Etheridge Shire.
Georgetown began in 1869 as an alluvial gold mining centre, based on the Etheridge River. Mining came about mainly from Queensland Government geologist Richard Daintree's exploratory work. When the gold field was approved as a township it was named Georgetown in honour of the local gold commissioner, Howard St George. The alluvial gold attracted a rush of prospectors, estimated at up to 3000 at its peak. This number was short-lived, however, as footloose prospectors were soon drawn to more rewarding sites such as the Palmer River and Hodgkinson fields.
In 1870 a telegraph repeating station for an overland line to the Gulf was built at Georgetown, and a post office and a court opened in 1872. Buildings were primitive, including the school (1874), the Catholic chapel (1876) and the numerous hotels. The school closed in 1877 for want of pupils during one of the miners' periodic desertions to other fields (a government primary school opened again in 1878, today's State school tracing its origins to this date). The telegraph station, colonial-administrative functions and reliable river flows ensured a degree of economic stability and buffered Georgetown against the vagaries of fluctuating mining fortunes. The district's fertile red basalt soils encouraged beef pastoralism, and the town developed as a commercial service centre. In 1876 Georgetown was described in the Australian Handbook:
By 1880 the original wood and canvas buildings were wearing out. White-ant proof iron and hardwood structures replaced them, (the Bank of New South Wales' new building (1890) lasting until 1988). In 1882 Georgetown had ten hotels, ten billiards rooms and an enlarged courthouse to deal with participants in drunken brawls, assaults, indecent language and livestock theft. The rich mineral lodes paid well enough to offset the costs caused by lack of water and distance, and continued to provide enough return to keep miners employed. By the early 1900s, however, mining was reported as being depressed, with cyanide processing of tailings giving the best results. There were still several hotels, and a hospital had been opened. Copper mining began at Einasleigh and a railway line was opened in 1908 to carry the ore to the Chillagoe smelters. The line, however, was not extended to Georgetown.
Georgetown was described in the 1903 Australian handbook: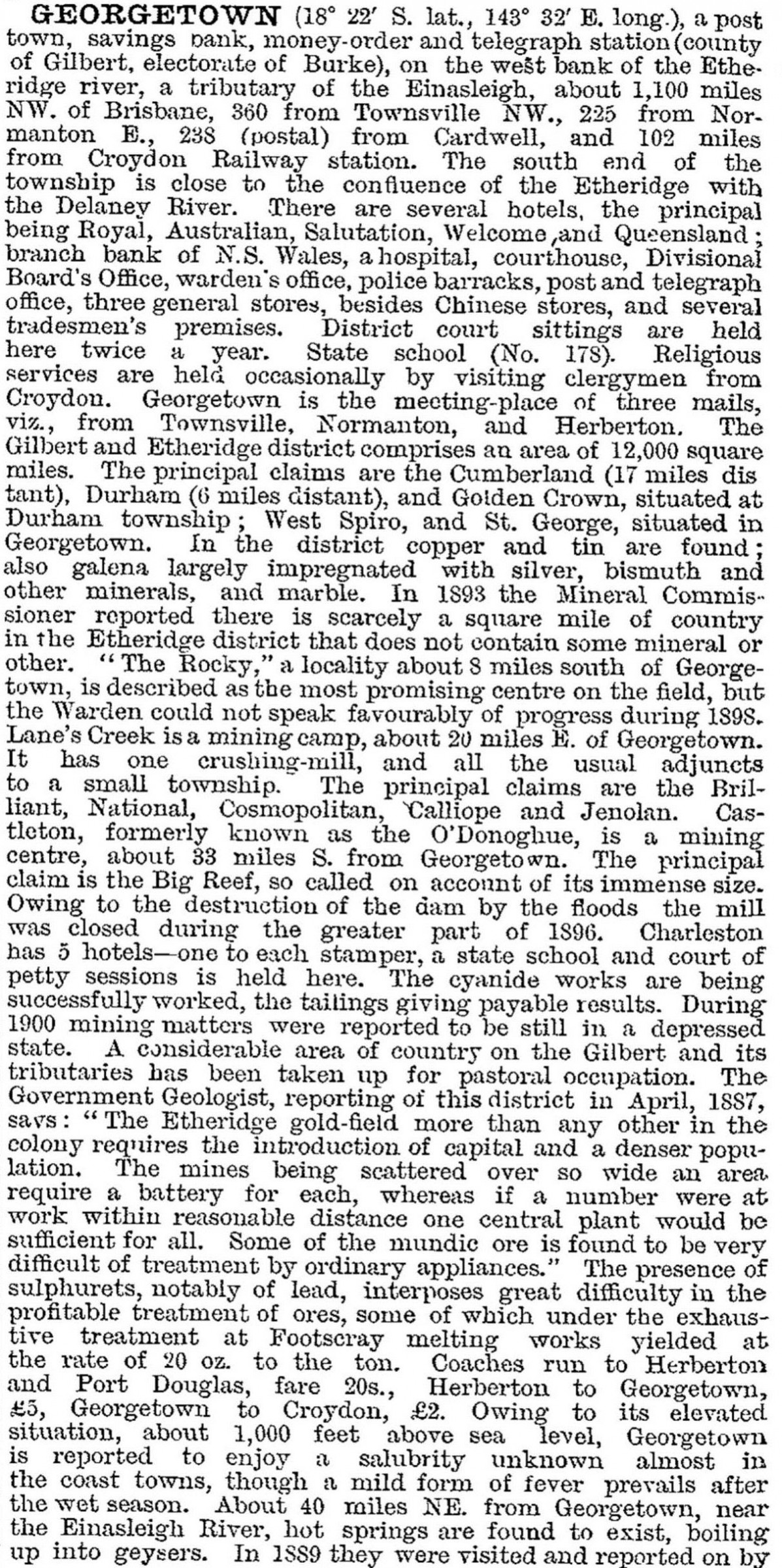 Georgetown was made the administrative centre of Etheridge Shire, which, together with the hospital and recreation facilities, has offset its never having a railway line. Georgetown is at the heart of some of Queensland's best gemfields, and the shire has embraced outback tourism. Outside of the town are several heritage-listed gold mines. A house in South Street built with antbed bricks c1890 (possibly the sole surviving example) is also heritage-listed. In Georgetown itself are a motel, hotel, and three camping/caravan parks, together with Anglican and Catholic churches, a general store, the State primary school, racecourse, swimming pool and a tourist information centre, which in 2003 acquired a notable minerals collection.
In 2004 the Ewamian people surrendered native title over the far northern Queensland townships of Einasleigh, Forsayth, Mt Surprise and Georgetown. In return, they received access to their traditional country through three reserves along with land and housing in Georgetown. 
Georgetown's census populations have been:
| Census Date | Population |
| --- | --- |
| 1881 | 209 |
| 1891 | 433 |
| 1911 | 386 |
| 1947 | 202 |
| 1976 | 324 |
| 2001 | 318 |
| 2006 | 254 |
| 2011 | 243 |
Jan Wegner, The Etheridge, Townsville, James Cook University of North Queensland, Department of History and Politics, 1990
D.W. de Havelland, Tour of the Georgetown mining district, Crows Nest, D.W. de Havelland, 1996
H.G. Webber, Georgetown centenary souvenir, 1870-1970, Georgetown, 1970