Gooburrum Shire, an area of 1304 sq km, was immediately north of the Burnett River at Bundaberg. Its Pacific Ocean border ran northwards to Baffle Creek, and its inland border ran generally southwards through the Wantulgan Range to Bullyard, near the Burnett. Its largest urban area was Moore Park on the coast, although North Bundaberg was in the shire until 1918.
The origin of the name is uncertain, but a connection to an Aboriginal expression concerning ibises has been suggested.
Much of the Shire's area was occupied by the Kolan (Colanne) pastoral run, c1855. Local government was established with the Kolan Division, from which Gooburrum Division was severed in 1886. The Shire consisted of coastal lowlands crossed by numerous watercourses (including the Kolan River), ascending to foothills and broken ranges. Beef cattle (15,700 head in 1993) are grazed inland.
Closer-settlement began in the 1860s, and the clearing of that Gooburrum 'scrub' yielded fertile soils that sustained two maize crops a year. Plant disease and falling prices caused a change to sugar planting, which gathered strength in the 1870s. Two large sugar mills emerged in the early 1880s: Fairymead, 8 km north of Bundaberg and Bingera, 18 km south-west of Bundaberg. They comprise two of the three large factories of Bundaberg Sugar Ltd. Bingera has prospered from irrigation water drawn from the Burnett, where a weir was built in 1933 to hold back tidal water, and Fairymead found reliable groundwater wells.
The railway from North Bundaberg to Mount Perry was opened during 1881-84, running west through the Shire. The North Coast line from Bundaberg was opened in 1892, opening up more land for closer-settlement. Dairying established a co-operative factory at Yandaran in 1895. The Shire underwent steadily intensified settlement until the 1930s. The first school to open was at Kolan South in 1878, and the numbers subsequently opened in the Shire were:
| | |
| --- | --- |
| 1880-99 | 11 |
| 1900-19 | 8 |
| 1920-40 | 5 |
The town of Gooburrum was described in the 1903 Australian handbook:

Gooburrum Shire was described in the Australian Blue Book in 1946: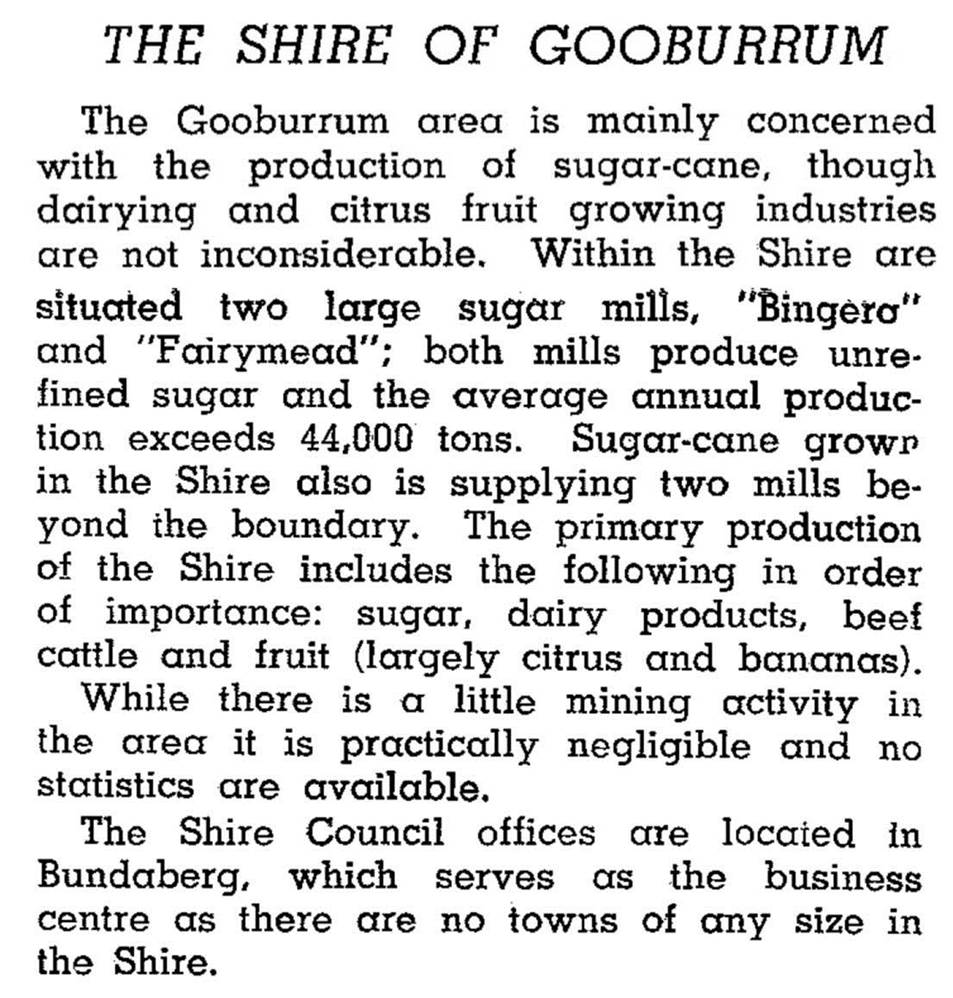 The Shire's offices were in Bundaberg and in the 1980s-90s the census recorded an increasing number of its residents as being in greater Bundaberg. Moore Park's population also increased. In 1994 most of the Gooburrum and Woongarra Shires was united to form Burnett Shire. Gooburrum Shire's census populations were:
| Census Date | Population |
| --- | --- |
| 1911 | *4345 |
| 1921 | 2922 |
| 1961 | 4372 |
| 1976 | 5227 |
| 1986 | 5917 |
| 1991 | 7117 |
*
Including North Bundaberg.
Neville Rackemann, Gooburrum 1886-1986, Gooburrum, Gooburrum Shire Council, 1986
G.M. Hawley, Gooburrum Shire handbook, Queensland Department of Primary Industries, 1971
Bingera, Bundaberg Eastern Localities, Lower Burnett and Kolan Localities and Moore Park entries