Goondiwindi, a rural town, is on the northern side of the Macintyre River, which forms part of the New South Wales border. It is situated on the Newell Highway, and is 300 km south-west of Brisbane.
The town's name was derived from the Gundawindi pastoral run (c1838), a name thought to be derived from an Aboriginal expression referring to wild duck or a resting place for birds. The Gundawindi, Callandoon and Umbercollie pastoral runs had a common boundary point, which became a stopping place for teamsters. A rudimentary settlement arose, and in 1858 a township was surveyed, with the first town blocks auctioned the following year. A court house (1862) and a public school (1864) confirmed the town's emergence as a place of settlement. A border customs house was opened at about this time. Local government - the Waggamba division - was proclaimed in 1879, and a telegraph link to Warwick established in 1872.
The first of several bridges over the Macintyre River opened in 1878, replacing a ferry service. This timber structure was sturdy enough to withstand the Macintyre's severe floods, existing until 1914 when traffic volumes warranted erection of a bigger steel structure. By the early 1880s Goondiwindi had Presbyterian (1875) and Anglican (1882) church buildings, and a school of arts. In 1888 the Goondiwindi Town municipality was established, by severance from the surrounding Waggamba Shire, a situation which was reversed in 2008.
By 1903 Goondiwindi had a population of about 800 people, and the Australian handbook for that year described the town as follows: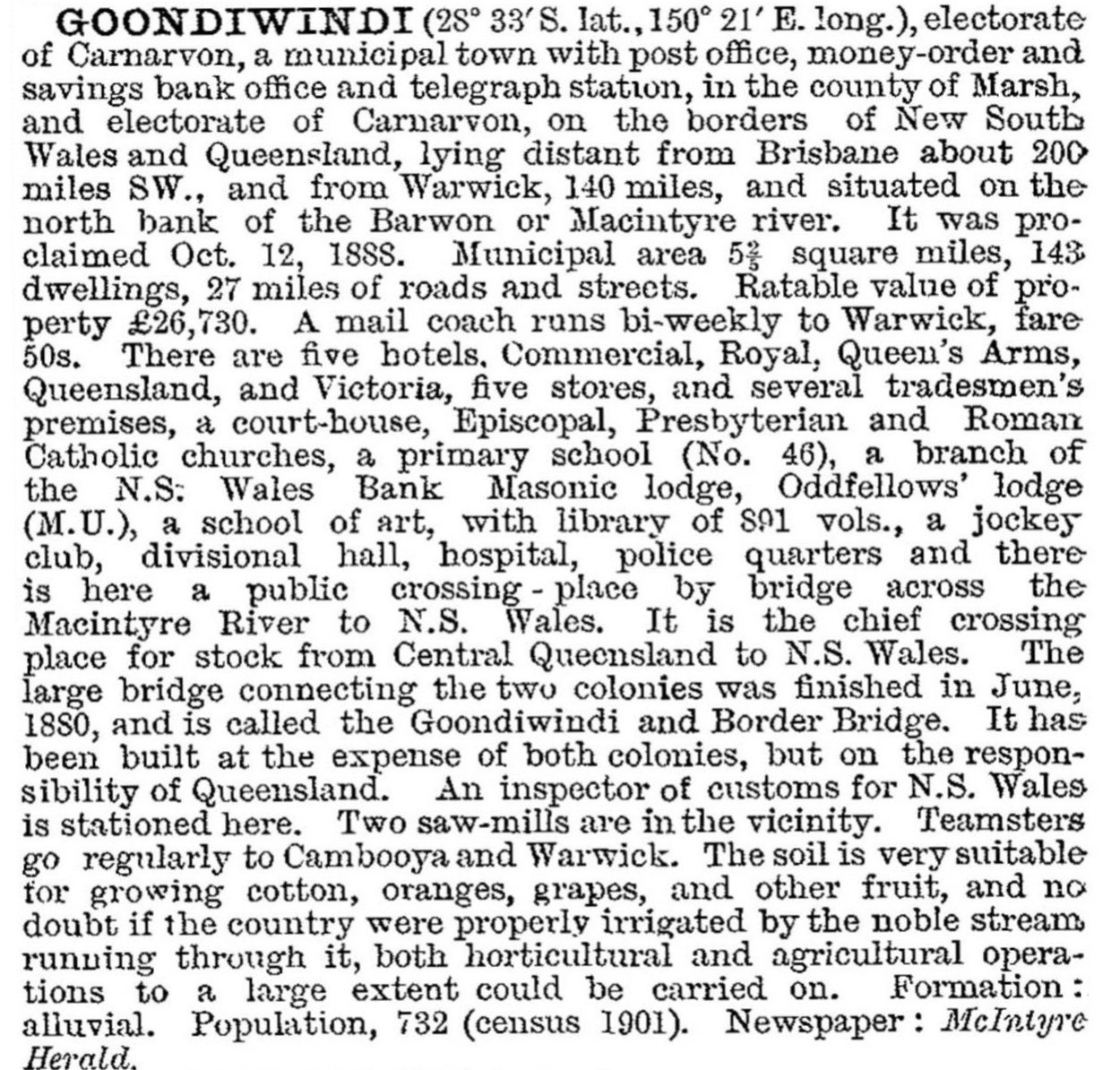 Whilst the railway connection from Warwick (1908) was an important link and a stimulant for population growth, it was the motor-vehicle age which proved more important to Goondiwindi's development, located as it is at the hub of roads from New England and Warwick and a key inland route between Brisbane and the southern capitals. The rail and road transport industry to some extent protected Goondiwindi from the economic effect of prickly pear infestation which in 1923 was reported as being quite dense in the surrounding Waggamba Shire.
Goondiwindi was described in the 1946 Australian Blue Book: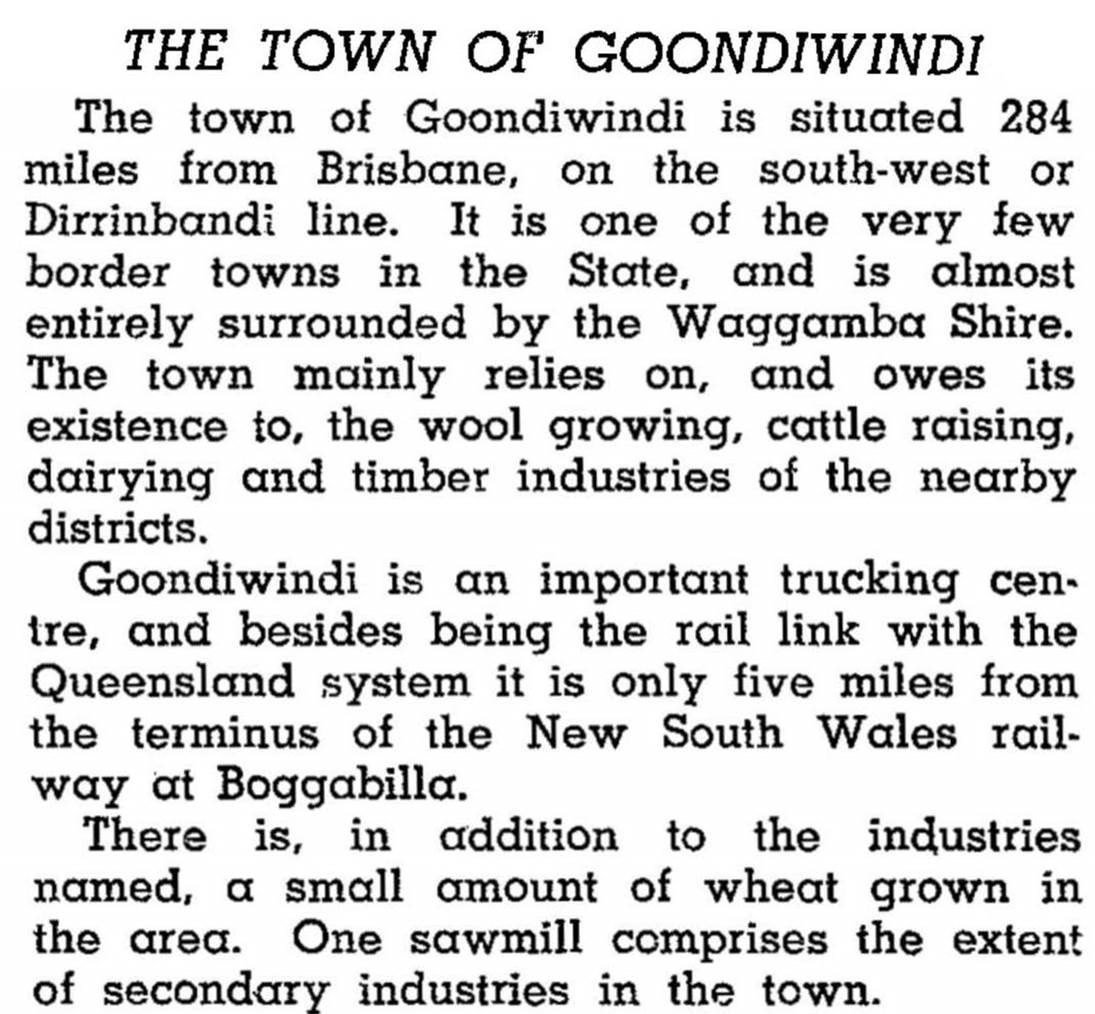 During the 1920s-60s Goondiwindi acquired numerous civic improvements and facilities: reticulated water (1922), sewerage (1942), protective levee banks (1968), a civic centre (1937), an Olympic swimming pool (1963) and a state high school (1964). Throughout the postwar years Goondiwindi's population increased steadily, doubling to 5500 in the period from 1947-2001. Goondiwindi became a well-known stop over with interstate truckers and inland drive tourists alike. Further prominence derived from Gunsynd, the locally-trained champion colt that won 29 of 54 starts in major races in a remarkable run from 1968 to 1972. The 'Goondiwindi Grey' is commemorated by a large statue on a levee bank as motorists enter the town.
Goondiwindi has an airport, visitor information centre, and nine motels. Residents are served by a race course, golf course, swimming pool, showground, botanic gardens, eight churches, state primary and high schools (1864, 19640), a Catholic primary school (1911), a community centre and a hospital. A history museum is in the heritage-listed customs house. The Art Deco civic centre (1937) in Marshall Street and the war memorial (1922) are also heritage-listed.
Goondiwindi thrives on the cotton crop and as a pivotal link in the highway systems of eastern Australia. The Newell, from the south, and the Bruxner from the east terminate here, while the Cunningham, Barwon and Leichhardt highways start here. So great is the truck traffic, most of it in 'Double B' vehicles, that the town was bypassed in 1992, necessitating a second road bridge over the Macintyre River.
Goondiwindi's census populations have been:
| Census Date | Population |
| --- | --- |
| 1871 | 129 |
| 1901 | 732 |
| 1933 | 1931 |
| 1954 | 2950 |
| 1976 | 3741 |
| 1996 | 4374 |
| 2001 | *5491 |
| 2006 | *5629 |
| 2011 | 6397 |
*
Includes the urban population in the surrounding Waggamba Shire.
In 2008, Goondiwindi town was amalgamated with Inglewood and Waggamba shires to become Goondiwindi Regional Council.
G.O. Armstrong, Waggamba Shire story: a history of the Waggamba Shire, Brisbane, Waggamba Shire Council, 1973
Betty Bell, A town like Gundy, Goondiwindi, The author, 1957
Graham Todd, The Goondiwindi story, Bowen Hills, Boolarong, 1988