Gympie, a rural city in the Mary River Valley, is 150 km north of central Brisbane. A gold rush from the late 1860s brought rapid growth and grand buildings in what soon proved to be a flood-prone main street. Fine mansions sprouted on the flood-free hill tops, but the lower part of the main street is still inundated from time to time. Gympie was the administrative seat of the Cooloola Shire and continues that role with the Gympie Regional Council.
GOLD
The Gympie district was part of the large Widgee pastoral area. In 1867 James Nash, who had mined in New South Wales, carried out some casual prospecting while journeying from Nanango to Gladstone. Trying Yabba Creek (Imbil) and Six Mile Creek, he found a few colours; then at Caledonian Hill and a nearby gully (Nash's Gully) he discovered rich deposits. A few weeks later he found more gold in a small watercourse known by pastoral employees and cedar cutters as Gympie Creek.
Nash's discovery came at an opportune time, as drought had set back Queensland's pastoral industry, the Bank of Queensland had closed and unemployment was high. Within a year a rush of prospectors had descended on the easy alluvial gold, and shallow reef shafts were sunk by partnerships of miners. Known first as the Upper Mary River Goldfields, then Nashville, the name Gympie (Creek) was formalised in 1868. It is thought that the name was derived from an Aboriginal word for a stinging shrub commonly found along the Mary River.
Rich gold fields were found a few kilometres beyond the settlement, and in the 1870s as hard underlying rock strata impeded the sinking of shafts at Gympie, more distant discoveries drew the mining population away. Improved mechanisation later drove through the strata and deep quartz reefs were found in the early 1880s.
TOWN AND SUBURBS
The Gympie Township was haphazardly laid out, some streets following the random placement of the first boom-time buildings. 'Suburbs' came about as gold was found at One Mile and Monkland. Access overland from Brisbane was initially difficult, the preferred method being by steamer from Brisbane to Tewantin and then by coach. Easier access came with a railway from Maryborough in 1881, and a rail connection to Brisbane followed ten years later. By the early 1880s Gympie borough (established 1880) had a population of about 4500 people. It boasted two newspapers, a hospital, a school of arts, a miners' institute at One Mile, a handsome Church of England as well as Catholic, Presbyterian, Wesleyan, Congregational and Primitive Methodist churches, seven schools (including five State) and a gas company.
By 1901 Gympie's population was about 12,000, nearly triple the figure of 20 years before. There were two more private schools, a stock exchange (1884), another newspaper, over 20 lodges and friendly societies, more churches (Baptist and Salvation Army), a water service and a theatre. The running total of gold taken from Gympie was 2.49 million ounces, compared with about 0.82 million ounces up to 1881. It was as well that the strong gold production kept up, as Gympie suffered heavy losses when the Mary River flooded in 1893, putting Mary Street 30 feet below flood level at its lowest point. Water pressure fractured gas mains and damaged mines.
Gympie was described at length in the 1903 Australian handbook: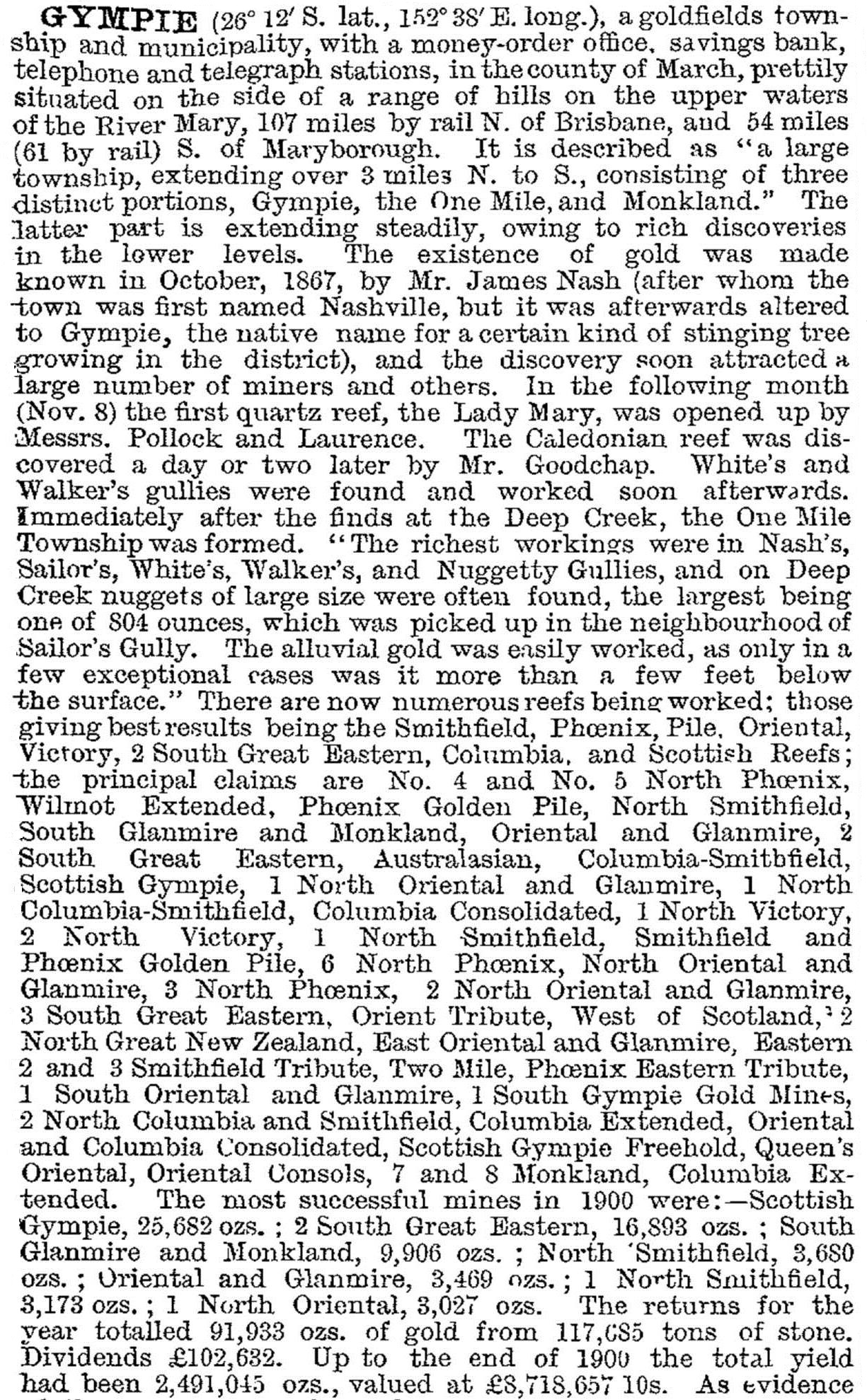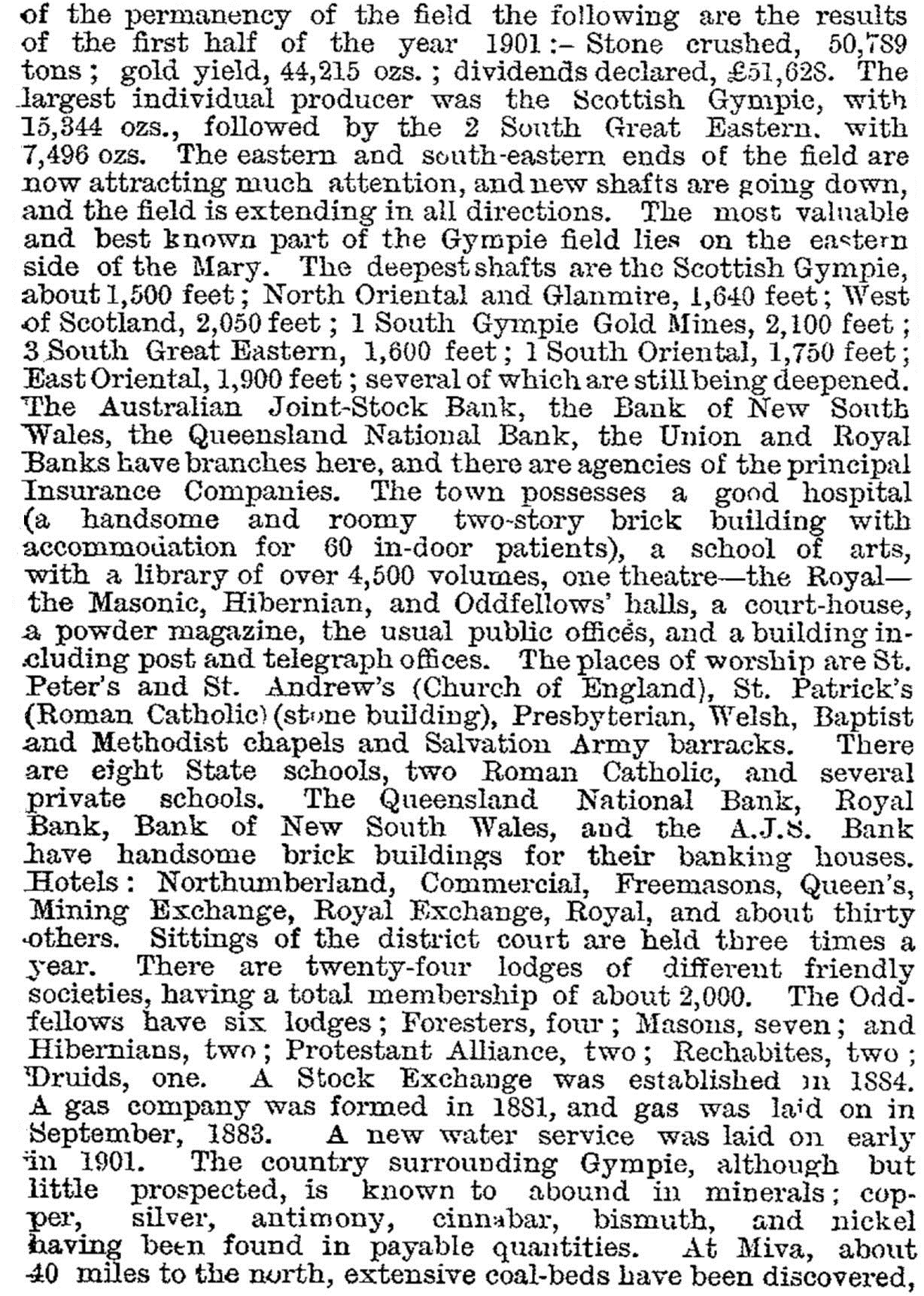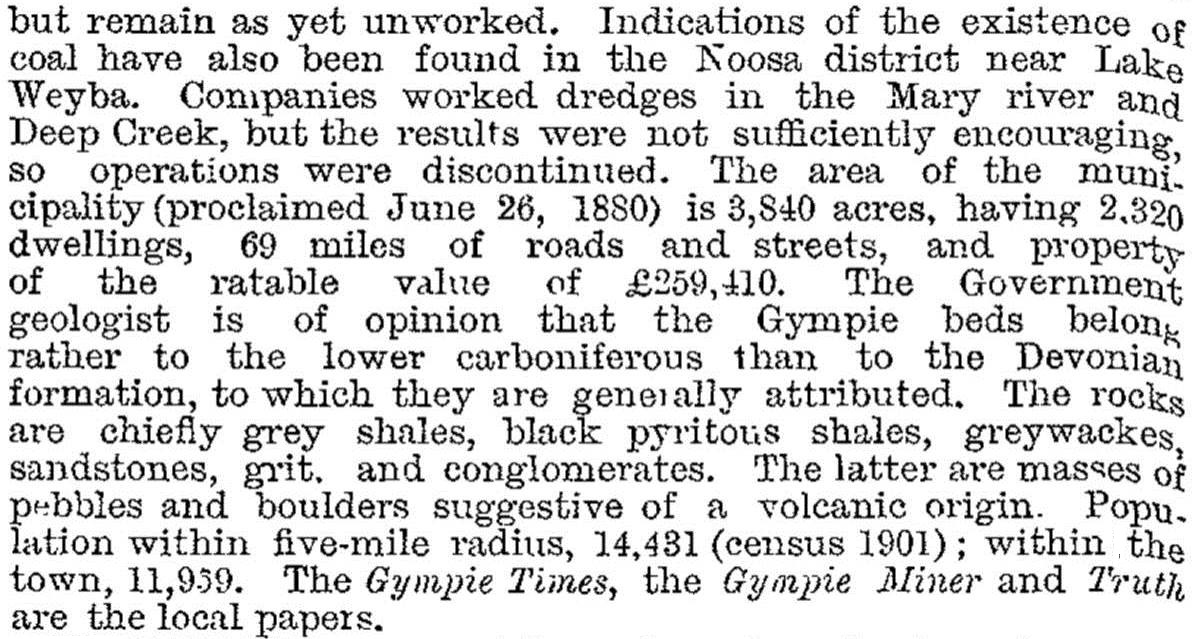 FLOODS 
Along with much of Queensland, Gympie and its central business area were flooded in January 2011. The Mary River peaked at 19.24 metres, the twelfth highest since records were kept. The three highest recorded levels were 25.5 m (1893), 22 m (1898) and 22 m (1999). Gympie has had many more moderate floods, particularly during the 1920s, 1950s and 1970s.
Nineteen businesses flooded when the Mary River peaked near One Mile Recreation Area at the south-eastern corner of Gympie in February 2015 when Tropical cyclone Marcia hit the central coast and Wide Bay area. The city's sporting ovals also sustained damage.
FARMS AND FORESTRY
In 1905 Gympie was declared a city but mine returns began to sag and mining virtually ended in 1912. The Mary Valley timber industry, which had provided structural timber and firewood for mining, continued to provide employment. The railway down the valley (1915) also stimulated fruit and dairy production. A Gympie fruit growers' association was formed in 1916, and in the 1920s the surrounding Widgee Shire became a large banana-growing area. Dairying remained important, the Gympie branch of the Wide Bay Cooperative dairy factory opening in 1925. Even so, the population censuses clearly show the dramatic impact of the mine closures: 1901 (11,959) and 1921 (6537).
Gympie was described in the 1946 Australian Blue Book: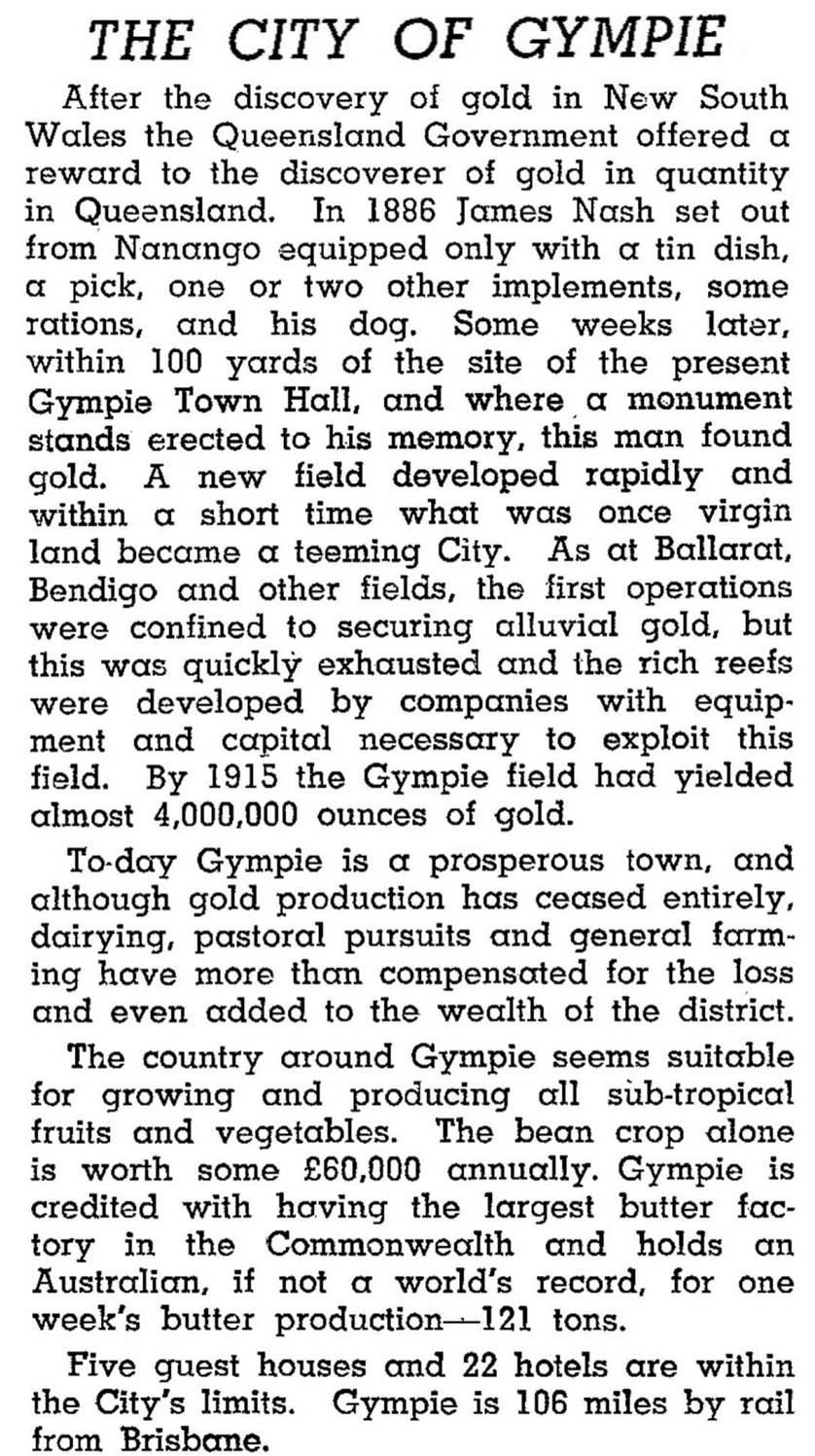 INDUSTRY AND AMENITIES
A State high school was opened in Gympie in 1912, the choice of Gympie being at least partly influenced by it having no Grammar School (although it was destined soon to have a Christian Brothers College, 1916). The establishment of the high school signified Gympie's regional importance. With rail yards it served as a transport hub for timber, vegetable and fruit products. Beans were a particularly important crop, especially for out-of-season southern markets.
A large Nestlé dairy factory opened in 1953, and in the 1970s the Co-op dairy factory shifted from butter production to milk processing, finally closing in 1994. The Nestlé factory abandoned dairy products in favour of instant coffee. Vegetable production remained profitable, with beans continuing as the leading crop. The Borumba Dam, Gympie's principal water supply, was completed in 1964.
The opening of the Gympie airport in 1966 reflected the postwar popularity of air travel, but the Sunshine Coast airport remains the dominant site in the region. Road transport replaced rail in the Mary Valley, the line closing in 1993. In 1998 the line was reopened as the Mary Valley heritage railway, a steam daytrip service that capitalised on the tourist base that had developed in nearby Noosa and Rainbow Beach. Regular upgrades of the Bruce Highway have cut travel times to Brisbane to under two hours.
The original Gympie township is recognisable in its irregular street pattern. Outer northern areas and those south of the Mary River have a less congested layout. Gympie has the usual amenities of a regional city – racecourse, showground, golf course, two State high schools (1912 and 1977), a TAFE and a hospital. A drive-in shopping centre abuts the Bruce Highway, south of the city centre. A gold mining and historical museum is near Monkland primary school. There are several heritage-listed buildings, including the court house (1902) with its prominent clock tower, at the corner of Channon and King Streets, the school of arts in Nash Street, St Patrick's Catholic church (1887) and the old post office in Channon Street (1880).
Gympie's census populations have been:
| Area | Census Date | Population |
| --- | --- | --- |
| Gympie | 1871 | 2477 |
|   | 1881 | 4564 |
|   | 1901 | 11,959 |
|   | 1933 | 7749 |
|   | 1954 | 9964 |
| Gympie and Gympie South | 1971 | 11,422 |
|   | 1991 | 13,175 |
|   | 2001 | 13,681 |
|   | 2006 | 15,771 |
| Gympie | 2011 | 10,156 |
In 1993 Gympie City and the surrounding Widgee Shire were united to form Cooloola Shire and in 2008 Kilkivan shire and part of Tiaro Shire were added to Cooloola to form Gympie Regional Council.
Gympie has several suburbs and localities, some dating from the 1860s. Opening dates for their State primary schools give a clue to their periods of establishment. On the north side: Two Mile (1883) and Gympie West (1958); on the south side: One Mile (1869), Monkland (1884), Jones Hill (1902) and Gympie South (1910).
North of the Gympie postcode there is Araluen. It has a livestock saleyard and the Victory co-ed P-12 college (1980). Araluen's census populations have been:
| census date | population |
| --- | --- |
| 2006 | 520 |
| 2011 | 643 |
Gympie South, now known as Southside, is a residential suburb south-west of the Mary River. It has Gympie racecourse, Cooloola Christian College (1992) and the outlying Jones Hill primary school.
Southside's census population has been:
| census date | population |
| --- | --- |
| 2011 | 5509 |
Cooloola Shire ... a golden past, Gympie, Cooloola Shire Council, 2001
R.H. Donald, Gympie: a golden past, a golden future, Gympie, 1976
Hector Holthouse, Gympie gold, Sydney, Angus & Robertson, 1973
W.E. Mulholland, The town that saved Queensland, Brisbane, National Trust, 1983
Souvenir of Gympie's centenary, Gympie Centenary Committee, 1967
Cooloola and Widgee Shire entries