Herberton, a town, is 75 km west of Innisfail and 60 km south-west of Cairns. It is situated on the Wild River, a tributary of the Herbert River.
In 1864 the Herbert River was charted by George Dalrymple and later named by the surveyor-general, A.C. Gregory, after Queensland's first premier (1860), Sir Robert Herbert.
During the late 1870s John Newell, formerly involved in tin mining at Stanthorpe, prospected in the Tinaroo district, north-east of Herberton. Guided by John Atherton, Newell and a companion, William Jack, found a tin lode at Herberton in 1880. The nearest watercourse, Wild River, is a tributary of the Herbert, and treating them as the one stream Newell named the place Herberton. The mine was known as the Great Northern tin lode. Newell and Jack's former employer, John Moffat, set about developing the tin mine which almost immediately yielded spectacular profits. The influx of population brought about a primary school and a school of arts (1881), Jack and Newell's store (1882) which became a chain throughout north Queensland, and a hospital (1884).
The Post Office directory in 1885 estimated Herberton's population at about 600, and recorded an active township: six stores and sundry other shops such as a pharmacy and a saddler, two banks, three drapers, twelve hotels (but possibly including some outlying establishments), the Wild River Times (1883) and the Herberton Advertiser. There were also Church of England, Catholic and Wesleyan churches, Masonic, Oddfellows, Good Templars, Jockey and Cricket bodies, the Tinaroo Divisional Board and the Tinaroo Progress Association. By 1903 the town's population had nearly doubled, and it was described in the Australian handbook: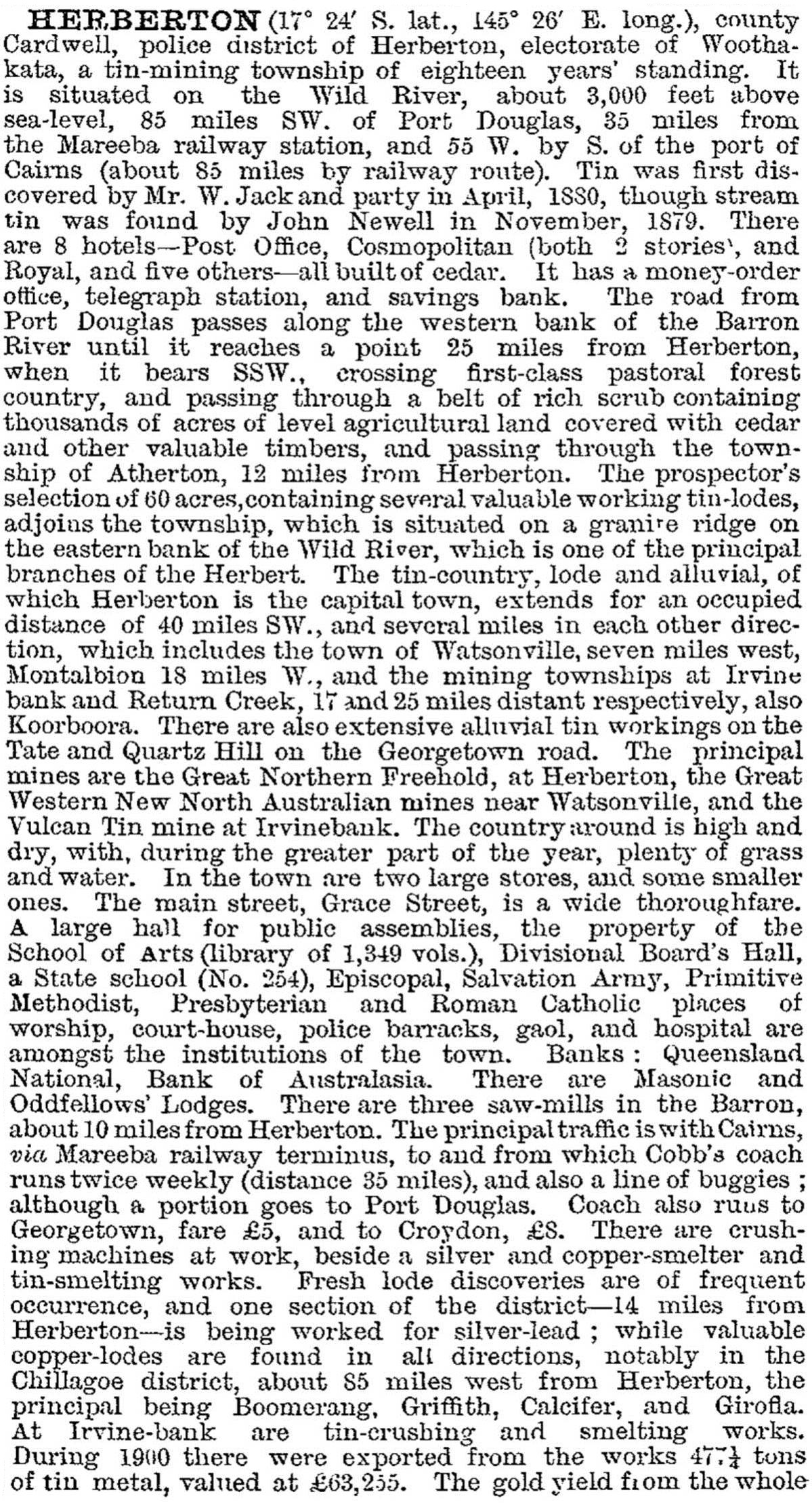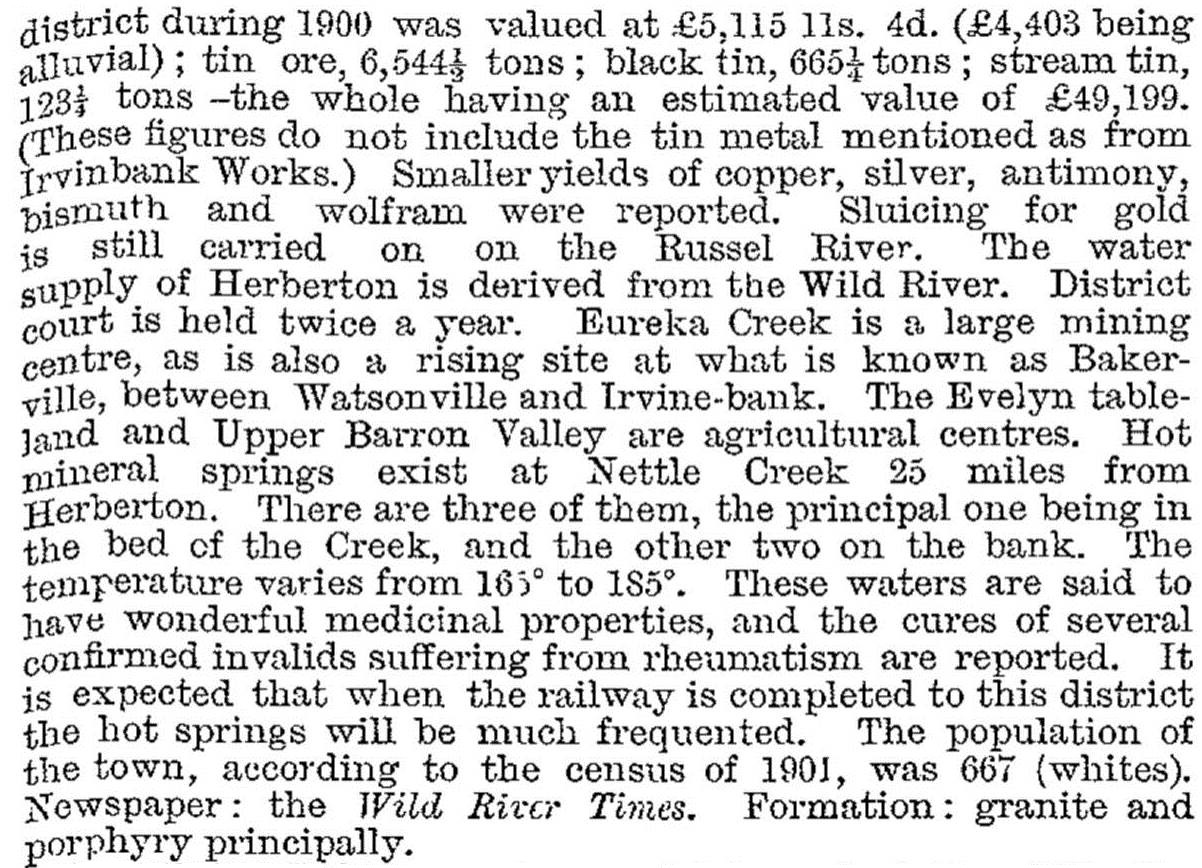 Not recorded was the Herberton Mining, Pastoral and Agricultural Association which held its first annual show in 1888.
In 1910 the railway was extended from Atherton to Herberton. Coincidentally, the Mt St Bernard convent school was opened, beginning a process which made Herberton the centre for the Tablelands Catholic Church. In 1919 the Anglican St Mary's school was opened, and the Bush Brothers made Herberton their centre for the region.
Mining and smelting continued until 1978, during a time when the town's population varied between 900 and 1100. In 1949 the Post Office directory recorded only four hotels, a cinema instead of lodges and friendly societies, and Catholic and Church of England schools.
The loss of the mining industry was accompanied by a loss of population in the town, but the position was rectified in the 1990s. Mt St Bernard College has both day pupils and boarders. Herberton has a general store, a visitors' centre, a mining museum (2005), a hospital, and the former Herberton shire chambers. A privately run historical village (1973) which had numerous old buildings and relics collected by Harry and Ellen Skennar closed in 2003. The Herberton Historic Village with over 50 original buildings reopened in 2008 under new owners Connie and Craig Kimberley. An historic walk includes the heritage-listed Church of England and Presbyterian churches (1889, 1891 in Broadway and Lillian Streets, both single-skin timber buildings), the Jack and Newell store (c1880) in Grace Street and the school of arts (1881). Herberton's census populations have been:
| Census Date | Population |
| --- | --- |
| 1881 | 268 |
| 1891 | 1175 |
| 1933 | 869 |
| 1954 | 1101 |
| 1981 | 577 |
| 1991 | 948 |
| 2001 | 946 |
| 2006 | 974 |
| 2011 | 934 |
Janet Crump, Herberton's hundredth 1880-1980, Herberton, Herberton Lions Club, 1980
Frank Dempsey, Old mining towns of North Queensland, Adelaide, Rigby, 1980