Ipswich, Queensland's oldest provincial city with a suburban and rural hinterland is 30 km south-west of central Brisbane, at the junction of the Brisbane, Lockyer and Fassifern valleys. It is also on the Bremer River, which passes through Ipswich's southern and eastern suburbs, joining the Brisbane River at Riverview. The Bremer has numerous tributaries, including Mihi Creek (Brassal), Warrill Creek (Yamanto), Tivoli Creek (North Ipswich), Deebing Creek (Churchill) and Bundamba Creek (Booval).
FLOODS 2011
The Bremer River and its tributaries can experience severe downpours. Ipswich has had ten major floods since 1893, the year when the Bremer River rose to 24.5 metres. Experience has taught builders and residents the places to avoid, except a few parts built on before the 1893 record flood. One of those is the business centre, in particular east of East Street and west of the railway crossing. Another is Ipswich High School, next to Mihi Creek. In January 2011 the Bremer River peaked at 19.4 m, exceeded only by the 1893 figure and 1974 (20.7 m). Many of the suburbs were invaded along river and creek-side areas.
LIMESTONE QUARRY
Within a few months of the 1824 establishment of the Moreton Bay penal settlement, the settlement's Commandant, Captain Patrick Logan, explored the Brisbane River and its tributary, the Bremer. He found limestone deposits on the Bremer's hilly shoreline, and in 1827 dispatched a party of convicts to quarry the limestone and erect a lime-burning kiln for cement for the infant building program at Brisbane. Coal deposits were also noted near the limestone source.
The Limestone penal station was closed in 1839. Generally regarded as the 'father' of Ipswich, the penal station's superintendent, former soldier George Thorn (1806-76), remained in the Limestone area after closure of the station, resigning from government service and purchasing a hotel. The Limestone township was surveyed in 1842 for the purpose of free settlement, and was renamed 'Ipswich' the following year in time for the first land sale. The name was given by Governor Gipps, apparently after Ipswich on the Orwell River, Suffolk, England: there is some resemblance to Suffolk's Ipswich, a river port at the junction of the Gipping and Orwell Rivers.
THE PORT AND THE COMING OF RAIL
By 1845 barges were transporting freight between Ipswich and Brisbane, carrying wool to the port and returning with supplies for pastoralists. A paddle steamer began operations 1846, followed by several other vessels in the next few years. In 1849 Ipswich acquired a Wesleyan chapel, primary school and Benjamin Cribb's general store, which was destined to grow into the Cribb and Foote emporium. A racecourse, school of arts and a Church of England followed the next year.
COAL
Coal had been mined at Redbank, east of Ipswich, since 1846 and in 1849 a mine was started at Woodend, immediately north-west of the town. A successful mine operated in the 1850s on the north side of the Bremer River east of Tivoli Creek. As the Redbank deposits petered out the Tivoli deposits were more intensively exploited, ushering in Ipswich's reputation as Queensland's foremost coal producing area.
Coal was needed for steam trains. Ipswich's port was an inland freight centre (it was declared a customs port in 1869), and the town was chosen as the starting point for Queensland's first railway, servicing the growing pastoral prosperity of the Darling Downs. The first length of line ran west for 34 km to Bigges Camp (renamed Grandchester) in 1865, and was extended in several stages to Toowoomba by 1867. In Ipswich the line skirted north around the river, running through North Ipswich to enter a two-storey iron station, then on to the Bremer River wharf. The wharf handled rail freight until a line joining Ipswich and Brisbane was opened in 1875. The opening of the rail network led to the establishment of maintenance workshops, which expanded as the regional economy grew.
During the 1850s Ipswich's mercantile, civic and ecclesiastical infrastructure was laid down: the Bank of New South Wales and Bank of Australasia both opened branches in the early 1850s; Congregational, Catholic and Church of England churches were erected; newspapers - the North Australian (1855) and the Ipswich Herald (1859) - began publication; and a court house and general hospital were completed in 1859. In 1859 Ipswich was made a municipality.
Cotton and wool production in the Brisbane Valley and the Downs, and the accessibility provided by the railway, stimulated further economic activity: the Ipswich Cotton Company was established in 1861 and the Queensland Woollen Mill at North Ipswich opened in 1875. Yet despite its growing reputation as an industrial town - with coal, brick-making and railway engineering all substantial elements of the local economy - a school for technical education did not eventuate until 1891. It was preceded by the Boys' Grammar School, which followed the traditional lines of English public schools, in 1863.
QUEENSLAND'S SECOND TOWN
By the mid-1870s the population of Ipswich was around 5000, and the Australian Handbook (1876) rated it the second town in the colony of Queensland :
During the late 1870s the average annual coal output in Queensland was 60,000 tons, mostly from Ipswich. In the 1880s average output doubled to around 150,000 tons, three-quarters from Ipswich. In 1900 total Queensland output was 480,000 tons, with Ipswich (including Redbank, Purga and Tivoli fields) still contributing three quarters. Substantial quantities of coke were made for industrial combustion. There were by this time several other industries in operation, including sawmills and joinery works, and two butter factories.
Railway lines to Brisbane Valley (1884-1904) and south to Harrisville (1882-1964) transported dairy produce to Ipswich for processing. Lines dedicated to transporting coal were also built, from the North Ipswich rail workshops to Tivoli (1898) and a loop from Redbank to Bundamba, south of the main line, passing a succession of collieries. An endless-chain conveyor delivered Tivoli coal to lighters on the Brisbane River.
REGIONAL CENTRE
The railway workshops became a massive enterprise. Enlarged northwards in the 1880s, an entire new set of buildings was erected during 1899-1904. Included was a grand electric power house, a bold step when electric power generation was still in its infancy. Numerous workshops were laid out either side of a traverser track, a massive conveyor to move rolling stock from assembly to finishing in the various dedicated buildings. There was a foundry, pattern shop, carriage and wagon shops, and shops for welding, boilers, brakes and paintwork.
Ipswich was described in the 1903 Australian handbook: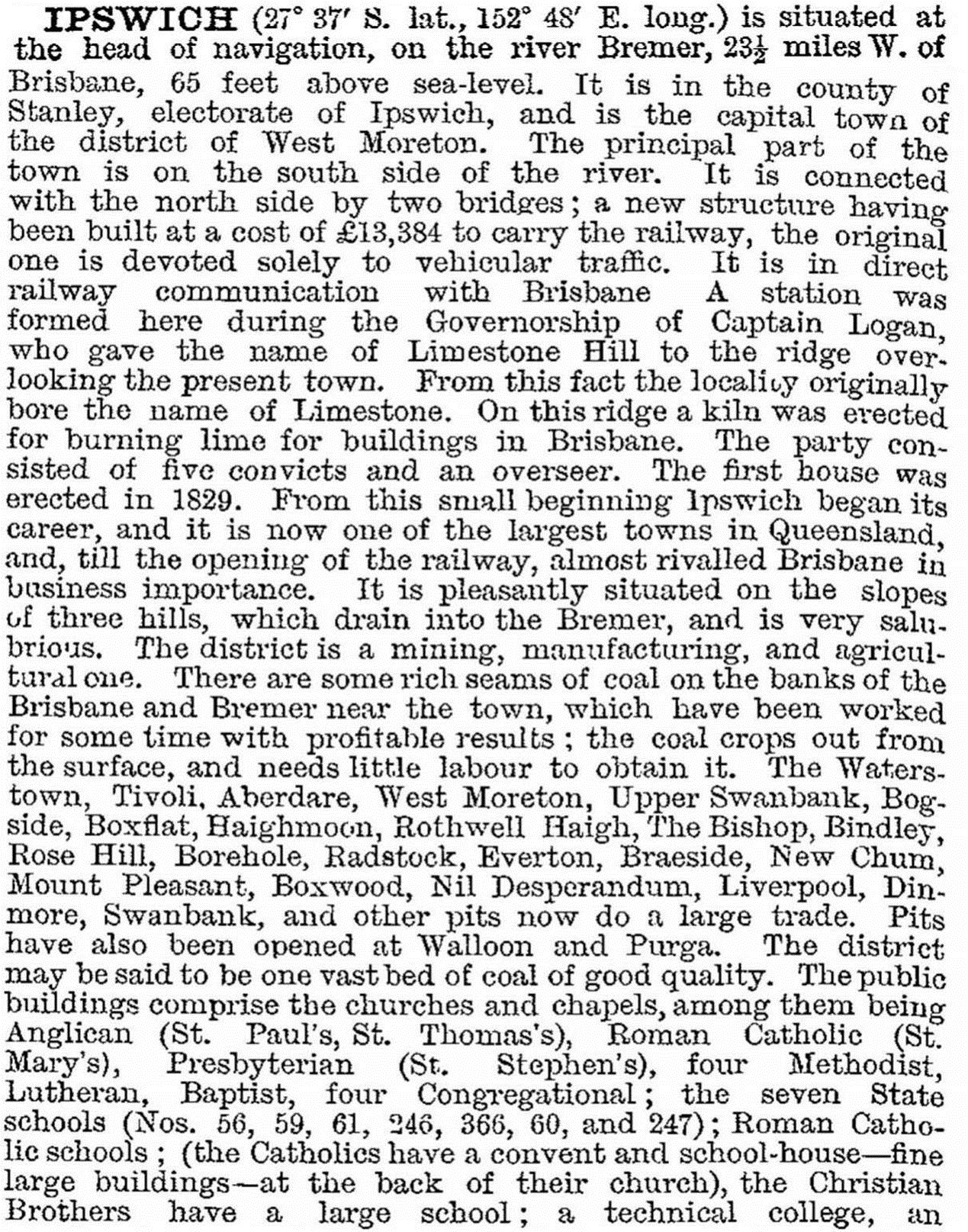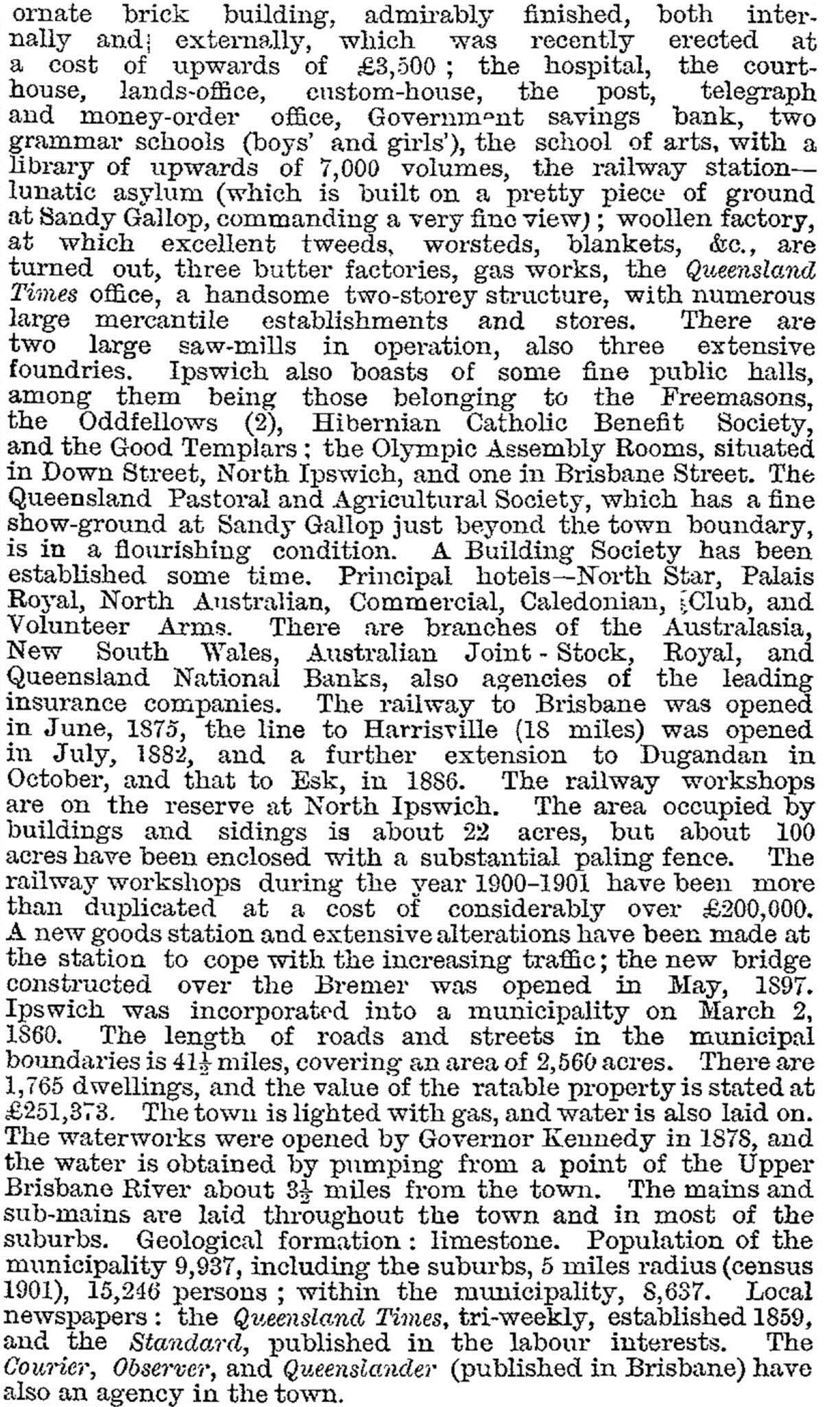 Industry generated prosperity. The expanding managerial class erected comfortable villas around lofty positions such as Denmark Hill, their municipal rates paving streets, financing tree plantings and upkeep of parks. Queens Park, east of the city's centre, was a pleasure garden with a bandstand and a lookout. Its northern part was truncated for the Girls' Grammar School (1892), and a municipal incinerator was built in its southern part in 1936. Designed by the architect of Canberra, Walter Burley Griffin, the incinerator is now heritage-listed and has been converted into a theatre.
A chamber of commerce was formed in 1906 and a chamber of manufactures in 1929. By 1932 it was estimated that there were 182 factories operating in Ipswich employing over 2000 people. The Ipswich district had 48 working coal mines and the West Moreton district produced 17% of Queensland's milk. The railway workshops supported 1760 employees (1935), rising to 3300 just after World War II.
LOCAL GOVERNMENT
The immediate postwar period saw an expansion of the Ipswich municipal area, with the addition of territory from Bundamba to Goodna to the east. When the Ipswich municipality was proclaimed in 1860 its area was a compact 10 sq km. In 1917 a number of surrounding shires were abolished and parts of Brassall, Bundamba and Purga Shires added to create a "greater Ipswich" of 32 sq km (the balance of those shires were incorporated into Moreton Shire.) The 1949 expansion and the addition of most of Moreton Shire to Ipswich City in 1995 resulted in a metropolitan municipality of 1207 sq km, of which the central Ipswich city area was a small core.
In 1946 Ipswich was described in the Australian Blue Book: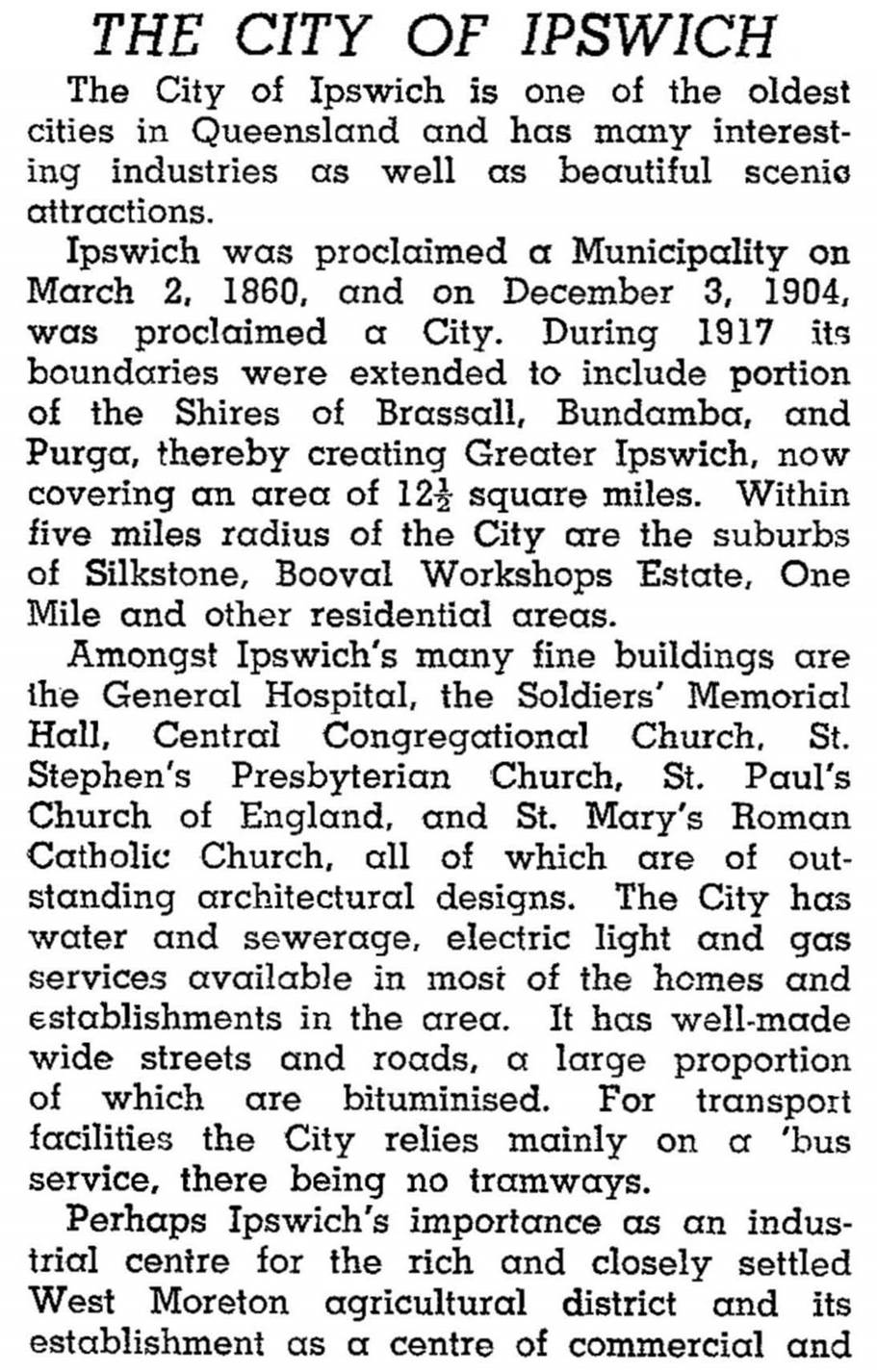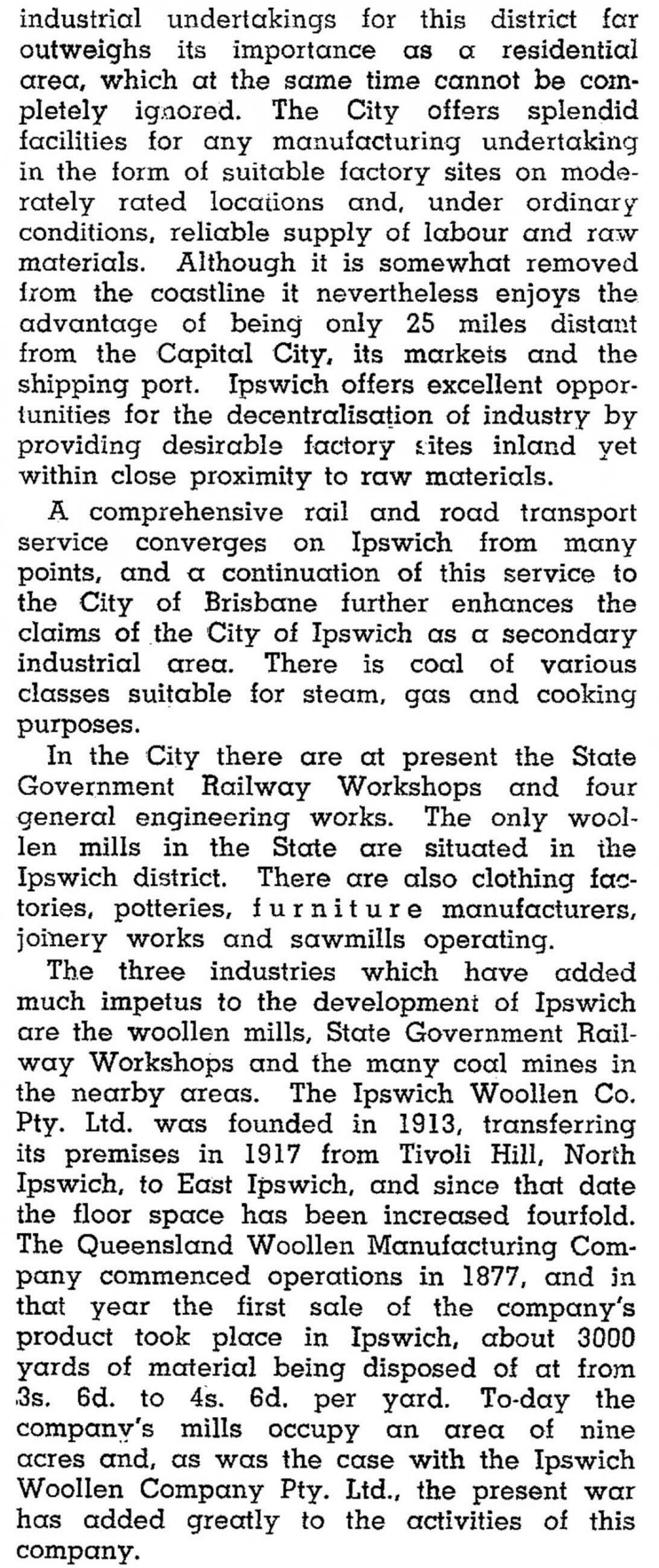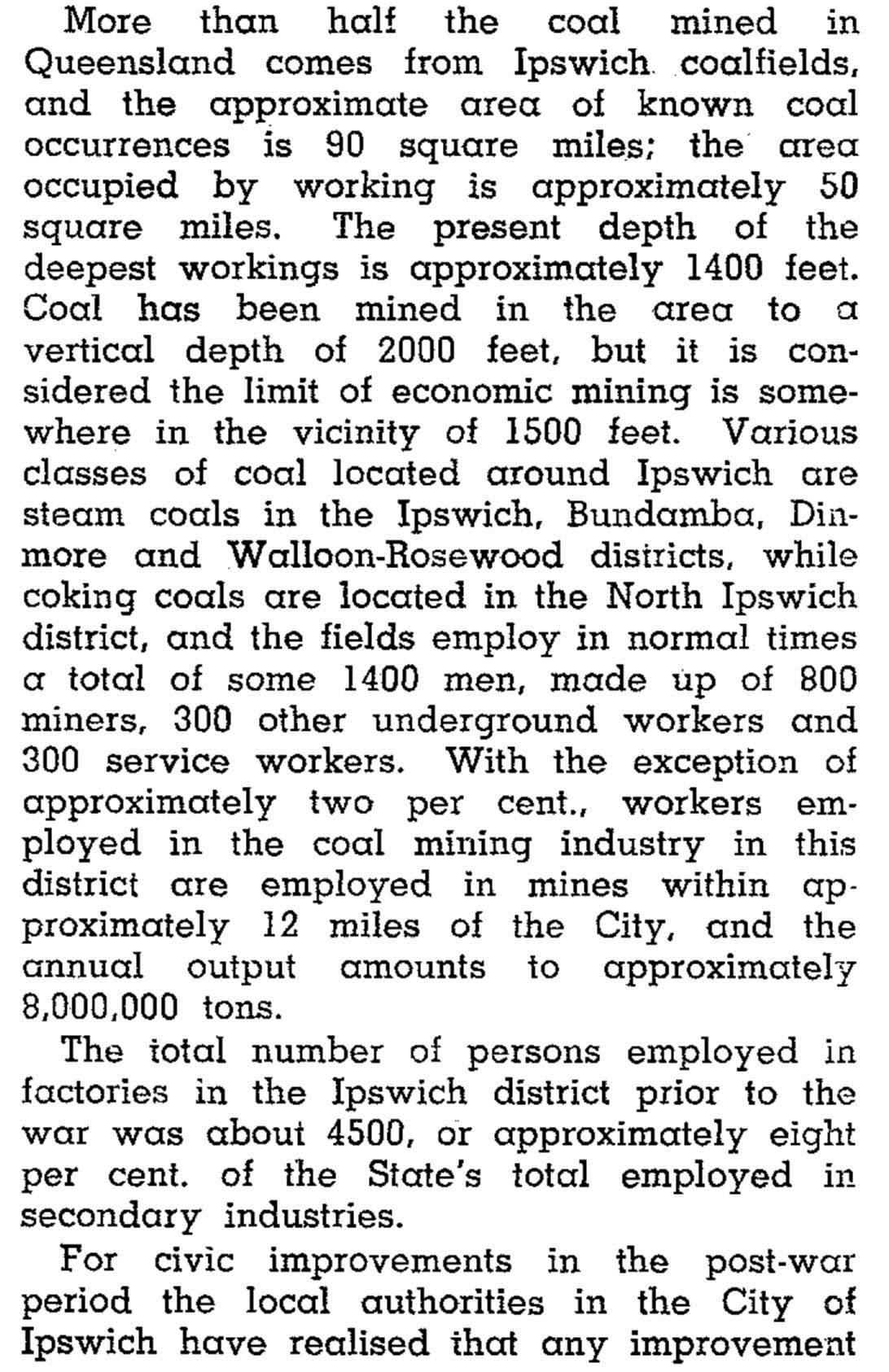 Ipswich's commercial and retail centre centred on Brisbane Street which, west of Nicholas Street, was known as the 'Top of the Town'. Its precinct included St Pauls Church of England (1859), the Uniting (formerly Methodist) Church (1858) and the Baptist Church (1876). Further west were several business chambers and hotels.
COAL'S DECLINE
Throughout the 1930s-50s the Ipswich coalfields were still producing about half of Queensland's coal, overall production nearly doubling in that period. By the 1960s however, the town's economic coal reserves were dwindling. Confidence in the industry slumped further still in 1972, the Box Flat mining disaster in July of that year killing 17 miners, the city's worst mining incident.
Between 1961 and 1971 the town's workforce grew from 14,000 to 24,000. But few of them were employed in the mining industry. By 1961 manufacturing, not mining, was Ipswich's dominant employer. Ipswich's status as Queensland's main coalfield ended in 1968, when it was overtaken by Moura. Mining employees then numbered 963 (compared with 1610 ten years before). Employment was clearly being found elsewhere, and commuting via the suburban rail connection or road into Brisbane became increasingly common. Ipswich's nineteenth century identity as Queensland's second city was subsumed into the larger neighbour's metropolitan sprawl.
The rise of the motor car in the postwar period had a deleterious effect on Ipswich's central shopping area, as suburban drive-in centres drew custom away from the centre of town. Cribb and Foote bestrode Brisbane Street in 1912, but was unable to compete with out-of-town centres at Brassall, 2 km north-west of the city centre, Booval, 2 km to the east and Redbank, 15 km to the east. Collectively, these three drive-ins added four discount department stores, five supermarkets and 170 shops to Ipswich's retail infrastructure. The Cribb and Foote store (by then Reids Department Store) was destroyed by fire in 1985, while the local branch of the TC Beirne department store fell into the hands of Bonds-Walton and closed in the 1980s. There was some resistance in the mid-1980s - the central Nicholas Street pedestrian mall was created, augmenting the Ipswich City Square shopping development (supermarket and 66 shops). The Ipswich Riverlink Shopping Centre which lies on the banks of the Bremer River opposite the CBD, opened in mid-2007. It provided locals with access to over 100 specialty shops, many previously only found in Brisbane. This has transfomed how locals do business.
POLITICAL TURBULENCE
During the late 1990s Ipswich, and its federal seat of Oxley, became a political hot spot. Manufacturing, which had bolstered employment as mining dwindled, declined from more than 25% of total employment (1971), while Queensland Rail had decommissioned the North Ipswich workshops in the early 1990s. A reform team, led by a Labor Mayor, began changing council work practices, leading to the mayor's expulsion from the ALP in 1993. An unknown candidate, a self-styled 'True Independent', ran for the council election in 1994, defeating the Labor incumbent, and Pauline Hanson's political career thus began. She tapped into community disenchantment with high unemployment and mainstream politics. Originally the pre-selected Liberal Party candidate for the safe Federal Labor seat of Oxley in the 1996 federal election, Hanson was subsequently disendorsed after writing to the local Queensland Times newspaper criticising the Labor Federal Aboriginal Affairs minister's supposed advocacy of 'soft treatment' for crimes by Aboriginals. Undeterred, Hanson ran for Oxley as an independent, winning with a swing of 19% against the Labor incumbent.
Depletion of natural resources and a decline in manufacturing impacted heavily on Ipswich. Craft skills in manufacturing and construction were devalued, and the largely working class community suffered diminishing morale. Income levels were below average in 2001.
THE BENEFITS OF NEGLECT
An extensive heritage evaluation and conservation program initiated in the early 1990s resulted in the protection and revitalisation of much of Ipswich's physical and cultural heritage. Protected by years of benign neglect rather than outright destruction, much of central Ipswich's physical assets survived the city's economic decline.
The 'Top of the Town' comprising the commercial and retail precinct centred on Brisbane Street (west of Nicholas Street), has undergone significant urban renewal after a considerable period of deterioration. The North Ipswich rail yards, vacated by Queensland Rail in 1993, endure as one of Australia's best-preserved industrial heritage sites. Ipswich boasts an impressive array of places listed on the Queensland heritage register, many of which have been converted for contemporary use. The old town hall, formerly the school of arts (1861) was fitted out with extensive electronic data networking and renamed the Global Arts Link, incorporating the regional art gallery and a community internet facility. Another example of adaptive reuse is the University of Queensland's Ipswich campus, opened in 1999 using the premises of the former Challinor Centre mental health institution.
This sensitivity to heritage values has in part contributed to increased tourist appeal and consequent employment in accommodation and hospitality. Ipswich's rail heritage has been developed: the workshops are a rail buffs' paradise, and there are heritage railway attractions out of town at Grandchester, Rosewood and at Swanbank, near Blackstone. The Council has published a comprehensive series of heritage trail guides, highlighting both historic buildings and sites. Central Ipswich has a generous array of parklands, and there are botanically interesting parks at Rosewood, Bundamba and Kholo.
Inner Ipswich has retained an unusual density of small suburbs, in contrast to inner suburban Brisbane where some small places have almost disappeared as place names or barely remain as distant memories.
In addition to the numerous inner suburbs of Ipswich, the municipal boundaries also include rural towns such as Grandchester, Rosewood, Marburg and Purga. In 2008 two of Ipswich City's southern rural towns, Harrisville and Peak Crossing, were detached and placed with the Scenic Rim Regional Council. Ipswich City's area was reduced from 1207 sq km to 1089 sq km.
| Area | Census Date | Population |
| --- | --- | --- |
| Ipswich Municipality | 1861 | 3287 |
|   | 1871 | 4820 |
|   | 1891 | 7625 |
|   | 1911 | 9528 |
|   | 1921 | 20,517 |
|   | 1954 | 38,953 |
|   | 1966 | 54,531 |
|   | 1981 | 73,229 |
| Ipswich City* | 2001 | 123,355 |
|   | 2006 | 140,181 |
|   | 2011 | 166,904 |
*
Following inclusion of most of Moreton Shire.
Much of the population growth was in Brookwater and Springfield. At the 2011 census the median age of Ipswich City's residents was 32, compared with 37 for Australia.
Geo. Harrison, ed, Jubilee history of Ipswich: a record of municipal, industrial and social progress, Brisbane, H.J. Diddams, 1910
Ipswich: a townscape study for the National Estate, Brisbane, National Trust of Queensland, 1977
Leslie E. Slaughter, Ipswich municipal centenary, Brisbane, L.E. Slaughter for the Council of the City of Ipswich, 1960
Queensland Heritage Council website, Ipswich sites
City of Ipswich website, Ipswich History timeline
Robyn Buchanan, The Bremer River, Ipswich, Ipswich City Council, 2009
Margaret Cook, Top of town: Ipswich, Queensland, Ipswich, City of Ipswich, 2010
Amberley, Basin Pocket, Bellbird Park, Blackstone, Booval, Brassall, Brookwater, Camira, Carole Park, Coalfalls, Collingwood Park, Churchill, Chuwar, Dinmore, Eastern Heights, Ebbw Vale, East Ipswich, Flinders View, Gailes, Goodna, Grandchester, Harrisville, Karalee, Leichhardt, Marburg, Moreton Shire, Mutdapilly, Newtown, Normanby Shire, North Ipswich, Peak Crossing, Purga, Raceview, Redbank, Rosewood, Silkstone, Springfield, Thagoona, Tivoli, Walloon, West Ipswich, Woodend and Yamanto entries