Jericho Shire, an area of 21,873 sq km, was generally 400 km west of Rockhampton. It began as a railway work site on the ephemeral Jordan River, thought to be named after an early settler. 'Jericho on the Jordan' was a natural choice.
The main town in the district was Alpha, which found itself divided along the railway line between Belyando and Tambo Shires. Unhappy about neglect from both shires, a resident of Jericho and an acquaintance of the Premier led a campaign for creation of a separate shire. Formed in 1914, Jericho Shire was severed from Tambo and Belyando, along with parts of Aramac, Barcaldine and Blackall Shires. The offices were put in Jericho, a bone of contention with Alpha for many years.
The Shire's prosperity depended on rainfall for grazing; droughts of three or more years were devastating. Roads were rudimentary until the postwar years, communications relying on the Central railway line (1883) and a branch from Jericho to Blackall (1908). The town of Jericho was described in the 1903 Australian handbook: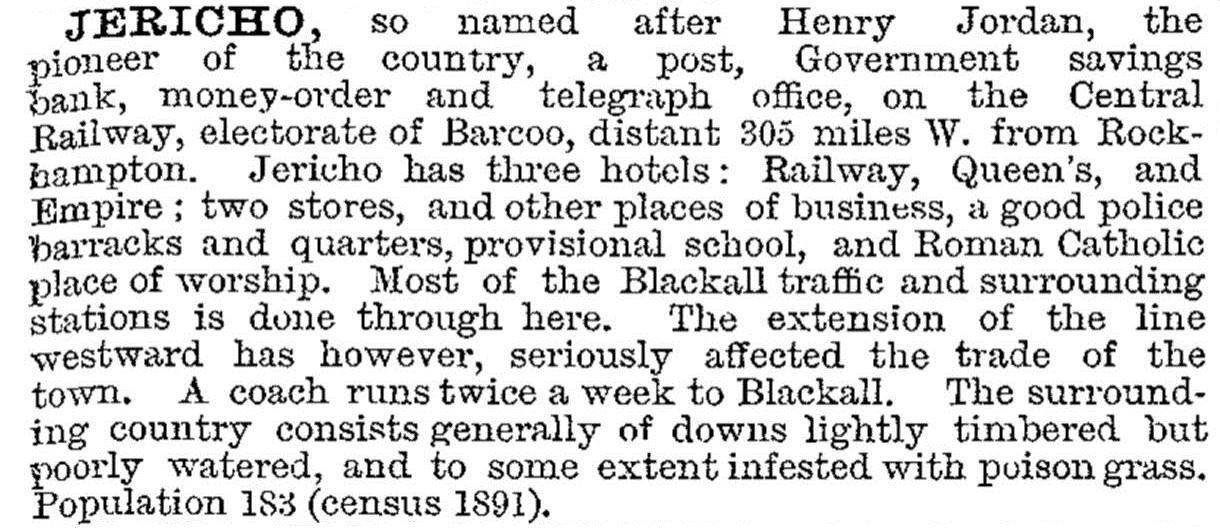 In 1946 the Shire was described in the Australian Blue Book: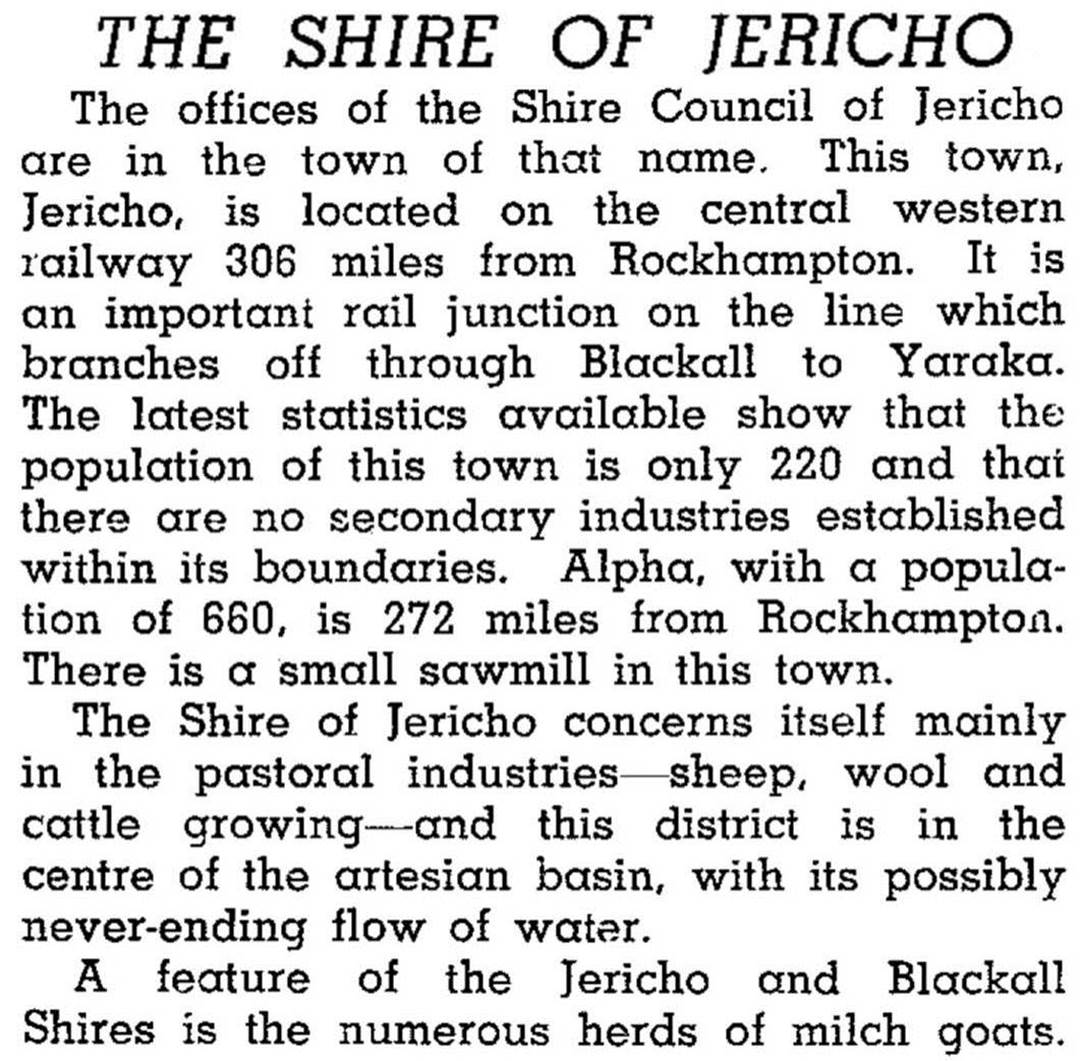 The year 1950 was noted for severe flooding, but it ushered a series of generally good seasons and buoyant prices for wool and, later, beef for the US hamburger market. New facilities were established in the towns, but Alpha moved ahead at the expense of Jericho. A rural recession in the mid-1970s ended the buoyant period. Beef cattle remain the dominant industry. In 1993 there were over 157,000 head, and just 4200 sheep. Tourism is minor, but the Blacks Place Reserve (1933) in the south-west of the Shire is a spectacular repository of Aboriginal rock art. It is on the Australian heritage register.
In 2008 Jericho Shire was amalgamated with Aramac and Barcaldine Shires to form Barcaldine Regional Council. The former shire offices are in Alpha, but both Alpha and Jericho have town halls.
Jericho Shire's census populations have been:
| Census Date | Population |
| --- | --- |
| 1921 | 1636 |
| 1961 | 1623 |
| 1981 | 1240 |
| 2001 | 1075 |
| 2006 | 920 |
Isabel Hoch, Alpha Jericho: a history, Alpha, Isabel Hoch, 1984