Johnstone Shire, an area of 1639 sq km, generally 90 km south of Cairns, was amalgamated with Cardwell Shire in 2008 to form Cassowary Coast Regional Council. It was named after the Johnstone River, named by George Dalrymple in 1873 after his colleague, Robert Johnstone, a sub-inspector of native police. Dalrymple had been commissioned by the Queensland Government to explore the far north coast.
The Johnstone area's early development is outlined in the entry on Innisfail, the administrative centre of the former shire. The first sugar plantation began near Innisfail in 1879, and two years later the Johnstone local government division was created by severance from the sprawling Hinchinbrook division. Although relatively compact, it was several decades before most of the shire was settled.
After timber cutters had cleared the district of millable logs sugar plantations were established. Mourilyan Estate (1881) established a mill in 1884 and built a tramline to the Mourilyan Harbour. Chinese, displaced from gold and tin mining elsewhere, established banana plantations. At Bingil Bay, the Cutten brothers began their tropical fruit orchard in 1888, adding coffee and tea and opening a timber mill. A cyclone and tidal wave in 1918 devastated their plantation, as well as flattening Innisfail. It also damaged Dunk Island and Mission Beach, and was described by E.J. Banfield in his Last leaves from Dunk Island.
Further inland, Mena Creek and Silkwood were settled in the early 1900s, economic activity comprised of timber cutting, dairying and sugar growing. Local growers were influential in securing the establishment of the South Johnstone government central sugar mill in 1916. Timber was milled at Silkwood for the Cairns to Ingham railway line, which was completed in 1924. The line passed through El Arish (a 1922 soldier settlement cane farm town), Silkwood and South Johnstone.
In the 1930s plans were laid for the opening up of farms inland from Innisfail. Although the steep lands near the watercourses were doubtful propositions, the undulating tablelands were considered suitable. The scheme's keystone was an inland road linking Innisfail and Millaa Millaa. It was completed in 1935 and reluctantly named the Palmerston Highway, after Christie Palmerston, the theatrical and ebullient 'super' bushman and pathfinder of the Johnstone district. Most of the inland farms transferred to beef cattle, some after first engaging in dairying. Silkwood had a dairy factory until the 1940s.
Johnstone Shire was described as follows in the 1946 Australian Blue Book: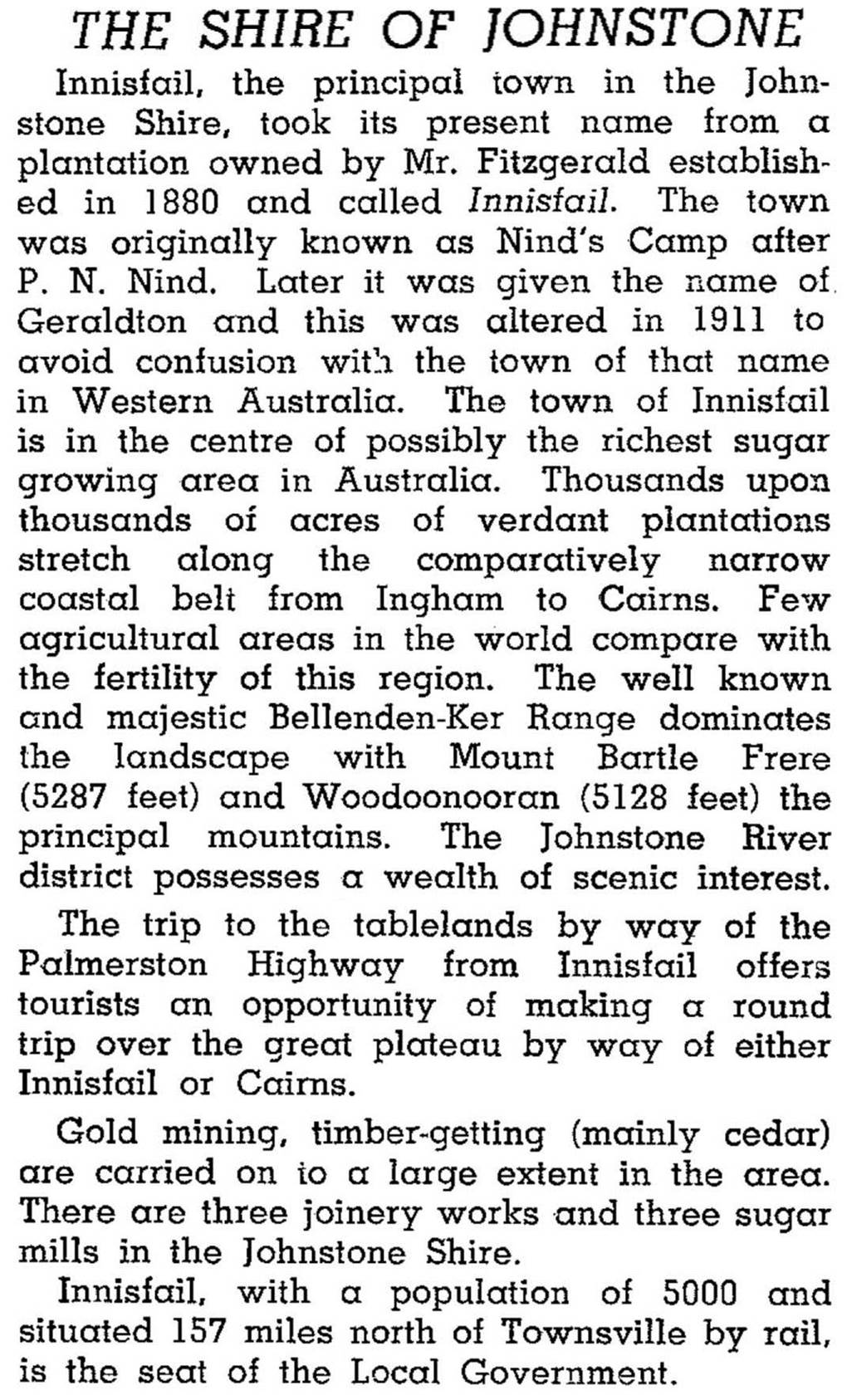 In the 1960s the inland foothills of Mount Bartle Frere were chosen for a tea plantation at Nerada. Exotic tropical fruits such as durians, rambutans and star fruit were also grown. Down on the coast Bingil Bay gained a reputation as a holiday destination in the 1970s, but since the 1980s Mission Beach, with Dunk Island a few kilometres away by water taxi, has harvested the biggest share of tourism investment. In the mid-2000s Mission Beach's property values increased markedly, and smaller places like Flying Fish Point, El Arish and Kurrimine also had increases.
Forty-seven percent of the Shire's area is a wet tropics World Heritage Area. Much of this area was damaged by Cyclone Larry on 20 March 2006. Few of the Shire's towns were spared and Innisfail suffered a huge damages bill, while local banana plantations were reduced to rootstock.
In 1993 Johnstone Shire crushed 2.35 million tonnes of sugar cane, produced 55,370 tonnes of bananas, had 32,000 ha of field crops and 13,000 beef cattle. Its census populations have been:
| Census Date | Population |
| --- | --- |
| 1911 | 3584 |
| 1921 | 5536 |
| 1947 | 12,265 |
| 1976 | 16,776 |
| 1991 | 19,184 |
| 2001 | 19,954 |
| 2006 | 18,256 |
Delia Birchley, God's own country: the Johnstone Shire story, Brisbane, Boolarong for Johnstone Shire, 1986
Dorothy Jones, Hurricane lamps and blue umbrellas: a history of the shire of Johnstone to 1973, Brisbane, G.K. Bolton Printers, 1973
The landholder's handbook, Johnstone Shire Council, 2004
P. Crawford and L.S. Barnes, Johnstone Shire handbook, Brisbane, Queensland Department of Primary Industries, 1979
Japoonvale and Wet Tropics entries