Kilcoy is a rural town on the D'Aguilar Highway in the Brisbane Valley, 70 km north-west of central Brisbane. It is situated on the Kilcoy Creek near its entry to the north end of the Somerset Dam. Formerly, the creek was a headwater of the Stanley River.
In 1841 Evan and John Mackenzie took a pastoral lease between the Stanley and Brisbane Rivers. The leasehold, 35,000 acres, had an estimated carrying capacity of 1200 cattle and 12,000 sheep with year-round pasture. The Mackenzies named the pastoral station Kilcoy after their father's Kilcoy estates on Black Isle, Scotland (Black Isle, a promontory in Moray Firth on the east coast, is about 12 km north-west of Invenness). The Mackenzies sold Kilcoy in 1849 and Kilcoy Homestead (c1857) was built by Louis Hope. It is on the Queensland heritage register. Much of the pastoral station was subdivided for farm selections in the 1890s.
The town of Kilcoy, originally known as Hopetown (and Hopetoun from 1904 to about 1907), was established on the Kilcoy and Sheep Station Creeks in the 1890s. A school was opened in 1892, the Hopetown Hotel and the Church of England following later that decade. Another hotel, the Exchange, was built in 1901 and a Catholic church was opened in 1909.
The town's population was over 700 and at least that many again were in the district when an area was severed from Caboolture Shire and became Kilcoy Shire in 1912. The following year the Caboolture-to-Woodford branch railway line was extended to Kilcoy. The town had a Union bank, two boarding houses, a police station, Anglican and Methodist churches (1898, 1905), a timber merchant, several teamsters, two stores and tradespeople.
In the north of Kilcoy Shire there were mine workings. At Jimna, gold was mined from the 1860s until 1948, and further north there was a mine at Yabba. Jimna was described in the 1903 Australian handbook: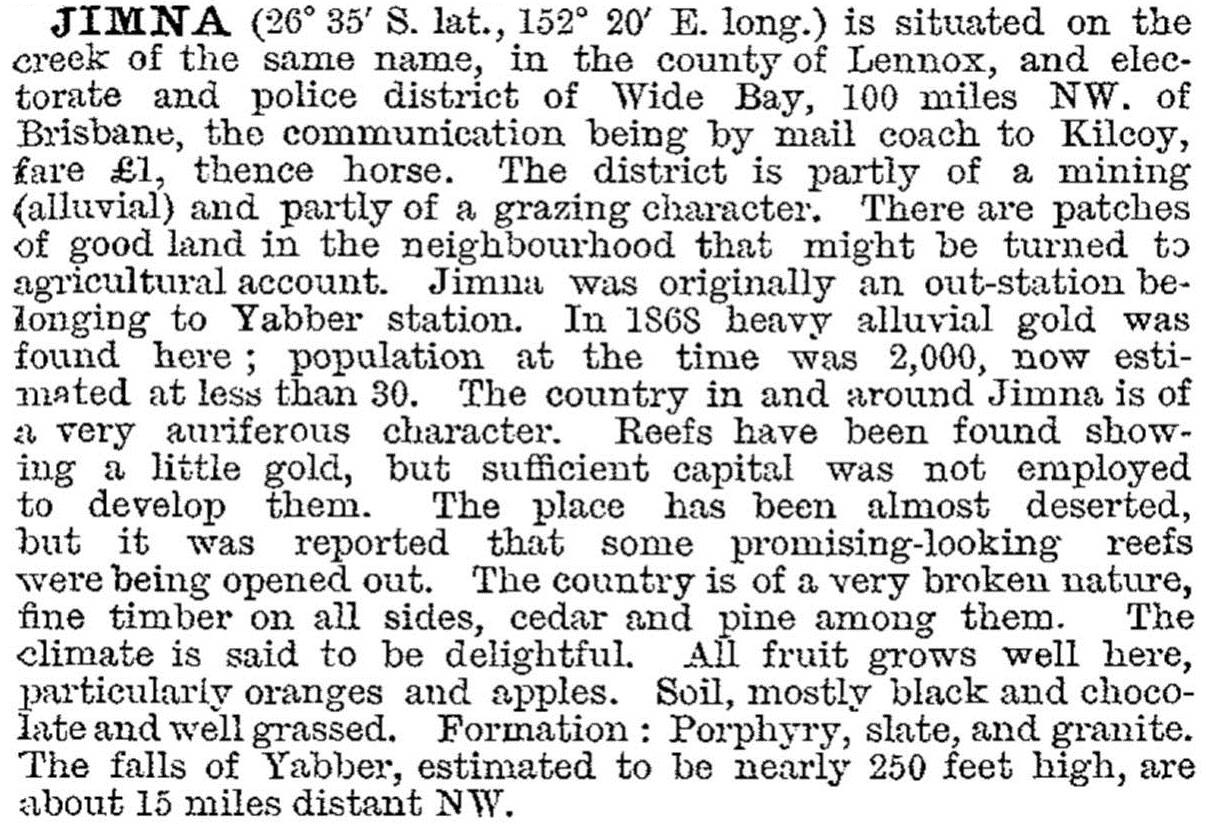 East of Kilcoy a closer-settlement farming area was established at Villeneuve in the late 1870s, set among well timbered hills that kept a sawmill supplied. Much of the Villeneuve area was inundated by the Somerset Dam (built between 1933 and 1958).
By the early postwar years Kilcoy had over 1000 people. Among its several shops were two cash-and-carry stores, a newsagent and a draper, and there were a cinema and two churches. There was a pastoral, agricultural and industries society and most farmers were dairy producers who railed their milk and cream to the Woodford butter factory. The shire was described in the Australian Blue Book in 1946: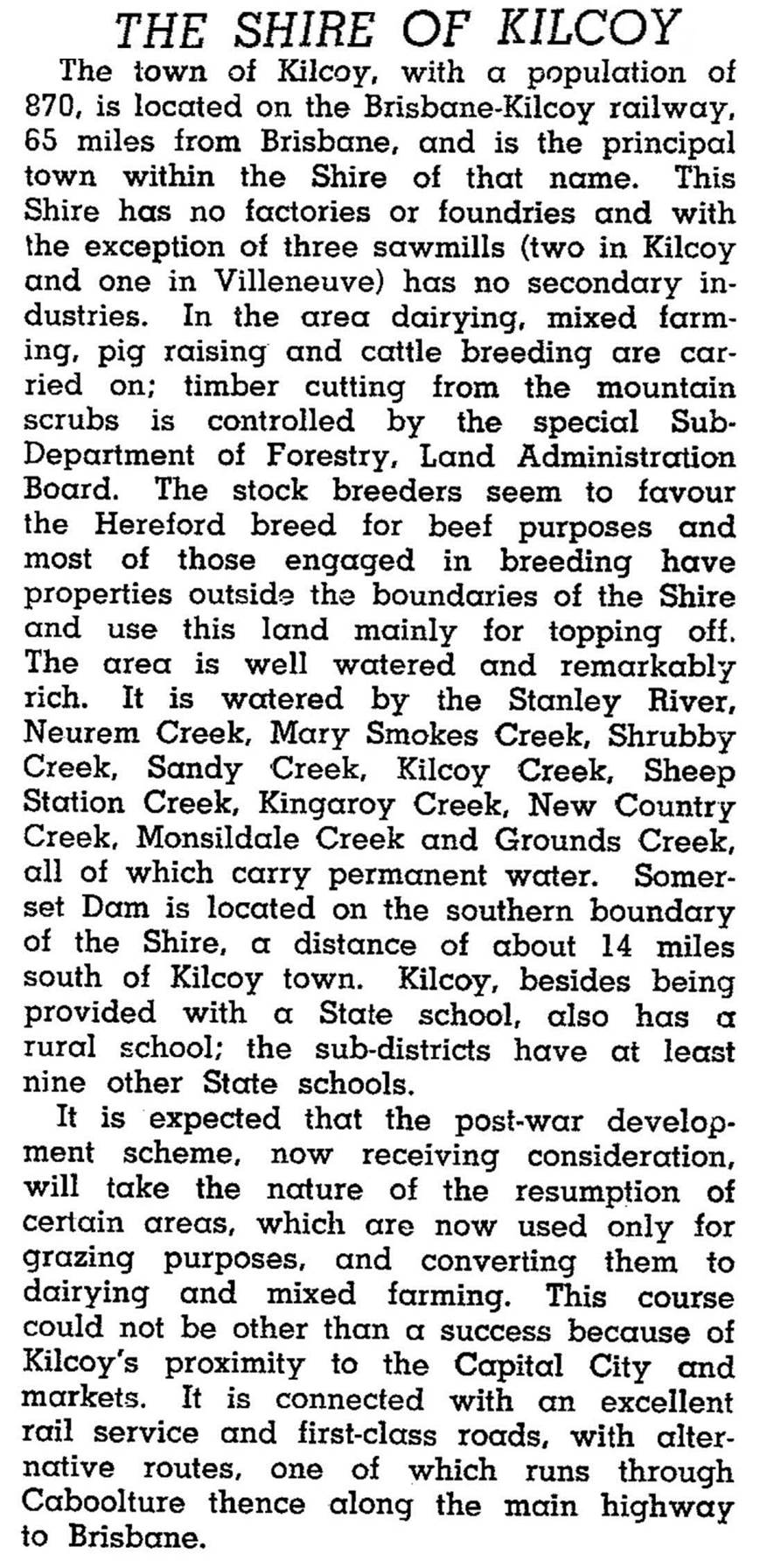 In 1953 a meatworks was opened in Kilcoy, which became the town's largest employer. Up at Jimna there was a temporary increase in population as migrants and displaced persons were accommodated in a camp and barracks (1947-58). The railway was closed in 1964, but the steady increase in Kilcoy's population continued, and a high school was opened in 1972. The outlying rural population did decline, however, during the 1970s, but by 1986 it regained its previous peak figure of around 2500.
Kilcoy experienced a real or imagined population increase during the late 1970s when sightings of the Yowie (an Aboriginal dream spirit/white man's explanation of evidence for an ape-like human) were reported. A statue, based on descriptions from claimed observations, is in Yowie Park in Hope Street, Kilcoy. For unbelievers, there is also an indoor sports complex in Yowie Park.
The Jimna Forest Fire Tower was opened in 1977.  A 47 metre structure it afforded panoramic views of the surrounding ranges including hoop pine plantations and native forests. Despite its listing on the Queensland heritage register in 2000, the wooden based tower was threatened with demolition since 2006.
Kilcoy has golf, bowls and swimming venues, a combined showground and racecourse (11 race meetings a year), a hospital, Bible Methodist, Anglican, Catholic and Uniting churches, the former Kilcoy shire offices, a memorial hall and a cultural centre. There are also a visitor information centre, two hotels, two motels and a camping ground on Kilcoy Creek.
The town's census populations have been:
| Census date | Population |
| --- | --- |
| 1911 | 715 |
| 1933 | 862 |
| 1954 | 924 |
| 1971 | 1148 |
| 1981 | 1257 |
| 1986 | 1401 |
| 2001 | 1437 |
| 2006 | 1499 |
| 2011 | 1714 |
About 64 km north of Kilcoy is the Kilcoy Station homestead (1854) built by Captain Louis Hope, one of the station's owners. Much further north there is the Conondale National Park (1999 ha) with numerous mountain creeks and complex plant communities, including Bunya pines, listed on the Register of the National Estate.
Kilcoy shire's agricultural industry was almost all pastoral. In 1993 there were 25,000 beef cattle and 5700 dairy cattle. Agriculture and forestry are the shire's leading employment sectors (19.4% of total employment), followed by wholesale and retail (19%), manufacturing (16%), education (8%) and health and community services (7.4%).
In 2008 the shire was amalgamated with Esk Shire to form Somerset Regional Council.
The Shire's census populations were:
| Census Date | Population |
| --- | --- |
| 1921 | 2233 |
| 1954 | 2473 |
| 1981 | 2186 |
| 1991 | 2951 |
| 2001 | 3234 |
| 2006 | 3432 |
A pictorial browse through early Kilcoy Shire, Kilcoy, Kilcoy Shire Historical Society, 1998