Kilkivan, a rural town, is 45 km north-west of Gympie and 170 km north-west of central Brisbane. It was named after the Kilkivan pastoral run, settled by J.D. MacTaggart who was born in Campbeltown, Argyllshire, Scotland. Kilkivan parish was adjacent to Campbeltown.
MacTaggart was not the first pastoralist in the Kilkivan district. Henry Stuart Russell had settled at 'Burrundowan' on the upper Burnett River in 1843, and the Lawless brothers had overlanded sheep from Maryborough to their 'Booubyjan' station in 1849. Kilkivan's pastoral atmosphere was broken by the discovery of gold, and by 1868 there were an estimated 2000 people engaged in alluvial mining in and around the future Kilkivan township. Reef mining was tried with limited success, but more importantly farming and dairying were taken up to feed the growing population. A school was opened in 1876, and Union, Catholic and Anglican churches were opened during 1880-88. In 1886 Kilkivan was connected to the Maryborough and Gympie railway system, and the construction of the railway station caused some of the town's activities to be moved nearer to it. (When the line was extended to Goomeri in 1902, the old town site came back into favour.)
Kilkivan was a small town in a mixed mining, timber getting and farming district with pockets of population clustered around promising mineral sites. Local government was achieved when the Kilkivan division was severed from the Widgee division in 1888. Kilkivan and its shire were described in the Australian handbook in 1903: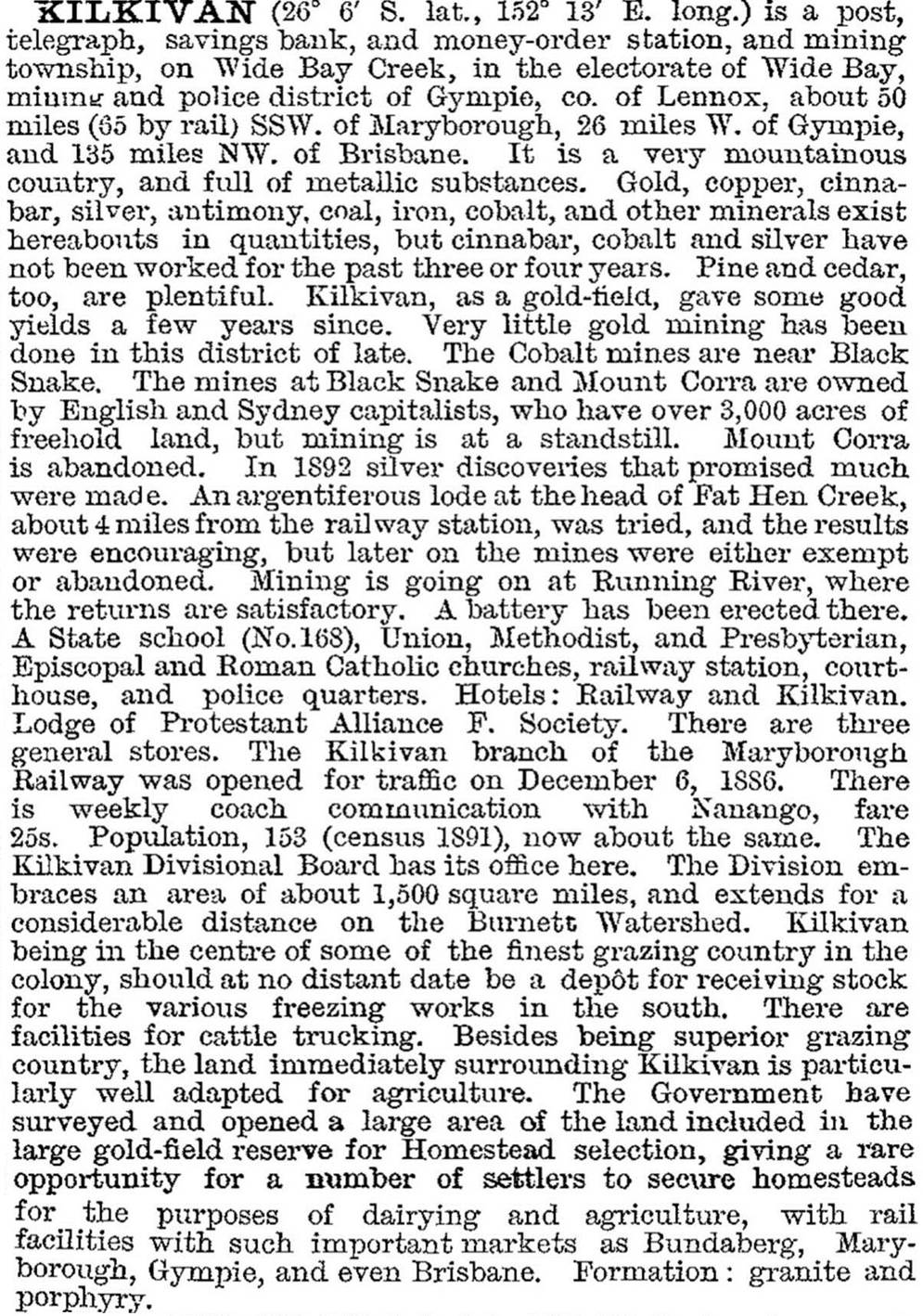 In 1911 the Kilkivan pastoral station was resumed for closer-settlement, and three years later Kilkivan held its first agricultural show. The extension of the railway to Goomeri, however, brought Kilkivan almost to a standstill. By 1921 Goomeri's population exceeded Kilkivan's, and the position has remained unchanged to the present day. Kilkivan may have had two hotels to Goomeri's one according to Pugh's Queensland directory in 1924, but Goomeri had two stock agents, two butchers and two motor garages to Kilkivan's one. After two decades of talk, Kilkivan built a school of arts in 1919. Kilkivan railhead was an important depot for timber from the shire and as far afield as Nanango. There were hardwoods, hoop pine and cedar. The last of several mills in the shire was closed in the 1980s. There are five timber reserves in the former shire, but forest management is run from Murgon.
Kilkivan Shire, with a population of about 4100 people and an area of 3264 sq km, was described in 1946 in the Australian Blue Book :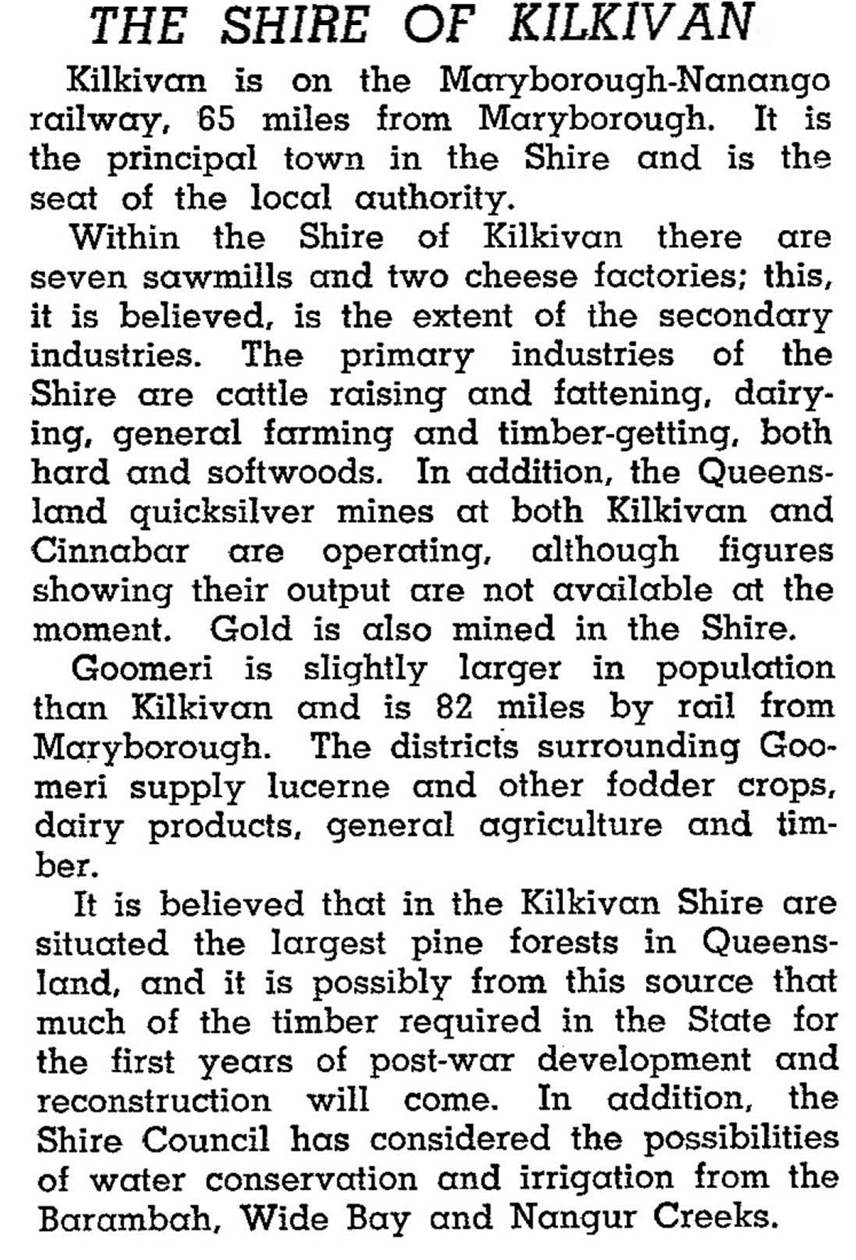 Kilkivan Shire continued until 2008 when it was amalgamated with Cooloola Shire and part of Tiaro Shire to form Gympie Regional Council.
Most of the shire's significant places of settlement were distributed along the railway line and the road from Gympie, each approximately bisecting the shire from east to west. Hilly districts rise to the north and south. The shire offices were in Kilkivan, along with a general store, hotel-motel, three churches, a museum, and a roadside restaurant. Goomeri has a busier shopping centre, augmented by several antique stores. Kilkivan's mining era is preserved in the form of a stone chimney at the Mount Clara copper smelter (1872) east of Kilkivan.
In 1993 Kilkivan shire's main agricultural industry was beef cattle, with nearly 85,000 head. There were also about 4700 dairy cattle (since much reduced in number) and 11,000 pigs. Kilkivan's census populations have been:
|  area | Census Date | Population |
| --- | --- | --- |
| Kilkivan | 1891 | 153 |
|   | 1901 | 356 |
|   | 1933 | 501 |
|   | 1961 | 426 |
|   | 1981 | 321 |
|   | 2001 | 320 |
|   | 2006 | 339 |
|   | 2011 | 691 |
| Kilkivan Shire | 1911 | 1553 |
|   | 1921 | 3047 |
|   | 1933 | 4287 |
|   | 1966 | 3345 |
|   | 1986 | 2718 |
|   | 2001 | 3140 |
|   | 2006 | 3451 |
Dulcie Logan, Where two rivers run: a history of Kilkivan Shire, Kilkivan, Kilkivan Shire Council, 1988
J.E. Murphy et al, Wilderness to wealth: being a history of the shires of Nanango, Kingaroy, Wondai, Murgon, Kilkivian and the Upper Yarramon portion of the Rosalie Shire, 1850-1950, Brisbane, Smith & Paterson, 1950