Laidley is a rural town 65 km west of central Brisbane. It is situated on the Ipswich to Toowoomba railway line which runs in an arc south of the Warrego Highway.
Allan Cunningham identified the area in 1829, during his exploration of south-east Queensland and the Darling Downs. He named it Laidley Plain after James Laidley, New South Wales Commissary General, writing favourably of its pastoral and agricultural potential in his report to Governor Darling that same year.
The Laidley plain is enclosed by foothills of the dividing range and is flanked by the Laidley Creek, joining the Lockyer Creek to the north. European settlement began with squatters in the 1840s, J.P. Robinson taking up a run of some 150,000 acres on the Laidley Plain.
A town was surveyed in 1858 at a stopping place on the Laidley-Rosewood Road from Ipswich to Toowoomba. Named Laidley, the town proved to be ill-located when the railway line opened in 1866, as activity moved to the railway station. 'New Laidley' overtook old Laidley, where tourists will now find a pioneer village. There were two primary schools, Laidley South (1864) and Laidley North (1889).
Laidley came under the Tarampa local-government division, which included towns such as Lowood and Marburg where German Lutheran farmers had settled. The Laidley Plain took numerous German settlers when it was subdivided for farm selections. By 1893 the population was approaching 600. The Australian Handbook for that year described the town as follows:
There was considerable German Lutheran settlement in and around Laidley, and their cultural influence continues to this day.
Laidley prospered in the early 1900s. As an important town in the flourishing Lockyer Valley, one of Queensland's most successful agricultural districts, it witnessed considerable growth and development activity during the first decade to 1910. Various buildings were erected in the town during this period as businesses commenced or expanded. Several of these structures - including the Exchange Hotel, G. Wyman's grocery store and a former bakery in Patrick Street - remain in existence and are entered on the Queensland heritage register.
Turn-of-the-century optimism led to Laidley separating from the surrounding shire (itself established in 1888, on severance from the Tarampa district) in 1902. Laidley town became a separate borough, although it was reunited with Laidley Shire in 1916.
Laidley was described in the 1903 Australian handbook: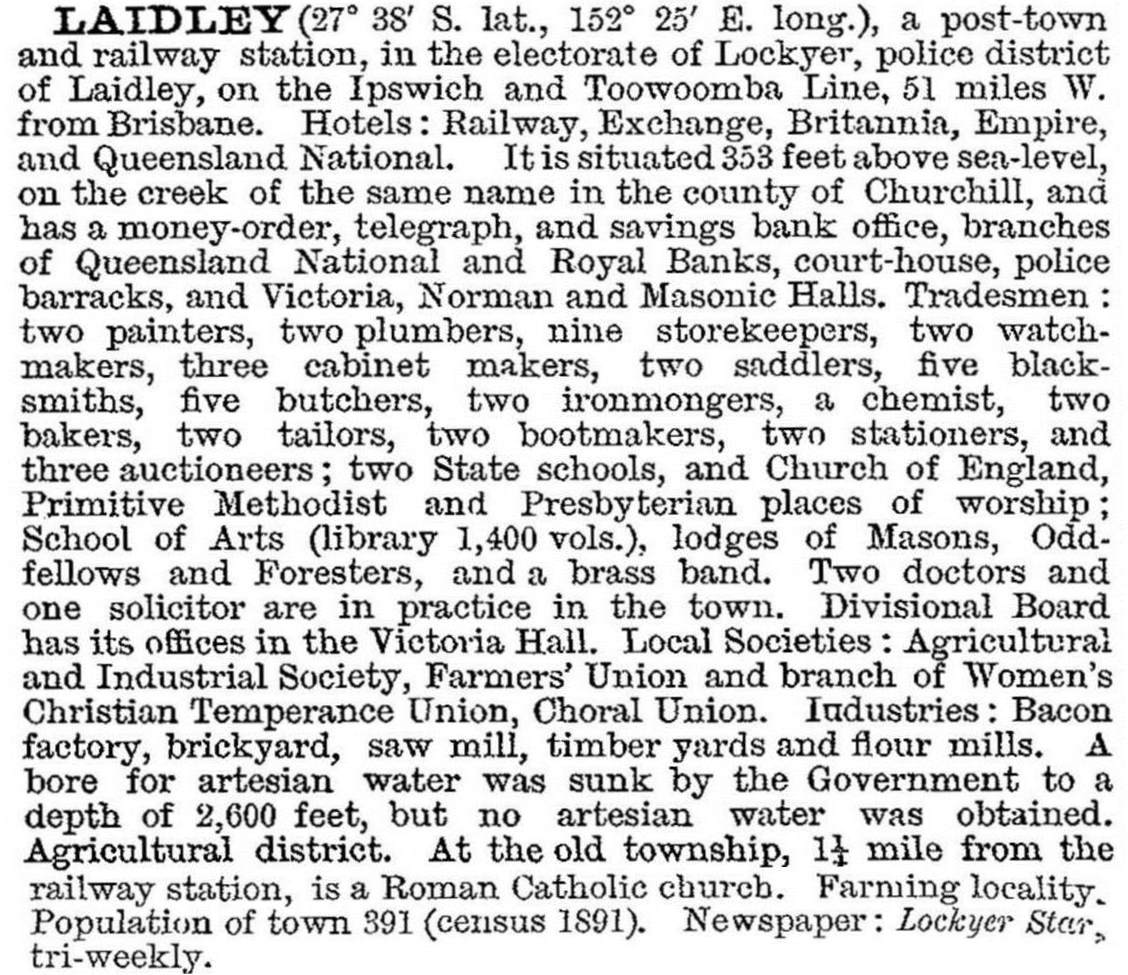 This period of economic prosperity in the opening years of the twentieth century saw Laidley's population grow above 1000 by 1910. By the 1940s, it had moved to above 1400. Most of the early businesses and facilities continued, together with the Laidley Herald, the Rex cinema, a local electric light company, the Lockyer General Hospital, a chamber of commerce, a memorial bowling club and a patriotic league. A railway service to Mulgowie began in 1911 (operating up to 1955). By 1912, there were six churches and a Catholic primary school established in the town.
The Laidley Valley, assisted by water from the Bill Gunn Dam (formerly the Dyer Swamp west of the town), is a fruit and vegetable supplier to Brisbane and Toowoomba. It also serves as a dormitory suburb for Toowoomba and Ipswich. Styling itself as Queensland's Country Garden, Laidley hosts an annual garden competition and a Chelsea Flower Show, together with an annual agricultural show. Local German heritage is observed with a heritage day and German festival at Das Neumann Haus (1893), an elaborate timber house built by a German family and bequeathed to the shire for a museum and local history centre.
Laidley has a hospital/medical centre, the Tabel Lutheran Home (1954), bowls, golf and swimming facilities, a high school (1985) and a cultural centre. Three of the original five hotels continue. There are two lookouts for viewing the town, and the landscaped Narda Lagoon Conservation Area near the pioneer village, south of Laidley, provides pleasant picnicking grounds for visitors and locals alike.
FLOODS 2011
On 10-11 January 2011 there was heavy rainfall over the Laidley Creek and the Lockyer Creek catchment area. In the township several streets were flooded and water entered shops and business premises. In 2013 the town flooded again, causing further damage to the town's buildings and hotels.
Laidley census populations have been:
| Census Date | Population |
| --- | --- |
| 1861 | 126 |
| 1891 | 391 |
| 1901 | 546 |
| 1911 | 1227 |
| 1954 | 1404 |
| 1976 | 1593 |
| 1986 | 2000 |
| 2001 | 2252 |
| 2006 | 2858 |
| 2011 | 3518 |