Landsborough, a rural township undergoing urbanisation, is 18 km from Caloundra and 70 km north of central Brisbane. It is on the North Coast railway line.
Originally known as Mellum Creek, the locality was first taken up for farm selections in 1871. The rudimentary settlement was used as a stopping point for Cobb and Co coaches making the run to the Gympie gold fields. In 1888 the Mellum Club Hotel opened, and two years later the railway line from Caboolture was opened, the local stop named 'Landsborough' after William Landsborough (1825-86), who explored the Carpentaria region and settled at Caloundra toward the end of his life. Around that time Henry Dyer began business in Landsborough, and by 1904 he had a store, butcher shop, bakery, drapery and sawmill. The other large storekeeper was John Tytherleigh, who had branch stores in Maleny and Woombye. Landsborough also had Primitive Methodist and Anglican churches, a racing club and a State primary school (originally "Mellum Creek", dating from 1879).
Landsborough was described in the 1903 Australian handbook:

As the timber was harvested from the ranges around Landsborough, dairying, orchards and plantations took over the cleared land. The timber harvest, however, continued for decades, drawing on Witta to the west. In 1924 Pugh's Queensland Directory recorded five sawmillers in the Landsborough district.
Landsborough became the administrative centre of Landsborough Shire, formed in 1912 by severance from Caboolture Shire. The shire council met in Dyer's hall until a rudimentary shire office was built in 1913. Little or no new building happened during World War I, but things came in a rush in the 1920s: a peace memorial park (1922), a school of arts and new shire chambers (both 1924). There were also the Mellum Club Hotel, two stores and many farmers, nearly all fruit growers.
With an area of over 400 sq miles, Landsborough Shire included Caloundra, Maleny and Beerburrum. Its settlements were a mixture of rural and coastal-resort, as described in 1946 in the Australian Blue Book: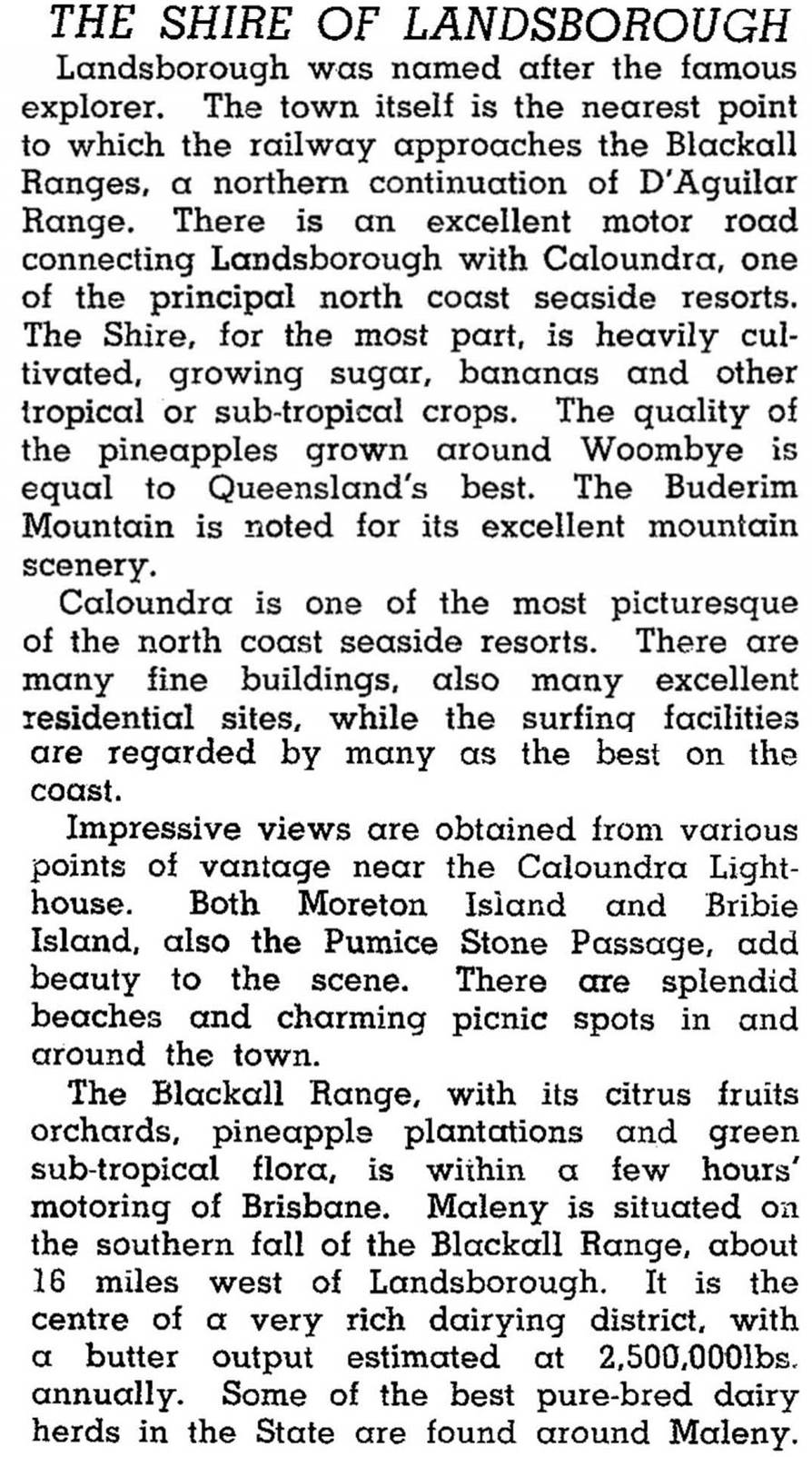 The shire's population stayed at under 10,000 until 1970, but almost tripled in the following ten years as Caloundra expanded coastally to Golden Beach and Kawana Waters. In recognition of this dramatic shift from hinterland rural activity to ballooning urban development on the coastal fringe, Landsborough Shire was renamed Caloundra City in 1987 and the municipal offices were transferred to Caloundra. In the period from 1994-2001 house prices remained steady in Landsborough, but surged as Sunshine Coast hinterland property came under strong demand, heightened by improved Citytrain commuter services connecting the town with Brisbane in 2004.
Landsborough township has a shopping centre, three churches, a memorial park, a school of arts, a hall, a historical museum housed in the heritage-listed former Landsborough Shire Council chambers (1924) and a scout park on the former racecourse. Its census populations have been:
Census Date
Population
 
Landsborough township
Landsborough Shire
1901
169
 
1921
 
3722
1933
377
 
1966
501
8798
1976
 
16,982
1986
822
 
2001
1387
 
2006
3029
 
2011
3729
 
Gary McKay, Times of change: a history of Caloundra City, Caloundra, Caloundra City Council, 2007