Longreach Shire, with an area of 23,561 sq km and generally 700 km west of Rockhampton, was amalgamated with Ilfracombe and Isisford Shires in 2008 to form Longreach Regional Council.
European settlement of the district followed the expedition of William Landsborough and Nat Buchanan, who in searching for the Burke and Wills party reported favourably on the area's prospects. In 1863 the first pastoral lease was granted, 'Bowen Downs'. A vast and unwieldy holding, Bowen Downs was targeted by cattle duffer Harry 'Captain Starlight' Readford and gang in 1870, who drove some 1000 head of cattle overland to the Adelaide markets. The early giant landholdings were resumed and broken up into smaller portions in the 1880s.
The shire's administrative centre, Longreach, came about as a railway terminus (1892). Within four years the town was supporting four hotels, and had grown to a population of 1600 by 1901. The district was under the Aramac local government division and the town successfully agitated for severance as a separate division in 1900. By then the new shire was a mixture of large pastoral stations and smaller closer-settlement farm units. Many of the latter were uneconomic, too small to withstand the uneven seasons – particularly the 1902 drought – and were amalgamated.
A shire hall was built in Longreach in 1904, replaced twice when fires destroyed the buildings in 1927 and 1958. Those events were illustrative of both Longreach's sometimes precarious water supply and the town's self-belief. In 1927 the railway was extended north-west to Winton, and a railway town, Morelle, 60 km from Longreach, established, the shire's third town, following Longreach itself and the shire's first town, Arilahlah, downstream from Longreach on the Thomson River, but overlooked by railway surveyors in 1887 when fixing on a place for the railway terminus.
 Arrilalah (Forest Grove) was described in the 1903 Australian handbook:

Longreach Shire was described in the 1946 Australian Blue Book: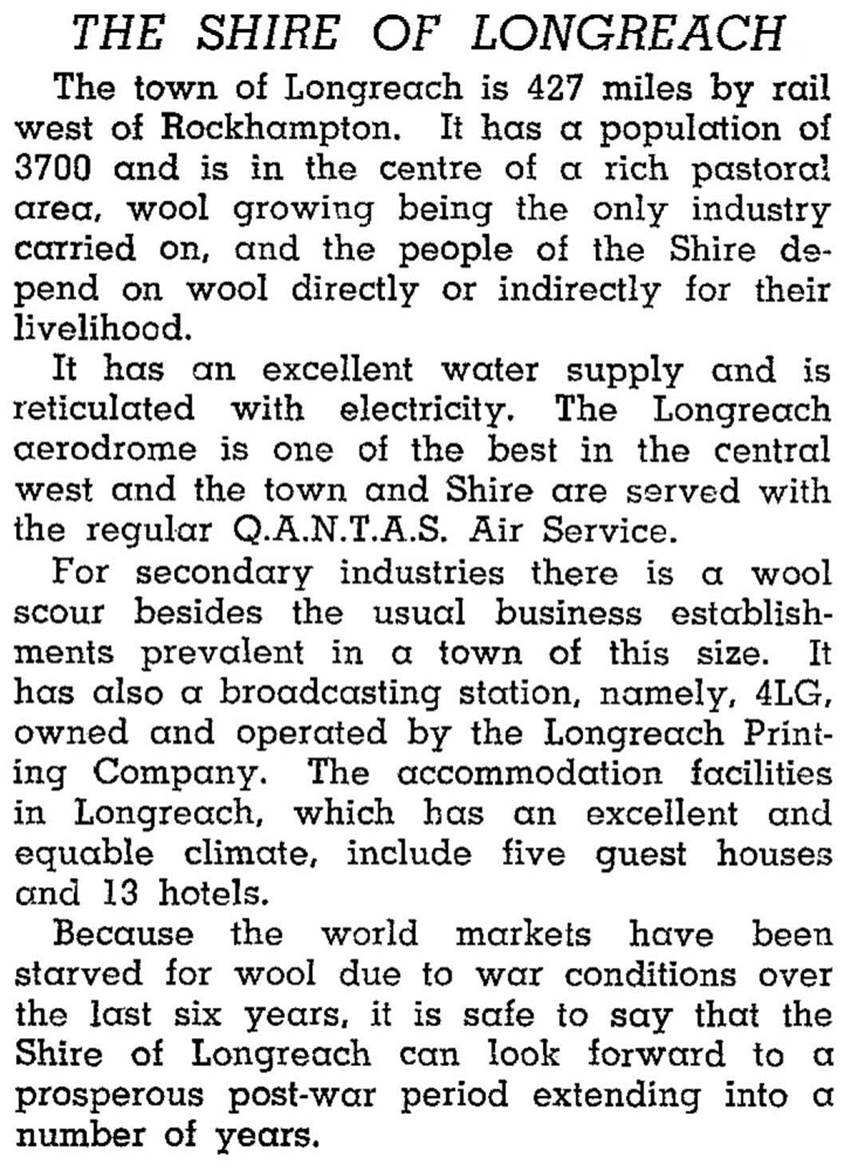 Longreach was a sheep grazing region, and experienced shearers' strikes in the 1890s, 1920s and 1950s. Beef cattle herds were small, but the adoption of the Santa Gertrudis breed brought more climatically suited animals and herd numbers tripled from 1970-75. In 1993 the shire had nearly 58,000 meat cattle, 864,000 sheep and 127,000 lambs. Tourism also became important in the 1980s, with the establishment of the Stockman's Hall of Fame (1988), the Qantas Founders Museum and the Powerhouse Museum. In 2001, 378 persons were employed in agriculture etc, 130 in hospitality, 209 in education, 142 in government and over 250 in other service industries.
Longreach Shire's census populations were:
Census Date
Population
1911
3473
1933
4564
1961
5013
1981
3846
2001
4368
2001
(residents only)
3809
2006
(residents only)
3523
Angela Moffat, The Longreach story: a history of Longreach and shire, Milton, Jacaranda Press for the Longreach Shire Council, 1987
James Walker, My rewarding life, Longreach, Santa Publishing, 1999