Lucinda, a sugar port and holiday spot, is 23 km north-east of Ingham and 115 km north-west of Townsville. It is at the southern end of the Hinchinbrook Channel, and was named after a Government steam yacht.
During the 1880s-90s the nearby sugar towns of Halifax and Ingham were vying for supremacy, but both struggled to overcome shipping difficulties presented by silting in the Herbert River. In 1896 CSR Limited opened a sugar tramway to Lucinda Point, built a jetty and transferred a sugar shed from Halifax to the new facility, connecting Ingham with a deepwater port and ensuring its ascendancy. A primary school also opened in 1896. The harbour was known as Dungeness, with a pilot station, customs office and the Sea View hotel. Dungeness was described in the 1903 Australian handbook: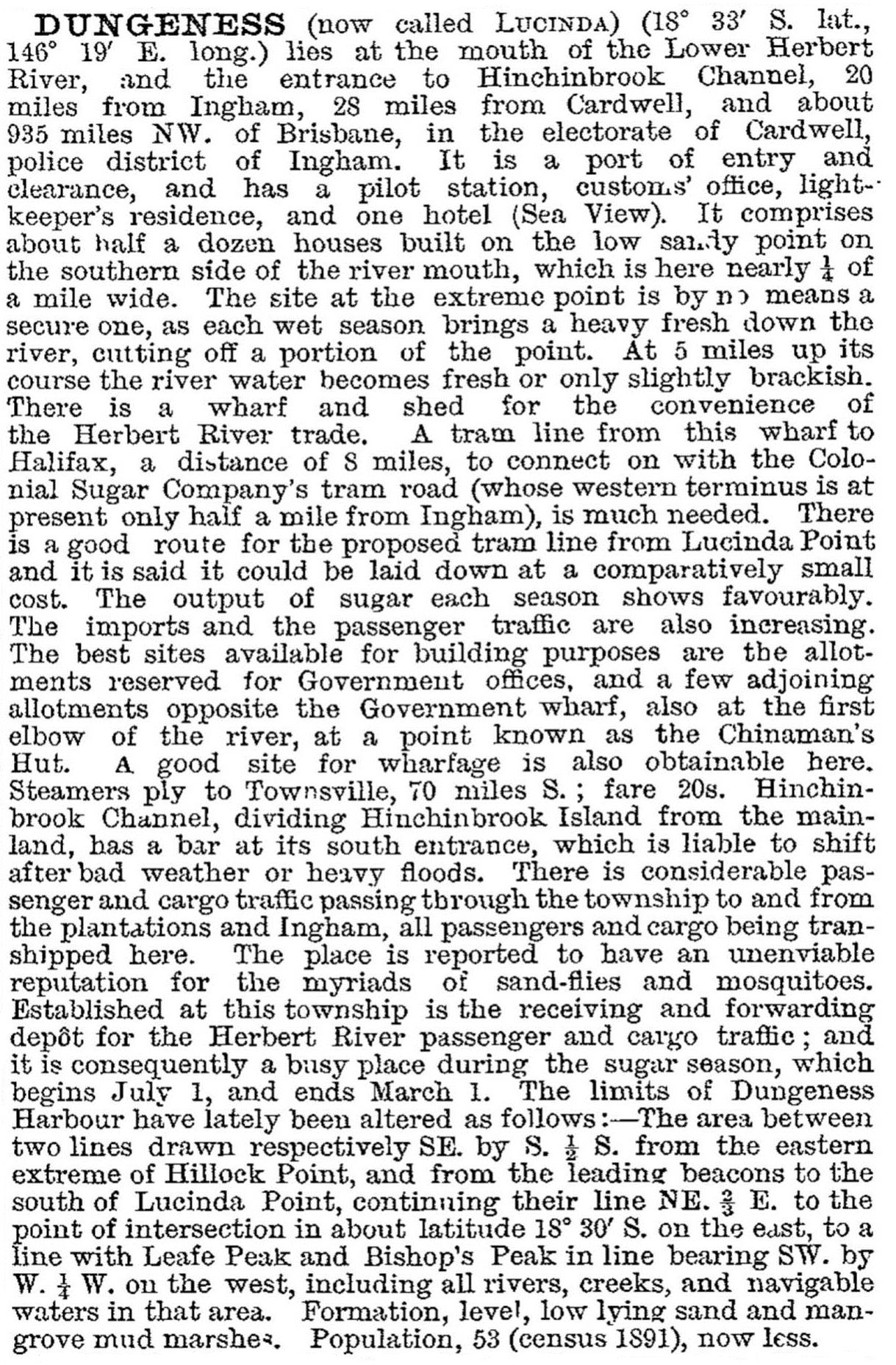 Lucinda became the sugar export port for the Herbert River district. With the coming of motorcar ownership the inhabitants of Ingham chose Lucinda as their coastal watering place: an early postwar description recorded a substantial settlement of weekend cottages and plentiful estuary fishing. In 1979 a continuous conveyor jetty was built, nearly 6 km out into Halifax Bay, to bulk-load sugar from storage sheds that hold over 230,000 tonnes. Supplied by the Macknade and Victoria Mills, it is the world's longest offshore sugar loading facility.
Lucinda has a hotel-motel, holiday units, a caravan park, general store and a reputation for good crab fishing.
CYCLONE YASI
On 3 February 2011 the Category 5 Cyclone Yasi crossed the Queensland coast, centred about 40 km north of Lucinda. It is estimated that there were wind gusts in excess of 240 km/hour, but the storm gauge was destroyed before the maximum was reached. The sugar-loading jetty was extensively damaged. Inland, the town of Halifax was described as a giant swamp when inspected a couple of days later.
Lucinda's census populations have been:
Census Date
Population
1911
64
1947
101
1966
221
1976
571
1986
765
2001
(including tourists and visitors)
783
2006
448
2011
450