Historically there is the Maroochy district, first defined by pastoral runs north of the Mooloolah River, and decades later there were the Maroochy Divisional Board (1890) and the Maroochy Shire. As a district name, Maroochy has been overtaken by the 'Sunshine Coast'. Maroochydore (95 km north of central Brisbane) is the coast's largest urban centre.
The Maroochy district attracted the attention of Andrew Petrie in 1842 as a place for timber harvesting, and it is thought that Petrie devised the name from an Aboriginal word referring to the red bill of the black swan. It is Petrie's son, Tom, however, who twenty years later cut timber in the Buderim, Eudlo Creek and Petrie Creek areas. By then, pastoralists had taken up occupation of the Mooloolah Plains cattle runs (between the Mooloolah and Maroochy Rivers), backing up to the Blackall Ranges where the rivers begin, and of the Canando and Yandina cattle runs further north nearly as far as Mount Cooroy. Prospects for fruit growing were explored by the district's main timber harvester, William Pettigrew, who planted a mixed orchard at Mooloolah in 1866. Pettigrew, however, concentrated on timber, using rivers to raft it downstream to wharves and, later, to on-site sawmills.
FRUIT AND SUGAR
The discovery of gold in Gympie in 1867 led to an inland road from Brisbane to the gold field, and Yandina was established where Cobb and Co's coach had its first overnight stop. Farm selections were opened up during the late 1860s and the next two decades, both in the Blackall Ranges and their eastern foothills. Tropical fruit, corn, citrus and sugar cane grew profusely. As the lower lying areas were developed sugar became Maroochy's main product, and the Moreton Central Sugar Mill was opened in Nambour in 1897.
Maroochy came under local government in 1879, but it was divided between Widgee Division (covering the area north of the Maroochy River and a coastal strip) and Caboolture Division, which covered the rest. Maroochy achieved its own local government when the necessary areas were severed from Caboolture and Widgee for the Maroochy Divisional Board in 1890. It was almost on the eve of the opening of the North Coast railway, which brought marketing opportunities for horticultural produce. Timber continued to be cut at local sawmills. A string of medium size towns grew up along the railway line, and their inhabitants were sufficiently prosperous by the early 1900s to take holidays at infant seaside villages. Access was often by cane train and a bumpy motor ride, or downstream by boat, but they came year after year for the fishing, boating and surfing. A Brisbane property developer was selling seaside blocks at Maroochydore in 1907, and opened the Alexandra Headland guest house. Mount Coolum blocks were put up for sale in 1922.
In 1946 the Maroochy Shire was described in the Australian Blue Book: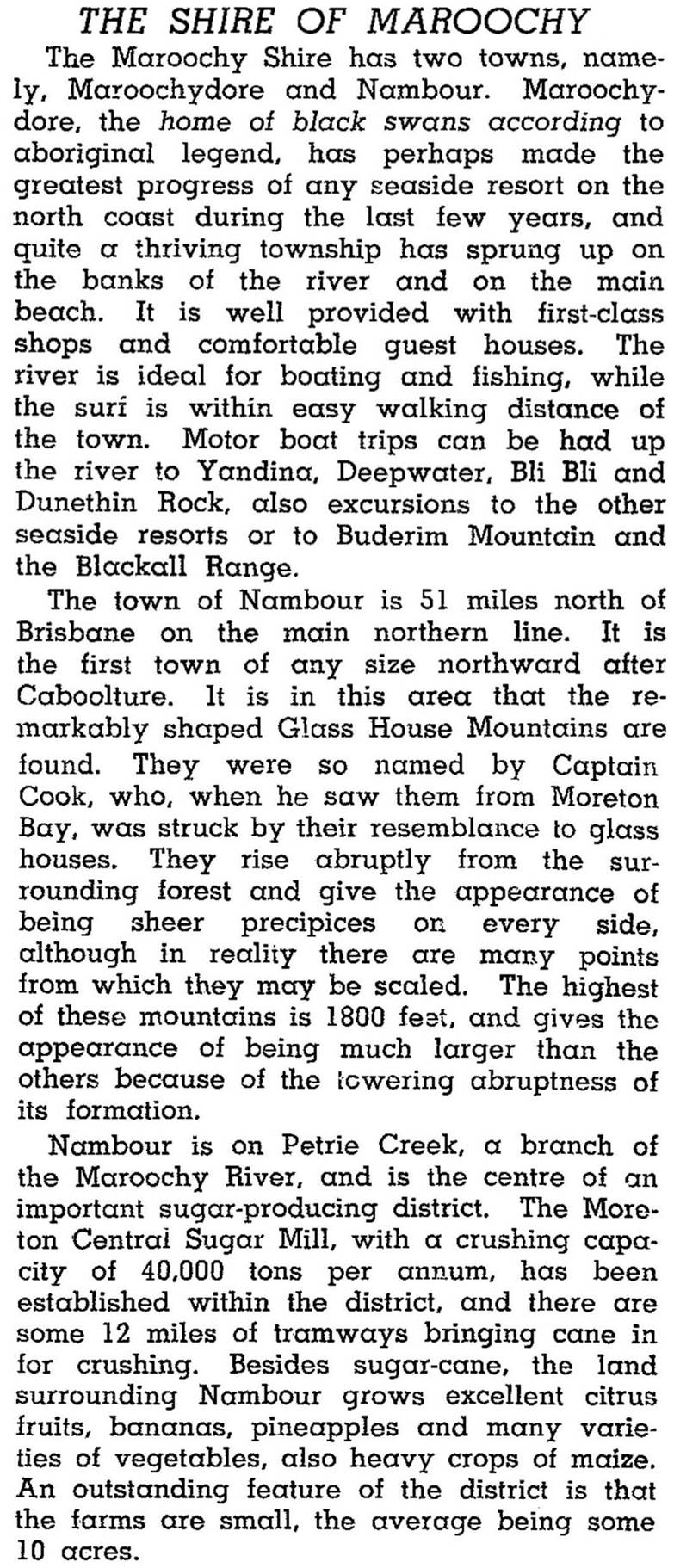 SUNSHINE COAST AND HINTERLAND
Larger scale land sales were promoted in the early 1960s when a joint private/public sectors project built the coast road, David Low Way, with entrepreneurs getting favourable terms for subdivisions. The Gold Coast 'template' was there to copy, as fibro beach houses were gradually replaced by apartment blocks. Sunshine Coast tourism spread inland: Buderim's unique ginger factory (moved to Yandina in 1979) was a crowd pleaser, along with The Big Pineapple and Bli Bli Castle; Montville's Village environment proved to be a seductive tourist setting, and the Eumundi market drew busloads of tourists.
Nambour (population 12,892), near the middle of the shire, was its administrative centre. It is on the railway line, along with Palmwoods (population 2288), Woombye (population 723), Yandina (population 1024) and Eumundi (population 463). All figures are from the 2001 census.
INDUSTRY AND EMPLOYMENT
Although renowned for its scenic orchards and plantations, Maroochy Shire's share of Queensland's total production was modest - 1.9% of the sugar cane plantations and 3.6% of the fruit and nut orchards (1992-93 figures). Correspondingly, in 2001 just 2.2% of employment in Maroochy shire was in agriculture, fishing and mining. The leading employment sector was wholesale and retail (23.3% of total employment) followed by health and community services (19%), property and business services (10%), construction (9.7%), manufacturing (8.2%) and accommodation and hospitality (8%). The 'trinity' of retailing, accommodation and construction underpinned the growth in tourism and investment apartments. In turn, the latter lay behind the buoyant property and business-services sector.
The postwar change in the character of Maroochy shire is summed up by employment data for 1954 and 2001:
Sector
% of total employment
1954
2001
Dairying
10.7
-
All other agric, forestry, mining
32.8
2.2
Manufacturing
13.9
8.2
Construction
8.1
9.7
Retail, wholesale, finance,
business services
13.8
33.3
Accommodation and hospitality
7.7
8.0
In 2008 Maroochy Shire was amalgamated with Caloundra City and Noosa Shire to form Sunshine Coast Regional Council. Its census populations were:
| Census Date | Population |
| --- | --- |
| 1911 | 5288 |
| 1921 | 10,041 |
| 1954 | 17,869 |
| 1976 | 35,266 |
| 1986 | 61,629 |
| 1996 | 111,798 |
| 2001 | 129,429 |
| 2006 | 142,838 |
F.W. Butcher, Maroochy Shire handbook, Queensland Department of Primary Industries, 1976
Helen Gregory, Making Maroochy: a history of the land, the people and the shire, Brisbane, Boolarong with Maroochy Shire Council, 1991
E.G. Heap, 'In the Wake of the Raftsmen' in Queensland Heritage, Vol 1, No 3, 1965, and Vol 1, No 4, 1966
Hector Holthouse, Illustrated history of the Sunshine Coast, Frenchs Forest, NSW, Reed, 1982
Stan Tutt, Sunshine Coast heritage, Maroochydore, Discovery Press, a division of Sunshine Coast Tourism Promotions, 1995
'The Blackall Range', Queensland Agricultural Journal, January 1903, p. 1, December 1903, p. 501
Alexandra Headland, Bli Bli, Buderim, Burnside, Coes Creek, Coolum Beach, Didillibah, Eudlo, Eumundi, Flaxton, Ilkley, Kenilworth, Kuluin, Mapleton, Marcoola, Maroochydore, Maroochy Shire Suburbs, Montville, Mooloolaba, Mountain Creek, Nambour, Ninderry, North Arm, Pacific Paradise, Palmwoods, Rosemount, Sippy Downs, Woombye, Yandina and Yaroomba entries