Miriam Vale, a town and the administrative centre of the former Miriam Vale Shire, is 70 km south-east of Gladstone and 30 km inland from the coast. It was named after a pastoral leasehold first occupied in 1854 by Arthur Chauvel, who was inspired to name the property after his sister, Miriam Sally Emily.
The shire's coast line includes Bustard Bay and an inlet to the bay known as Round Hill Creek. It was Captain James Cook's first Queensland landfall (May 1770) where, despite the unappealing flatness and dryness of the land, his botanists found numerous new plant species. Now marketed by the shire as the Discovery Coast, its central land form, Round Hill Head, comes complete with a commemorative cairn and a settlement named Town of 1770.
The Miriam Vale district was under the Calliope divisional board and shire - a shire adjoining Gladstone - until 1902, an indication of its relatively late development. The pastoral leaseholds ran sheep, and increasing numbers of cattle from the 1860s when pastoralists realised the harm caused by spear grass to sheep. There was also timber cutting, especially hoop pine in the Eurimbula 'scrub' near Bustard Bay in 1870s. At Bustard Head, the Queensland Government built its first lighthouse in 1868, a cast iron structure 102 metres above sea level. A school was opened there in 1888.
In the 1890s several of the pastoral leaseholds were resumed for farm selections, and the railway was extended northwards from Bundaberg to Rosedale (1892) and connected to Gladstone via Miriam Vale (1896-97). Schools were opened at Rosedale (1896), Miriam Vale (1897) and Bororen (1900), all on the railway line. There was mixed farming, including bananas and tobacco, while dairying at Bororen supplied the Gladstone dairy factory. In 1921 the Miriam Vale-Bororen Agricultural, Pastoral and Industrial Society was formed, holding annual shows alternately in the two towns. Each had populations of 250 or more, a hotel, one or two general stores, a blacksmith in Miriam Vale and a stock and station agent in Bororen (Pugh's Queensland directory, 1924). By 1946 the shire had a population of about 1800 people and was described as follows in the Australian Blue Book: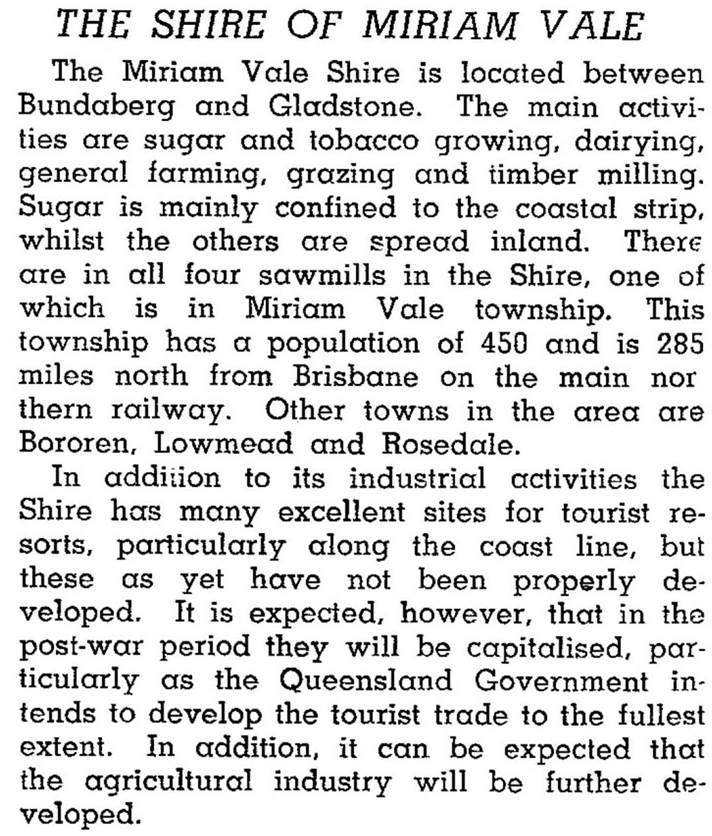 The reference to tourism potential proved to be prescient. The inlets at Baffle Creek, Round Hill Creek and Rodds Harbour (north of Bustard Bay) provide calm waters for boating and fishing; the coast at Agnes Water, south of Bustard Bay, offers the most northerly surf beach on the Queensland coast before the protective influence of the Barrier Reef. The scrub and wallum country has provided sites for several national parks, notably Eurimbula, Mount Colosseum, Castle Tower and Rodds Peninsula. It is the surf, however, that has led to the most commercial development. Agnes Water (see separate entry) has over a quarter of the shire's population and a considerable retail and business centre. Together with neighbouring Town of 1770, the two towns have several accommodation sites and tour outlets. Agnes Water's population increased by more than one-third in the period from 1996-2001.
Miriam Vale Shire's main industries were beef cattle, dairying, timber and tourism, increasingly the last-mentioned. In 1993 it had 58,000 beef cattle and 2100 dairy cattle. In 2008 Miriam Vale Shire was amalgamated with Calliope Shire and Gladstone City to form Gladstone Regional Council. Its census populations were:
 area
Census Date
Population
Miriam Vale Shire
1911
1623
 
1954
1706
 
1976
1476
 
1986
2017
 
1991
3139
 
2001
(including visitors)
4814
 
2001
(estimated residents)
4348
 
2006
5126
Miriam Vale Township
1901
143
 
1947
297
 
1966
281
 
1986
493
 
2001
391
 
2006
361
 
2011
422
Bororen Township
1901
121
 
1933
311
 
1954
253
 
1966
102
 
2006
451
 
2011
417
Miriam Vale has a State primary-secondary school, bowling and golf clubs, a hotel and a motel, and a heritage-listed fig tree, planted at the turn of the previous century. Bororen has a State primary school and a hotel-motel.
Val Growcott & Margaret Taylor, eds, A short history of Miriam Vale Shire: the birthplace of Queensland from the journals of Arthur Jeffrey, Agnes Water, Miriam Vale Historical Society, 1995
P.C. Van Rosenthal, Miriam Vale Shire handbook, Brisbane, Queensland Department of Primary Industries, 1971