Mitchell, a rural town, is 500 km north-west of Brisbane and 80 km west of Roma. It is on the Warrego Highway and the Maranoa River.
In 1846 the New South Wales Surveyor-General, Thomas Mitchell, explored the Maranoa district, and eight years later Edmund Morey occupied the Mitchell Downs pastoral run. His homestead site was later used for the Maranoa Hotel (recycling the remains of the homestead structure) and the town of Mitchell Downs grew around it. The Mitchell Downs post office (1865) was renamed Mitchell in 1878. A provisional school was opened in 1876 and Catholic and Anglican churches were opened in 1885 and 1889.
The Western Railway line was extended from Roma to the east bank of the Maranoa in 1883, and the river was bridged into Mitchell in 1885. By the turn of the century Mitchell's population was about 560. An optimistic description was published in the Australian handbook in 1903: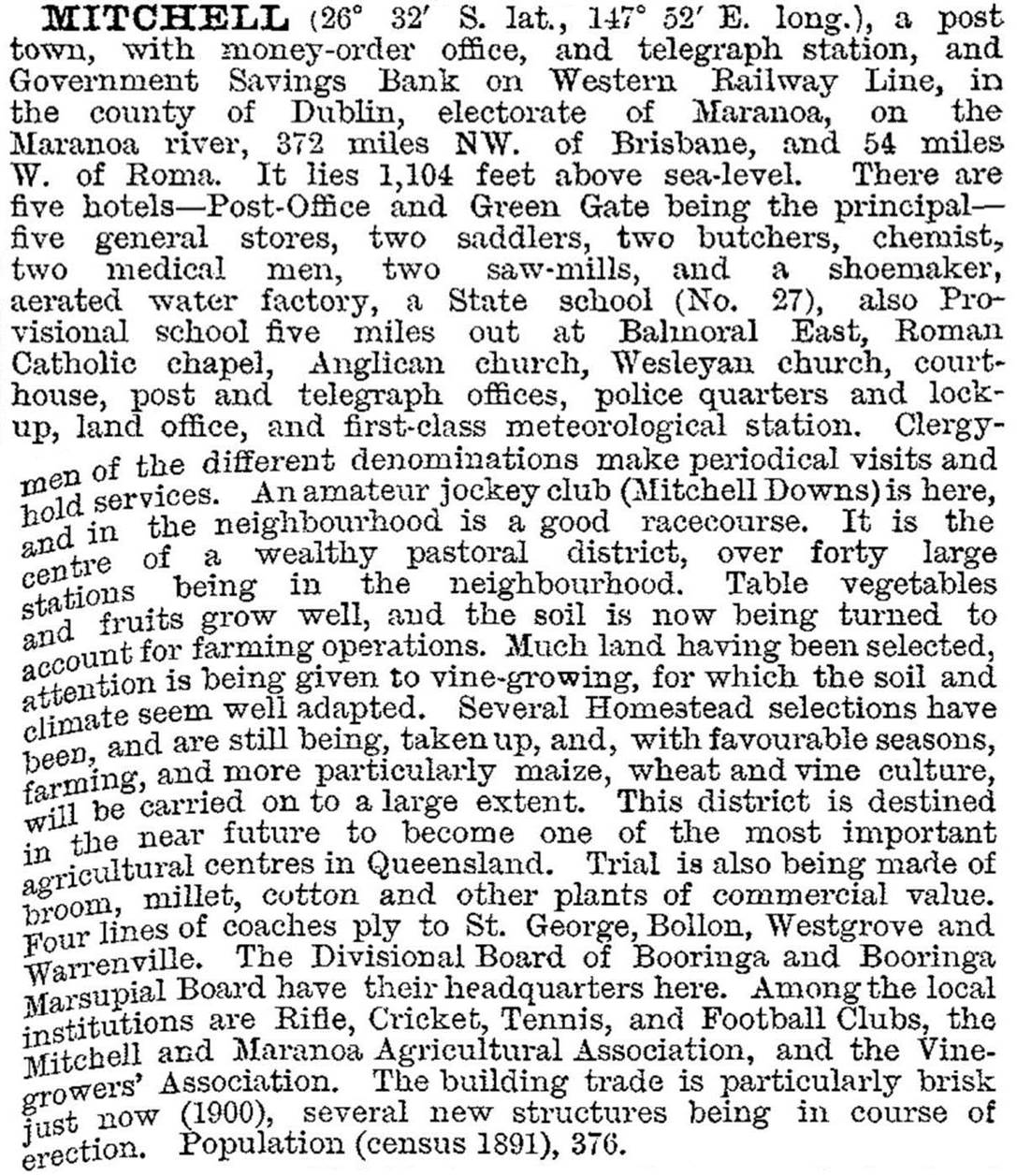 A hospital was also opened in 1904.
Although the rainfall is not high there was a plentiful supply of good artesian water. In 1927-28 it was reticulated throughout the town.
The surrounding shire comprised mainly large pastoral properties, a trend which continued into the postwar years. In the town a local newspaper, Maranoa News, was published and the newsagent brought moving pictures for regular showings. Other recreations were found at the school of arts and the Mitchell racecourse (Maranoa Diggers Race Club conducts two race meetings a year (2000) as a member of the Downs Country Racing Association).
Mitchell's most famous son was Frank Forde (1890-1983), deputy prime minister in the Curtin Labor government. There is a Frank Forde history room in the shire council's library. The library is housed in the town's former cinema, prior to that the shire hall. A new civic centre was built in 1967, soon after the town's population reached 1800 in the early 1960s. Rural amalgamations and better urban facilities in Roma have contributed to a steady decline since then.
The railway station (1885), the primary school building (1914) and the war memorial (1927) in the town's memorial park are listed on the Queensland heritage register.
Mitchell was the main administrative centre of the former Booringa Shire, and for most of the twentieth century held half or more of the shire's population. Civic facilities include a combined sports complex, a civic centre and hall, bowling and golf clubs and a show society. The sports complex adjoins the Gallipoli and Kokoda ovals, a recognition of the local RSL's contribution to sports funds. There is also a memorial park. The hospital, rebuilt in 1985, shares its site with the Maranoa Retirement Village (1987). An aquatic centre is based around the Great Artesian Spa. The town has five hotels and two caravan parks, a State P-10 school and a Catholic primary school (1925). Mitchell's census populations have been:
| Census Date | Population |
| --- | --- |
| 1881 | 273 |
| 1901 | 561 |
| 1911 | 1203 |
| 1933 | 1358 |
| 1961 | 1822 |
| 1971 | 1443 |
| 1981 | 1171 |
| 2001 | 1101 |
| 2006 | 944 |
| 2011 | 911 |