Mount Morgan, a former gold and copper mining town, is 40 km south-west of Rockhampton. The mount, originally a rocky hill, has been replaced by a giant open-cut hole.
Mount Morgan was situated partly in the Calliungal pastoral run, and a relative of the run's proprietor was known to Edwin and Thomas Morgan with whom he had worked at the Cawarral goldfield, north-east of Rockhampton. After a lengthy inspection of the district in 1882 the Morgan Brothers took ore specimens from the rocky hill, with spectacular assay results. A large area was pegged out and additional capital was raised in Rockhampton from investors such as Willliam D'Arcy (later to secure Persian oil for British Petroleum, among other ventures). There was considerable litigation over claim jumping, but the Rockhampton investors secured their interests by the end of the 1880s. The Morgans had sold their share in 1884.
The mine had stone crushers, furnaces and boilers, all needing to be kept going with firewood. Miners and woodcutters lived in rudimentary huts or primitive camps; as the wood gave out, the cutters moved to the next lot of scrub. To avoid stoppages from lack of firewood, the mine kept a 20,000 tons stockpile. The boilers were needed for the chlorination method of gold extraction, as the gold was of unusual fineness when separated from the host ironstone. The fineness of the metal meant that a considerable amount was missed, but it was of exceptional purity.
A government school opened in 1884 and a Primitive Methodist church in 1887. The town was known officially as South Calliungal, a name that lasted until 1899. (North Calliungal, a few kilometres away, became Baree.) In 1890, with a population nearing 3500, Mount Morgan became a municipal borough, but the mine was outside the municipal boundary and none of its assets was rateable. This typified the relationship between mine and town: the mine avoided contributing to the civic good, its gold left Mount Morgan never to return, and Rockhampton and London (where D'Arcy took up residence) profited enormously. When the railway was extended from Kabra to Mount Morgan in 1898 - a project the mine had put off in the hope the Government would pay - the line ended on the far side of the Dee River for want of a bridge to the town and the mine. In ascending the Razorback Range the rack and pinion railway encountered grades of 1:16. A less steep deviation line was built in 1962.
In 1903 systematic drilling began to prove the extent of the mount's copper ore. By 1905 high grade ore totalling 2.8 million tons had been proved, and Mount Morgan Gold Mining Co invested in mine development and smelters. Virtually on the eve of this decision, Mount Morgan was described in the Australian handbook, 1903: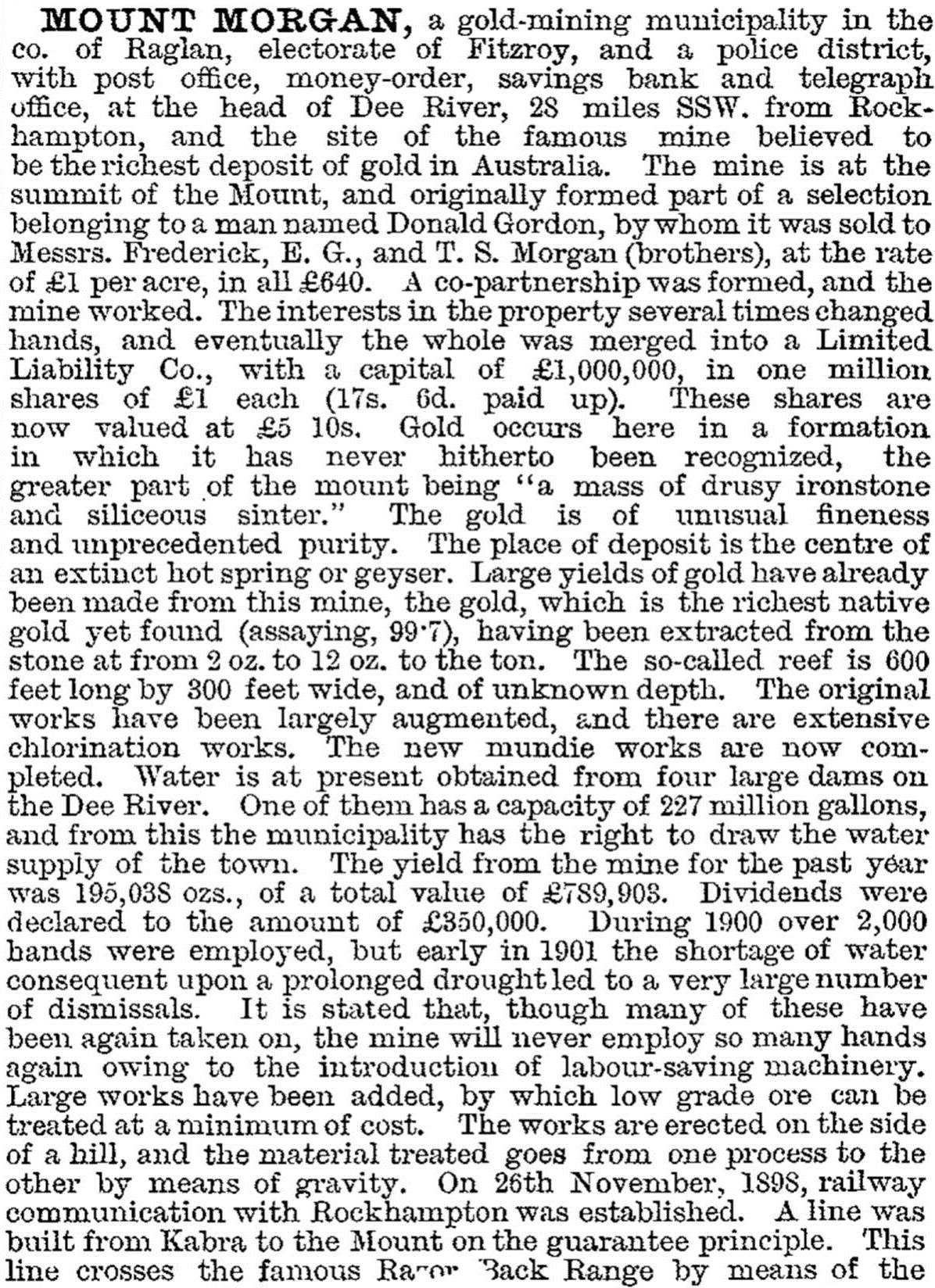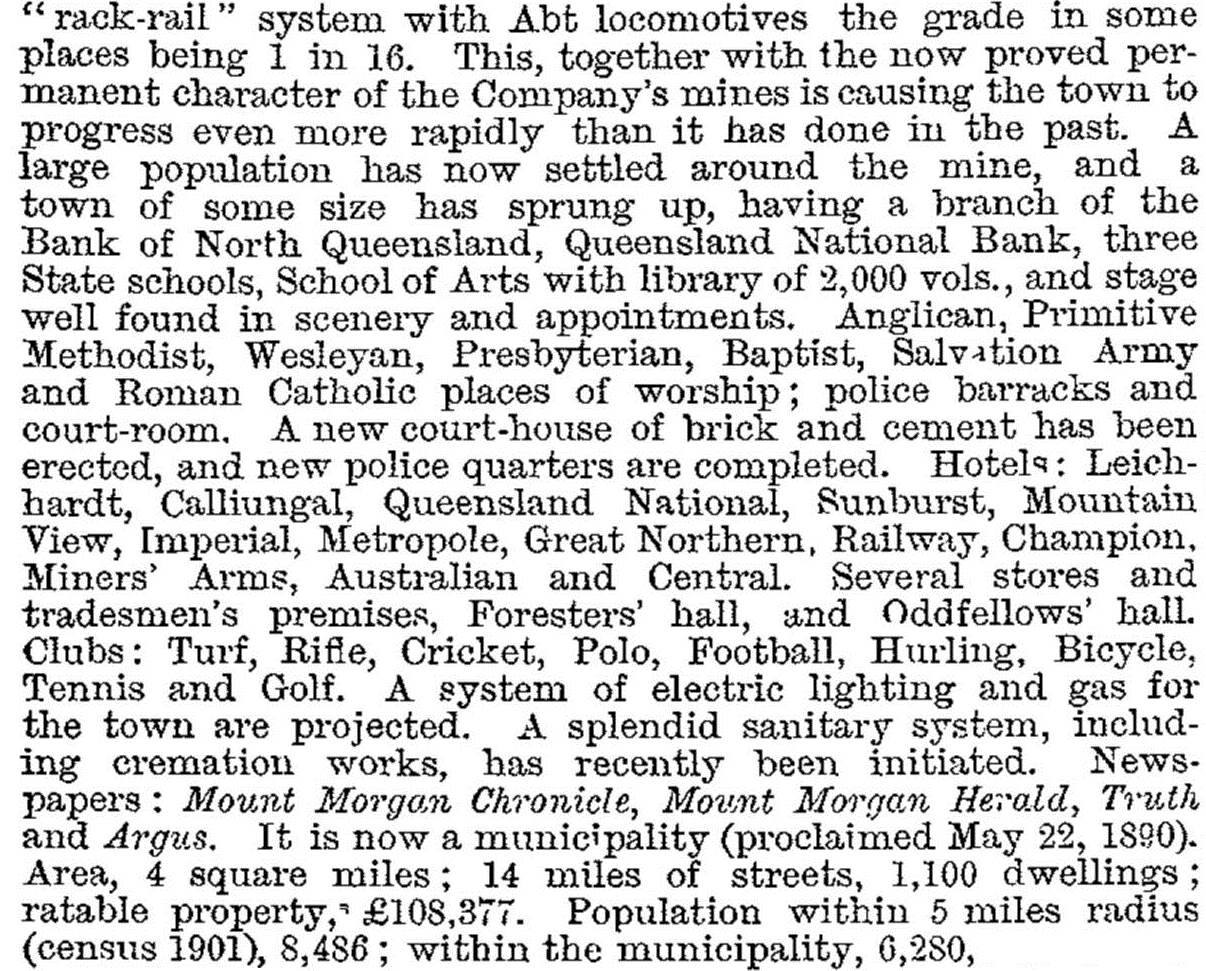 The copper project initiated works further afield; a limestone mine at Marmon (1905) and iron ore extraction, for smelting flux, at Many Peaks, which was connected by rail to Mount Morgan in 1910. Quite soon there were mining accidents, including the loss of 12 lives in 1908. In 1912 there was a strike. The demand for copper during the war kept production buoyant, but 1926 saw another major strike and a fire in the mine. In 1927 the company went into liquidation.
It took a new company, Mount Morgan Ltd, new management (including the coming New Guard leader, Eric Campbell) and open-cut mining to re-establish mining and smelting. There was also company welfarism, a change from decades of corporate neglect. Efforts were made for the greening of the town, including an avenue of Jacarandas in 1939. Mount Morgan mine's chairman and managing director, Adam Boyd, believed in the welfare both of the mine and all those connected with it. He is remembered by Boyd Park, in which was later built a modern swimming pool. Water was the most symbolic of civilising facilities in Mount Morgan; for years townspeople competed with the mine for water, relying on rainwater tanks. In 1954 water bores from Fletcher Creek brought fairly reliable supply to all consumers, and it was only during the 1970s that more bores and an improved weir fully addressed water shortages. Lawns became a distinct probability, but the Dee River was polluted by acid mine drainage.
The Mount Morgan town council, for years hemmed in by its boundaries, merged with surrounding Calliungal Shire in 1931. The move was sensible, if only for securing reliable water supplies.
With the greening of Mount Morgan under way, the mine was taken over by Peko-Wallsend in 1968. Peko estimated that there were 8.5 million tons of lower grade copper ore, enough to last for ten years of continuous production. The last truck of ore was actually taken out of the mine crater (360 metres deep) in 1981. Among the proposals floated to keep mining going, tailings treatment was the most viable. Mount Morgan became a retirement and commuter township for Rockhampton residents, many of them attracted by lower house prices and the country town environment. The railway line to Mount Morgan was closed in 1987, 20 years after a railway locomotive depot (1912) was closed.
Mount Morgan has a high school (1912), a technical school, a golf club, a swimming pool, a hospital and the former Mount Morgan shire offices. It has a museum in the former James Stewart emporium and a tourist information centre in the heritage-listed railway station north of the Dee River.
As Mount Morgan's population touched 10,000 in the early 1900s, the town has many well built and designed buildings. In the two town blocks bounded by Morgan Street, East Street, Hall Street and Central Street there are numerous heritage-listed buildings. Morgan Street: Central School (1887), School of Arts (1924), former Queensland National Hotel (c1890), former Commonwealth Bank (1913). Hall Street: Court house and police station (1910). Gordon Street: Masonic Temple (c1903), St. Mary's Anglican church (c1899). Central Street: Grand Hotel (c1901).
Mount Morgan's census populations have been:
| Census Date | Population |
| --- | --- |
| 1891 | 3514 |
| 1901 | 6280 |
| 1911 | 9772 |
| 1947 | 3942 |
| 1981 | 2974 |
| 2001 | 2397 |
| 2006 | 2447 |
| 2011 | 2115 |
Peter Bell, History of Mount Morgan mine, Adelaide, Historical Research Pty Ltd, 2002
Cyril Grabs, Gold, black, gold and intrigue, Rockhampton, Central Queensland University Press, 2000
John Kerr, Mount Morgan: gold, copper and oil, St Lucia, J.D. & R.S. Kerr, 1982