Murgon, a town, is 70 km west of Gympie and 170 km north-west of Brisbane. The town is situated on part of the former Barambah pastoral station (c1843), and it is thought that the name was derived from an Aboriginal expression describing the lilies on a pond, or the pond itself, which was connected to Barambah Creek. The pond no longer exists.
RAILWAY TOWN
Part of the Barambah leasehold was resumed in 1877 for farm selections, but the first place of townlike settlement occurred in 1901 when an area 7 km south of Murgon was reserved for the Barambah Aboriginal settlement (see entry for Cherbourg). Two years later the railway was extended from Goomeri, and a railway siding created at the future town of Murgon.
Earlier selectors had rooted out the heavy timber around Murgon. The railway enabled a profitable timber milling industry. The town grew gradually : the school was opened in 1908 and a Bank of New South Wales was opened in 1909. Then followed the Royal and Murgon Hotels, a public hall, a Methodist church and Angel's Universal Provider Store (1910), a much enlarged establishment compared with the single-fronted butcher and draper's shops of just three years before. A sawmill was opened in 1912, and the next year a State high school and a school of arts opened. Murgon Shire was created in 1914 by severances from Kilkivan and Wondai Shires.
DAIRYING
A progress association, active since 1908, successfully agitated for a railway goods shed. Dairy farming increased, but the cream was railed to Tiaro. To avoid losing suppliers to a new factory at Kingaroy, Murgon and Tiaro interests combined to open a butter factory at Murgon in 1913. Further afield, Proston and Windera farmers agitated for branch lines out of Murgon and after several years' delay these were opened in 1923 and 1925. A pastoral, agricultural and horticultural association was established in 1920, and Murgon's regional importance grew with the enlargement of its butter factory in 1928.
CIVIC AMENITIES
Murgon Shire's offices and the school of arts constituted the civic centre. Between 1934 and 1938 both were replaced, the town hall and adjoining library designed in art deco style. The school of arts was moved to the showground for use as a picture theatre. Soon after World War II the high school was replaced with a new building, and in 1949 a maternity hospital was opened. Unusual for a town the size of Murgon, it went without a public general hospital until 1969. In 1960-62 dairy processing diversified into milk powder production, and the South Burnett Meat Works opened a few kilometres out of Murgon. As late as 1978 a milk processing plant was built - late in terms of the downward trend of dairying in Queensland - at a time when the butter factories at Kingaroy and Nanango were wound back or closed. Ten years later (1988) Murgon opened its Queensland Dairy Museum, and in 1995 its cheese factory (the last one in the region) closed.
During the 1970s Murgon farming interests agitated for an irrigation dam on Barker Creek, 1.3 km upstream from its junction with the Barambah Creek. Completed in 1989, the dam (named Bjelke-Petersen after the Queensland Premier) has a capacity of 135,000 megalitres, about one third of the capacity of Brisbane's Somerset dam. It supplies town water and is also used for water sports and fishing. Wine growing and olive groves were developed after the dam was completed.
LOCAL GOVERNMENT
Murgon Shire was described in the 1946 Australian Blue Book: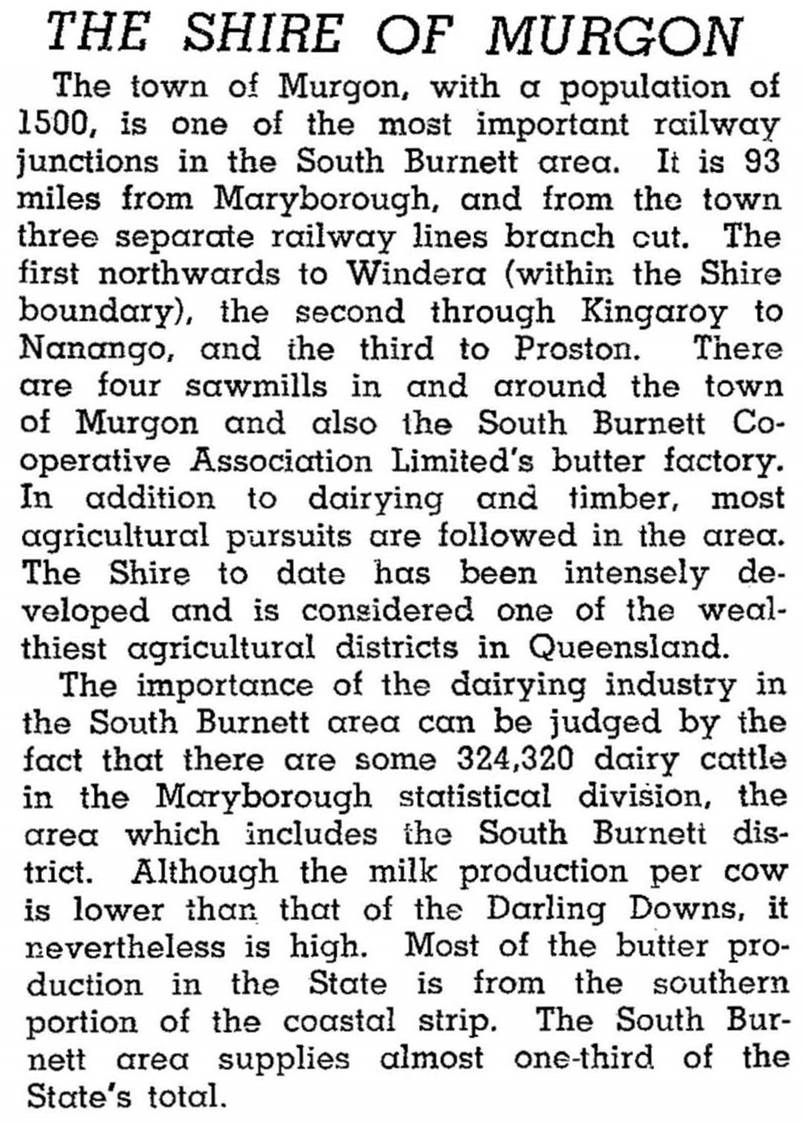 Murgon Shire was a compact 665 sq km, and Murgon is the only town that has had over 500 people. Some of the other towns are Cloyna (population of 305 in 1933) in the north of the shire and Windera also in the north and the terminus of a branch railway from Murgon between 1925 and 1961. In 2008 Murgon Shire was amalgamated with Kingaroy, Nanango and Wondai Shires to form South Burnett Regional Council.
Cherbourg, with over 1000 people, has its own shire and was only notionally part of the Murgon Shire. Agriculture in Murgon Shire was varied: in 1993 there were nearly 34,000 pigs, 16,000 beef cattle and 3300 dairy cattle; nearly 5500 ha were used for cereals and other field crops.
Murgon township has a well appointed shopping centre along a wide thoroughfare with a landscaped median strip, beginning with the war memorial standing at the intersection and the grand Australian Hotel on a corner. There are also a hospital, showgrounds, bowling, golf and swimming venues, State and Catholic (1937) primary schools, and several churches. A saleyard, the meatworks (1962), an adjoining industrial estate which includes a leather factory and the dairy museum are a short way out of town. Murgon's census populations have been:
Area
Census Date
Population
Murgon
1911
706
 
1921
1077
 
1954
1710
 
1991
2210
 
2001
2147
 
2006
2131
 
2011
2496
Murgon Shire
(including Cherbourg)
1921
2600
 
1933
3663
 
1954
4175
 
1966
4640
 
1991
4470
 
2001
4590
Murgon Shire
2006
3456
Tony Matthews, Landscapes of change: a history of the South Burnett, Wondai, The South Burnett Local Government Association, 1997
Cleo Goodchild and Susan Tsicalas, Murgon in focus: a photographic record of Murgon and district from 1900s to 1950s, Murgon, Murgon Shire Council, 2001
J.M. Robinson, Murgon Shire handbook, Brisbane, Queensland Department of Primary Industries, 1971