Although dominated in recent decades by the nationally prominent Noosa Heads, Noosa Shire was always more than a one-town Shire. Pomona was the shire's administrative centre from 1910 to 1980, until tourist development drew the shire offices coastwards to the former timber town of Tewantin. Formed in 1910, Noosa Shire was transformed from a rural economy to a mixed economy with a thriving coastal tourism industry by the time it was amalgamated with Caloundra City and Maroochy Shire in March 2008 to constitute the Sunshine Coast Regional Council.
In March 2013 more than 80% of voters in Noosa opted to leave the Sunshine Coast Regional Council in a de-amalgamation vote. From April 2013 transition committees and interim CEOs would be in place in the Noosa Shire leading to elections in late 2013 and a separate Noosa Shire council from 1 January 2014.
COUNTRY TOWNS
All of Noosa Shire was originally part of Widgee and Maroochy Shires. Towns and settlements initially grew out of the timber-getting industry, but the opening of the North Coast railway in 1890-91 led to diversification into farming activity, in turn providing additional economic support to the early townships. Pomona, Cooroy and Cooran, all on the railway line, were the largest towns, with populations in the range of 300-400 people. Tewantin had about 210 and Noosa about 90. These latter seaside towns, however, were already popular holiday and fishing destinations for people from Gympie. During the 1920s banana growing was an important crop in the shire, and supported a timber milling industry for packing cases. After banana growing lessened because of bunchy-top disease, farmers turned to pineapples, beans and dairying. The fishing industry was able to rail-freight its catches to Brisbane and supplement family incomes by running lake tours for visitors. By 1946 the shire's population had nearly tripled, and it was described as follows in that year's Australian Blue Book: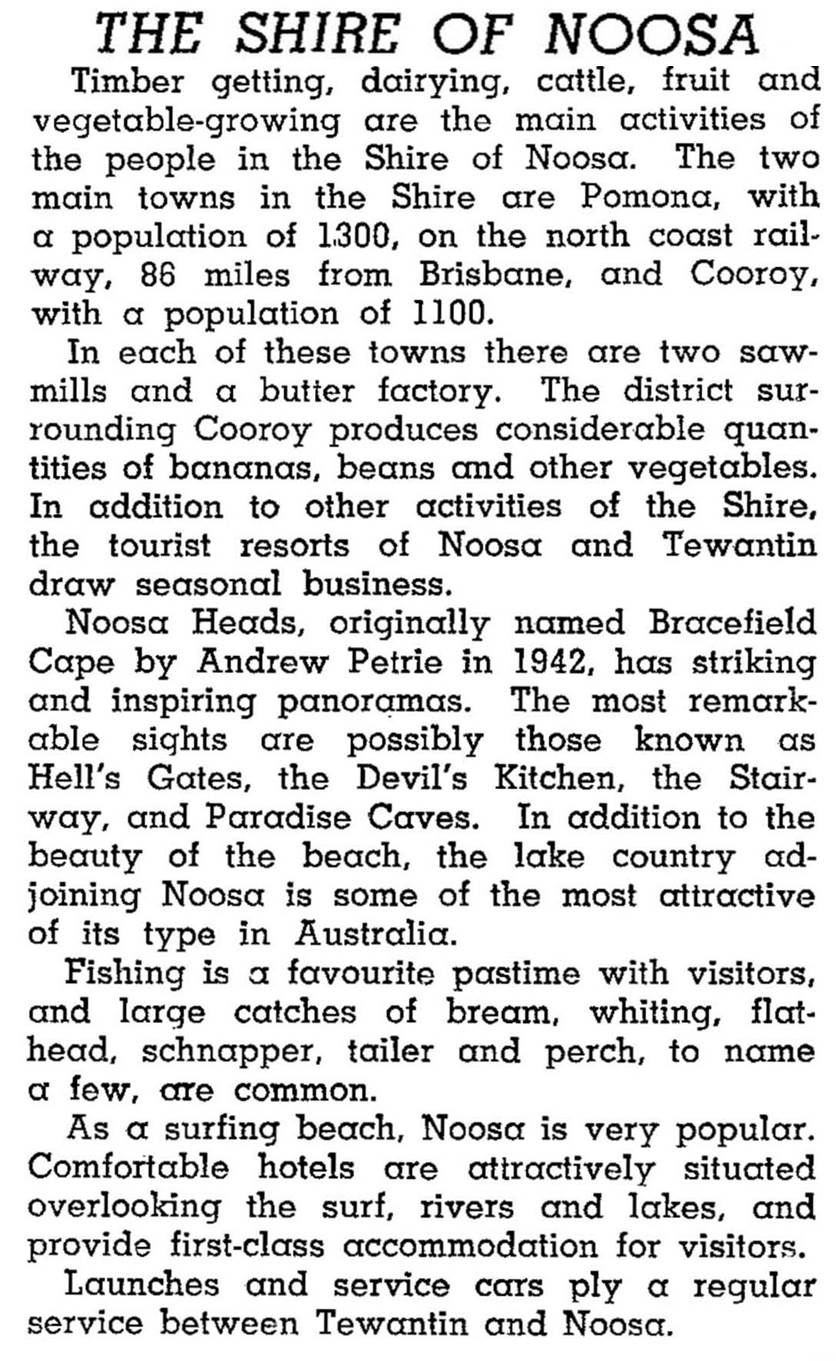 BEACH TOWNS
The bridging of Doonella Lake and Weyba Creek in 1929 and increased car ownership in the post World War II period made Noosa's beaches an easy journey past Tewantin. Ready access from Caloundra, Mooloolaba and Maroochydore was made possible in the early 1960s by the David Low Way. Noosa Shire supported tourist development and had an understanding dating back to 1929 with the land subdivider, TM Burke Pty Ltd, for beachfront development. Sunshine Beach, Marcus Beach and Peregian Beach all formed around the David Low Way. Concerned residents formed the Noosa Parks Association in 1962, so as to secure the small Noosa National Park and lobby for the preservation of additional coastal areas. It was the beginning of three decades of controversy involving the shire council, into which the poet and author, Nancy Cato, entered in 1979 with her Noosa Story. The outcome of these tensions, mostly played out at Noosa Heads, was a mixture of 'uglification' and sensitive and compatible urban design, the latter a rare feature in most Australian coastal resorts. In the late 1990s the shire council introduced a population cap of 50,000 designed to inhibit rampant development and landscape despoliation. High rise development was also banned, so even today the area has no structures over six storeys. In 2007 Mayor Bob Abbott and local notables including Bob Ansett bitterly opposed the state government-enforced council amalgamation with Caloundra and Maroochydore. They failed to stop the amalgamation but in 2008 Abbott was elected Mayor of the new Sunshine Coast Regional Council. After continuing dissatisfaction with the council merger, and with encouragement from the new LNP state government, in 2013 Noosa residents voted overwhelmingly in a local referendum to de-amalgamate from the Sunshine Coast Regional Council. On 1 January 2014, the Noosa Shire was reinstated under the mayoralty of local businessman, Noel Playford. Bob Abbott was re-elected to the shire council and assumed the role of Deputy Mayor.
NATIONAL PARKS
More than half the Noosa Shire's area was north of Noosa Heads, where Lakes Cooloola, Como and Cootharaba (the largest) lie. Elanda Point on Lake Cootharaba was the place where timber was collected after being rafted down Kin Kin Creek in the 1880s. Boreen Point is the camping and accommodation centre for the lake. On the lake's other (eastern) shore there are the Teewah coloured sands and the coastal section of the Cooloola National Park. Thirty-five percent of the shire's 869 sq km comprised national parks, forests, lakes and streams.
EMPLOYMENT
Employment in the sectors of agriculture/forestry/fishing, accommodation/cafes/restaurants and property/business services in 2001 is shown in the following table. Accommodation, from nineteenth century wooden hotels in the country towns to motels and apartments on the coast, remains important throughout the whole of the shire.
Place of Residence of Employees
Percentage Share of Employment
Agriculture
Accommodation
Property
'Urban' Noosa Hds, Tewantin, Sunshine Beach, Peregian
1.5
13.6
7.0
Rest of Noosa Shire
7.1
11.5
13.2
Whole of Shire
3.5
13.0
8.8
Commercial activity shifted to new urban centres, as shown by business listings:
 
Noosa
Heads
Cooroy
Tewantin
and
Noosaville
Pomona
1960
7
23
33
23
1974
126
58
160
26
In the retail sector, Noosa Junction on Sunshine Beach Road replaced Tewantin as the major shopping centre by 1977.
The hinterland towns had strong timber and dairy industries but both sectors declined in the period from 1960 to 1990. Dairy farm numbers fell from 302 (1965) to 43 (1980) in Noosa Shire as farmers aged and farms were consolidated or subdivided for acreages.
Noosa Shire's census populations have been:
| Census Date | Population |
| --- | --- |
| 1911 | 2008 |
| 1921 | 4413 |
| 1954 | 6296 |
| 1976 | 10,425 |
| 1986 | 20,328 |
| 1996 | 41,171 |
| 2001* | 47,321 |
| 2006 | 45,831 |
*
Including visitors.
Denise Edwards, Country and coast: a history of the development of the Noosa Shire, Noosa Heads, the author, 2001
R.J.L. Adams, Noosa horizons: a history: timber, tradition, tourism, Broadwater, Utreya Publications, 2004
Elaine Brown, Cooloola Coast: Noosa to Fraser Island: the Aboriginal and settlers histories of a unique environment, St Lucia, University of Queensland Press, 2000
Nancy Cato, The Noosa story: a study in unplanned development, Milton, Jacaranda Press, 1979
Michael Gloster, The Shaping of Noosa, Noosa Heads, The Blue Group, 1997
Ailsa R. Dawson, Cooloola: early chronicles of cypress land, Gympie, Reid Printery, 1977
Cooran, Cooroy, Doonan, Kin Kin, Lake Macdonald, Marcus Beach, Noosa Heads, Noosa Hinterland, Noosa Southern Localities, Peregian Beach, Pomona, Sunshine Beach and Tewantin entries