Peak Downs Shire, an area of 8127 sq km, and generally 250 km west of Rockhampton, was amalgamated with three other shires in 2008 to form Central Highlands Regional Council. It extends almost to Clermont in the north and Emerald in the south, with most of the eastern half underlain by coal.
The Peak Downs area was explored by Ludwig Leichhardt in 1845 who described the Peak Range, naming several of its highest points. The country around the range was compared with the Darling Downs. Several pastoral runs were acquired by the Archer brothers in the mid-1850s, one of them being named Peak Downs.
The opening of a railway line through the Shire's (later) administrative centre, Capella, from Emerald to Clermont, in 1882-84 stimulated settlement. Two years later the Peak Downs local government division was severed from the Belyando division. Despite the resumption of some large pastoral holdings several survived well into the twentieth century: Gordon Downs, Retro and Peak Downs homesteads were a testament to their scale and profitability. The fertility of the soil was noted, but dry spells defeated diversification away from sheep grazing into cotton and dairying near the town. The Shire was described in 1946 in the Australian Blue Book: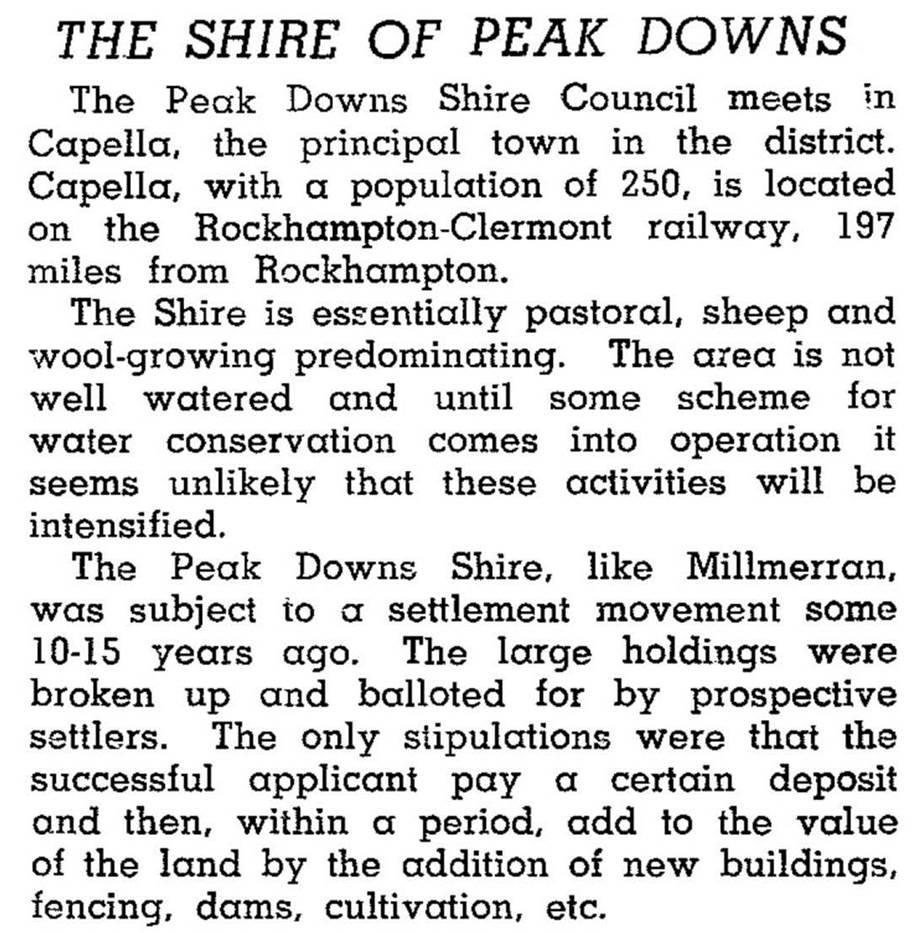 At about this time the Queensland British Food Corporation invested heavily in grain production, but met with patchy rainfall and withdrew in 1954. Sufficient was achieved, though, to persuade local farmers to diversify into sorghum and sunflower growing. Thirty years later a further boost came from the Oakey Creek open cut coal mine and the dormitory town of Tieri in the east of the shire. The railway line linking Oakey to the Mackay main line was built in stages (1972-83).
In 1993 the Shire's agricultural economy included 92,000 beef cattle, 43,750 ha of cereals and nearly 25,000 ha of legumes and other crops. The Shire's census populations were:
| Census Date | Population |
| --- | --- |
| 1911 | 835 |
| 1961 | 1079 |
| 1981 | 1958 |
| 1986 | 3209 |
| 2001 | 2864 |
| 2006 | 3188 |
M.V. Purdie, ed, Capella: a brief history of the settlement of the Peak Downs, Capella, Book Committee, 1983
Isabel Hoch and Andy Plunkett, Tractors under the sky, Capella, Capella Pioneer Village Inc, 2000
W.J. McLaughlin et al, Peak Downs Shire handbook, Brisbane, Queensland Department of Primary Industries, 1979
Capella and Tieri entries