Proserpine, a rural town 100 km north of Mackay, is a short way inland from Airlie Beach and the Whitsunday Islands.
It is generally thought that the name originated from the explorer, George Dalrymple, naming Proserpine River, a short stream which empties into a wide mouth on Repulse Bay. It is supposed that Dalrymple reported on verdant and fertile land in the district, and 'Proserpine' is the Anglicised version of the Roman Prosperpina, a goddess of fertility. Later research suggests that Dalrymple did not traverse the Proserpine area in any of his explorations, and the name may have originated with the Proserpine Creek pastoral run (1861).
SUGAR
Several cattle runs were established in the Proserpine district and one, the Glen Isla, was set aside for a 3000 acre sugar plantation in 1882. Established at considerable cost, the Crystalbrook Sugar Company lasted only a few seasons. The land was subdivided in the 1890s, part of it being later included in the Proserpine township. A second sugar mill was opened in 1897, supplied with cane grown by independent farmers and served by a tramway to a wharf on the Proserpine River. By 1900 there were 200 settlers and 70 suppliers to the mill. A school, a Presbyterian church and a community hall were opened. By 1907 there were three hotels and several stores.
In 1910 a tramway from Proserpine to Bowen harbour was opened, and Proserpine Shire was created by severance from Wangaratta Shire, which was headquartered in Bowen. The town's population was about 1000 people and the shire's about 1800.
TOURISM: FROM STOPOVER TO DESTINATION
During the 1920s Proserpine's population nearly doubled, and in 1923 a rail link to Mackay (and Brisbane) was opened. The railway put southern tourists in touch with the Whitsunday Islands, but Proserpine was a stopover place and remained so until the 1950s. It was a country town, foremost a sugar town, and even the local Guardian newspaper stated that it had 'no appeal whatsoever either to tourists or locals' (1951). A State report on hotels noted that the Prince of Wales Hotel was 'most dilapidated ... and did not even provide meals' (1954).
The Proserpine airport was opened in 1950 partly to service Whitsunday tourism, but a visitor commented 'You get dumped on this airstrip ... the hotel (had) quite the most hideous lino', and so on. Despite these adverse remarks, Proserpine's Main Street had an adequate array of civic facilities: three churches, a shire hall, two theatres and four hotels. The hospital (1940) was a short way north, and has become Proserpine's sole heritage-registered building.
In 1958 the town missed out on sugar shipments when the bulk loading facility at Mackay opened, and during the following decade there was substantial resort development on several Whitsunday islands. Airlie Beach and Shute Harbour were developed, mainly for tourism, and Proserpine joined a regional tourist council in 1961. Motor holidays for southern tourists became more common, necessitating motels and improved accommodation in the town. Much later, Cedar Falls National Park and Laguna Quays (hotel, golf course and condominiums) on Repulse Bay brought more on-shore tourism.
Sugar, however, increased in importance: from about 6000 acres in 1960, the farms comprised 16,000 acres in 1994. The Peter Faust dam on the Proserpine River supplied much of the irrigation water.
Proserpine Shire was described in the 1946 Australian Blue Book: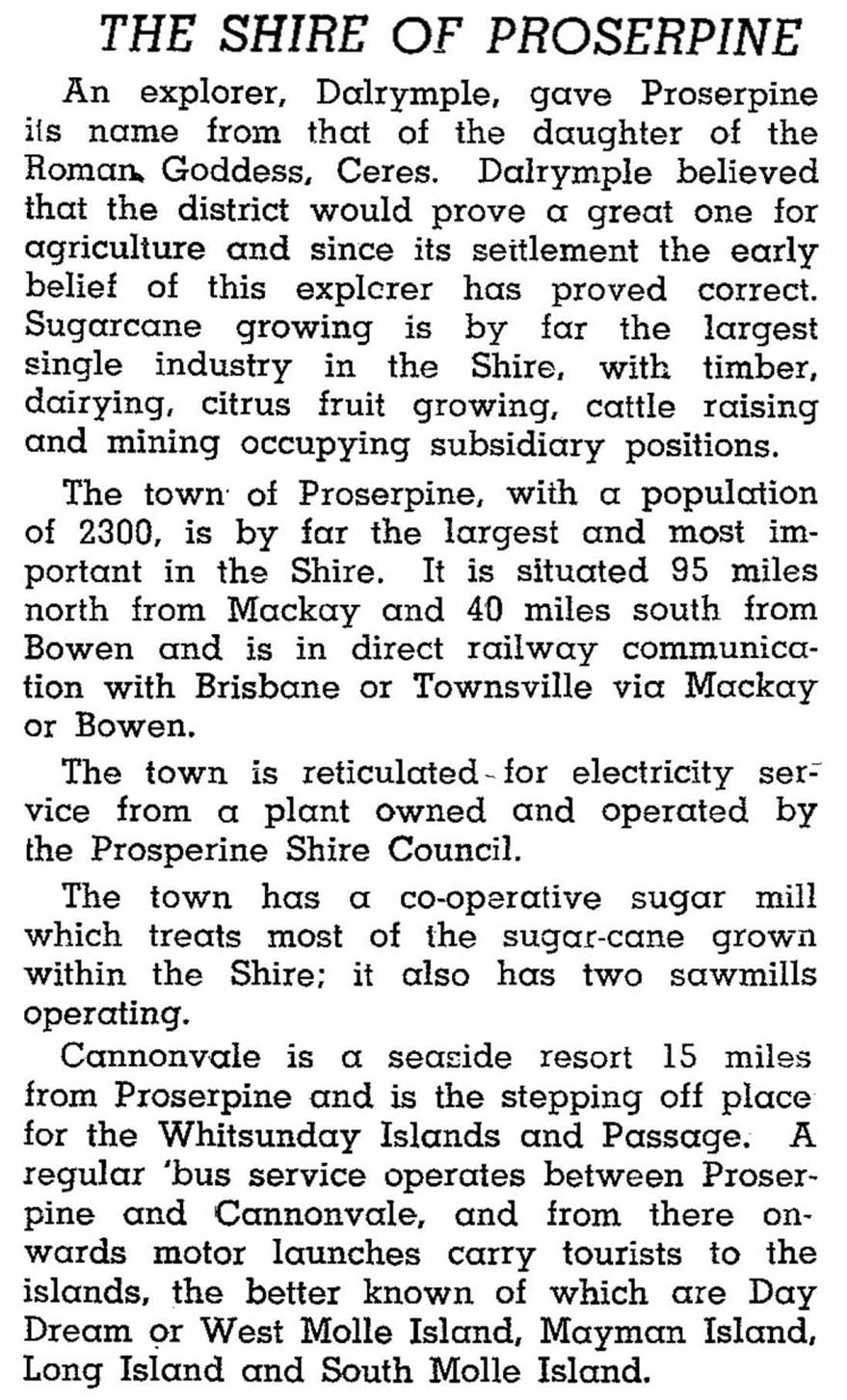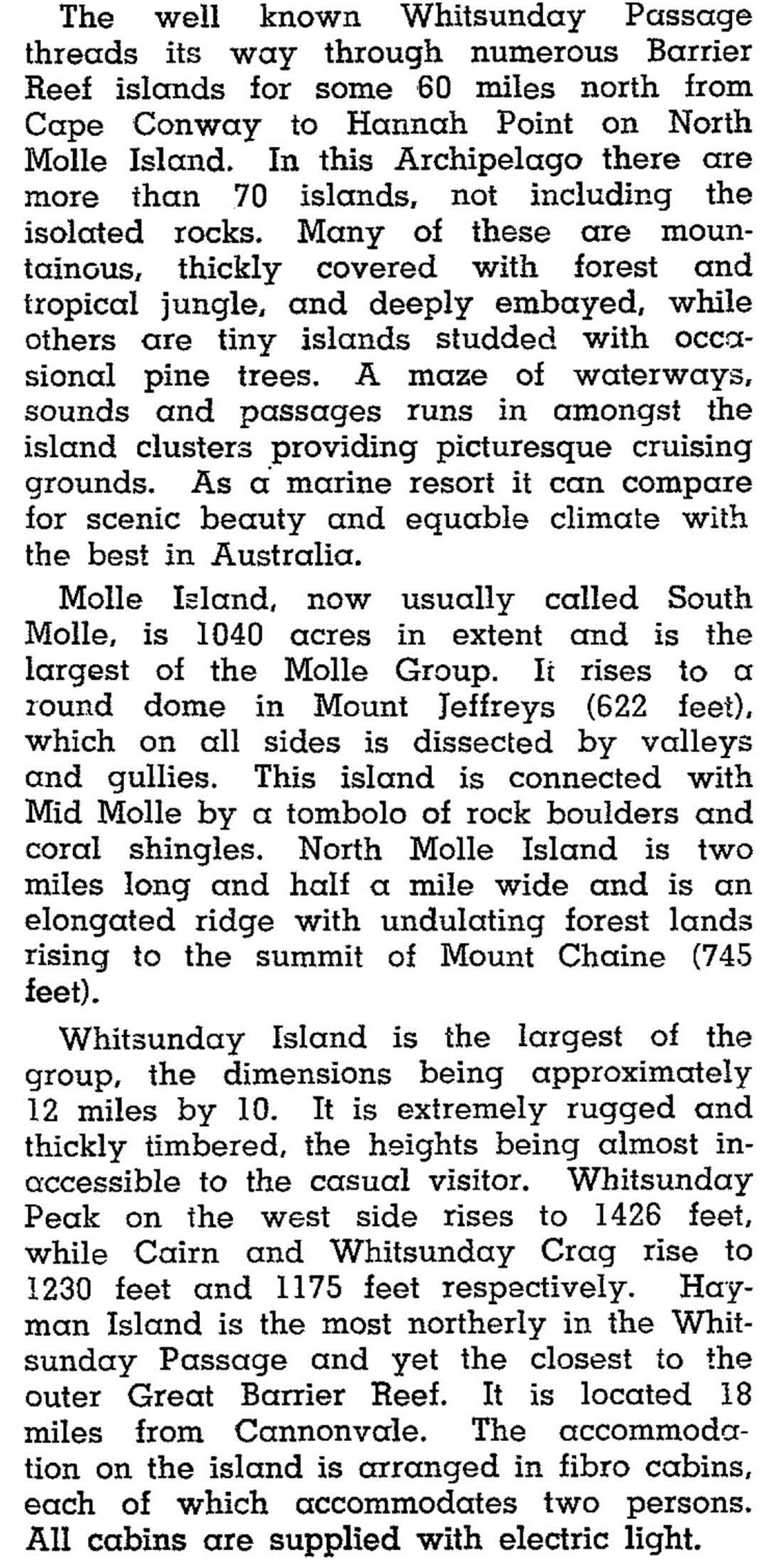 Proserpine Shire (renamed Whitsunday in 1989) included the offshore islands and had an area of 2681 sq km, before amalgamation with Bowen Shire in 2008. The shire's headquarters were in Proserpine. With a population of just over 3000 people, Proserpine was overtaken in the mid-1990s by Airlie Beach and Cannonvale which by 2001 had about 4000 each. Sugar farms surround the town, and farming elsewhere is mostly cattle grazing (41,000 head in 1994).
Proserpine has golf, bowling and swimming venues, a showground, six churches, a hospital, a State high school (1963), State and Catholic (1925) primary schools and an historical museum. Its census populations have been:
| Census Date | Population |
| --- | --- |
| 1901 | 136 |
| 1911 | 1102 |
| 1933 | 2177 |
| 1961 | 2753 |
| 1981 | 3058 |
| 2001 | 3250 |
| 2006 | 3316 |
| 2011 | 3390 |
Proserpine: then and now: a pictorial record, Proserpine, Proserpine Historical Museum Society, 1988
Neville Smith, Welcome to the Whitsundays, Proserpine, Koala Books, 1996