Ravenswood, a former gold mining town, is 100 km south of Townsville. The name has been attributed to the character Lord Ravenswood in Sir Walter Scott's novel, The Bride of Lammermoor (1819).
In the mid-1860s the port towns of Bowen and Townsville were seeking inland development to provide trade through their ports. Townsville offered a reward for mineral discoveries, it being calculated that mining towns promoted inflows of freight and outflows of ore or treated metal. The government geologist confirmed a gold find at Cape River, south-west of Charters Towers (not then in existence) in 1866.
Miners prospected several of the streams in Townsville's hinterland, and in 1869 payable gold was found in some gullies on the Ravenswood pastoral run. A rush began and a town developed on Elphinstone Creek, taking the name of the pastoral run. Good alluvial gold was followed by discovery of several reefs, and a five-head battery for quartz crushing was installed in 1870. The Bank of New South Wales opened it doors, the Ravenswood Miner newspaper appeared and tents were replaced by buildings before the end of the year. A court house, important for resolving mining disputes, opened in 1871 and a government school in 1873. By then, however, the richer Charters Towers field drew some of the miners away, and the fine gold embedded in the crushed quartz and mingled with iron disulphide proved costly to extract. The Australian handbook 1876 gave an optimistic assessment of Ravenswood:
Ravenswood had steady but not spectacular growth treating the refractory gold ore. An economic boost came with the mining of silver nearby, which in 1882 led to approval of a railway line to Ravenswood, branching from the Townsville-Charters Towers line. The line opened in 1884, carrying freight, passengers, firewood (for smelters) and minerals. The Ravenswood local government division of 1380 sq miles formed in 1879, along with a hospital, school of arts, and a Catholic church rebuilt in the 1880s. A convent school opened in 1885 next to St Patrick's Church (now the community church), and continued until 1948.
Ravenswood was described in the 1903 Australian handbook: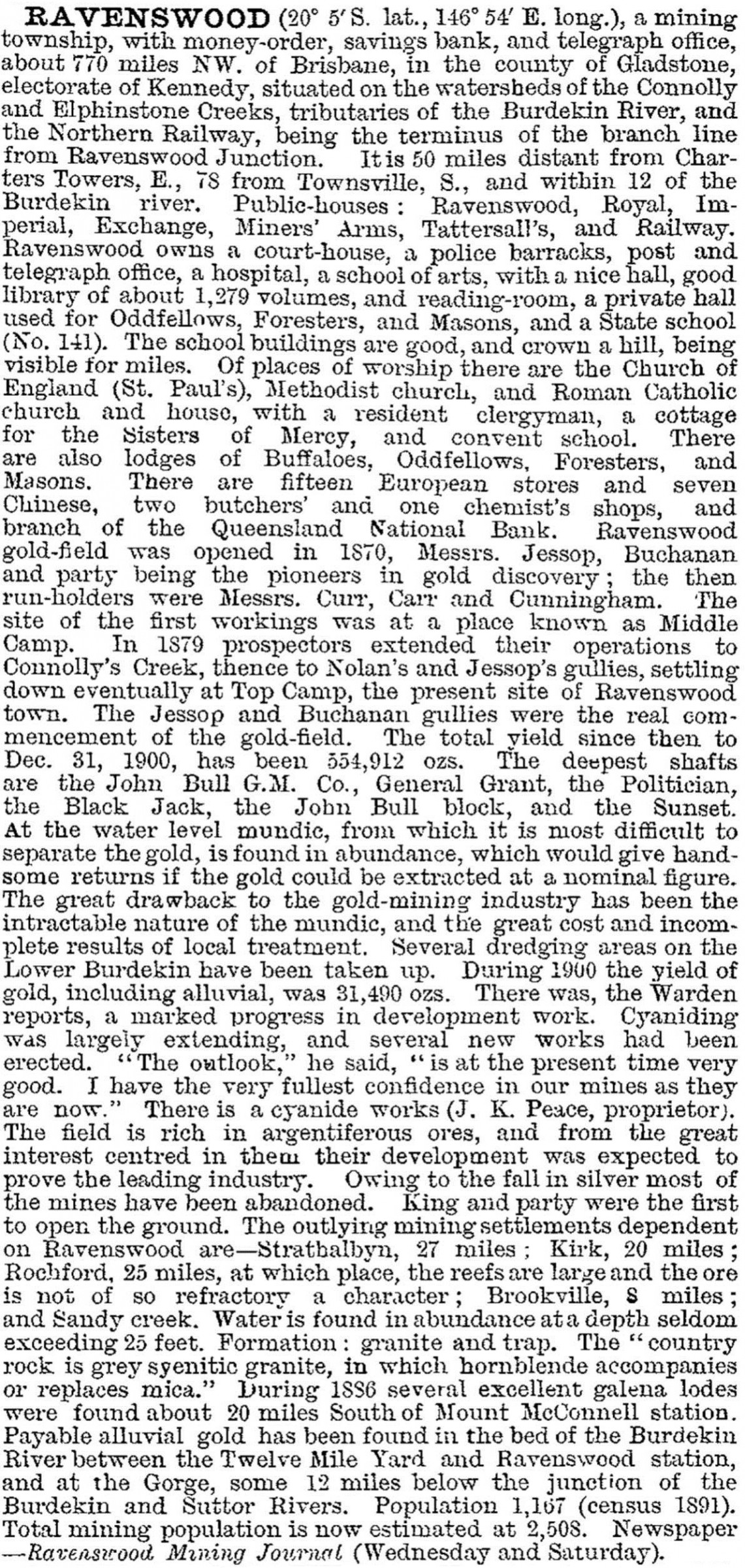 The treatment of gold-bearing ore continued to frustrate the industry, but in 1898 a Charters Towers entrepreneur, Archibald Wilson (1852-1935) obtained British finance for a fresh approach. His New Ravenswood Limited's cyaniding successfully extracted gold from both crushed ore and tailings, and the company struck upon some rich new quartz veins. A new beginning for Ravenswood prompted the rebuilding of mine structures, along with several grand commercial buildings which now constitute the Ravenswood heritage site. The smelter boilers consumed vast amounts of local vegetation, and their place was taken by exotic species, notably the rubber vine and the Chinese apple tree. Goats consumed groundcover plants.
Prosperity continued for more than ten years. Declining quality of the ores, a labour dispute in 1912 and increased labour costs during World War I led to the collapse of New Ravenswood in 1917. The population fell by over two thirds between 1911 and 1921. Total gold production had been:
| | |
| --- | --- |
| 1868-1878 | 214,652 ounces |
| 1878-1898 | 283,473 ounces |
| 1898-1948 | 401,556 ounces |
Alluvial gold amounted to about 200,000 ounces, mostly during the first ten years and the total for the period 1868 to 1948 was 899,681 ounces.
Ravenswood's surviving 1900s architecture is unfettered by later revamps. Losses of buildings occurred through abandonment and removals to new settlements. The court house, moved to Mount Ravenswood station, was returned and re-erected. Surviving buildings include the Railway and Imperial Hotels (1901-02), the ambulance depot (1904), the primary school (1870) which is still used, and the school of arts library. Neither the shire offices nor the railway station survive, their functions having ceased in 1929 and 1930. Mining revived briefly in the 1930s Depression, but by the 1960s Ravenswood's population had fallen to 100. Its heritage values have proved to be its most valuable asset: tourists regularly detour there when motoring between Townsville and Charters Towers.
Ravenswood has two hotels, a post office/general store, a golf club, a primary school, a museum in the court house and a restoration and preservation society. The town site is a heritage area under the Australian heritage register and there are 14 sites on the Queensland heritage register. The Imperial and the Railway Hotels (1901) are grand structures, and the former court house (1882) and the Community Church (1871) are authentically vernacular. Ravenswood's census populations have been:
| Area | Census Date | Population |
| --- | --- | --- |
| Ravenswood | 1881 | 860 |
|   | 1901 | 1862 |
|   | 1911 | 2010 |
|   | 1921 | 654 |
|   | 1954 | 154 |
|   | 2001 | 346 |
|   | 2006 | 191 |
|   | 2011 | 349 |
| Ravenswood Shire | 1911 | 2647 |
|   | 1921 | 1117 |
Joan Neal, Beyond the Burdekin: pioneers, prospectors, pastoralists: a history of the Dalrymple Shire, 1879-1979, Charters Towers, Mimosa Press for the Dalrymple Shire Council, 1984
Glenville Pike, Over the years: the Dalrymple Shire (Charters Towers District, North Queensland): past and present, Charters Towers, Dalrymple Shire Council, 1959
D.C. Roderick, 'Ravenswood' in Readings in North Queensland mining history, vol 1, Townsville, History Department, James Cook University, 1980
Jill Mather and Jim Cox, Ravenswood, Dalrymple Shire Council, c1990