Redcliffe, a coastal suburb facing Moreton Bay, is 28 km north of central Brisbane. It is situated on a peninsula which has its access restricted by Hays Inlet and adjoining mangrove areas on the south, and another mangrove area on its north. The name arose from a physical feature recorded by Matthew Flinders in July 1799: he noted rocks at Woody Point, strongly impregnated with iron, which he named Red Cliff Point. (It was not the Redcliffe Point found in modern street directories at the end of Anzac Avenue, Redcliffe.)
EUROPEAN SETTLEMENT
Surveyor-General, John Oxley, was dispatched from Sydney in 1823 to investigate sites in the Moreton region for intractable convicts. He chose Redcliffe because of its accessibility by boat (avoiding possible sand bars or shoals connected with the Brisbane River) and its narrow connection to the mainland to hamper escape on foot. In September 1824 Oxley and a settlement party with 30 convicts arrived at Redcliffe to form Queensland's first white settlement. It was not long-lived: ill health, unfamiliarity with soil and climate, and optimism about the prospects up the Brisbane River led to Redcliffe's abandonment in 1825. Aborigines noted the empty buildings, describing them with an expression that was Anglicised to 'Humpy bong'. That was a name which lasted until land developers wanted something better sounding 60 years later.
BEACH SUBDIVISIONS
Redcliffe had something conspicuously lacking at Brisbane, sandy beaches. They were noted by early settlers such as Tom Petrie, who was one of a handful who took up land when the Redcliffe Peninsula was declared an agricultural reserve in 1861. Land along the coastline was subdivided into small farm lots, and many were sold by the 1870s. In 1879 the Scarborough Hotel - the first of several English seaside names to be applied to the peninsula - was opened. It was situated at the far, northern end of Redcliffe Peninsula, and was a financial failure, but it sparked a real estate boom in seaside subdivisions. By 1882 there were about 5000 blocks distributed among estates such as Margate, Sorrento, St Leonards and Ramsgate, all English seaside town names. The Clontarf estate was probably named after the town and watering place near Dublin, Ireland: Margate, Scarborough and Clontarf continue as the names of Redcliffe suburbs.
The permanent population of Redcliffe during its land boom barely exceeded 200, and its local government came under Caboolture. Remoteness from that town gave rise to agitation, and in 1888 the Redcliffe local government division was severed from Caboolture. Most ratepayers lived outside Redcliffe.
The economic Depression of the 1890s caused a slump in land values and stagnation among the beachfront properties. Rural holdings back from the beach held on. In 1900 the Redcliffe Shire had 700 residents, and moderate prosperity saw the figure rise to over 1100 by 1911. The township was described in 1903 in the Australian handbook: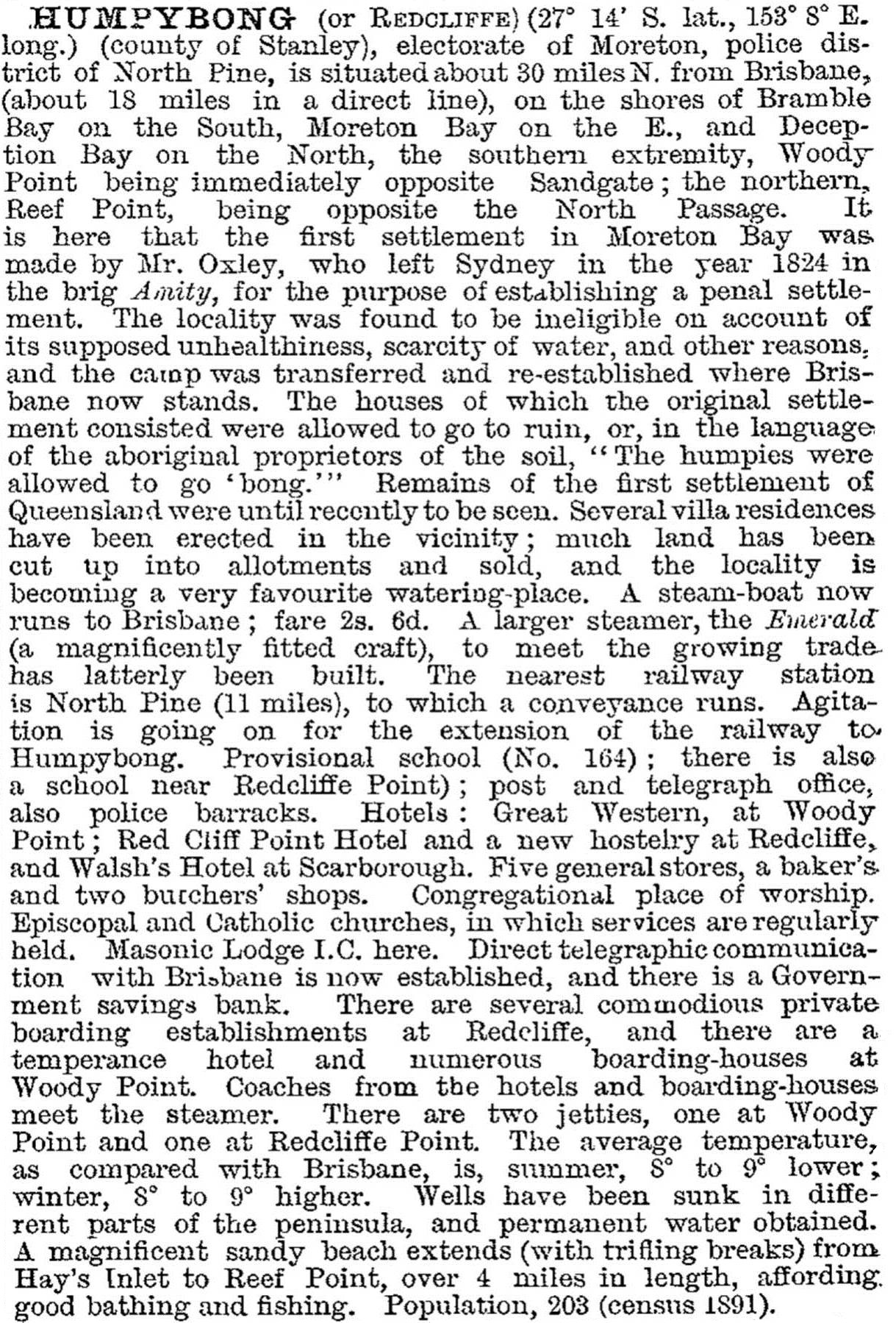 ROADS AND RESIDENCES
Access from Brisbane was always a problem, either by a round-about road or by slow steamer. A railway was promised in the 1880s (thereby fueling the land boom), but never arrived. Instead road transport was given a bridge, built on piles driven into the silt of the mouth of the Pine River, in 1935. Known as the Hornibrook Highway, named after its promoter and design engineer, the bridge is 2.7 km long. Manuel Hornibrook took a continuing interest in Redcliffe, providing a golf course at Clontarf and a shark-proof swimming enclosure at Woody Point, both promoting tourism. There were also bowling greens, tennis courts, picture theatres and numerous beaches. Remote and romantic Redcliffe, with genteel boarding houses, secluded beaches and affectionately remembered steamers, would turn into a suburb.
The town of Redcliffe was described in the 1946 Australian Blue Book: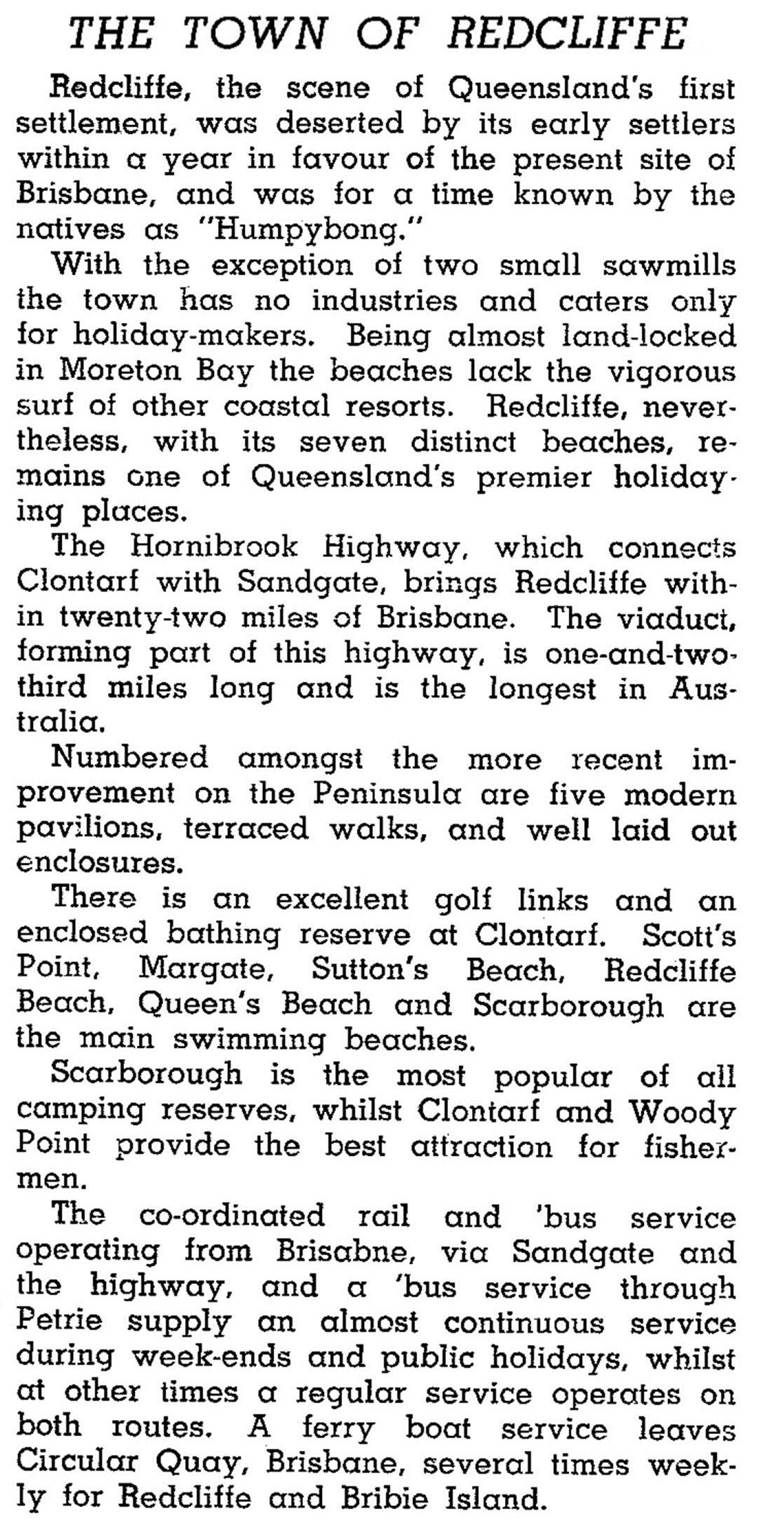 Redcliffe had been redefined from a shire to a town before the opening of the Hornibrook Highway, and the municipality's population quadrupled to nearly 9000 between 1933 and 1947. Between 1947 and 1971 it quadrupled again, and the town was proclaimed a city in 1959. New Redcliffe suburbs, Kippa-ring and Rothwell, were formed (Kippa-ring is named after an Aboriginal bora ring near Klinger Road West). The Redcliffe Parade shops' dominance of the area's retailing was halted by the opening of a Pacific Fair drive-in centre in Kippa-ring in 1995, with 90 shops and 1600 parking spaces.
The east-facing beach suburbs of the peninsula comprise Scarborough at the north, and running southwards through Redcliffe, Margate and Woody Point. Clontarf is west of Woody Point. Redcliffe has the main shopping strip, the hospital and the showground. The heritage-listed 'moderne' shire offices (1941) are in Redcliffe Parade, and have been a community health centre since 1972. Redcliffe and Clontarf have State high schools (1958, 1964). Scarborough has a Catholic secondary school and all suburbs have primary schools. Lutheran primary and secondary schools are in Clontarf and Rothwell. Scarborough has retained its seaside ambience with a boat harbour and a canal estate. There are retirement villages, and in the old seaside suburbs 21.5% of the population was over 65 in 2001; in Rothwell-Kippa-ring 15.5% were over 65, and in metropolitan Brisbane the figure was 11%.
A second bridge crossing connecting Brighton to Redcliffe, named the Houghton, was opened in 1979. In July 2010 the third crossing, still Australia's longest bridge, was opened and named the Ted Smout Bridge in honour of Queensland's longest surviving World War I digger Ted Smout who lived in the area and died in 2004 aged 106. It comprised three traffic lanes, a pedestrian and bicycle path and a large public fishing platform near the halfway point of the bridge. The original 1935 bridge, the Hornibrook, was destined for demolition, although the historic portals would be restored and a section rebuilt to form a shortened pier and include a dedicated fishing platform over Hays Inlet.
In 2008 Redcliffe City was amalgamated with Caboolture and Pine Rivers Shires to form Moreton Bay Regional Council.
Census populations have been:
| Area | Census Date | Population |
| --- | --- | --- |
| Redcliffe Municipality | 1911 | 1129 |
|   | 1933 | 2008 |
|   | 1947 | 8871 |
|   | 1961 | 21,674 |
|   | 1981 | 42,223 |
|   | 2001 | 48,826 |
| Redcliffe | 2006 | 8980 |
|   | 2011 | 9201 |
Michael Jones, Redcliffe: first settlement and seaside city, Sydney, Allen & Unwin, 1988
Clontarf, Kippa-ring, Margate, Rothwell, Scarborough and Woody Point entries