Redland Bay, a suburb facing Moreton Bay, is 31 km south-east of Brisbane. It is named after the rich volcanic soil found on much of the Redland Shire's area, including several off-shore islands. Known as krasnozem soil, it has high mineral and organic components, and produced a substantial amount of Brisbane's market garden produce.
The land was settled by farm selectors in the 1860s-70s, who cleared tangled shoreline scrub and forest land further from the coast. Excellent timber was used for the first slab huts and later steep-pitched 'Queenslander' dwellings. Sugar cane plantations were tried quite early and a mill was operated during the 1870s. Cotton and rice were also tried. Cane was replaced by banana growing, and that was overtaken by pineapples and citrus in the 1890s. A Methodist church was opened in 1885, a primary school the following year and a school of arts in 1889. In common with Wellington Point, Redland Bay drew the attention of land subdividers in 1890, but with less success because of the lack of a railway.
Redland Bay extends south from Victoria Point to the Logan River, a distance of 13 km. Its western boundary adjoins Mount Cotton and Carbrook, areas originally settled for timber harvesting and farming. In 1890 a district cemetery was established in Serpentine Creek Road, Redland Bay, continuing as a place of burial until 1945. It is listed on the Queensland heritage register.
In 1904 the Cleveland (later Redland) Agriculture, Horticulture and Industries Society was formed. The Australian handbook (1903) described the village: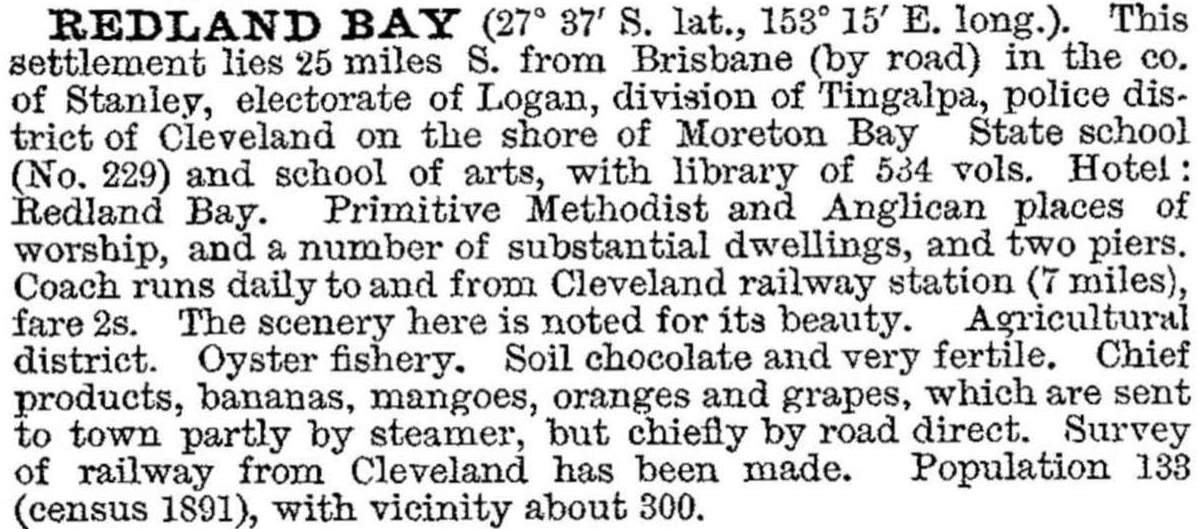 Redland Bay remained determinedly agricultural for more than three-quarters of the twentieth century. The township had fewer than 1000 people in 1976, and was best known for its fruit, vegetables and the Moreton Bay boat services from its jetties to Russell, Macleay, Stradbroke and Karragarra Islands.
Redland Bay has a golf club, four churches, a ferry terminal and local shops. The agricultural research farm in Salisbury Street was redeveloped as a retirement village in 2008. It contains the bayside township of Point Talburpin, which had 876 people in 1996. Redland Bay's census populations, including Point Talburpin's, have been:
| Census Date | Population |
| --- | --- |
| 1891 | 133 |
| 1933 | 506 |
| 1971 | 611 |
| 1981 | 1325 |
| 1991 | 4503 |
| 2001 | 6844 |
| 2006 | 10,889 |
| 2011 | 13,624 |
Barry Kidd, Redlands illustrated history, Capalaba, B. Kidd, 1979
Redlands centenary souvenir 1850-1950: one hundred years of progress, Cleveland, Redlands Celebrations Committee, 1950