Roma, a rural town in the Maranoa, is 420 km west of Brisbane on the Warrego Highway. The district was explored by the New South Wales Surveyor-General, Sir Thomas Mitchell, on his fourth expedition in 1846-47. Travelling from the south he established a depot on the Balonne River at St George. Pushing northwards, he came to a ridge from which he observed a 'double topped hill ... in the centre of this fine open country, and from the abundance of good pasturage ... named it Mount Abundance'. The next day, Mitchell ascended a north-eastern extremity of Mount Abundance and from it 'beheld the finest country ... A champaign region, spotted with wood, stretching as far as human vision ... could reach'. Mitchell was eager to inflate the importance of his discoveries. Later writers helped his exaggeration by rendering his 'champaign region', meaning level, open country, as 'champagne region'.
ABORIGINAL RESISTANCE
Within a year Allan Macpherson took up the Mount Abundance pastoral run, but was soon forced to retreat in the face of strong Aboriginal resistance. Stephen Spencer took up the run in 1857 and by 1860 had made the station homestead into a supply depot for the district. In the following year a shanty stopping place was established on Bungil Creek, about 7 km southwards, anticipating a government decision to survey a township site for the district. The Bungil Creek location, known as Reids Crossing after the shanty's proprietor, Thomas Reid, was chosen for survey, and named Roma after the Queensland Governor's wife, Diamantina Roma Bowen. A court and a post office were established by 1864, and Roma was connected by telegraph to Dalby and Brisbane in 1866.
Declared a municipality in 1867, Roma had a census population of 841 people in 1871. This more than doubled by the 1881 census, the year after the railway connection from Miles. For a couple of years Roma enjoyed the position of a railhead, but a westwards extension in 1883 withdrew the privilege and a minor downturn occurred. By then wheat growing was replacing grazing. Maranoa wheat won exhibition prizes, and in the early 1890s a flourmill opened in Roma. Vineyards also developed with an estimated 50 growers in the Roma district, the first vines having been planted at Mount Abundance around 1870.
The township acquired the usual range of facilities: a government school (1870), the Roma Show Society (1873), Western Star newspaper (1875), and Anglican and Catholic churches in the 1870s. The Australian handbook of 1903 described a mature rural town of nearly 2500 people: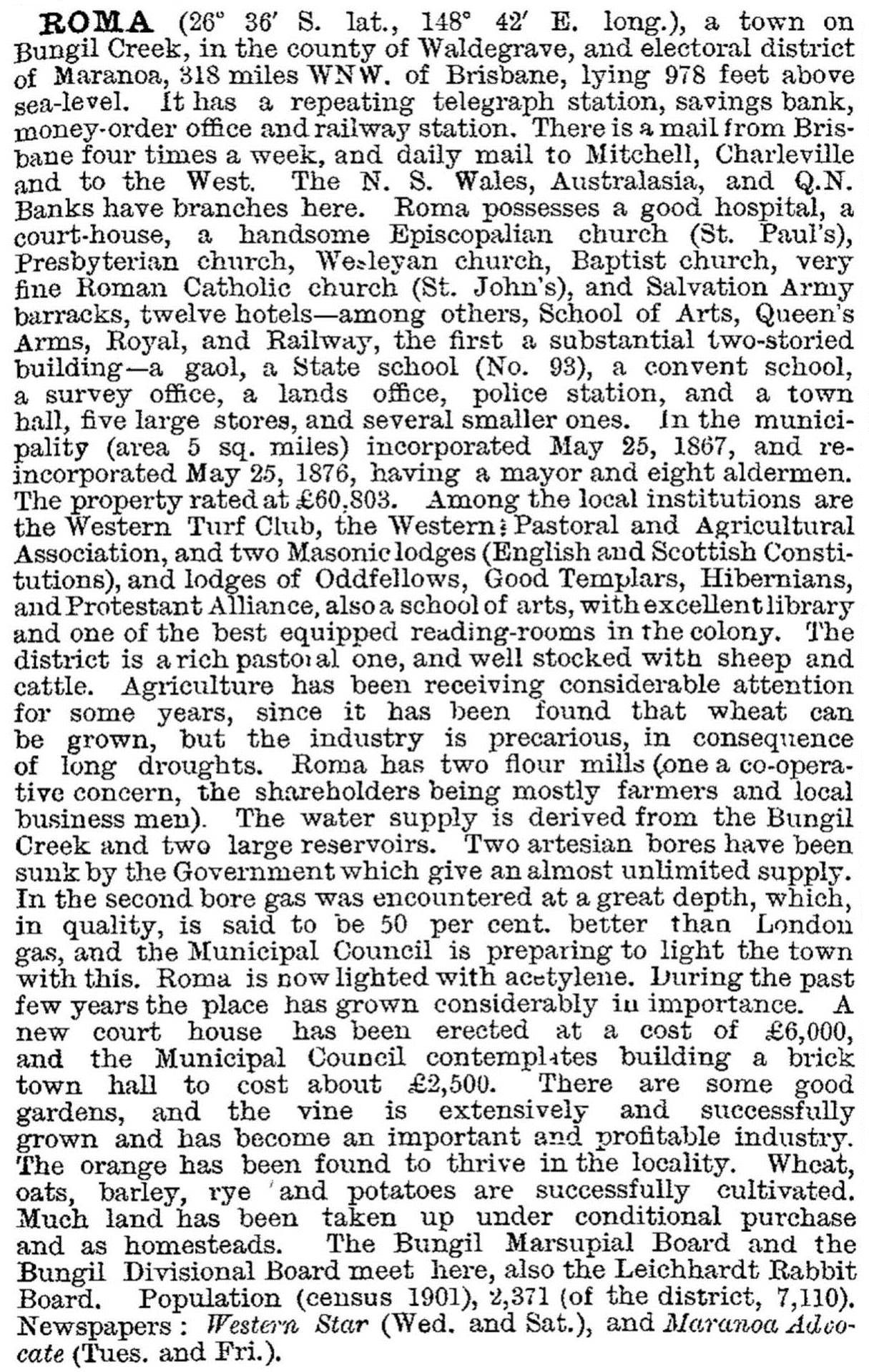 The mention of bore gas was the discovery in 1900 of natural gas at Hospital Hill, one of several small wells later developed in the Surat - Bowen basin.
In the 1890s several pastoral leaseholds, including Mount Abundance and Wallumbilla, were resumed for closer-settlement. Wheat, barley, oats and potatoes were successfully grown, and dairying was sufficiently advanced by 1909 for a cooperative factory to be opened. At its peak it had 300 suppliers, with an output of 573 tons of butter in 1939. It closed in 1960. A state experimental farm, mainly for wheat, was opened in 1906.
In 1914 the state primary school was enlarged by the addition of a secondary department, and a separate high school was opened in 1920. In 1916, with the financial support of Roma Town Council, a branch railway line was opened to Orallo 45 km northwards. It was extended another 40 km to Injune in 1920 and ran until 1967. During the 1920s much of surrounding Bungil Shire, particularly north and east of Roma, was infested with prickly pear. The town's population, steadily increasing until then, stayed level until the postwar recovery. Roma was described in 1946 in the Australian Blue Book:
CAPITAL OF THE WESTERN DOWNS
In 1890 the Maranoa Graziers Association had been formed, separate from the United Pastoralists Association, but having the common precept of resistance to pastoral workers' unionism. In the 1930s the Maranoa body proposed the opening of an abattoir in Roma, and in 1957 succeeded in starting a cooperative venture. A further rural service industry was started in 1969, the Roma Town and Bungil Shire sale yard, ultimately becoming a large store cattle selling centre. In 1961 the town council commissioned a gas-fired electricity-generation plant, supplied from the Hospital Hill bore, and a later oil discovery led to Maranoa oil refinery (1975). Roma and Moonie, although providing a tiny proportion of Australia's petro-gas output, share the honour of pioneering the local industry. Roma has capitalised on the tourist potential with its Big Rig theme park and visitor centre. The court house and police complex (1901 and 1919) in McDowall Street is listed on the Queensland heritage register, together with the Mediterranean-style former State high school (1937) in Bungil Street. Roma's wide streets are notable for their bottle trees.
The Royal Hotel in Roma has enjoyed a chequered history, with several lives loss through fire and misadventure. In 1870 fire threatened Cook's Royal Hotel, and only a year later despite extra precautions extinguishing candles, the pine building was destroyed by fire. By 1903 the Australian handbook noted the town had twelve hotels including the Royal. The hotel was rebuilt by 1910 as a two-storey building described by the press as 'one of the most ornamental and comfortable wooden buildings in Queensland', but it again burnt to the ground in 1915. In 1916 the wooden building was replaced by a 'modern' two-storey brick structure which opened in December 1916. In December 1917, however, the 'new' Royal Hotel was destroyed by fire. In November 2014, the restored Royal Hotel, again a wooden two-storey building (MacDowall Street) was destroyed by fire.
Roma characterises itself as the capital of the Western Downs, with ten motels and a full range of medical services, sporting clubs and civic facilities. There are ten churches, years 1-3 and 10-12 state school campuses, Catholic P-12 school (1942), and a TAFE. Bassett's heritage-listed Romavilla winery is a tourist attraction, and the name is remembered with the Bassett Park showground and racecourse, which holds monthly race meetings.
Roma's census populations have been:
| Census Date | Population |
| --- | --- |
| 1871 | 841 |
| 1891 | 1698 |
| 1921 | 3249 |
| 1954 | 4248 |
| 1961 | 5571 |
| 1981 | 5706 |
| 2001 | 6338 |
| 2006 | 5983 |
| 2011 | 6906 |
The town council's jurisdiction covered 78 sq km, and in 2008 it was amalgamated with Bendamere, Booringa, Bunya and Waroo Shires to form Roma Regional Council.
Rod Strachan et al, In champagne country: stories and photographs of people and events in and around Roma, Roma, Roma State School Parents and Citizens' Association, 1980
Roma Regional Council entry