Springsure, a rural town on the Dawson Highway, is 320 km west of Gladstone. It was named after the Springsure pastoral station, taken up by Sydney investors in 1860, including the New South Wales Registrar-General, Christopher Rolleston.
The town is situated in undulating country over-looked by mountain ranges. Expedition Range to the east was named by Leichhardt (1844) and the Salvator Rosa range (the south) and Claude Range (to the west) were named by the New South Wales Surveyor-General Thomas Mitchell, in 1846. Despite these explorers' reports, pastoral settlement did not occur until the late 1850s, when the Comet River station, north-east of Springsure, was taken up.
Further settlement quickly followed, and by 1864 a Springsure police district and a rudimentary township were defined. An improved road to Springsure across the Expedition Range was constructed in 1866.
Between 1871 and 1973 Springsure gained a school, a courthouse, a hospital and a school of arts (in a rented building). The Australian handbook (1876) also recorded Presbyterian and Catholic churches, three hotels and a bank. The population was approaching 400 people. In the 1880s a Church of England was opened and a branch railway line was opened from Emerald to Springsure. Emerald had a railway station on the line from Rockhampton since 1879, and this advantage would enable it to surpass Springsure as the district's main town by the 1890s. (In addition, the railway invited local pastoral workers to spend their cheques in Rockhampton rather than Springsure.)
Springsure was described in the 1903 Australian handbook: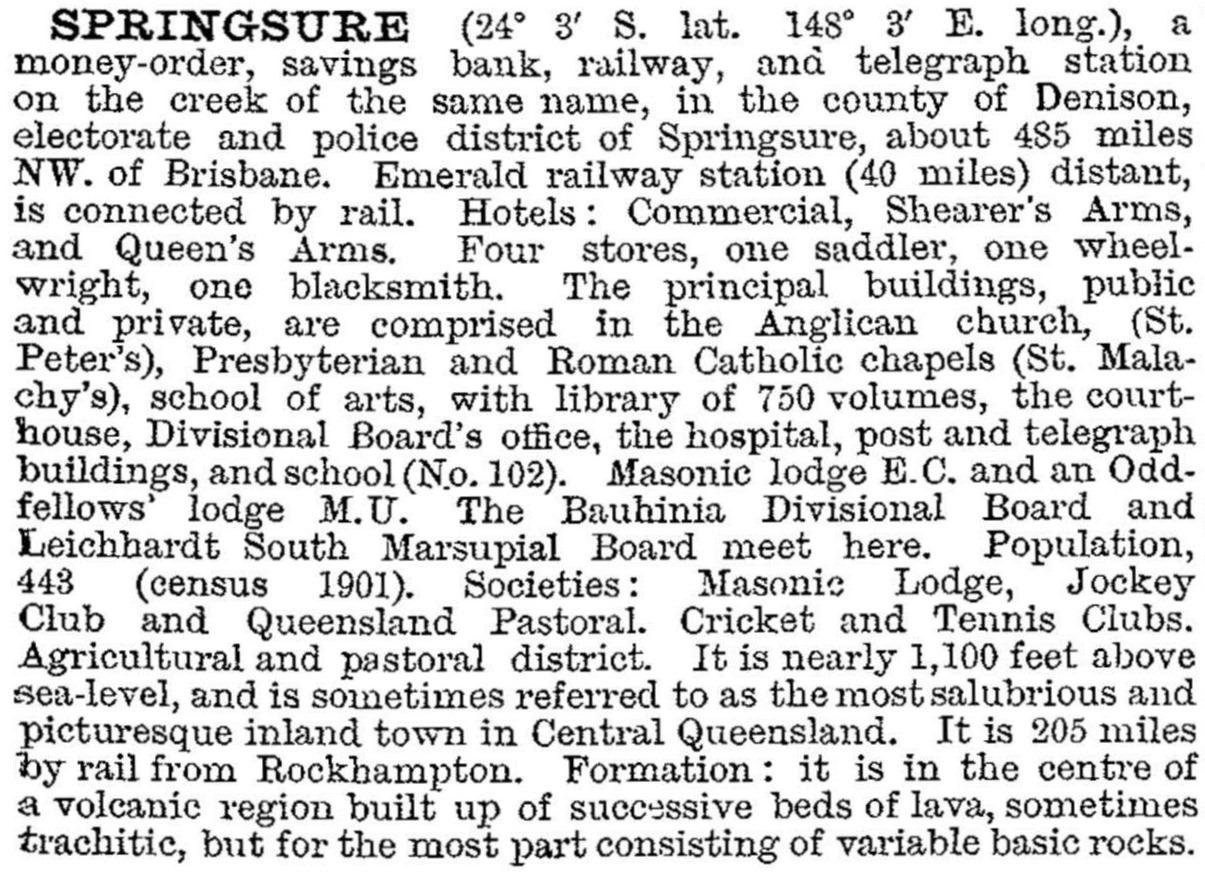 Springsure was the administrative centre of Bauhinia Shire (1879). Whilst the town's population slowly increased, the shire's decreased during the 1910s-40s. Prickly pear and weed pests, intermittent drought and the unsuitability of some land for sheep held back rural prosperity. Increases in grain crops and a further swing away from sheep to beef cattle restored prosperity. The town gained a multi-purpose hall, a swimming pool and a high school department added to the primary school (1964-65). In 1970 the town was fully sewered.
Springsure has a local shopping centre, bowling and golf clubs, a racecourse and showground at Bauhinia Park, and three hotels or motels. The hospital (c1868) was converted to a museum in 1989, and Rainworth Fort (1862), south of Springsure, is a collection of historic buildings. Both sites are listed on the Queensland heritage register. Virgin Rock, on the other side of Springsure, is a vantage point for viewing Springsure and Carnarvon Range away to the south.
Springsure's census populations have been:
| Census Date | Population |
| --- | --- |
| 1871 | 370 |
| 1911 | 487 |
| 1933 | 712 |
| 1961 | 814 |
| 1981 | 774 |
| 2001 | 774 |
| 2006 | 829 |
| 2011 | 1048 |
W.R. Johnston et al, Bauhinia: one hundred years of Local Government, Springsure, Bauhinia Shire Council Centenary Committee, 1979