St Lawrence, a rural town, was the administrative centre of the former Broadsound Shire. It is midway between Mackay and Rockhampton, on the St Lawrence Creek from which its name was derived. The origin of the creek's name is unclear, although its extreme high and low tidal movements are thought to be like those of the St Lawrence River, Canada. It has a wide mouth and has been a local port.
A pastoralist, James Macartnay, took up the Waverley pastoral station west of St Lawrence in about 1859. The rudimentary port served as an access route to mines at Clermont and Peak Downs in the 1860s, and a post office was opened in 1864. A school was opened in 1871. Bailliere's guide (1876) recorded a customs post, post and telegraph office, a court, a wharf and a pilot station at St Lawrence, along with two or three hotels. There were an estimated 100,000 sheep and 40,000 cattle in the district. St Lawrence was described in the 1903 Australian handbook: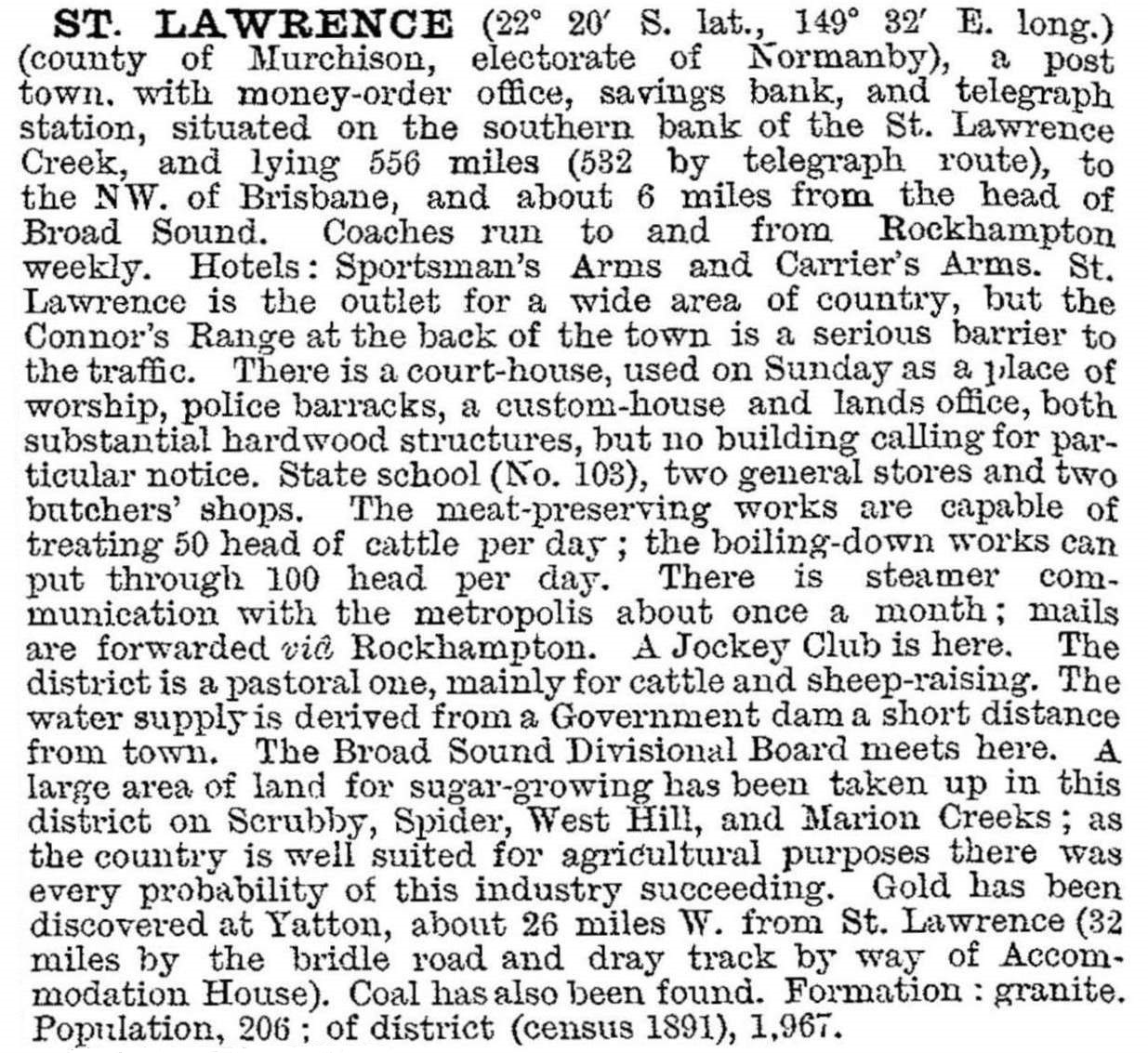 Railway communication in the region ran from Rockhampton, not coastal but inland. Consequently, St Lawrence was cut off from the railway age until 1921 and served merely as a local town and centre of the Broadsound Shire (1879). An Anglican church was opened in 1898 and other faiths, although meeting in the court house or private houses, did not erect buildings until the 1960s. Local electric power began in the 1920s, and connection to the regional grid did not happen until the mid 1960s.
Since the 1970s the region's population has shifted decisively to inland dormitory coal industry towns. St Lawrence's population has declined, at one point raising concern about the viability of the primary school. In 1992 local railway workers were laid off; St Lawrence in the steam age had been a refreshment stop on the North Coast run.
St Lawrence has a bowling club, post office, a primary school, a hotel, a public hall and the shire offices. Its census populations have been:
| Census Date | Population |
| --- | --- |
| 1871 | 217 |
| 1901 | 350 |
| 1921 | 578 |
| 1954 | 290 |
| 1981 | 238 |
| 2006 | 195 |
| 2011 | 396 |
Broadsound Shire handbook, Brisbane, Queensland Department of Primary Industries, 1973
Frank Rolleston, The Broadsound story, Broadsound, Broadsound Shire Council, 1983