Stanthorpe, a rural town in elevated 'granite belt' country near the New South Wales border, is 170 km south-west of central Brisbane. One of the coolest places within easy reach of Brisbane, over the last 30 years both wineries and purpose-built guest houses have been added to the landscape. Situated on a minor stream known as Quart Pot Creek, it was originally known by that name. When tin was discovered there in the 1850s the name was changed to Stannum (Latin for tin), and finally to Stanthorpe in 1872, a blending of the previous name and the middle English 'thorp', meaning village.
Although explored by Allan Cunningham in 1828, the country around Stanthorpe was not occupied by pastoralists until the early 1840s. Farm selectors entered the area in the late 1860s, but it was the Pioneer Tin Mining Company, which started mining at Stanthorpe in 1872, that put the place on the map. The richness of the ore bodies attracted many self-employed miners, and very soon a school (1874), Church of England, Catholic and Presbyterian churches and numerous hotels were opened. Most were of timber, clad with bark. Tin prices were strong for a few years, but by 1876 they had more than halved from their peak. Thereafter there were intermittent booms.
'SANITORIUM OF QUEENSLAND'
The building of the railway line through Stanthorpe provided miners with substitute employment during 1881-83, but it was orcharding that provided a sustained economy for the town. A Catholic priest Jerome Devadi and Robert Hoggan of Lyra, south of Stanthorpe, experimented with fruit varieties and encouraged orcharding. Summer vegetable growing (when it was too hot at lower levels) was also profitable. Pome fruits were extensively grown, but so were stone fruits, grapes and tobacco. A Border Agricultural, Horticultural and Mining society was formed in 1875. In 1903 Stanthorpe was described in the Australian handbook: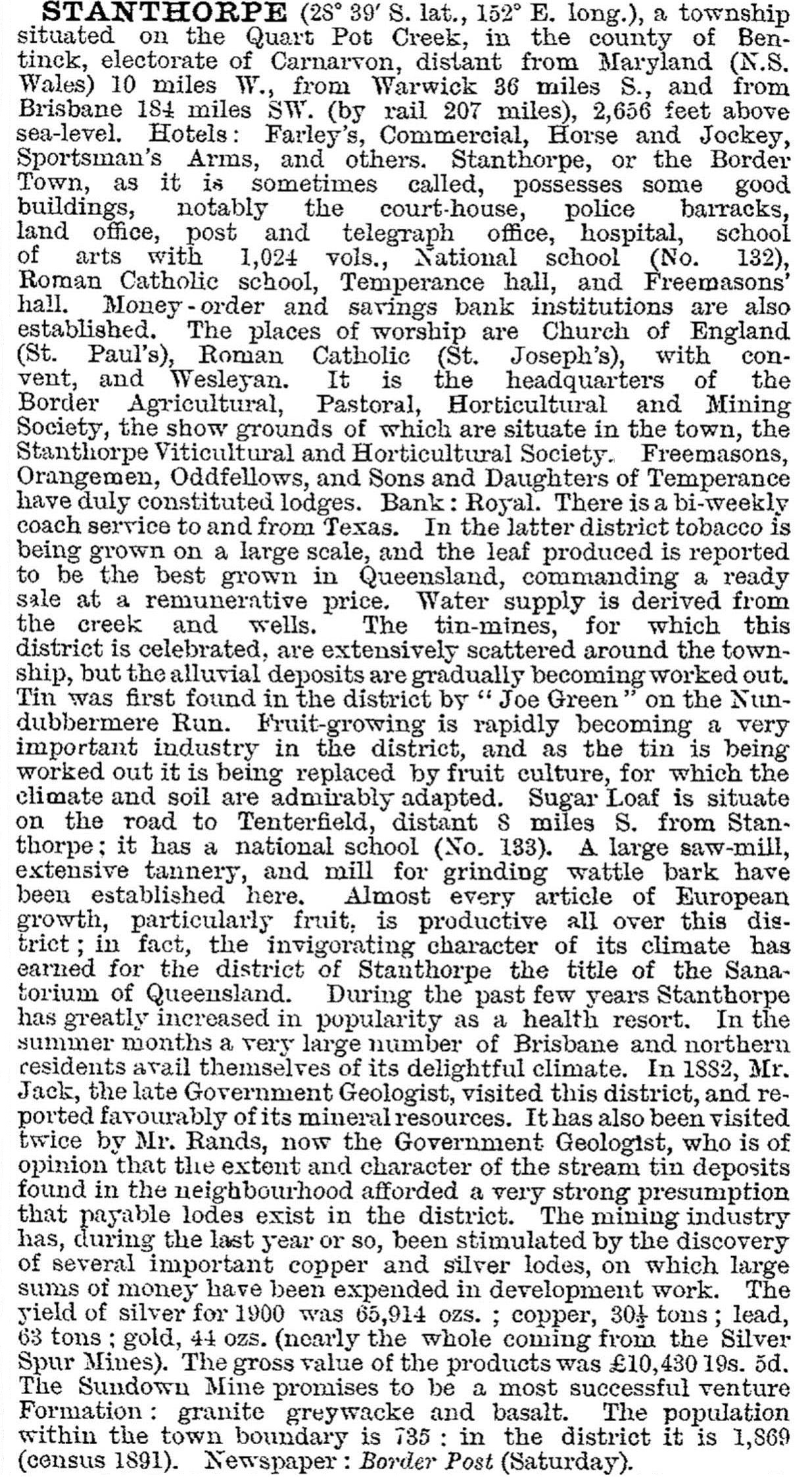 After World War I soldiers with tuberculosis were treated at Stanthorpe's Repatriation Sanitorium. Discharged servicemen were also settled on orchard blocks west of Stanthorpe, and villages taking their names from battlefields of the Western Front, such as Pozieres, Passchendale and Bapaume, were created. A branch line passing through them was opened in 1920, ending at Amiens. Both Stanthorpe shire and the town had sharp increases in population. The town had two fruit processing plants, the co-operative jam and preserving factory opening in 1922.
FRUIT AND WINE
Stanthorpe's role as Queenland's non-tropical fruit production centre kept the Amiens branch line running until 1974. Soon after a small wine-growing industry blossomed, and by 2000 there were about 40 local wineries in the shire. Stanthorpe gained a gourmet reputation, stimulating local tourism. Of the six hotels listed by Pugh's directory in 1924, four continued in 2008. The Central Hotel (1908) is heritage-listed.
Stanthorpe's population steadily increased after World War II. Its water supply dam on Quart Pot Creek and the aerodrome were opened in 1954. It has a shopping centre, State primary (1874) and secondary (1961) schools, and Catholic primary (1875) and secondary schools, a hospital, numerous churches, a theatre and an art gallery. The post office (1901), an eye-catching Arts and Crafts building with a clock tower, is listed on the Australian heritage register. A heritage museum (1974) is near the showground. There is an arts festival each February. Recreation facilities include a golf course, a bowls club, a sports complex and a linear park along Quart Pot Creek. A racecourse is 2 km west of the town. Further afield there are Girraween and Sundown National Parks, and Passchendale State Forest. Stanthorpe's census populations have been:
| Census Date | Population |
| --- | --- |
| 1881 | 938 |
| 1921 | 2160 |
| 1966 | 3641 |
| 2001 | 4193 |
| 2006 | 4271 |
| 2011 | 5385 |
Jean Harslett and Mervyn Royle, They came to a plateau: the Stanthorpe saga, Stanthorpe, International Colour Productions, 1980