Surat, a rural town on the Balonne River, south-central Queensland, is 380 km west of Brisbane and 70 km south of Roma. The area was explored by the New South Wales Surveyor-General, Sir Thomas Mitchell, in 1846, who travelled along the Balonne River. A year later Thomas Hall occupied Yambungal the first of numerous pastoral stations in the area that was classified as Maranoa East.
In 1850 Mitchell arranged for a township site to be chosen for Maranoa East, choosing the Balonne River as the appropriate location. Surveyor Burrowes carried out the work, naming the site Surat after the town in West India, north of Bombay, where he had resided. Surat was an administrative location with a court of petty sessions and a hotel (1859). In 1863 a township survey and sale of town lots occurred. Surat was still a place of large pastoral stations, and it was not until 1874 that a school was opened in the small town.
By 1880 there was a growing rural town: the Universal Church (1870), Jockey Club (1878), the administrative centre of the newly created Warroo local-government division and several shops and tradespeople. Even so, Surat had been overtaken by Roma as the centre of the region. Once the pastoral settlement of Maranoa was completed, the Mount Abundance homestead near Bungil Creek had emerged as a convenient place for stores and mail. In 1862 a township, named Roma after the Governor's wife, was surveyed, and incorporated as a separate municipality five years later. When the railway was extended west from Dalby in 1877-80, Roma was the obvious direction to take. Surat was entirely bypassed, and relied on horse-drawn coaches until Cobb and Co's last Australian coach run between Yuleba and Surat in 1924.
With a population approaching 300 people, Surat was described in the Australian handbook in 1903: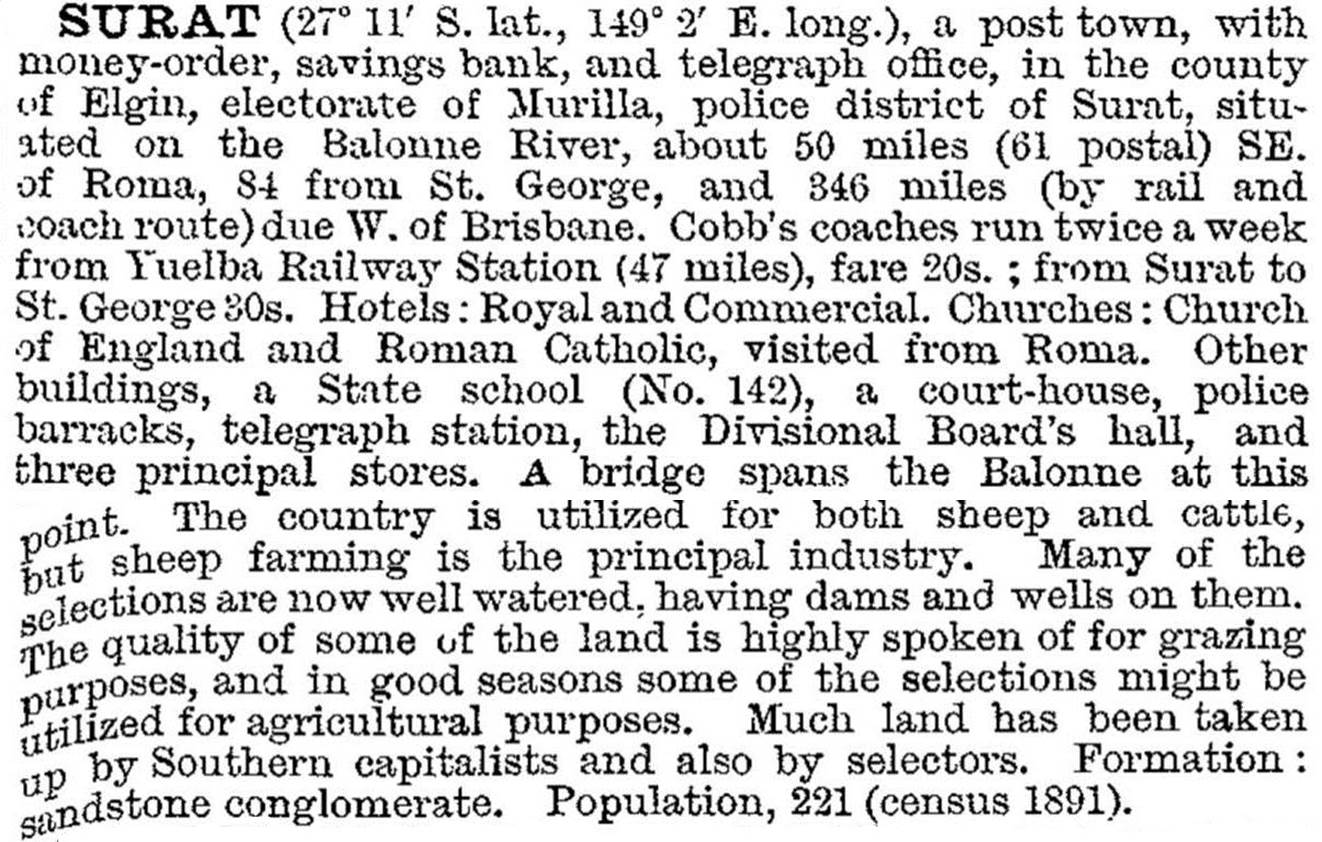 In 1911 Surat's first cottage hospital was opened. Hospital beds grew to eight and finally 16 as replacement buildings were erected in 1928 and 1961. In 1925 an open-air picture theatre was opened. Later roofed and named the Astor, it is listed on the Queensland heritage register. A reticulated town water scheme began in 1951. The postwar years brought relatively prosperous times as the Warroo shire was mainly a sheep grazing district. Educational opportunities were widened in 1964 when a secondary department was added to the local state school.
Surat has golf, bowling, swimming and horse racing venues, local shops and businesses, a community centre, the Warroo shire offices and hall, the Cobb and Co changing station and museum, a hospital and a motel. The timber Shire hall (1929) is heritage-listed.
FLOODS 2011
The Balonne River flows through a vast flood plain south-west, west and north of the township. Twice in January 2011 the plain was flooded and about 15 properties on the edge of the town were affected.
Surat's census populations have been:
| Census Date | Population |
| --- | --- |
| 1871 | 108 |
| 1891 | 221 |
| 1911 | 582 |
| 1961 | 659 |
| 1981 | 480 |
| 2001 | 444 |
| 2006 | 436 |
| 2011 | 426 |
G.O. Armstrong, The changing years: a history of the Shire of Warroo incorporating Bendemere Shire history, Fortitude Valley, W.R. Smith and Paterson for the Warroo Shire Council, 1970