Taroom, a rural town on the Dawson River, is 290 km west of Maryborough. The name was derived from an Aboriginal word describing the native lime, Eremocitrus glauca, a thorny tree with orange blossom odour and small fruits that can be used for jam or drinks.
Ludwig Leichhardt travelled through the Taroom district in 1844, leaving a carved message on a Coolibah tree still standing in the main street (and which is listed on the Queensland heritage register). His favourable report drew William Turner who was licensed in 1845 to hold the Taroom pastoral run. A series of re-licensings and modifications to pastoral holdings followed, and the Taroom settlement on Stoney Crossing on the Dawson River emerged in 1856 with the opening of a post office. The Leichhardt Hotel opened in 1858, coinciding approximately with the opening of a court house. There were three hotels by the 1860s, and a school opened in 1870.
The Taroom Racing Club was formed in 1874, and the Taroom local government division proclaimed in 1879. Pastoral stations were subdivided as their leases expired, and the district's population rose as a consequence during the 1890s. Town amenities were established, an Anglican church (1896), a Catholic church, a hospital (1899) and an agricultural, pastoral and industries association (1900). A description of Taroom was given in 1903 in the Australian handbook: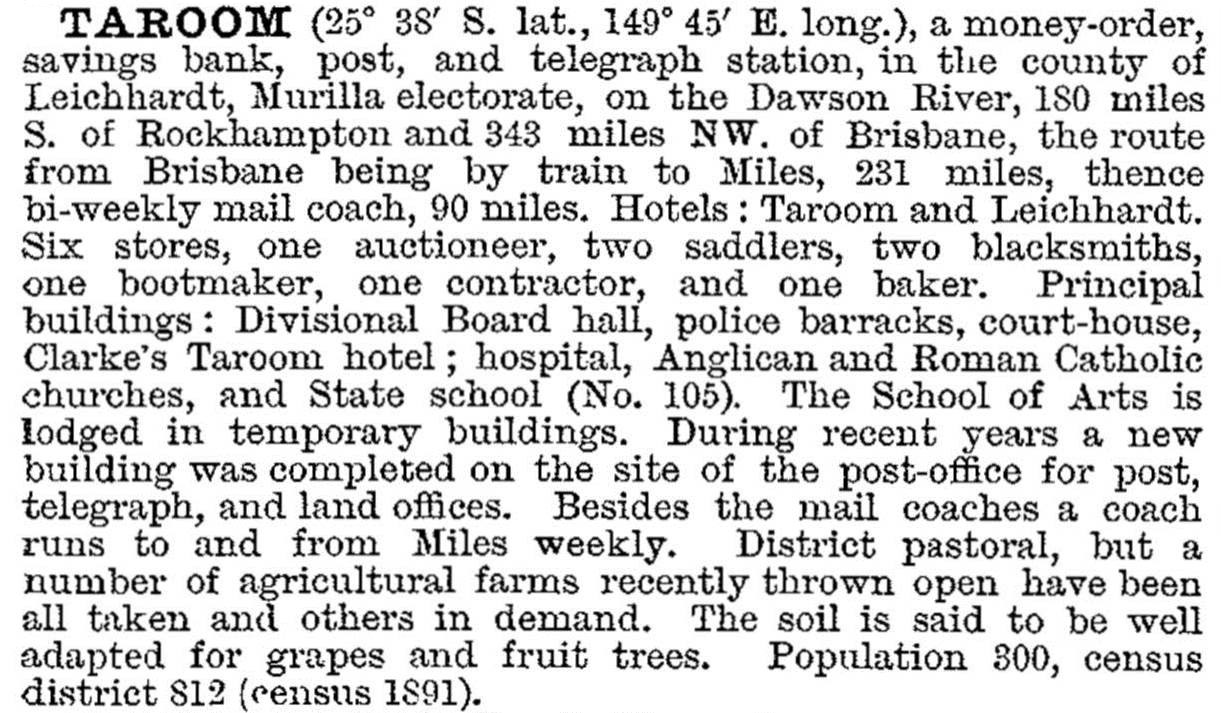 For 26 years Taroom relied on the railway line through Miles, 130 km south, until a branch was run up to Wandoan in 1914, still 60 km away. Consequently Taroom did not prosper from the all-important railway connection of the late nineteenth and early twentieth centuries, relying instead on motor lorries and hire car services. The last horse van service ran in 1929.
When the shire hall and offices were burnt down in 1944 local optimism saw an impressive new modernist building erected in 1947, criticised by some for extravagance but favourably regarded as its facilities came into use.
Although mainly a beef district, the Taroom Shire's wool production benefited from the postwar wool boom. Both the town's and the Shire's populations grew, new shops were built and a new school building erected during 1956-59. Taroom has several local shops and tradespeople, a hospital, sports facilities, showground, a swimming pool, a history museum, the Taroom Hotel and the Leichhardt hotel-motel. The Dawson Jockey Club holds six meetings per year at the Taroom race course. A combined State primary-high school and a Catholic primary school (1920) serve educational needs.
FLOODS 2011
On 27 December 2010 there were heavy rains over the Dawson River catchment, and within a day there was extensive flooding north, west and south of the township. It was an extreme repeat of floods that had occurred throughout 2010. The river reached a height of 10.28 metres, a metre higher than the record set in 1956.
Taroom's census populations have been:
| Census Date | Population |
| --- | --- |
| 1871 | 107 |
| 1901 | 453 |
| 1921 | 586 |
| 1961 | 628 |
| 1986 | 749 |
| 2001 | 689 |
| 2006 | 629 |
| 2011 | 873 |
Gwen Fox, Pioneers of the Taroom and Wandoan District: historical notes on the Shire of Taroom, Taroom, Taroom Shire Council, 1959
Judy Gale Rechner, Taroom shire: pioneers, magic soil and sandstone gorges, Taroom, Taroom Shire Council, 2005