Taroom Shire, an area of 18,758 sq km and generally 300 km west of Maryborough, was divided in two by the local government amalgamations in 2008. The northern two-thirds went into Banana Shire Council and the remainder into Dalby Regional Council.
The Shire was traversed by the north-south Leichhardt Highway. Ludwig Leichhardt explored the area in 1844, recording tributaries of the Dawson River which passes through the Taroom township. He noted wild lime trees (Eremocitrus glauca), and it is thought the name 'Taroom' derives from local Aborigines word for the limes.
European settlement followed Leichhardt, the first being the Taroom pastoral run taken up in 1845. The Taroom village existed by 1856, and the Taroom local government division - a forerunner of the shire - was proclaimed in 1879. The shire's headquarters were in Taroom, the other major town being Wandoan.
The Dawson Valley was populated by numerous and vigorous Aboriginal clans. The Yiman resisted European encroachment, and visited retribution on the Fraser family at the Hornet Bank station 40 km south of Taroom in 1857. The white revenge was much more terrible. The Fraser family grave site and memorial in Hornet Bank Road are listed on the Queensland heritage register; the Aboriginal deaths are unmemorialised. By 1910 about 100 dispossessed Aborigines were camped around Taroom township, and they were forcibly removed to the Taroom Aboriginal Settlement. A government proposal for a dam at Nathan Gorge led to the settlement being transferred to the Duaringa area in 1927.
Much of the Taroom district was brigalow country ('brigalow', the vernacular for Acacia harpophylla, a shrub which suckers and is used for fodder in bad seasons), and scrub clearing uncovered generally good, loamy soil. The cleared space, however, was often quickly overrun with prickly pear, recorded as early as 1902 around Wandoan. By the 1920s the shire was generally covered by the pest vegetation, severely curtailing prospects. Eradication was achieved in the 1930s.
Taroom Shire was described in the 1946 Australian Blue Book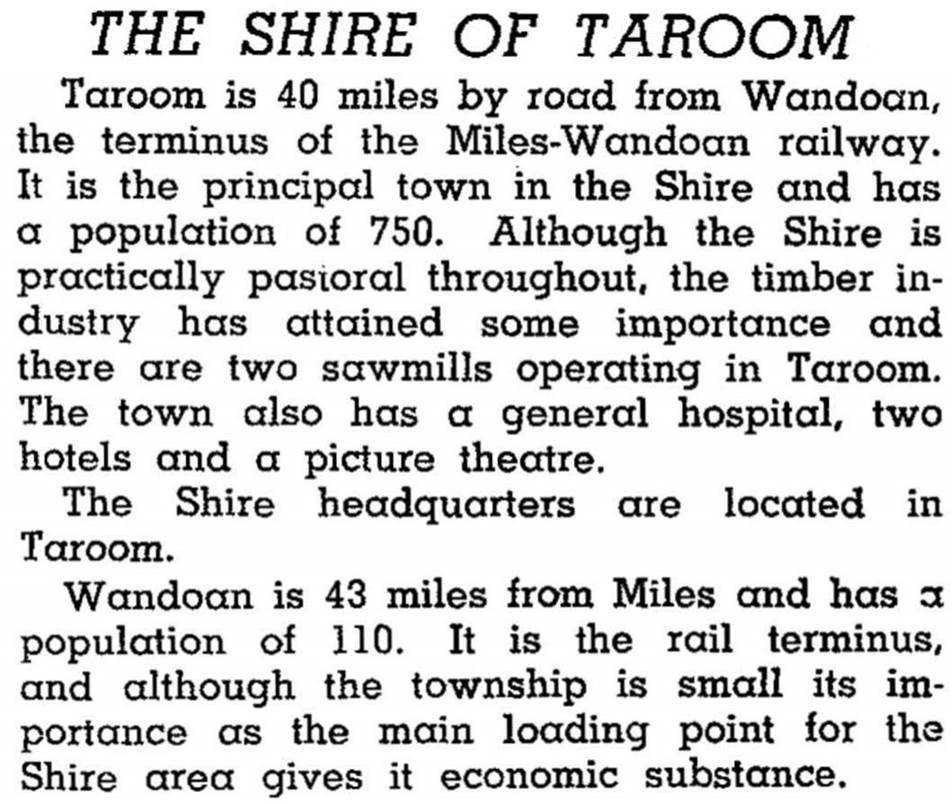 Postwar development saw the shire recover from the prickly pear blight, with mechanised scrub clearing and soldier settlements around Wandoan. The Shire's population doubled during 1933-61, to 3250 people. Grazing was the shire's strongest industry, but sheep in the south have been mostly replaced by beef cattle. Some timber is also cut for milling. The cream run to Miles ended many decades ago, but grain growing has continued. In 2002 Santos opened its Scotia coal gas production plant, about midway between Taroom and Wandoan.
In 1993 the shire had 330,000 beef cattle, 2250 sheep and 32,000 ha under cereals. The shire's headquarters were in Taroom, and a nearly equivalent array of services was provided at Wandoan. Its census populations were:
| Census Date | Population |
| --- | --- |
| 1911 | 1261 |
| 1947 | 1921 |
| 1961 | 3250 |
| 1981 | 3237 |
| 2001 | 2613 |
| 2006 | 2389 |
Judy Gale Rechner, Taroom Shire: pioneers, magic soil and sandstone gorges, Taroom, Taroom Shire Council, 2003
Taroom and Wandoan entries