Thuringowa City was a local government area to the west of Townsville, extending along Halifax Bay toward Ingham and following the Upper Ross River southwards to its headwaters. Thuringowa had an area of 1865 sq km and its population about 59,000 (2006). In 2008 it was amalgamated with Townsville City Council. The origin of Thuringowa's name is uncertain, but possibly it was devised by a government surveyor and member of the first divisional board, John von Stieglitz, who would have known of the German province of Thuringia.
Thuringowa Divisional Board was formed in 1879, encompassing an area of 7162 sq km, including the entirety of present-day Townsville, and was proclaimed a shire in 1903. About half of this original area was severed in 1888 to form Burdekin Shire.
Thuringowa's development has always been closely tied to Townsville. The Ross River meatworks were important for the area's pastoral industry, particularly with the advent of refrigerated meat exports. The opening of the railway line through Thuringowa to Charters Towers in 1882, and mining and ore exports through Townsville harbour created a population centre with urban markets for Thuringowa.
The coastal railway was opened in stages, beginning with a tramway to Ayr (1901) and linking with Bowen and Ingham during 1913-19. The section to Paluma in the north of Thuringowa shire was completed in 1917. Sugar cane from around Rollingstone was railed to the Invicta mill at Giru.
In 1918 most of Thuringowa's urban areas were transferred to within the Townsville boundaries. Suburbs to be lost in this exercise included Belgian Gardens, Aitkenvale and Hermit Park, which included a significant proportion of the shire's population and even the shire offices. Thuringowa thus became a small rural shire. The 1946 Australian Blue Book described it as follows: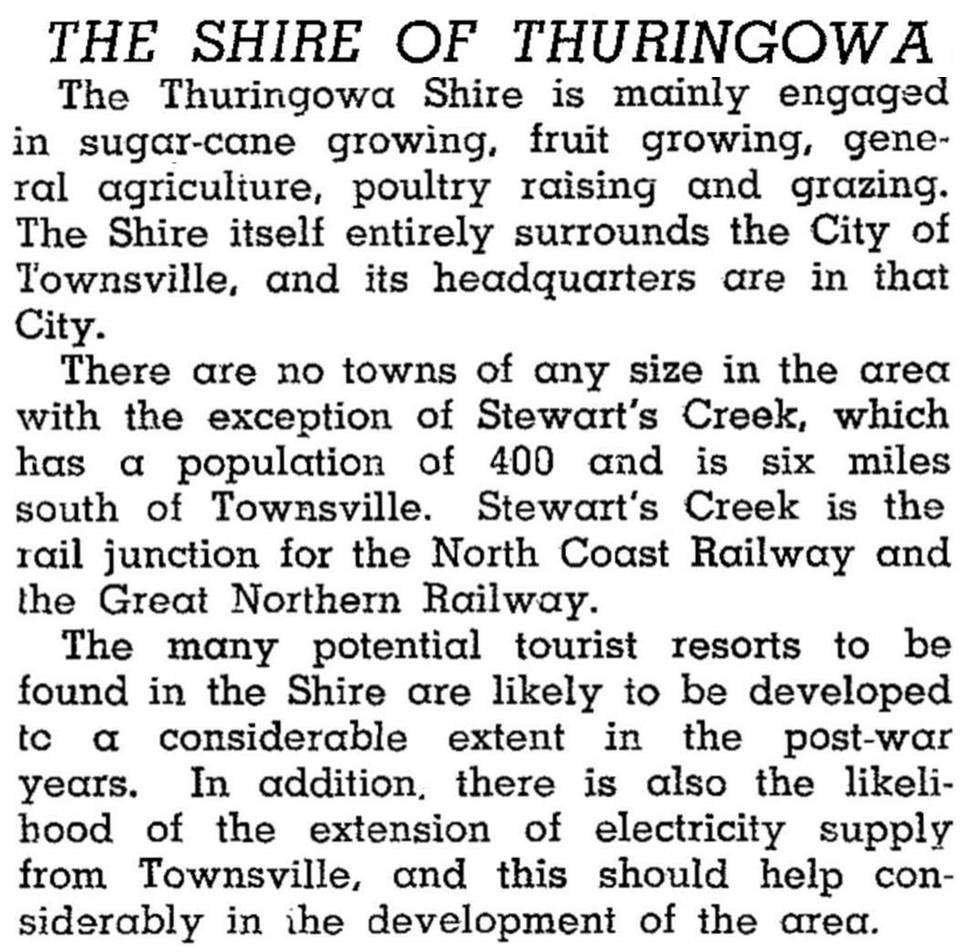 The shire's rural nature continued until the 1960s. During the 1970s-80s housing spread westwards, crossing the 1903 municipal boundary from the Townsville suburbs of Heatley and Cranbrook. Urbanisation then turned south along the west side of the Upper Ross River. The development of Kirwan, Condon, Rasmussen and Kelso (all in Thuringowa) can be traced by their school openings: Kirwan primary and high schools (1977, 1979) and the Ryan Catholic College (1979); Rasmussen primary school (1978); Kelso primary school (1986); and Thuringowa high school (1987) in Condon. Rural and coastal towns also developed. Deeragun is on the Bruce Highway, 17 km west of Townsville, and Balgal Beach, Bushland Beach and Saunders Beach - the new northern beaches - date from the 1980s.
Thuringowa's shire headquarters were moved back into the shire in 1979, and it was declared a city in 1986. It experienced rapid growth, expanding from just over 30,000 people in 1986 to 60,000 in 2006 to become one of the nation's fastest growing local government areas.
Thuringowa had four major drive-in shopping centres, the largest being Sunland Plaza (1985) in Thuringowa Central.
There are numerous hilly ranges interspersed with grazing lands and loamy river flats in the former Thuringowa. Irrigation from the Burdekin River dam helped horticulture, although sugar gave way to pineapples around Rollingstone. In 1992 Thuringowa had 28,000 beef cattle, 3000 pigs, 2280 ha of sugar and 2930 ha of other field crops. Its census populations were:
| Census Date | Population |
| --- | --- |
| 1911 | 5095 |
| 1921 | 2337 |
| 1961 | 2572 |
| 1971 | 3432 |
| 1976 | 10,914 |
| 1986 | 30,108 |
| 1991 | 37,722 |
| 2001 | 51,140 |
| 2006 | 59,164 |
Thuringowa continues as a state electoral division. In 2011 its census population was 50,361.
Thuringowa Central's census populations have been:
| census date | population |
| --- | --- |
| 2011 | 2013 |
Peter Bell, A short history of Thuringowa, Thuringowa, Thuringowa City Council, 2000
Balgal Beach, Bohle Plains, Bushland Beach, Condon, Deeragun, Kelso, Kirwan, Rasmussen, Saunders Beach and Wet Tropics entries