Tiaro shire was an area of 2196 sq km, immediately south of greater Maryborough. Its northern three-quarters were amalgamated with Maryborough City, Hervey Bay City and Woocoo Shire in 2008 to form Fraser Coast Regional Council. The remaining one-quarter went into Gympie Regional Council. The Shire's largest employment sector was agriculture and forestry. Over 40% of the shire was state forest. The shire offices were in Tiaro, where the Bruce Highway crosses the Mary River. The name derives from an Aboriginal word for dead tree.
Tiaro is one of several small towns in the shire, and had its beginnings in the late 1860s as an overnight stop between the goldfields of Gympie and the port of Maryborough. Other towns include Bauple, Curra, Gunalda and Mungar. Tiaro was described in the 1903 Australian handbook: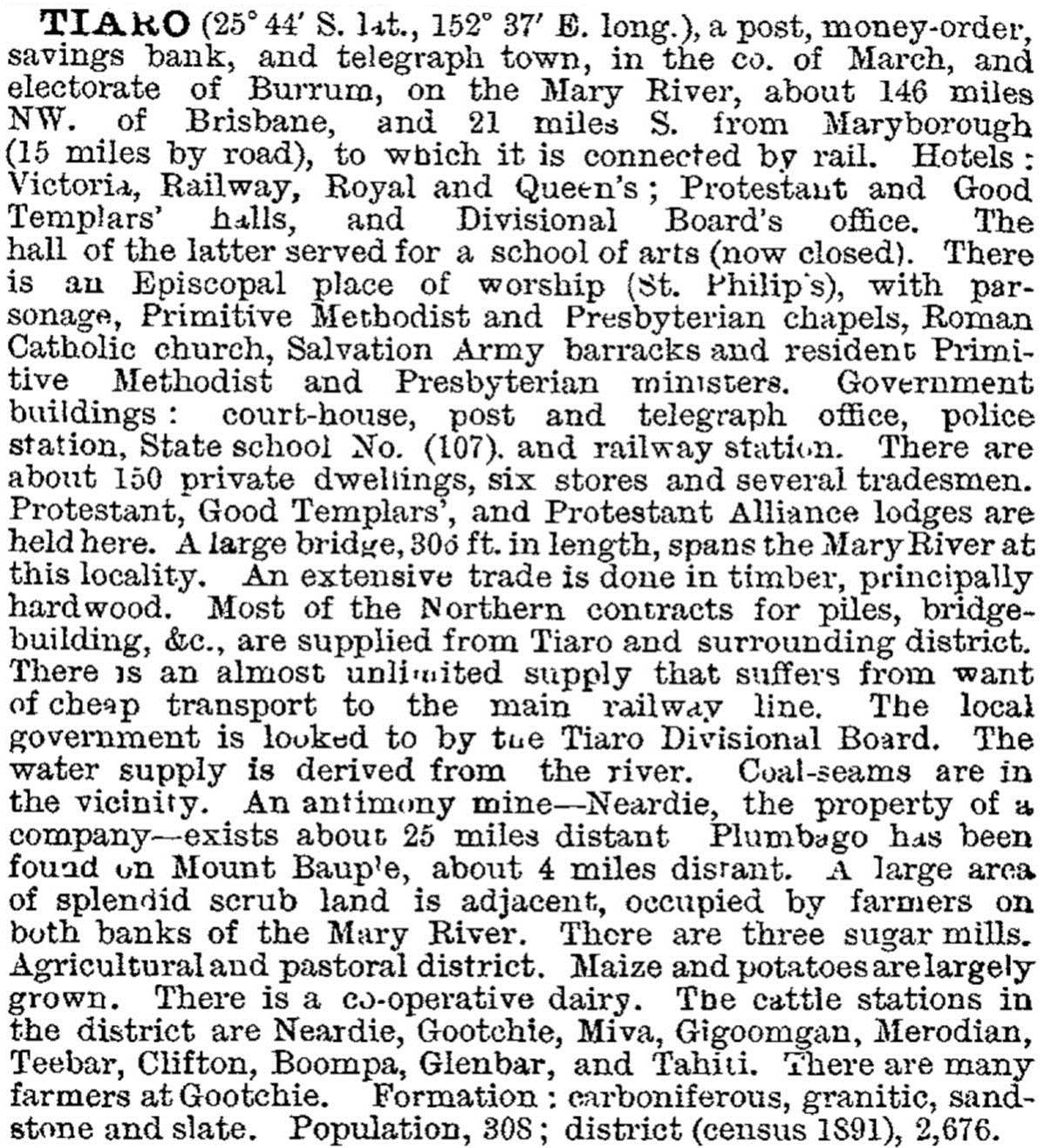 The Tiaro local government division was formed in 1879, two years before the railway line from Maryborough to the Gympie gold field passed through the shire. In 1896 the Mount Bauple sugar mill began operation, becoming the largest in the district. It ran for 55 years until 1951, closing mainly because of a shortage of cane which was by then diverted either south to Nambour or north to the Maryborough sugar factory. Bauple was also the place of origin of the Bauple nut tree, better known as the macadamia.
As well as sugar, the shire had dairying, meat cattle grazing and cropping. It was described in the Australian Blue Book in 1946:
The shire's proximity to Maryborough and Gympie brought about a population growth rate of more than 100% from 1981 to 2001. Agriculture and forestry accounted for 29% of the shire's total employment in 2001, but the growth of local and urban shopping was reflected in retail and wholesale employment, at 17%. Manufacturing had 11% of total employment.
The shire's agricultural profile in 1992 was varied. There were 25,000 beef cattle, 4100 dairy cattle, 17,000 pigs, 1020 ha of sugar cane and 1750 ha of other crops. The Tiaro Shire Promotions and Development Association was formed in 1997. Tourism is not a major industry, although there are some attractions in Bauple, notably a museum. There is also a tourist information centre in Tiaro, in the restored railway station. The shire also boasts Queensland's oldest and longest 'hogback span' bridge. Carrying rail and road traffic, the bridge dates from 1886, and crosses the Mary River at Miva.
The scenically diverse Mount Bauple National Park (505 ha) lies to the west of Bauple. Despite its name, the park does not include Mt Bauple, which is a further 2 km away. The park is scientifically important, with no public access, and is on the Australian heritage register.
Tiaro shire's census populations have been:
| Census Date | Population |
| --- | --- |
| 1911 | 3267 |
| 1947 | 2666 |
| 1971 | 1862 |
| 1986 | 2518 |
| 1991 | 3294 |
| 1996 | 4252 |
| 2001 | 4533 |
| 2006 | 5323 |